Philadelphia Phillies: 10 Reasons They Can Compete—and Win—in 2013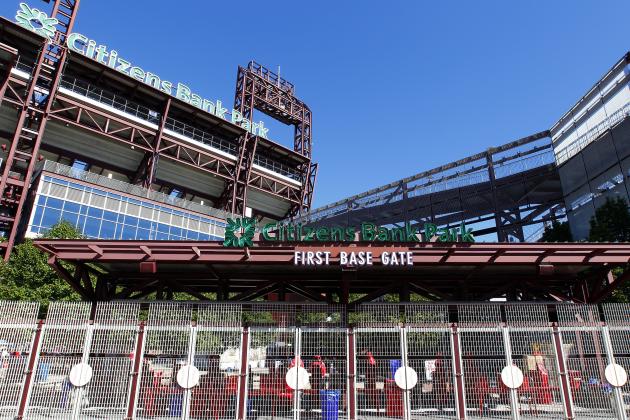 Rich Schultz/Getty Images
Abandon hope all ye who enter? Not yet.
The Phillies continue to be linked to numerous prominent free agent center fielders (per mlbtraderumors.com) as the hot stove begins to take on that familiar orange glow.
It would be wonderful if the Phillies' problems were so easy to solve that one big-money free agent signing would catapult them back into playoff contention. Sadly, the Phillies have many more holes to fill than just center field.
They need another outfielder, a third baseman, bullpen arms to ferry games from Cole Hamels, Roy Halladay and Cliff Lee to Jonathan Papelbon and, depending on Freddy Galvis' health, possibly a utility infielder. Also, it would help if any of the hitters they sign could hit from the right side.
On a happier note, Darin Ruf hit .258 with 10 home runs and 27 RBI through 32 Venezualan Fall League games. Perhaps left field is not as great a concern as previously believed.
The better news is that the Phillies will not need Ruf to hit 40-plus home runs in 2013 to contend. What follows are the reasons why.
Begin Slideshow

»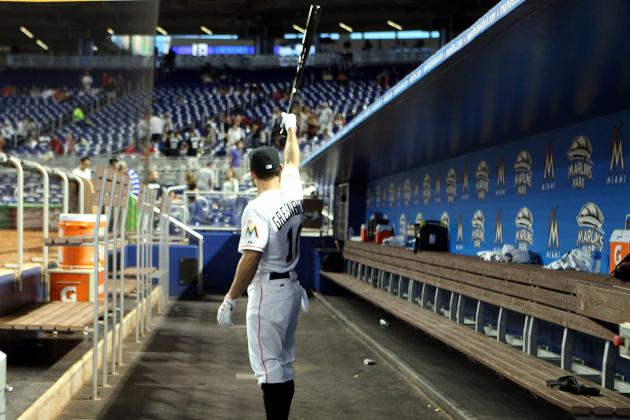 Marc Serota/Getty Images
"Hey...where'd everybody go?"
Unless you were trapped under a rock, you heard about the Miami Marlins' recent trade with the Toronto Blue Jays. It was a real blockbuster but with a twist: all the good players went to the Blue Jays, per the New York Times.
This trade would not have been ratified by 98 percent of the fantasy baseball commissioners in the United States, Canada and Puerto Rico. But it was good enough for Bud Selig, and it stands.
As such, the Phillies will not face Jose Reyes, Josh Johnson, Mark Buehrle and Emilio Bonifacio in 2013 (assuming they remain in Toronto) unless both teams reach the World Series.
The cost-cutting Marlins will feature Giancarlo Stanton, unless of course he gets unloaded too. Beyond Stanton, the Marlins are heavy on Logan Morrison, Yunel Escobar and Chris Coghlan. They will probably lose more than a hundred games in 2013.
The Phillies will play the Marlins a staggering 13 times between April 12 and June 5.
That is what you call "opportunity."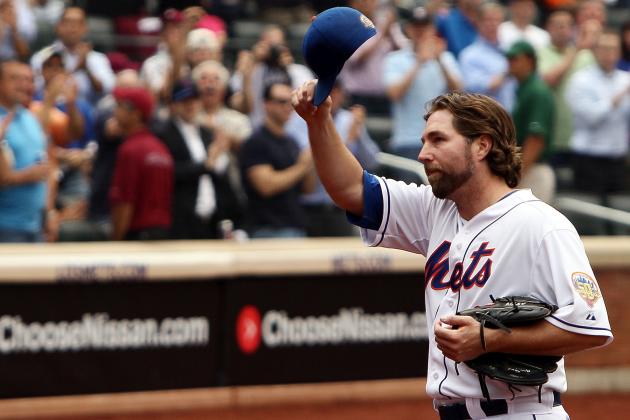 Alex Trautwig/Getty Images
There is your National League Cy Young winner.
All you really need to know about the New York Mets can be summed up in two sentences.
In 2012, the Mets had the best pitcher in the National League, the Cy Young winner R.A. Dickey, win 20 of his 34 starts and strike out 230 (via espn.com.)
And yet, the 2012 New York Mets went 74-88.
If Dickey's knuckleball does not knuckle in 2013, what is the Mets' plan B? According to newyork.sbnation.com, plan B does not include splashing a lot of cash on top-tier free agents.
The Phillies also play the Mets 19 times in 2013.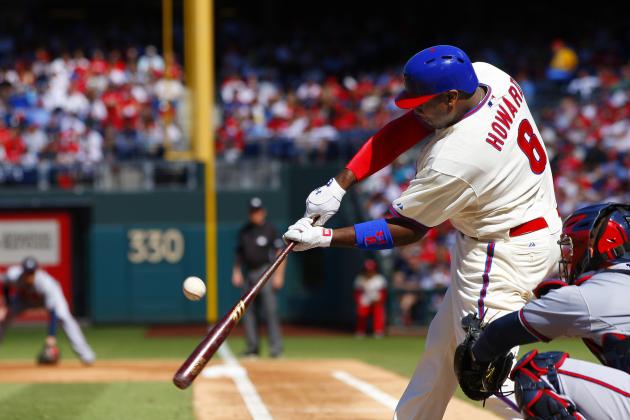 Rich Schultz/Getty Images
Basically any playoff scenario for the 2013 Phillies depends on Howard hitting a lot of home runs, and staying healthy.
On July 6, 2012, Ryan Howard made his long-anticipated return from the Achilles tendon tear that so strangely occurred on the last play of the Phillies' 2011 season.
By the time Howard returned to live action, the Phillies were 37-47 and buried in the National League East basement, 13 games behind the Washington Nationals.
They finished 81-81, making them 44-34 in the games after Howard's return.
In 71 games played in 2012, Howard hit 14 home runs and drove in 56 runs. That projects comfortably to another 30/100 season over 162 games. Granted, if he hits .219 as he did in 2012, the counting statistics do not help as much.
But a healthy Ryan Howard is much preferred to a platoon of John Mayberry Jr., Jim Thome and Ty Wigginton.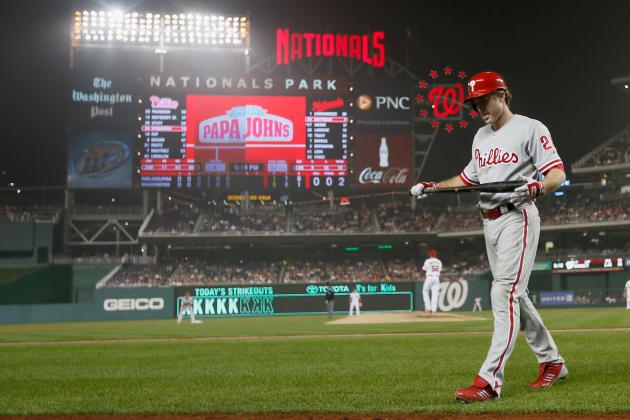 Rob Carr/Getty Images
What is Utley walking toward...or walking away from?
Chase Utley is signed through 2013 (another $15 million is coming to him next season) and then, well, who knows? Will his knees allow him to play in the National League anymore? Is he better served being a designated hitter somewhere in the Junior Circuit?
Utley has always seemed like a player who valued his place as a Phillie. If he really wants to stay, he has 2013 to prove that he can play every day.
Like Howard, Utley was productive in the limited time he played in 2012. Through 83 games, Utley hit 11 home runs, drove in 45 runs and scored 48 times. Projections are always wishful, but over a full season, those numbers would be well above average for a National League second baseman.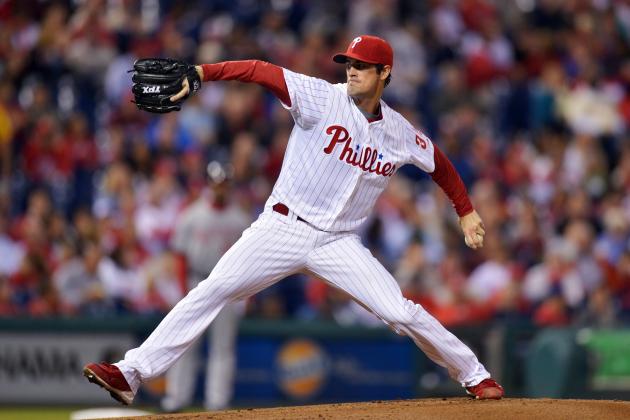 Drew Hallowell/Getty Images
Will Hamels pitch like a No. 1 in 2013?
The Hamels signing, while an expensive one, per ESPN.com, was probably the right decision for the franchise. After paying Utley, Howard, and Roy Halladay and watching those players age and decline precipitously through 2012, letting a 28-year-old ace walk away was never going to work for Phillies fans.
Hamels had arguably his best season as a professional in 2012, winning 17 games while striking out 216. The happier trend for Phillies fans is that since regressing in 2009, Hamels has been better in each successive year.
Even marginal improvement by Hamels in 2013 could mean winning 20 games and leading the staff.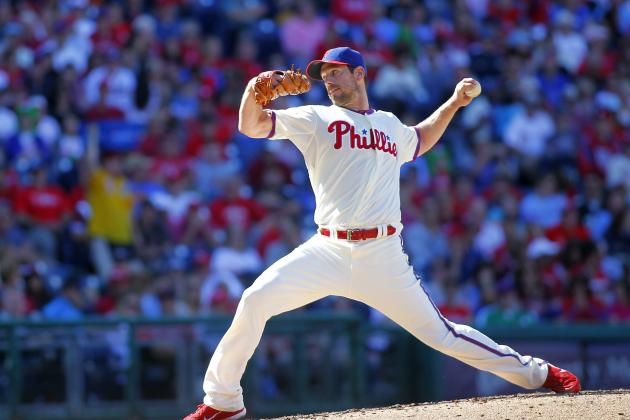 Rich Schultz/Getty Images
If you believe in water finding its level, bet on Lee to have a big 2013.
Cliff Lee only missed four turns in the rotation in 2012. Which makes his 6-9 record very difficult to fathom.
Wait, there is more.
Lee struck out 207 batters in 211 innings. His earned run average was 3.16 and his WHIP was 1.11. Again, it is hard to imagine how Lee only won six games pitching so well.
The anemic Phillies offense did not help. Nor did the inflammable Phillies bullpen.
Still, it would take a rather amazing continuation of horrible luck for Lee not to bounce back in a big way in 2013.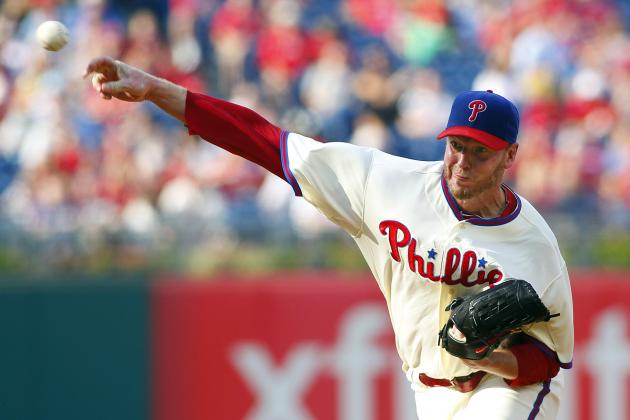 Rich Schultz/Getty Images
If Halladay has not simply "lost it," he should be better in 2013.
By the end of the 2012 season, Phillies fans (and baseball fans generally) were seeing something they had not seen in a very long time. Roy Halladay was getting cuffed around, regularly.
Halladay finished the 2012 campaign with a deceiving 11-8 record. Deceiving, because his earned run average was just a tick under four and a half, and he gave the Phillies quality starts only 60 percent of the time. By comparison, Hamels' quality start percentage was 74 percent, and Lee's was 70 percent.
Halladay is in the final year of his contract extension. He will make $20 million in 2013. Like Utley, Halladay has something to prove in the coming year, be it to the Phillies or to his next employer.
That has to be a motivating factor, particularly for a competitor like Halladay.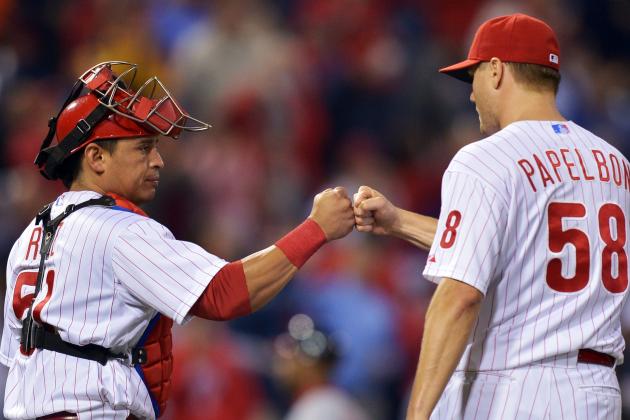 Drew Hallowell/Getty Images
If they can get the lead to him, the Phillies generally win.
Maybe Jonathan Papelbon is not worth $50 million over four years. Maybe no closer is.
But unlike many of the players to whom the Phillies paid eight-figure salaries in 2012, Papelbon did more or less what the Phillies expected him to do.
Papelbon saved 38 games. His earned run average of 2.44 was sterling, as was his 1.06 WHIP. Striking out 92 batters in 70 games was also in line with what the Phillies expected to get from Papelbon when they gave him all that money.
Papelbon is 31 years old. There is nothing in his profile presently suggesting that he will not be, if not elite, then exceptionally good in 2013.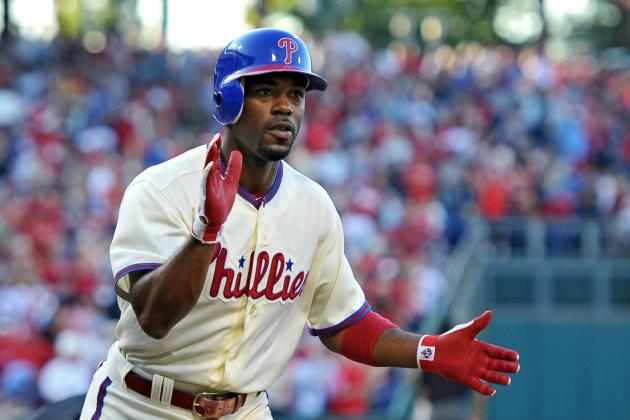 Drew Hallowell/Getty Images
When he makes it happen, it is a lot of fun to watch.
Jimmy Rollins tested free agency in the 2011 offseason. Finding no long-term, long-money deals, he returned to the Phillies for three years and $33 million, per ESPN.com.
Phillies fans could have been forgiven for fearing that Rollins would not put forth optimal effort after getting paid. Fortunately for the team and its fans, Rollins did nothing of the sort.
Rollins led the team in the following offensive categories: hits, home runs, runs batted in (tied with Carlos Ruiz) and runs scored. He would have led the team in stolen bases (30), too, but for one-trick-pony Juan Pierre's 37.
The Phillies probably hope Rollins does not lead them in home runs again, not with Howard coming back and planning to play a full season. But they would be very happy if Rollins could post a similar season to 2012 in 2013.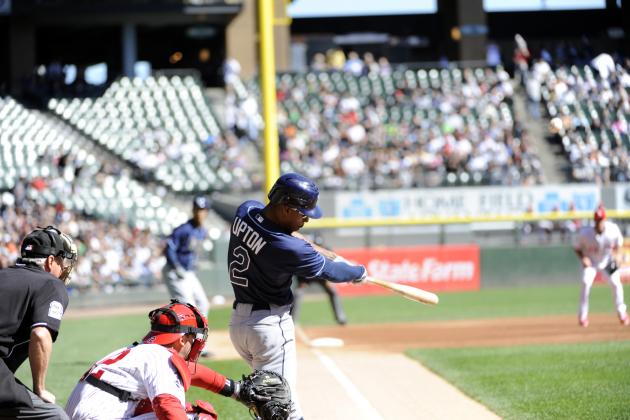 David Banks/Getty Images
It could be him, but if it is not it has to be somebody.
No one is certain about which marquee free agent the Phillies will sign during this offseason. Are they in on B.J. Upton? Are they out on Josh Hamilton? Who can say?
But there seems to be a lot of certainty that they will sign someone of significance. And after seeing the Atlanta Braves and Washington Nationals pass them in the standings like they were standing still in 2012, the Phillies probably have no choice but to do so.
Whoever the Phillies bring in via free agency should have the classic "ripple effect" on the offense. The upgrade of the prime free agent over who he replaces, coupled with healthy returns from Howard and Utley, could restore the potency of the Phillies offense that was so severely lacking in 2012.