Milwaukee Bucks vs. Miami Heat: Postgame Grades for Miami Heat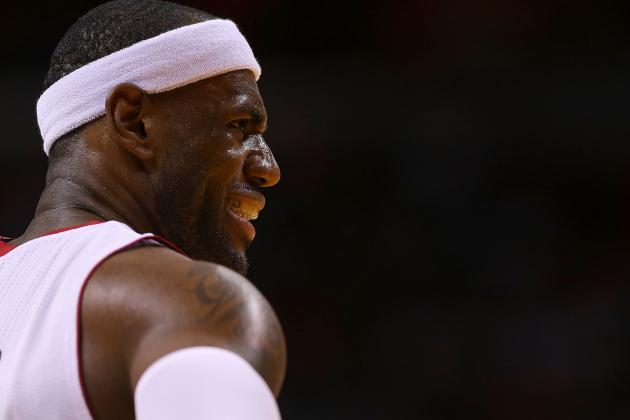 Mike Ehrmann/Getty Images
LBJ cited turnovers for allowing the Bucks back into the game.
The Milwaukee Bucks beat Miami twice last season and are an even better team this year, so the stage was set for a great game. It was everything it was (or wasn't) billed to be, as the Bucks managed to push overtime on the road against the defending NBA champs.
The story of the game for the Bucks was the outstanding play of John Henson, the lanky UNC product, who showed he is ready to make huge contributions on the boards and consistently exposed Chris Bosh on the defensive end (more on this later).
In fact, the Heat were consistently exposed defensively all game, but due to the outstanding contributions of their Big Three on the offensive end, they still came away with a seven-point win, as they held Milwaukee to just four points over the final two-and-a-half minutes of the game (two of them were a garbage basket by Brandon Jennings when the game had already been decided).
Let's take a look at the postgame grades for the Miami Heat.
Begin Slideshow

»
Mario Chalmers primary assignment for this game was simple: play defense and stick to sharpshooting Bucks point guard Brandon Jennings.
Despite the fact that Jennings shot just 9-of-25 from the floor, Chalmers wasn't really responsible for his off night. He was slow on rotations and Jennings blew by him whether he got there in time or was already there.
Chalmers also had four turnovers.
The Heat won the game in spite of his play, not because of it, to state it quite simply.
His backup Norris Cole didn't do much better, though his defense was slightly more passable (more on Cole in the bench slide).
It's hard to call this a good game by Chalmers, even though he did hit 3-of-7 from the floor and finished with nine points and four assists. One who only looked at the box score would assume Chalmers played good defense, but really Jennings just wasn't on tonight.
It's that simple.
Grade: D+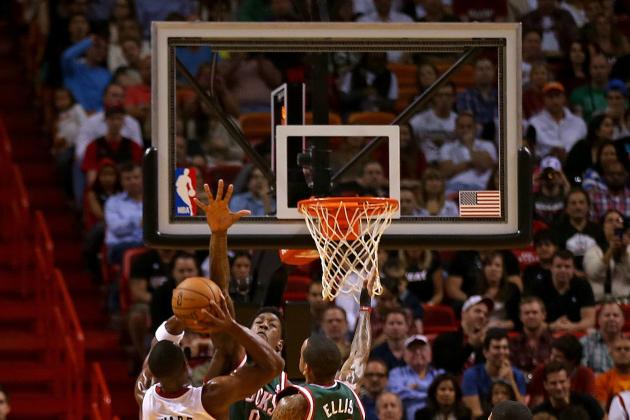 Mike Ehrmann/Getty Images
Wade looked like True Flash tonight.
The Heat were able to stave off the Bucks comeback because of Dwyane Wade's play. Wade scored 10 points in the first quarter, as the Heat built a 29-15 lead after one.
The Bucks owned the second quarter and outscored the Heat 29-17, but Wade must have thought things over at halftime, because he came out in the third quarter to score six points in the first five minutes to help the Heat continue to fight off the feisty Bucks.
His bucket with five minutes left in the third quarter gave the Heat a four-point lead. With 2:47 to go in the third quarter, Wade had 22 points to lead all scorers.
Wade went to the bench for a breather and checked back in with 6:54 in the fourth quarter and the score tied. His tough running jumper coming off a Chris Bosh pick with just over a minute left tied the game.
Wade would continue his heroics in overtime, finishing with 28 points on 11-of-21 shooting in just under 38 minutes of play. It was encouraging to see the Wade of old on the court, as he had been battling nagging injures all season and just hadn't been himself up until this point.
Wade is back.
Grade: A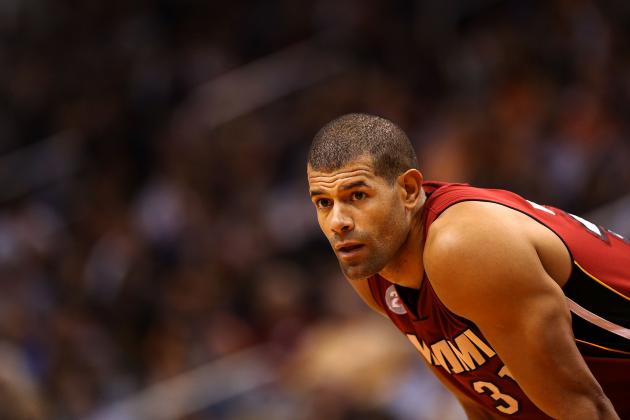 Christian Petersen/Getty Images
Shane's story isn't told by his 0 points.
Much like Mario Chalmers' deceptive line (or Brandon Jennings' to be precise), Shane Battier's impact on the game could not be discerned by glancing at the stat sheet.
He was 0-of-4 from the floor and missed all three of his three-point attempts.
But his defense, as usual, was superb. He came up with two crucial shot blocks and grabbed seven rebounds. Just ignore the fact that he threw up a goose egg in the point column despite playing 38 minutes.
It's hard to give him an outstanding grade with such little offensive production, but the rest of his performance was right on par with what we've come to expect from him. Battier's defense was instrumental.
Grade: C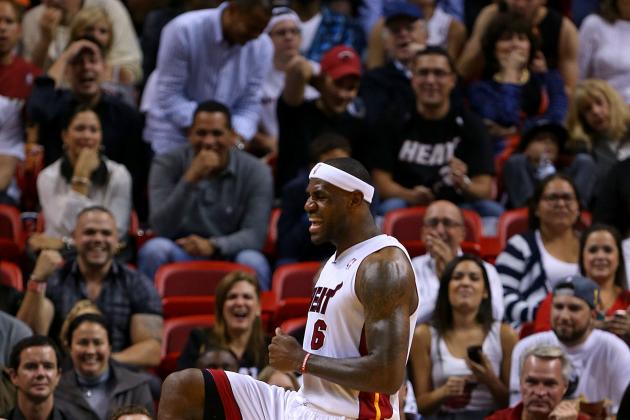 Mike Ehrmann/Getty Images
LBJ was a beast, as usual.
LeBron James nearly had another triple-double. He posted 28 points, 10 rebounds and eight assists in the victory. Several of his rebounds and baskets came at critical times during the game.
James had 10 points in the first quarter, and he played the entire quarter. The Heat had a bit of a scare after the half when James came out and picked up his third foul, but he was careful the remainder of the game, and managed to play 42 minutes, second to only Brandon Jennings' 49 minutes in the game.
Late in the fourth quarter, LBJ banged a long three and then came back the next possession to hit a corner three.
James came up with key rebounds, made key shots and just flat out played like an MVP.
Grade: A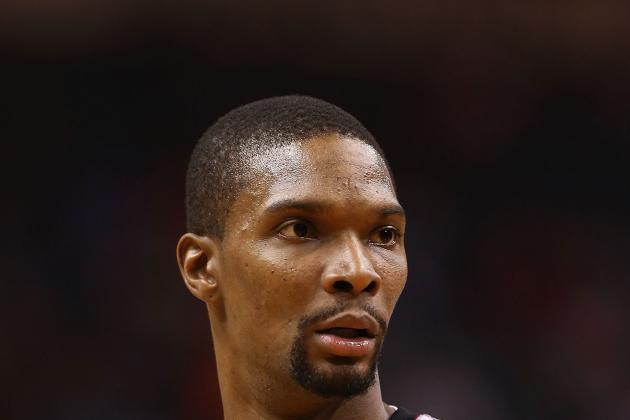 Christian Petersen/Getty Images
It was status quo for Bosh tonight: great scoring, horrible defense.
Chris Bosh found a way tonight to put up an excellent stat line and yet make a mid-first round pick look like a high-lottery pick. Maybe Bucks center John Henson really is that good, but I have a feeling Bosh's defense and lack of box outs was really just that bad.
Henson had the game of his life, posting 17 points and grabbing 18 rebounds. Henson became a go-to guy at times for the Bucks, and he wasn't even known to have an offensive game when he entered the draft last year.
I still don't think he does; Bosh just made him look that good.
Moreover, despite Bosh's 9-of-14 shooting, he looked like he was trying to do too much on several occasions, particularly in the second quarter when (after hitting five of his first six shots) he got overly aggressive and picked up a charge, then threw the ball away trying to lead a coast-to-coast fast break on the next play.
Settle down, Mr. Bosh.
24 points and 18 rebounds is a very good game, but one must remember there are two sides to the court, and unless Henson is really as good as he was tonight on a regular basis, it can reasonably be said that Bosh's lack of defense simply brought out the very best in a very average player.
In fact, if it weren't for King James' offensive rebound on Bosh's three-point attempt with 27 seconds to go, the Heat would have lost this game, and Bosh would have been the true goat (and I don't mean G.O.A.T.) of this game.
Great on one end, horrible on the other. That gets you a middling grade.
Grade: C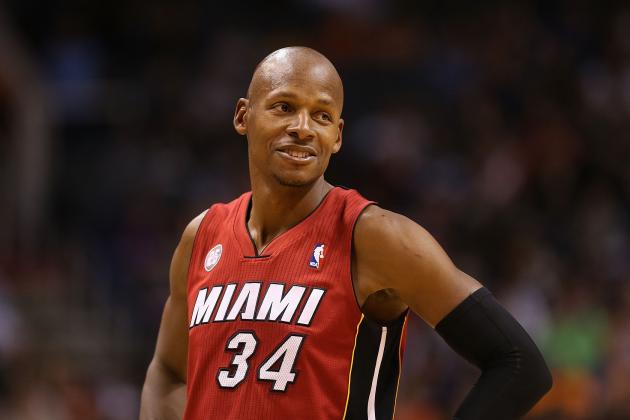 Christian Petersen/Getty Images
Ray Allen looked vintage tonight, too.
Ray Allen continued to make his push for the NBA's Sixth Man of the Year Award, in his first full season as a reserve.
The 37-year-old sharpshooter shot 4-of-10 from the floor, but hit 3-of-5 from downtown and got to the line seven times (hitting six). It was his second-highest point total of the season, and he also sealed the win in overtime, hitting a three-point dagger that put the Heat up by nine points with about a minute to go.
Hard to find fault with Allen's game tonight, and he was on the court when it counted most. As they often say, it's not who starts games, but rather who closes them. Erik Spoelstra counts on Allen's leadership late in games, and the veteran didn't let the Heat down tonight.
Grade: A-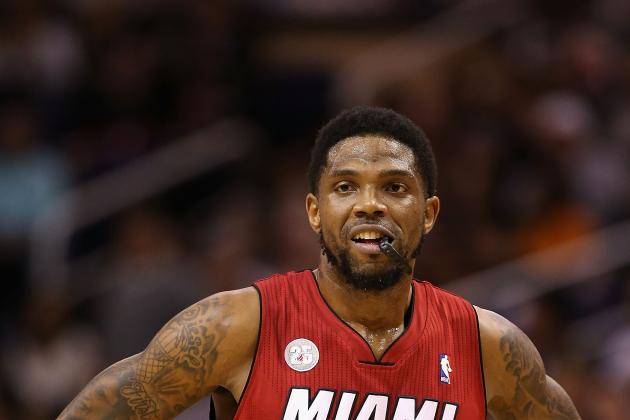 Christian Petersen/Getty Images
Haslem made franchise history tonight, passing Zo for the all-time rebound record.
The Heat bench really didn't do much tonight besides the aforementioned contributions of sixth man Ray Allen.
Udonis Haslem made history by becoming the Heat's all-time leading rebounder, but other than that historical accomplishment, his two points and eight rebounds was a rather pedestrian contribution.
Norris Cole did a good job of running the offense and picked up six assists, but posted the worst plus-minus on the entire Heat squad, managing to post a -5 in a seven-point win.
Mike Miller looked as decrepit as ever, and Joel Anthony played a grand total of two minutes.
The Heat picked up a big win tonight, but once you remove Allen, the rest of the bench would have to be about an F+. We'll include Allen to salvage matters for their grade, though, I guess.
Grade: D-