5 Reasons Why Amar'e Stoudemire-Carmelo Anthony Pairing Will Never Work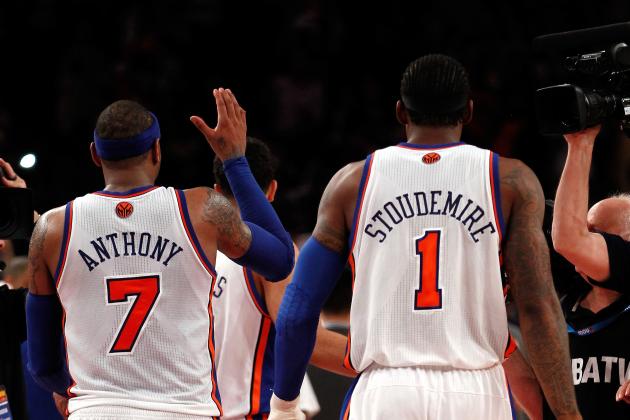 Jeff Zelevansky/Getty Images

Knicks coach Mike Woodson apparently liked what he saw during the 10 games he coached with a healthy Carmelo Anthony and Amar'e Stoudemire.
Woodson told Newsday's Al Iannazzone that he's confident the Knicks can continue their winning ways when Stoudemire returns from knee surgery. He puts a lot more stock in the 8-2 record that the duo complied with Woodson at the helm, and far less in the 22-31 mark the two set before coach Mike D'Antoni resigned midway through the 2011-12 season.
Stoudemire's impending return is the biggest source of discussion around superfan Spike Lee's team. With an NBA best 8-1 record and a league-leading plus-11.78 scoring differential, New York has emerged as a potential championship contender.
Of course, they've managed all of this with Stoudemire in street clothes. With Anthony finding more of his touches near the basket (and the three-point shooters around him connecting on 39.4 percent of their attempts), the obvious questions about the potential fit with Stoudemire have been relentless.
When two players with this kind of talent share jersey colors, it's hard to imagine that pairing being anything but effective. But as it pertains to these particular players in this particular situation, there are a number of potential roadblocks to their shared success.
All stats used in this article are accurate as of 11/20/2012.
Begin Slideshow

»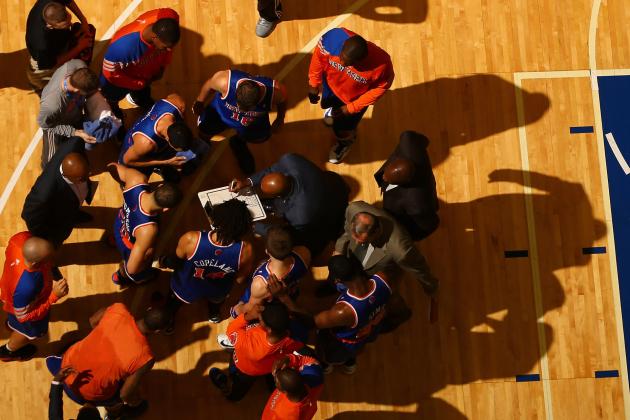 Al Bello/Getty Images

If it ain't broke, don't fix it, right?
This team has looked so strong out of the gate that some have suggested that the Knicks should try to move Stoudemire rather than drastically change their style to accommodate the former All-Star. It'd be a bold move, but perhaps one that wouldn't be as dramatic of a shift as adding Stoudemire to the rotation.
The Knicks wouldn't argue that there are more talented teams in the NBA. But that doesn't mean that this group of players can't find sustained success together.
This team's ability to play off of each other is a testament to the camaraderie that Woodson and his staff have fostered. The addition of veterans Jason Kidd, Marcus Camby, Kurt Thomas and Rasheed Wallace has all played a big role in developing this chemistry as well. So to bring back Stoudemire at this point may be an unnecessary threat to the bonds and relationships that these players have.
Not only would his return affect their on-court performance, but it could also be a self-made media crisis. All eyes would be on how the club handled his addition (as if they're already not) and even a minor setback could spark a riot among the New York media.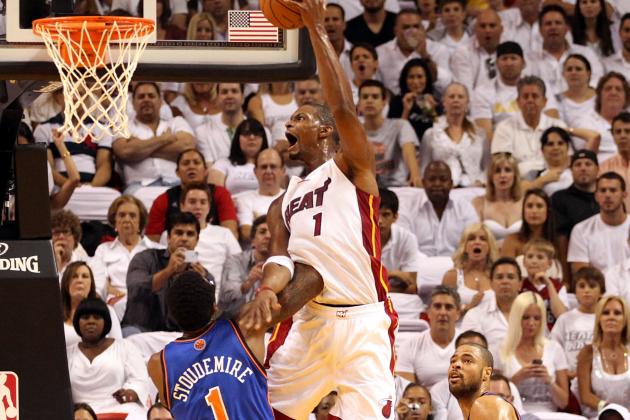 Marc Serota/Getty Images

Perhaps the most astonishing feat accomplished by this current Knicks team is the fact that they've allowed the fewest points per game in the NBA this season (88.89).
Their rotations have been crisp. Their communication has been a coach's dream.
Given Anthony's defensive shortcomings, it's tough to imagine continuing that same defensive energy with the offensive-minded Stoudemire added to the mix.
Stoudemire enjoyed his best basketball playing in Mike D'Antoni's up-tempo offense. Those D'Antoni teams were so leaky that analysts are now questioning his ability to run a Laker defense with two former Defensive Player of the Year Award winners.
Expecting Stoudemire to suddenly add a defensive focus after 10 seasons is like expecting Josh Smith to never attempt another bad three-pointer. Stoudemire has made a lot of money and a lot of All-Star teams by playing his brand of basketball.
Is there anyone on this Knicks roster who could convince him to buy in to Woodson's system?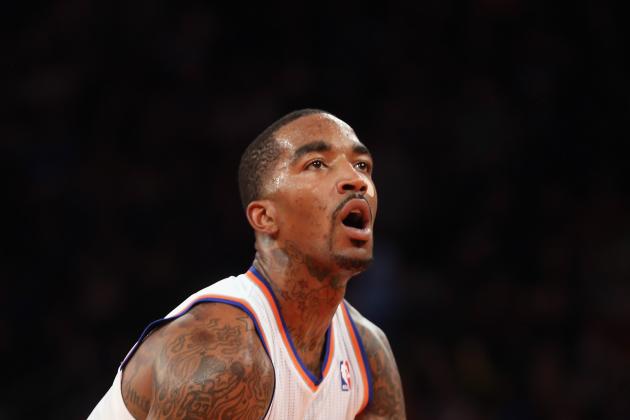 Bruce Bennett/Getty Images

J.R. Smith's transformation in 2012-13 has been nearly as dramatic as that of his team.
Forget the off-court growth that has generated so much discussion. On the floor, his development has been every bit as important to the team's success as Anthony's new post game.
He's playing nearly six more minutes per game this year than he had in any of his previous eight seasons. But the typically trigger-happy Smith hasn't deviated far from his career average in shot attempts (13.1 this season compared to his career 10.5).
Like the rest of Woodson's bunch, Smith has made the extra pass when needed and found his shots within the offense. The results have been a staggering three-point percentage (57.1), a career high field-goal percentage (47.5) and nearly the fewest turnovers of his career (1.2 per game).
Stoudemire's return might not affect Smith's playing time, but it would clearly lessen his opportunities on offense. Woodson has to decide if Stoudemire is worth restricting one of his best players and potentially turning back the clock on a J.R. Smith that he'd like us all to forget about.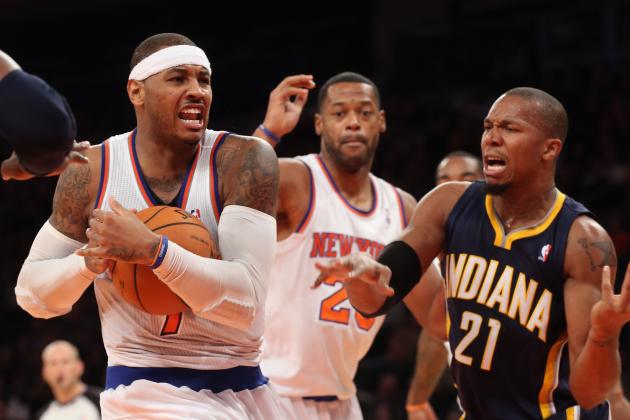 Bruce Bennett/Getty Images

Part of the reason Anthony has been so effective around the basket has been the fact that the Knicks have the deepest three-point attack in the NBA. Five different Knicks have shot 34.0 percent or better on a minimum of 25 perimeter attempts.
With Anthony occupying so much time now near the basket and Tyson Chandler never straying far from it, where will Stoudemire fit in on the offensive end?
He's typically spent a lot of time in the high post. If he gravitates toward that spot, he'll force Anthony back out to the perimeter and back in to being that player capable of disrupting his team's offensive flow.
Stoudemire has some range on his jumper, but not enough to keep his defender from an easy double-team on Anthony in the post. The easy solution is to line up Stoudemire at center, but an Anthony-Stoudemire frontcourt sounds as forgiving as any NBA frontcourt we've seen.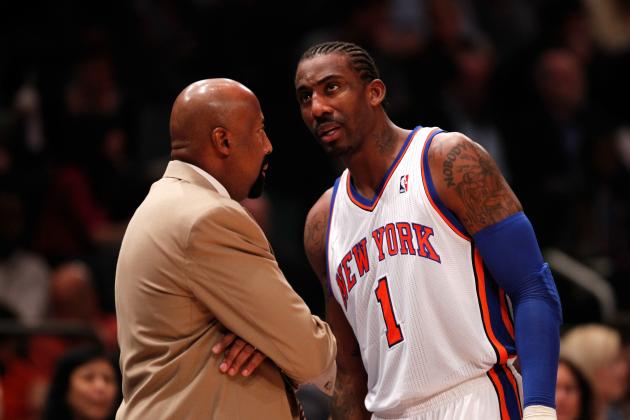 Jeff Zelevansky/Getty Images

NBA games offer a limited number of possessions to each team.
It's up to the coaches to decide how many touches are doled out to each of his players. This act often becomes as much about balancing egos as it does practicing sound basketball principles.
With that in mind, how will the current Knicks players respond to the number of plays set aside for Stoudemire (and thus taken away from them)? Or if Woodson limits Stoudemire's touches, how will the big man respond to being outside of the top two offensive options?
Anthony's certainly not losing his touches. He's one of the league's premier scorers, and Woodson understands how valuable Melo's offensive production is.
So who will give up touches for Stoudemire? Does Smith sacrifice shots in what could be his breakout season? Will Raymond Felton suddenly embrace the role of distributor? Are the Knicks willing (or able) to dial back those potent shooters?
The unfortunate reality for Knicks fans in an otherwise magical season thus far is that there are no clear solutions in this Anthony-Stoudemire conundrum. Unless the franchise is willing to admit that this was a flawed pairing from the start, Stoudemire's imminent return will continue to linger over this team.