Red Sox Rank at the Bottom of the AL East
David Ortiz is happy to have 2012 behind him
Jim Rogash/Getty Images
Since it has been such a slow start to the offseason for the Red Sox, I figured that I would take a quick look at where the Sox stand in the AL East division right now.
These ranking will change throughout the winter as each team adds and subtracts players until we get to next spring.
Once a few of the top free agents sign, it will loosen up the market a bit and you will start to see players sign as well as trades that will effect the rankings.
These rankings reflect players under contract, players under team control going to arbitration and players under team options. If a team has a key player currently as a free agent, I did not include those players in this ranking.
The lower the average means the fewer gaping holes that a team has.
Toronto's early moves this offseason have changed its ranking already, moving up its rotation, shortstop, catcher, second base and left field grades.
Right now this ranking paints the picture that the Red Sox need to add a lot of talent to their roster. The Sox are simply more than one player away, more like five or six players.
Teams are ranked from one through five with no ties. There are 13 categories and the totals are a cumulative average.
Baltimore Orioles 2.62 avg. 34/13
Toronto Blue Jays 2.77 avg. 36/13
New York Yankees 2.85 avg. 37/13
Tampa Bay Rays 3.31 avg. 43/13
Boston Red Sox 3.46 avg. 45/13
Starting Rotation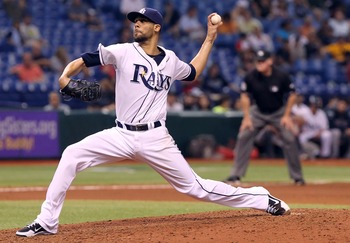 David Price leads the best rotation in the American League East
Kim Klement-US PRESSWIRE
These ranking will likely change once each team has made its offseason trades and signings. But this is where it stands as of right now based on what they have under contract right now.
The Rays are still the class of the division, headed by 2012 Cy Young award winner David Price and the depth the team has behind him.
Things have already changed in the past three weeks, especially due to the mega-trade completed between the Miami Marlins and Toronto Blue Jays. Toronto has gone from the bottom of these rankings to second by adding Josh Johnson and Mark Buehrle.
The Yankees stand third due to Hiroki Kuroda and Andy Pettitte currently being free agents.
Baltimore simply got the most out of its rotation last season and it will be very interesting to see what additions the Orioles make.
The Red Sox certainly have the talent to be above the cellar here, but the poor performance by Jon Lester, and John Lackey returning from surgery, makes it hard to grade this rotation above Baltimore right now.
1. Tampa Bay Rays: David Price, James Shields, Jeremy Hellickson, Matt Moore, Wade Davis, Alex Cobb
2. Toronto Blue Jays: Josh Johnson, Brandon Morrow, Rickey Romero, Mark Buehrle, J.A. Happ
3. New York Yankees: CC Sabathia, Phil Hughes, David Phelps, Ivan Nova
4. Baltimore Orioles: Wei-Yin Chen, Jason Hammel, Chris Tillman, Miguel Gonzalez, Steve Johnson
5. Boston Red Sox: Jon Lester, Clay Buchholz, Felix Doubront, John Lackey
Bullpen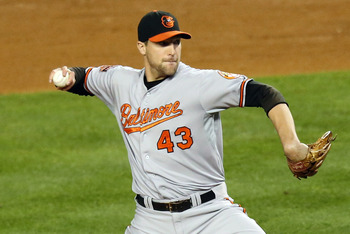 Jim Johnson leads the best bullpen in the division.
Anthony Gruppuso-US PRESSWIRE
Baltimore's dominant bullpen, led by Jim Johnson, really propelled the team to the postseason in 2012 and gave the team a chance to beat the Yankees in the playoffs.
The Red Sox bullpen was one of the few bright spots in an otherwise dismal season under Bobby Valentine.
Fernando Rodney was probably the best closer in the division last season with the O's Jim Johnson, although the Rays need to rebuild depth behind him this year.
The Yankees grade is artificially low due to both Mariano Rivera and Rafael Soriano being free agents.
The Blue Jays have a lot of good arms but no real experienced closer. Santos has shown flashes in the past but will be returning from injury.
1. Orioles: Jim Johnson, Luis Ayala, Darren O'Day, Brian Matusz, Pedro Strop, Jake Arrieta,
2. Red Sox: Andrew Bailey, Junichi Tazawa, Rich Hill, Andrew Miller. Craig Breslow, Clayton Mortensen
3. Rays: Fernando Rodney, Jake McGee, Jeff Niemann, Burke Badenhop, Joel Peralta
4. Yankees: David Robertson, Joba Chamberlain, David Aardsma, Boone Logan, Clay Rapada
5. Blue Jays: Sergio Santos, Casey Janssen, Dustin McGowan. Darren Oliver, Emil Rogers, Brad Lincoln
Catcher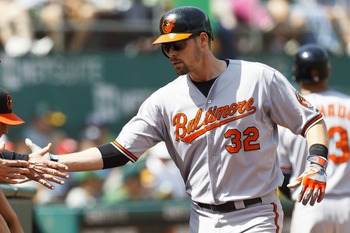 Wieters is far and away the best catcher in the division.
Jason O. Watson/Getty Images
Catcher is a very weak position in the division right now, one that Matt Wieters wins in a landslide. Wieters really came into his own last season leading the Orioles patchwork pitching staff to the playoffs and played the Yankees toe-to-toe during the ALDS.
The Blue Jays have good depth, but no truly elite backstop. John Buck returns as the starter, meaning one of the other catchers will likely be traded.
The Red Sox made the surprise signing of David Ross, making one of their young catchers expendable.
The Yankees are currently missing starter Russell Martin, who is a free agent.
The Rays catching situation is simply bleak at this point. If they could convince A.J. Pierzynski to come to Tampa, they would vault to the second spot on this list.
1. Orioles: Matt Wieters, Taylor Teagarden, Luis Exposito
2. Blue Jays: John Buck, J.P. Arencibia, Bobby Wilson, Travis d'Arnaud
3. Red Sox: David Ross, Jarrod Saltalamacchia, Ryan Lavarnway
4. Yankees: Francisco Cervelli, Austin Romine, Eli Whiteside, Chris Stewart
5. Rays: Jose Molina, Jose Lobaton, Chris Gimenez
First Base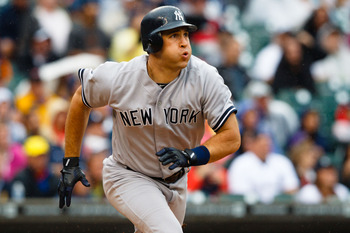 Mark Teixeira is still the class of the division.
Rick Osentoski-US PRESSWIRE
Even coming off a down season, Mark Teixeira is still the class of the current AL East first basemen and looks to continue that through 2013.
With Mark Reynold being unsigned, the Orioles can simply slide the blossoming Chris Davis into the position.
Adam Lind has never quite developed the way anyone expected, but still is better than what the Red Sox and Rays currently have at the position.
The Red Sox currently have career minor-leaguer Mauro Gomez and prospect Jerry Sands at the position. The will likely add to the position.
The Rays currently have a gaping hole at the position, one that will require a trade or signing.
1. Yankees: Mark Teixeira
2. Orioles: Chris Davis
3. Blue Jays: Adam Lind, David Cooper
4. Red Sox: Mauro Gomez/Jerry Sands
5. Rays: Open
Second Base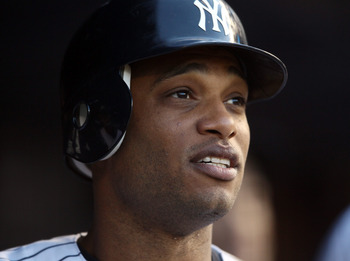 Robinson Cano has a slight edge over Dustin Pedroia.
Elsa/Getty Images
Robinson Cano is still the class of the division, coming off of an almost-MVP worthy season. Cano has developed into the Yankees biggest threat and best hitter.
Pedroia continues to be the heart and soul of the Red Sox and will be a key component in transition to the next wave of Sox minor league talent.
The Blue Jays have improved their situation since the end of the season by signing Izturis and trading for Bonafacio.
The Orioles will likely add another player to compete at second for the team.
The Rays may go with the group listed below in order to focus on other areas.
1. Yankees: Robinson Cano
2. Red Sox: Dustin Pedroia
3. Blue Jays: Maicer Izturis/Emilio Bonafacio
4. Orioles: Alexi Casilla, Brian Roberts
5. Rays: Elliot Johnson, Sean Rodriguez, Ryan Roberts
Shortstop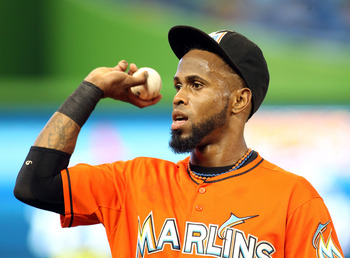 Jose Reyes went to Toronto in the recent mega-trade.
Marc Serota/Getty Images
This is one area where the Blue Jays have greatly improved since the end of the season. Yunel Escobar would have likely landed fourth on this list, but acquiring Jose Reyes has moved them all of the way up to first in the division. Reyes is simply the most dynamic shortstop in the division and should have a huge impact in Toronto.
Derek Jeter is still recovering from his broken ankle that he suffered while playing in the 2012 postseason. When healthy, Jeter enjoyed his best season in years in the field and at the plate.
Hardy was one of the stalwarts of an Orioles team that surprised almost everyone to advance to the playoffs, showing power that is surprising for the position.
Ben Zobrist is Mr. Everything to the Rays, filling in at almost every key position on the diamond. He's a surprisingly productive offensive player who has been one of the few bright spots for Joe Maddon.
Right now with Jose Iglesias penciled into the lineup as the starter, the Red Sox suffer due to the lack of experience at the position. Iglesias is expected to field the position at a Gold Glove caliber, but concerns remain over his ability to hit. Pedro Ciriaco was one of the few bright spots on last year's team.
1. Blue Jays: Jose Reyes
2. Yankees: Derek Jeter
3. Orioles: J.J. Hardy
4. Rays: Ben Zobrist
5. Red Sox: Jose Iglesias/Pedro Ciriaco
Third Base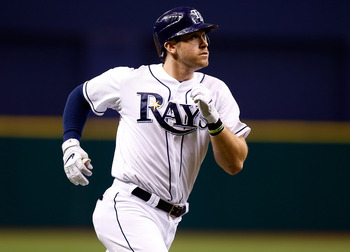 Longoria is Tampa's main offensive force.
J. Meric/Getty Images
Third Base is a position that has a lot of good young talent in the division.
Evan Longoria continues to be the main offensive force for the Rays, consistently producing in the middle of the order. Longoria is also the defensive class of the division.
Will Middlebrooks has a huge impact in his short time in Boston, providing much needed power and the ability to knock in runs and hit the other way. Defensively, Middlebrooks will need to show he can handle the position through the course of a full season.
Brett Lawrie had a strong second season in Toronto and figures to be a fixture there for years to come. At only 22, Lawrie has the ability to continue to grow and develop in the major leagues.
The 20-year-old Manny Machado burst on to the scene for the Orioles down the stretch, playing a new position and showing that he was not overmatched at all. Machado was very impressive at third base, making adjustments at the plate and his performance in the playoffs.
Rodriguez has the most credentials of anyone in the division and probably the most questions to answer going into 2013. Yankees' manager Joe Girardi continued to pinch-hit for Rodriguez and bench him against hard throwing right-handers during the playoffs, not something you would expect for a player like A-Rod.
1. Rays: Evan Longoria
2. Red Sox: Will Middlebrooks
3. Blue Jays: Brett Lawrie
4. Orioles: Manny Machado
5. Yankees: Alex Rodriguez
Left Field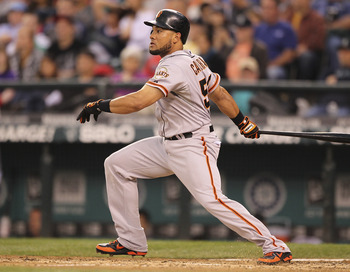 Melky returns from suspension to become the divisions best LF.
Otto Greule Jr/Getty Images
Traditionally a power positions for most teams, it exposes the weaknesses of all of the teams in the division.
Melky Cabrera was enjoying the best season of his career before he was suspended for drug use. Cabrera becomes the best left fielder in the division, almost by default.
Brett Gardner recovered from his injury enough to be added to the Yankees postseason roster. His mix of speed, average and defense really helps the Yankees in many areas.
Desmond Jennings had a solid season for the Rays but will be asked to contribute far more with the expected departure of B.J. Upton.
The Orioles should have Nolan Reimold return from injury and will likely add players to compete with him during spring training.
The Red Sox will hope that they can improve upon Daniel Nava for 2013. Nava plays well in small sample sizes, but is exposed when he plays full time.
1. Blue Jays: Melky Cabrera
2. Yankees: Brett Gardner
3. Rays: Desmond Jennings
4. Orioles: Nolan Reimold
5. Red Sox: Daniel Nava
Center Field
In a tough competition, Jones is the division's best CF
J. Meric/Getty Images
Adam Jones is coming off of a remarkable 2012 campaign, where he continued to be an offensive force while playing great defense.
Curtis Granderson had his typical power numbers, but seemed to take a step back at the plate, striking out far too often. Defensively, Granderson looked like he might have lost a step or has just slipped.
Jacoby Ellsbury has been able to remain healthy enough to remain on the field. In his at-bats last season, Ellsbury was not nearly as productive as he had been in 2011.
Colby Rasmus had a solid season for the Jays but needs to take the next step next season with the expected departure of Ellsbury and Granderson after 2013.
Right now Sam Fuld would be penciled in as the starter, but I would expect the Rays to upgrade in center field.
1. Orioles: Adam Jones
2. Yankees: Curtis Granderson
3. Red Sox: Jacoby Ellsbury
4. Blue Jays: Colby Rasmus
5. Rays: Sam Fuld
Right Field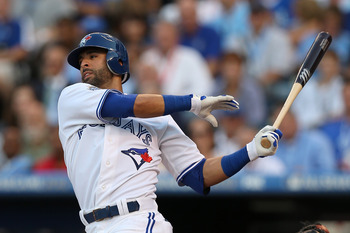 Bautista is the best right fielder in the AL East
Jonathan Daniel/Getty Images
Jose Bautista should benefit greatly with the improved Toronto lineup and rotation as long as he is fully recovered from a wrist injury going into next season.
Nick Markakis will also be returning from injury, a broken thumb suffered at the end of last season that really impacted the O's offense. Markakis is a strong mix of defense and solid OBP.
Matt Joyce is one of the few impact offensive players on the Rays roster and will be asked to improve his production given the departure of B.J. Upton and Carlos Pena.
The Red Sox are still expected to try and resign Cody Ross, but they will have a lot of competition for Ross's services. Ryan Kalish has never been able to remain healthy long enough to capitalize on his potential.
The Yankees will also likely bring in a veteran free agent player to replace Nick Swisher and Ichiro Suzuki.
1. Blue Jays: Jose Bautista
2. Orioles: Nick Markakis
3. Rays: Matt Joyce
4. Red Sox: Ryan Kalish
5. Yankees: Chris Dickerson, Melky Mesa
Designated Hitter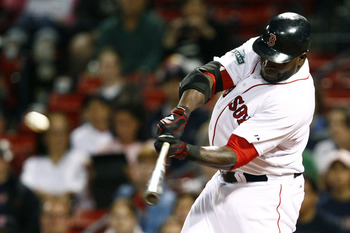 Ortiz was having a great season before it was ended by injury.
Mark L. Baer-US PRESSWIRE
David Ortiz continues to be the class of the division and was having an excellent season in 2012 before it was ended by an Achilles injury. Removing Ortiz's bat from the lineup really hurt the Red Sox for the remainder of last season.
Edwin Encarnacion finally put it all together in 2012, hitting 42 home runs and batting .280. He will likely split time with Adam Lind between 1B and DH. If Encarnacion can repeat in 2013, he will make a good Blue Jays lineup even better.
The Yankees did a good job of rotating the DH position in 2012 to help their aging veterans and provide at-bats for the bench depth. I am listing them here because they will likely rotate Jeter, Rodriguez, Teixeira and Cano through the position.
Wilson Betemit had a solid season for the Orioles in 2012 as a utility player. With the emergence of Manny Machado, Betemit would be a temporary solution as the DH while backing up the other players on the roster.
The Rays do not have a potential DH on their current roster, so they will likely be looking for a veteran on a make-good contract or a platoon situation to fill the position.
1. Red Sox: David Ortiz
2. Blue Jays: Edwin Encarnacion
3. Yankees: Rotation of players
4. Orioles: Wilson Betemit
5. Rays: Open
Manager
Buck Showalter got the most out of the Orioles in 2012
Al Bello/Getty Images
Buck Showalter earns this grade with Baltimore's unexpected trip to the playoffs last season by winning the wild card with the non-name rotation the Orioles employed.
Joe Maddon has been incredibly successful as the Rays manager, winning with a very low payroll, great starting pitching and a young roster. This could be the year the Rays finally deal some pitching to get the offense some help.
Yankees' manager Joe Girardi really came into his own during the last postseason, dealing with the veteran egos and making the right decisions to bench players and put the team first.
John Farrell has the opportunity that he has always wanted in Boston, but will have to right a rocky ship. He'll have a bit of a honeymoon because of Bobby Valentine, but the Sox will still need to show progress early.
John Gibbons will have pressure to succeed right away in Toronto. He was likely a comfort hire for general manager Alex Anthopoulos, but it still feels like the Jays could have potentially landed a manager with a better track record.
1. Orioles: Buck Showalter
2. Rays: Joe Maddon
3. Yankees: Joe Girardi
4. Red Sox: John Farrell
5. Blue Jays: John Gibbons
Front Office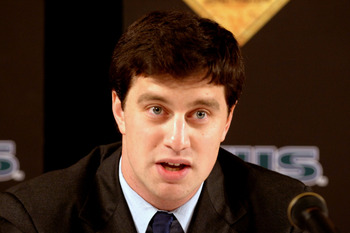 Andrew Friedman is the best GM in the division
A. Messerschmidt/Getty Images
The Rays' ability to continue to develop young pitching has positioned them to compete in the division while having a payroll significantly smaller than the other teams in the AL East. Andrew Friedman has held on to most of his assets to this point, although this could be the winter that pitching is traded for offense.
Brian Cashman has the biggest payroll in the game but has done a great job building bench depth and pitching depth to withstand the injuries that occur during a season.
Dan Duquette's first season in Baltimore was a complete success, almost everything he touched turned out to be a positive decision for the team.
Alex Anthopoulos has been the mover and shaker so far this winter, making the mega-trade with the Marlins, signing Melky Cabrera, trading his manager to Boston and rehiring John Gibbons.
Ben Cherington inherited a mess last offseason and is still picking up the pieces now. He has a ton of work to do, but, at the start of the winter, is behind the other GMs in the division.
1. Rays: Andrew Friedman
2. Yankees: Brian Cashman
3. Orioles: Dan Duquette
4. Blue Jays; Alex Anthopoulos
5. Red Sox: Ben Cherington
Keep Reading

Boston Red Sox: Like this team?