6 Predictions for AL Rookie of the Year Mike Trout in 2013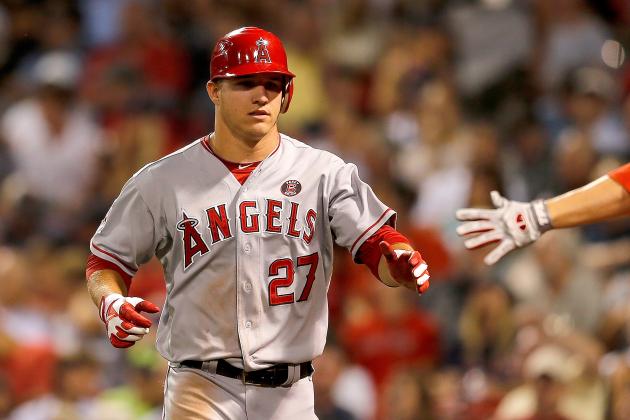 Jim Rogash/Getty Images
Mike Trout—the five-tool player—does it all.
After winning the AL Rookie of the Year Award and taking second in AL MVP voting, it's easy to see that 21-year-old phenom Mike Trout has what it takes to have an illustrious career, and duplicating 2012's stats next season shouldn't be too hard for him.
The center fielder showed he is a true five-tool player this year.
He scored runs, he produced runs, he hit for power and he showed fantastic speed with numerous stolen bases. He made highlight reels often, robbing home runs and diving to take away hits on what felt like a weekly basis.
The first-year player also won a Silver Slugger Award and earned his first All-Star honors.
All of that being said, though, with through-the-roof statistics in year one, the likelihood of his stats across the board dipping is pretty high for his second full season in the bigs.
So what's in store for next year?
Begin Slideshow

»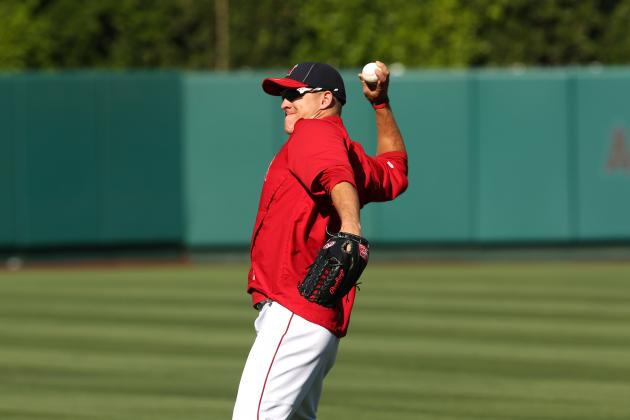 Stephen Dunn/Getty Images
Mike Trout warms up before the game.
In 2011, Mike Trout made his Major League debut. The (then) 19-year-old played in 40 games after the All-Star break.
This season, he again began in the minors, receiving a call-up 20 games into the season. Afterward, he missed just a handful of games from injuries.
Of course, injuries can strike anyone at any time.
However, Trout has been consistently healthy, and he has age on his side. The move from center to left may also help his legs remain healthy, because he would have less room to cover, thus less running—therefore, less chance of lower body injuries and muscle fatigue.
Most of all, though, there is no way he begins 2013 in the minors.
Even if you allow Trout a dozen missed games for rest, fatigue or injuries, that's still 150 games—11 more than last season. Imagine what he could have done in 2012 with 44 more at-bats.
The general consensus among many baseball fans is that when it comes to the Gold Glove awards, Mike Trout got snubbed.
Trout tracked down balls in center field with such tenacity in 2012. Whether it was covering an unbelievable amount of area, diving forward, backward or sideways or leaping at the wall to snatch a home run ball out of the air, Trout did it all.
Each time he had announcers saying, "he never ceases to amaze" or "Mike Trout does it again."
Yet he has nothing to show for it.
In 2013, it's reported that Trout will move to left field now that Torii Hunter has moved on to the Detroit Tigers. The move allows Mark Trumbo to switch from left to right, and Peter Bourjos will play center.
So he won't get to cover as much ground. And?
This last season, Oakland Athletics outfielder Yoenis Cespedes shifted from center to left field. He had 221 putouts and nine assists. Cespedes transitioned just fine, and he still found himself second in AL Rookie of the Year voting (mostly for offense, but defense helped).
Alex Gordon—left fielder and Gold Glove winner—had 319 putouts, 17 assists and three double plays.
In center, Trout had 340/3/1.
With many thinking he was snubbed in 2012, more eyes will be on Trout, and every play he makes will be heavily weighed. And with his defensive abilities, not much should change—except that he'll get recognized this time.
Expect around 315 putouts and five assists. It wouldn't be surprising if three or four of those putouts were home run-robbing efforts either.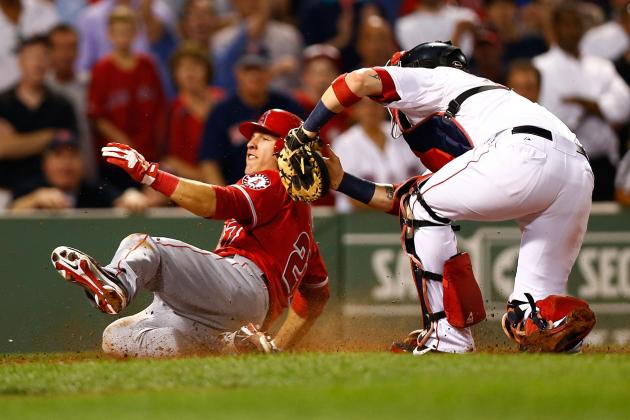 Jared Wickerham/Getty Images
Trout slides into home.
Because Mike Trout finished 2012 with stats through the roof, it is going to be incredibly difficult for him to hit better, let alone as well next season.
This year he hit .326.
Considering this was his first season, it is easy to imagine Trout getting even better as his career progresses. This surely will be the case, but to see his batting average increase anymore would be miraculous and borderline absurd.
Look at AL MVP Miguel Cabrera.
He has consistently hit above .300 for the last four consecutive years. In fact, he's hit over .300 seven times in his 10-year career. But Cabrera started at .268 and increased his average over the years.
This is not to say Trout will hit .268. Nay, it's feasible he will remain above .300.
In 2013, Trout won't have the luxury of Torii Hunter's .313 average. Instead, it will likely be Erick Aybar's career .278 average. Pitchers can be a bit more careful with Trout. It's just one hitter, but it will lead to less runs scored by Trout as well. Essentially taking Hunter out, moving Aybar up in the lineup and filling the hole with Peter Bourjos will affect the top and bottom of the order negatively.
Likewise, his RBI should go down too.
The bottom of the lineup now is a bit weaker. Between Howie Kendrick, Chris lannetta and Bourjos manning the last three spots in the order, less runners will be on base when Trout comes up to the plate.
More games played will make it all the more difficult to produce at a consistently high level. The weaker lineup won't do any favors for his runs scored stat or runs batted in either.
It wouldn't be uber-shocking to see his home runs and stolen bases lower a bit too (only because both were so high as is).
Here is a basic projection range: .303 to .316 BA, 175-185 hits, 112-125 runs scored, 79-88 RBI, 39-44 SB, 25-30 HR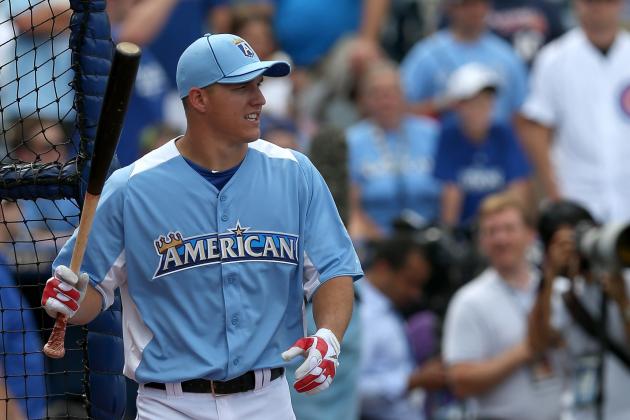 Jonathan Daniel/Getty Images
Mike Trout at the 2012 All-Star Game.
The simplest way to say this is that Mike Trout is a fantastic player, one that will put together statistics worth considering for the All-Star Game—even if some do lower.
And of course, the fans vote the first wave of All-Stars in.
That being said, if his name is on the list in 2013, Trout has a better chance to garner fan votes than many others. Earning Rookie of the Year honors and placing second in AL MVP voting certainly turns heads and gains fans.
The All-Star Game is a popularity contest, and Mike Trout is popular.
Bonus Prediction: Trout earns All-Star Game MVP.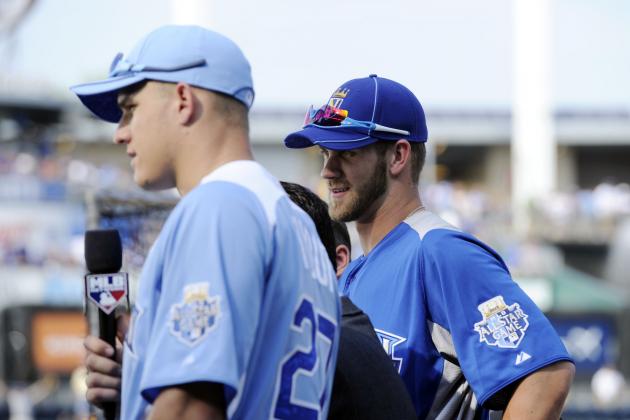 H. Darr Beiser-USA TODAY
Mike Trout in the forefront, Harper in the background.
In 2013, Mike Trout will yet again have a better statistical season than Bryce Harper, even if Trout's stats dip.
According to RotoChamp.com—which utilizes mathematical algorithms based on a plethora of statistics—Trout is projected to hit .306 to Harper's .291. This is likely due to the fact that Trout hits in the leadoff position with the heart of the order (read: Pujols, Albert) due up next, while Harper hits fifth. After him, it's the bottom of the lineup with less protection.
Trout will have more stolen bases (faster) and home runs (more power). Harper will have more RBI (more runners on) and outfield assists (slightly better arm).
One more factor: Pitchers are likely to go right after Harper no matter what, where as in particular situations Trout should be pitched around.
Bonus Prediction: Trout will not have a better season than Albert Pujols, who will have more hits, doubles, home runs and RBI than the young phenom.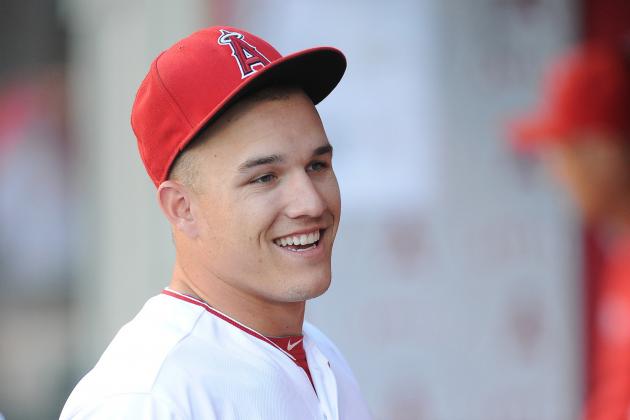 Jayne Kamin-Oncea-US PRESSWIRE
That should be enough to make the kid happy.
It's uncommon for players this fresh in the league to sign extensions so soon, but if Trout even comes close to his 2012 production, the Angels would be smart to lock him up.
The con of course would be that the Angels are on the hook for Albert Pujols for another $228 million, but that lends reasoning to sign Trout now.
Here's the thinking: If Trout continues to get better, as he should, then he will also continue to be worth more and more money. When it finally comes to signing him long-term or to arbitration, he is going to come with an astronomical price tag.
So sign him now before that happens.
In 2012, he made $480,000, according to Baseball-Almanac.com. But he played at a $15 million level. He will be just 21 years old in 2013, so why not give him a seven-year deal worth say, $58 million. That would be $2.5 million for the first year ('13), $4 million for the next, then six, eight,10, 12.5 and 15 million in each of the following years.
It's not completely unheard of.
The Tampa Bay Rays did something similar with their franchise player, Evan Longoria.
In his rookie season, the team signed him to an eight-year extension worth $44 million. In his first year under the new deal, Longoria only made $550,000. In his last (an option year), he will make $11.5 million.
Bet on Los Angeles pulling the trigger now to avoid a nightmare later.
Kirby Lee-US PRESSWIRE
Fans love a winner.
These are three predictions about Mike Trout in 2013, rather than for Trout himself—things he can't really help on his own.
Trout Still Doesn't Play in the Postseason
It's still early in his career, but Trout has yet to play in the postseason. Nothing will change for him in 2013. Sure, the Angels missed a postseason berth by four games. Yes, their schedule in 2013 appears easier than the AL West division winners, the Oakland A's.
Unfortunately, the Angels pitching was average last season and is in worse shape at this point. They also lost Torii Hunter in the lineup, and that will likely have a decent-sized effect.
With the A's, Baltimore Orioles, Chicago White Sox, Detroit Tigers, New York Yankees, Tampa Bay Rays, Texas Rangers and Toronto Blue Jays shaping up to be in contention, a spot in playoffs is going to be harder to come by next season.
Still, it won't be Trout's fault they miss.
Trout Sells the Second-Most Jerseys
Derek Jeter topped the list of top-selling jerseys in 2012, and he should be hard to unseat due to his annual status as a fan-favorite in a favored position for one of the most popular teams in America.
Trout placed fifth on the list.
The Angels outfielder has all the makings of a national favorite though. He is a prototypical All-American guy, a five-tool player who is both likable and talented. Fans who buy jerseys like winners, and Trout is a proven winner so far in his young career.
It's because he outperformed Bryce Harper (fourth-highest selling jersey) with less antics (cocky outward appearance, face paint, stealing home, etc.) that Trout will jump him on the list. He should leap Ichiro Suzuki (No. 3) due to Suzuki's switching teams, age and decline. Nearly the same argument can be made for jumping ahead of Josh Hamilton (No. 2).
Trout is Taken No. 1 in 80 Percent of Fantasy Baseball Leagues
Seriously, what's not to love about a young player who hits for power and has the speed to steal almost 50 bags?
He's young, healthy and has all five tools. Whether he's actually worth the No. 1 pick or not is another question, but the pressure of having the No. 1 pick and the mystery of where he will actually be taken should influence plenty to nab him first before their friends can.