The Tennessee Volunteers gave Derek Dooley most of three seasons to turn the program around. The wins didn't come so Dooley had to go, leaving the team in need of a replacement for the heart of recruitment signings.
Tennessee Athletic Director Dave Hart stated that Dooley improved the football program, via a Huffington Post article by Steve Megargee. But the gains fell short of expectations.
Derek Dooley did indeed improve this football program. There is no question about that.

He inherited a very, very difficult environment, one that I'm now very familiar with having been here for these 13 months. And quite honestly, he was given a pretty short stick to take into that battle.

I think given those facts that he did a good job in a lot of areas in putting a solid foundation under our football program.

This is a result-based profession. You cannot ignore the results at the end of the day.
Now Tennessee (4-7, 0-7 SEC) takes on the difficult challenge of finding a coach that can build on Dooley's foundation, and doing so in time to not only not lose, but gain traction with the school's potential recruiting class.
Jim Chaney, Tennessee offensive coordinator and interim head coach
It is doubtful Chaney will get much attention, but the team will at least consider the interim head coach for the permanent job. He would at least maintain continuity with current recruits.
One thing he wouldn't offer is an in-road with another head coach's recruiting class. For that reason Tennessee will likely target an outside head coach.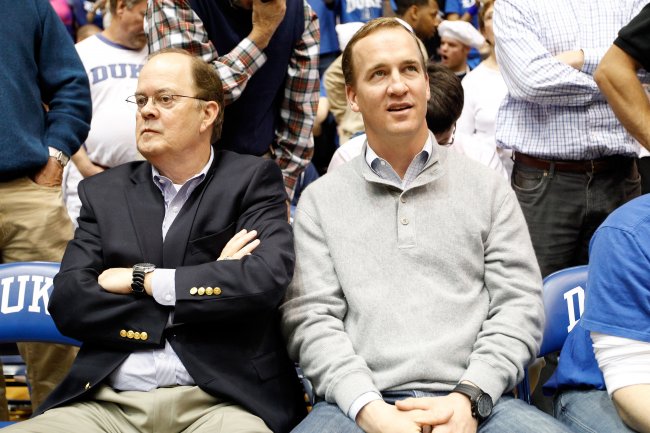 Streeter Lecka/Getty Images
David Cutcliffe, Duke
Cutcliffe is perhaps best known for his efforts coaching quarterbacks, or a certain quarterback at Tennessee and his little brother at Ole Miss. He took over a sad Duke football team that had just two wins in three seasons.
The Blue Devils showed immediate improvement and are now bowl eligible.
Cutcliffe is a long shot but someone the university should interview and consider bringing back.
Charlie Strong, Louisville
There are well-substantiated rumors that Maryland is looking at joining the Big Ten conference. Should they leave the ACC, Rutgers is expected to follow to make the Big Ten to an even 14 teams.
There simply aren't that many strong programs in the Big East, and losing Rutgers would put the conference in jeopardy of losing standing with the emerging NCAA bowl and playoff structure.
Strong has had good success with Louisville. Moving to a school with the resources of Tennessee should allow him to build a nationally-competitive program.
After running Urban Meyer's defense at Florida, Strong is ready for a shot at a major program.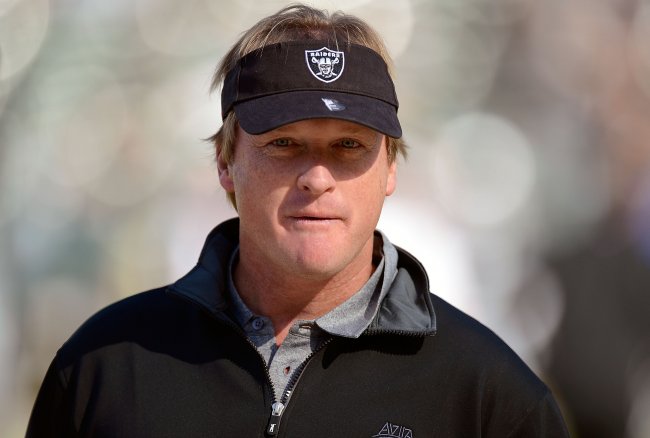 Thearon W. Henderson/Getty Images
Jon Gruden, NFL Analyst and college QB guru
This is the most common name that is surfacing for the job. His Super Bowl-champion pedigree and offensive prowess is obvious.
What isn't known is his desire to return to coaching, be it the NFL or a major college program.
The fit would be ideal. He can build a solid offense and bring in a top-tier defensive coordinator to groom as his replacement. It would be a major coup if the Vols could even lure him into a short-term deal to steady the program and mentor a successor.
Whom should the Volunteers target?
Guz Malzahn, Arkansas State
This is a name I haven't heard tied to Tennessee, which I believe only helps bolster his candidacy.
Malzahn took over as the offensive coordinator under Auburn head coach Gene Chizik. The offense flourished under Malzahn and has fizzled since his departure for Arkansas State.
Could it be that he was the real architect of the Auburn national championship team?
Arkansas State was a 4-8 (4-4 Sun Belt) team in 2010. Malzahn has taken them to 8-3 (6-1) and first place in the conference.
Darin Pike is a writer for Bleacher Report's Breaking News Team and a Featured Columnist covering the NFL and the Seattle Seahawks.