The Boston Celtics' Most Surprising Players of the Early Season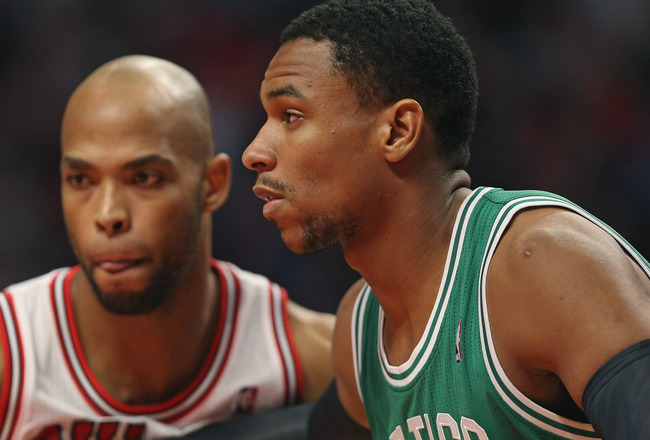 Rookie Jared Sullinger has already had an impact in the early part of the season.
Jonathan Daniel/Getty Images
In life, and in the NBA, things don't always go as planned.
The first three weeks of the NBA season are certainly a good example of that.
Mike D'Antoni hired to replace Brown instead of Phil Jackson.
James Harden traded to the Rockets just a few days before the season tipped off.
The league has already experienced plenty of unexpected twists and turns.
The Boston Celtics have not had any earth-shattering surprises. The team has had some better-than-expected individual efforts and some individual efforts that have been a bit underwhelming as well.
Which members of the Boston Celtics have impressed in the early going? Which ones have disappointed?
All Stats accurate as of 11/18/12 via ESPN.com
Jared Sullinger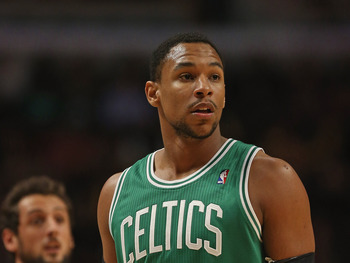 Jared Sullinger has opened eyes with his early-season production.
Jonathan Daniel/Getty Images
For a guy whose stock was dropping just days before the NBA draft last June, Jared Sullinger sure has made a lot of general managers shake their heads in the early going.
Sullinger was medically red-flagged less than a week before the June 28th draft.
That meant that a player who had been thought of as a potential lottery pick ended up falling to No. 21 in the draft, where the Celtics gladly snatched him up.
So far, so good.
Sullinger has started three games, is averaging 3.9 points and 4.1 rebounds per game. Those numbers are more impressive when one considers that Sullinger is averaging only 16.9 minutes per game.
On Saturday, Sullinger recorded his first career double-double in the Celtics' blowout win over the Toronto Raptors. Sullinger scored 12 points and grabbed a game-high 11 rebounds.
His early-season performance and production has been a nice surprise in a season that has had its ups and downs.
Leandro Barbosa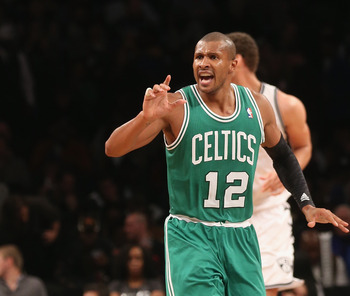 Leandro Barbosa has struggled to adjust to his new team.
Bruce Bennett/Getty Images
For Leandro Barbosa the start of the 2012-13 season has not been one he'll remember fondly.
Fewer minutes, less production, less consistency.
Some of that can be attributed to the late date that he joined the Celtics. Barbosa didn't sign with the Celtics until October 18, 2012.
That was less than two weeks before the NBA season started.
Barbosa required a crash course in learning the new system of his new team. So far, his results have been less than stellar.
Barbosa is struggling in the early going.
He has averaged 24.5 minutes per game over the course of his nine-year career, but this season he's averaging only 14.7 minutes per game.
The lack of playing time has resulted in a logical decline in all of his statistical production. Points, rebounds, assists and steals per game are all below average.
Perhaps a greater obstacle looms down the road?
Avery Bradley is due back from a shoulder injury in December.
Once Bradley returns, there will be a logjam at the two-guard position. Courtney Lee and Jason Terry will both come off the bench behind Bradley. That could squeeze Barbosa into an even more limited role than his current one.
That might extend his streak of disappointing play into the middle and later parts of the season as well.
Jason Terry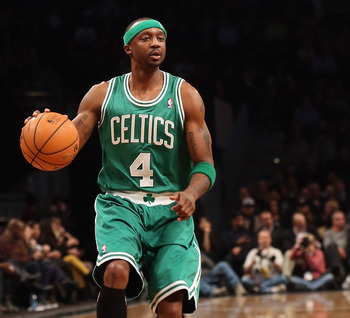 Jason Terry has shown signs of improvement, but so far he's been a bit of a disappointment.
Bruce Bennett/Getty Images
Jason Terry was supposed to be the guy who would provide the bulk of the production to replace the departed Ray Allen.
After all, Terry was second in the entire NBA in made three-point shots in the 2011-12 season.
There's plenty of time for Terry to morph into an adequate replacement for Allen, but so far he has fallen a bit short.
It's not that he has shot the ball poorly; it is more that he has been inconsistent from game to game. Terry has had games in which he has attempted only a few three-point shots.
His performance this past Saturday against the Raptors was his most impressive of the young season. He shot 4 of 7 from beyond the three-point stripe.
Terry's defense has been a bit of a disappointment as well.
Overall Terry's first three weeks as a Celtic haven't been great, but he is showing signs of turning the corner, and there is still plenty of time for him to become a major contributor in Boston.
Jeff Green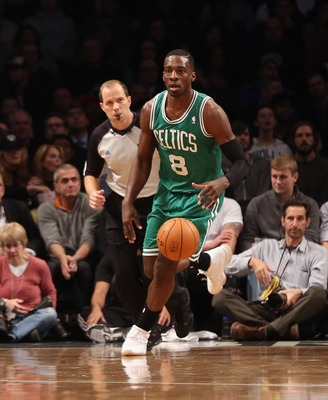 Jeff Green has shown flashes of brilliance, but his overall performance has been a bit of a letdown.
Bruce Bennett/Getty Images
Up until just over a week ago, Jeff Green would have been considered one of the biggest surprises on the Celtics.
The surprise would have been how ineffective he had been.
Slowly but surely, Jeff Green is beginning to alter that perception.
Nonetheless the former lottery pick still has a ways to go if he is to become the heir apparent to Paul Pierce.
Pierce, who will be a free agent following this season, may end up re-signing with the Celtics, but he is nearing the end of what will eventually be remembered as a Hall of Fame career.
Green is one of the players whom the Celtics have high hopes for. He could be the player who helps fill what will be a sizable scoring void when Pierce does retire, or when he is no longer as effective on the court.
So far this season, Green has been too timid and somewhat ineffective on the court. As of late, he has started to mix that with flashes of the type of ability and assertiveness on the court that originally earned him his top-five selection in the 2007 NBA draft.
At this point it's hard to tell what has been a bigger surprise: the poor start to the season or the more recent flashes of brilliance?
Avery Bradley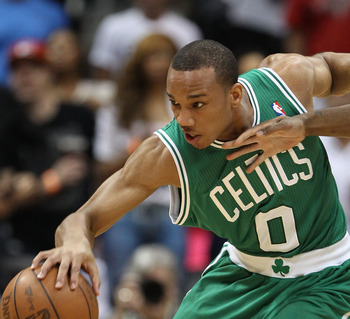 Avery Bradley's defense has been sorely missed so far this season.
Mike Zarrilli/Getty Images
Avery Bradley? There's nothing surprising about Bradley this season is there? After all, he hasn't even played a game yet.
That's true, but what is surprising is just how difficult his defensive presence has been to replace.
As of now, the Boston Celtics rank 18th in points allowed and 21st in opponents field goal percentage.
Those aren't the type of defensive numbers that Celtics fans have become used to under head coach Doc Rivers.
It is not all due to Bradley's absence. Kevin Garnett is starting at center, and the power forward position has been unsettled with both Brandon Bass and rookie Jared Sullinger splitting time.
The backup for Kevin Garnett has also been an issue, Chris Wilcox has been serviceable, but has not impressed. Jason Collins and Darko Milicic have been either injured, or buried on the bench.
Nonetheless there is no question that the Celtics miss Bradley's defense on the court. He didn't supplant veteran Ray Allen last spring because of his shooting. It was because of his defense.
To this point Courtney Lee, Jason Terry and Leandro Barbosa have all spent time at the shooting guard position. The scoring has been OK but not as good as the Celtics would have hoped. The defense has been a noticeable drop-off from what Bradley brought to the table.
The Celtics aren't playing great defense so far in this young season. It is not all because of Avery Bradley's absence, but it is surprising that Bradley's injury has impacted the team as much as it has.
Keep Reading

Boston Celtics: Like this team?