New York Jets: 10 Players to Watch in Week 11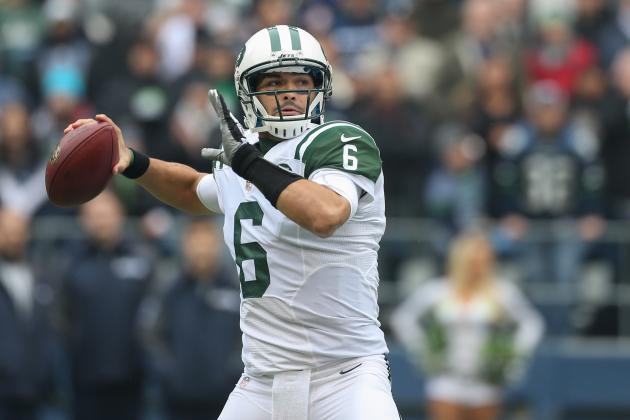 Otto Greule Jr/Getty Images

With the Jets sitting at 3-6 following last week's blowout loss to the Seahawks, making the playoffs will be a tall order.
As a result, over the rest of the season, the Jets should focus not only on winning the game at hand, but on identifying players who will be a big part of this team's future.
Unless the Jets go on a big run over the season's remaining seven games, New York is a team in transition. The Jets have a lot of decisions to make, and this week's game against the Rams may be an early step in that process.
Begin Slideshow

»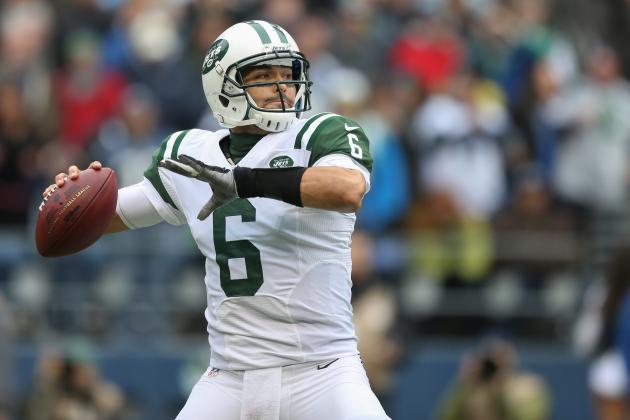 Otto Greule Jr/Getty Images

Sanchez has come under a lot of fire this year for his inconsistency, and the Jets have routinely failed to threaten on offense.
Rex Ryan has essentially pledged his support for Sanchez through the rest of the season, but if the Jets find themselves rebuilding over the summer, they will almost certainly explore their options at the quarterback position.
Sanchez has seven games at the most to prove that he can live up to the potential Ryan and Mike Tannenbaum see in him. Last week's game in Seattle was a tall order, but he needs to turn things around in St. Louis and lead some progress in the Jet offense.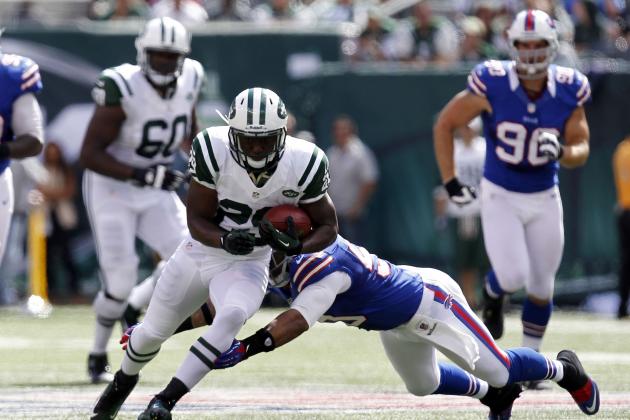 Jeff Zelevansky/Getty Images

The Jets have struggled to generate a consistent running game this season.
While the offensive line has had its blocking issues, Shonn Greene has not proven himself to be an elite back.
Powell has often displayed a better burst than Greene, with quicker cutting ability and the potential to create space when the play is not perfectly blocked. Powell has also impressed with his hustle, notably tracking back 80 yards to prevent the Houston Texans from returning an interception for a touchdown.
Gang Green certainly has questions at running back, and it wouldn't be a surprise if the Jets give Powell a chance to grab the starting job.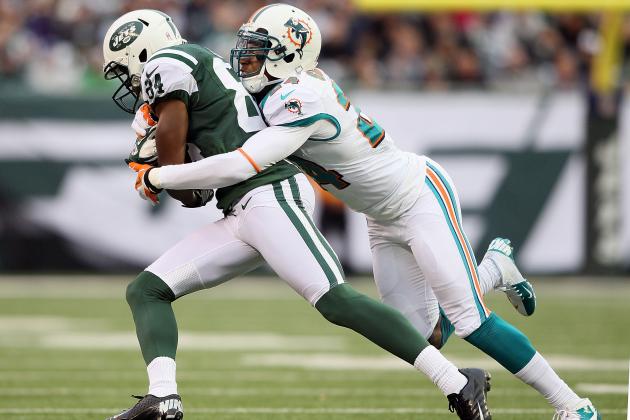 Alex Trautwig/Getty Images

Stephen Hill's killer drop against the Patriots was in many ways the start of the Jets' precipitous decline, but what has been more troubling has been the second-round pick's inability to generate separation from most defensive backs.
Hill was advertised as a talented but raw receiver, and it was expected that he would struggle with press coverage. While he may have raised the bar for himself with a strong debut against Buffalo, Hill has shown many of the flaws that had talent evaluators concerned about him.
The receiver remains raw, but the Jets should not give up on him. However, Gang Green cannot yet feel comfortable about the idea of Hill as a long-term answer at the position.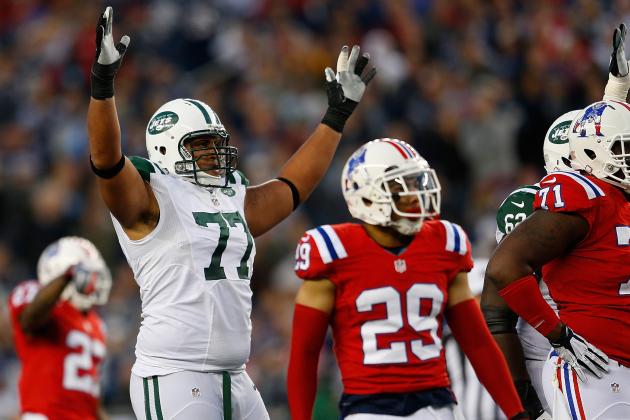 Jim Rogash/Getty Images

Austin Howard has helped to stabilize the Jets' offensive line, but he has not locked down the right tackle position going forward.
Howard was anointed the starter as a short-term solution to the gaping hole at the position, as Wayne Hunter had proven inadequate. Howard has certainly been better than Hunter, but he has had his bad games and is likely no better than average at the position.
Howard is young, and there is no reason for the Jets not to continue to see what they have. But he needs to step up his level of play in order to be comfortable about his job security.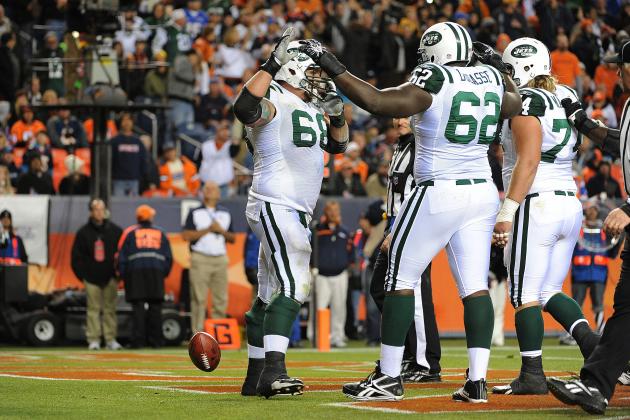 Garrett Ellwood/Getty Images

Slauson is another offensive lineman whose job is likely in jeopardy, as Vladimir Ducasse has seen an increasing number of his snaps throughout the year.
Slauson is a hard-nosed player and likely a more refined run blocker, but he lacks Ducasse's athleticism and potential. With the Jets failing to establish a consistent running game even with Slauson in the game, Rex Ryan has increasingly been experimenting with the younger player.
The Jets' left guard is a respected voice in the locker room, but Slauson needs to have a solid second half of the season in order to remain a part of Gang Green's plans.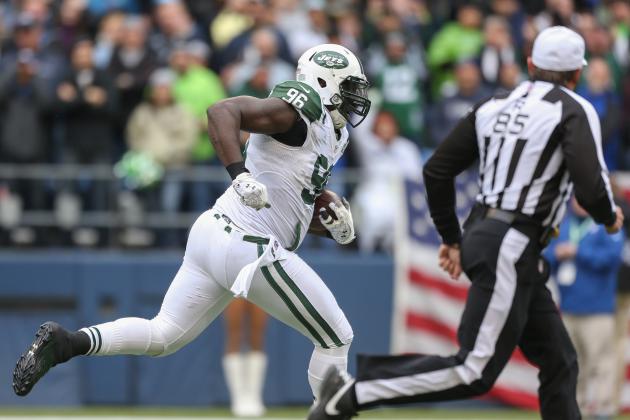 Otto Greule Jr/Getty Images

Wilkerson does not have too much left to prove this season, as he has emerged as one of the best players on the Jets and one of the anchors of the team's defense.
All that remains to be seen is whether Wilkerson can become one of the elite players in the league. Also, while watching several borderline players try keep their jobs, Jets fans deserve to enjoy one of the few guys whose production they can look forward to.
Mike Tannenbaum has struggled with recent draft selections, but getting Wilkerson at the end of last year's first round was one thing the Jets did right.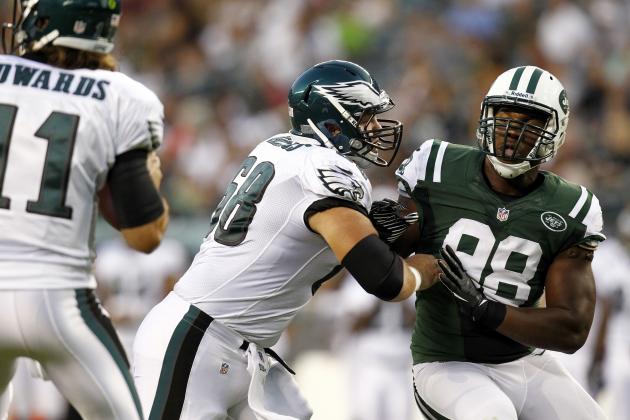 Jeff Zelevansky/Getty Images

The Jets' lack of a pass rush has been a frequent problem over the last several years, but the recent emergence of Coples represents a potential solution to that problem.
While Coples remains raw and is nowhere near as well-rounded as Wilkerson, he has more potential to be a dynamic pass-rusher from the defensive end position. The Jets have lacked this type of player for years, and it would dramatically help Rex Ryan's defensive schemes if Coples could become a sack producer or require consistent double-teams.
Coples has shown enough this year that he will be a fixture in the Jets' 2013 starting lineup. The bigger question is whether the Jets need to pursue additional pass-rushing help in the offseason.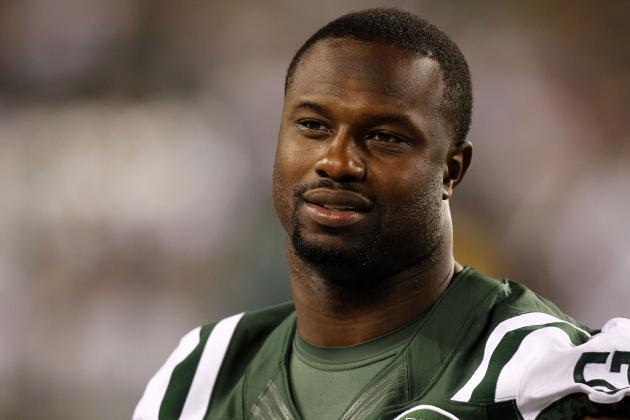 Jeff Zelevansky/Getty Images

Scott is the only older player on this list, as he is fighting to keep the job he has held down for the better part of a decade.
Long thought to be on his last legs, Scott showed renewed burst last week against the Seahawks, getting into the Seattle backfield multiple times and harassing Russell Wilson. But he has not put together the most consistent season and has often looked a step slow on outside runs.
Scott is a vocal member of the defense and is definitely considered a leader on this football team. But he is also an expensive player and will have to prove that he can earn his salary.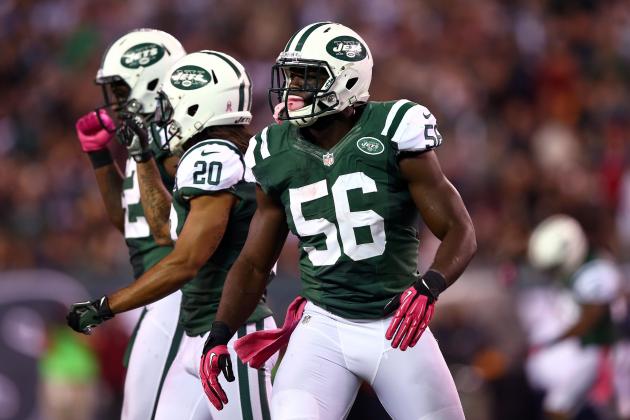 Elsa/Getty Images

Davis, who is supposed to be the solution to many of the speed issues in the Jets' linebacker corps, has seen more playing time as the season has progressed.
He has shown the potential that Rex Ryan saw in him, particular in passing situations, but Davis has not yet emerged as an every-down starter for Gang Green.
The Jets aren't giving up on their third-round pick, but it is important for them to see how far along Davis is in his progression and whether they can count on him to start at outside linebacker next season.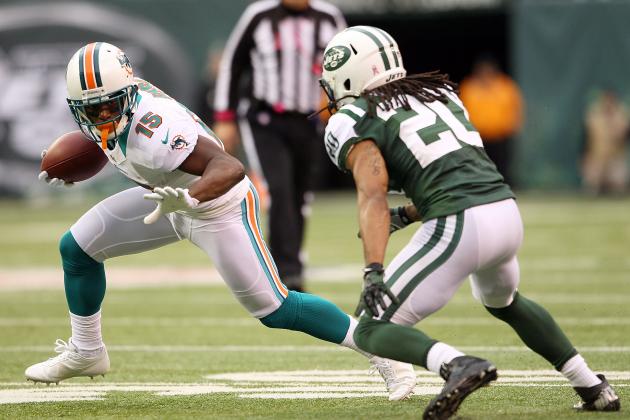 Alex Trautwig/Getty Images

Wilson finds himself in a somewhat peculiar position. If all goes well, the Jets' current second cornerback will not be a starter in 2013 regardless of his play.
Wilson, of course, is only starting because of the season-ending injury to Darrelle Revis. If Revis successfully recovers from his injury, he will be paired with the improved Antonio Cromartie to form a truly elite corner tandem.
If the Jets can add an improved Wilson to that group as a nickelback, they will be an extremely difficult team to throw against. But Wilson has been picked on often this year and has not yet become the shutdown cover man the Jets thought they were getting when they drafted him three years ago.