Definitive Case for LeBron James as Most Dominant Superstar of All Time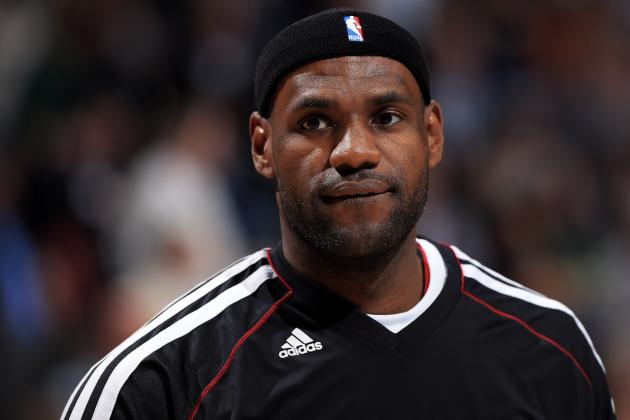 Doug Pensinger/Getty Images

There is no player who dominates more phases of the NBA game quite like LeBron James.
Not now and not ever.
From an individual skill standpoint, he is the most dominant superstar of all time.
His ability to rebound the basketball, facilitate offense and score with efficiency on a nightly basis is as unique as it is noteworthy.
He is also among the NBA's elite on defense, with the ability to defend positions 1 through 5.
The only line on his resume that needs updating is the one that lists NBA championships.
LeBron already has earned the right to be mentioned along with Magic Johnson as one of the best passers to play the game. He is also rebounding at a similar rate to Oscar Robertson.
James is a more versatile defender than Kobe Bryant while scoring at a pace comparable to Michael Jordan.
The combination of size, speed and physicality that James plays with would have dominated any era, and he's still only 27 years old.
Begin Slideshow

»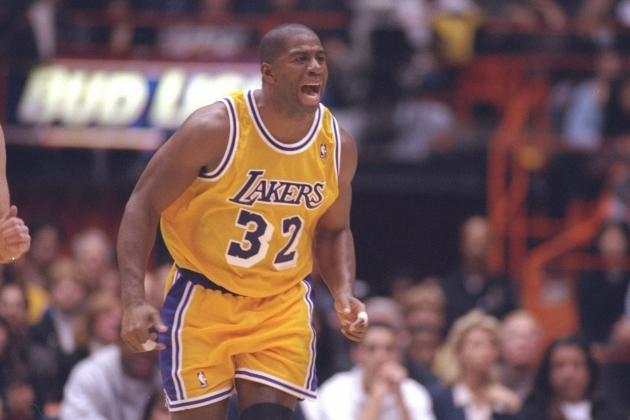 Getty Images/Getty Images

Magic Johnson is the benchmark by which all NBA passers are measured. He's the best point guard to play the game.
Johnson averaged 11.2 assists per game while scoring 19.5 points. LeBron has averaged 6.9 assists while scoring more than 27.
As LeBron enters his mid-30s, I actually expect him to have seasons where his statistical average looks more similar to Magic's career line. That's a topic for another day, however.
For now, James is arguably the best passer in the NBA. Among the top 18 players in assists per game last season, LeBron was the only forward.
He finished 13th in assists per game during the 2011-12 season while also finishing third in scoring.
In every season James has played since entering the league in 2003, he's finished no worse than 15th in assists.
He finished as high as sixth in assists twice and in the top 10 four times. The 6.2 assists LeBron averaged last year should only improve this season.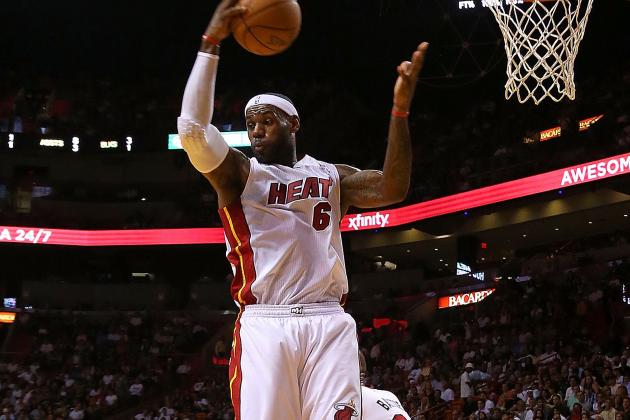 Mike Ehrmann/Getty Images

Oscar Robertson is the last player to average a triple-double. He averaged just more than 12 rebounds per game that season.
If any player in the game today could average a triple-double, it's LeBron James. He probably won't, but James' career average of 7.2 rebounds is very close to the 7.5 that Robertson averaged in his career.
LeBron has already has won more MVPs than the "Big-O."
Robertson won his only MVP in 1964 as a member of the Cincinnati Royals. Last season LeBron won his third.
Through his first 10 games this season, LeBron appears set to improve that rebounding total. As of November 15, James is averaging 9.2 rebounds per game, which would be a career high.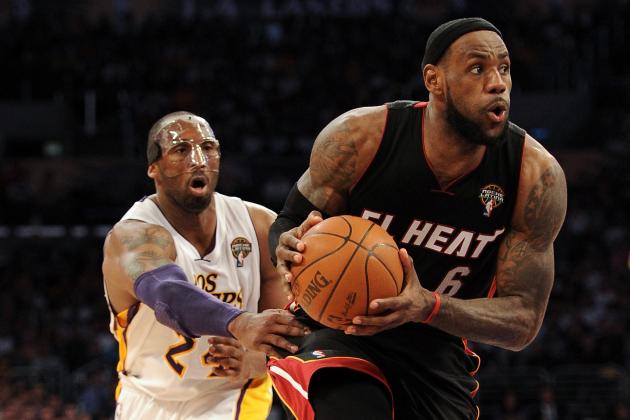 Harry How/Getty Images

LeBron James has quietly been an All-NBA Defensive first-teamer in each of the last four seasons.
His chase-down blocks have become as expected at NBA games as T-shirts being launched by rockets into the upper levels of the arena.
Through 699 games, LeBron has also averaged 1.7 steals per game.
Kobe Bryant, meanwhile, has been named a first-team, All-NBA defender nine times. Bryant, who is 34 years old and in his 16th NBA season, has averaged 1.5 steals per game.
LeBron is 27 years old in his 10th NBA season. Give him the six seasons that Kobe has on him and it's possible that LeBron could end up with more defensive honors than Bryant.
This is without even mentioning that James can guard 85 percent of the NBA's centers along with 100 percent of every other position in the league.
Kobe, as exceptional as he is on defense, can't do that.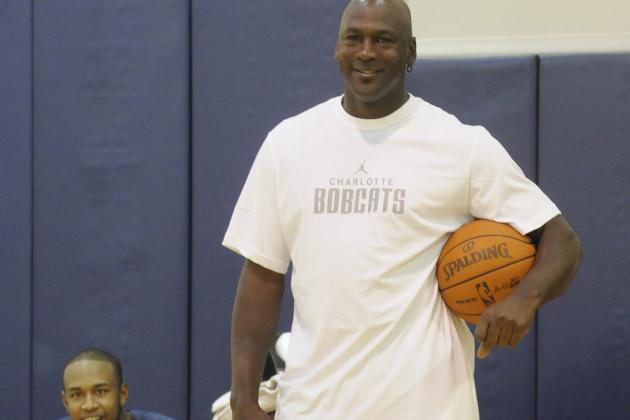 Sam Sharpe-US PRESSWIRE

LeBron James has averaged more than 27 points per game for his career. He's averaged more than that in seven seasons and averaged as many as 30 twice.
During the postseason, LeBron has averaged 28.5 points in 115 games. In the playoffs, he's averaged as many as 30 points per game three times, topping out at an average of 35.3 points during 14 games in the 2009 playoffs.
Through 1,072 games, Michael Jordan averaged 30.1 points per night. As compared to James' point total in 699 games through November 15, 2012, Jordan averaged only 2.5 more points per game. Jordan's playoff average of 33.4 points is also less than five points more than LeBron is averaging.
Additionally, from 1991-1998, Jordan averaged 28 or more points five times. And in 1991, Michael was older than LeBron is now.
If James averages 28 or more points during his next five seasons, he would be on his way to averaging more points than Jordan by the time he retires.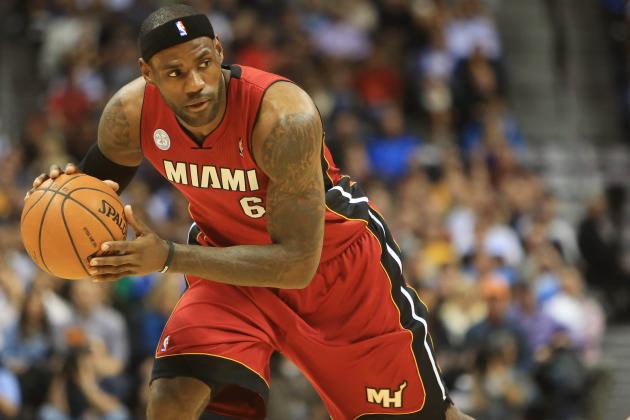 Chris Humphreys-US PRESSWIRE

NBA legacy regulators require that a player win multiple championships to be considered great. Yet at the same time, greatness is not defined by championships alone.
If it were, Robert Horry would be considered a better player than Charles Barkley, Karl Malone and John Stockton combined.
But to earn lifetime entry into the secret room of NBA elite, you do need to win multiple championships.
Right now, LeBron James has one.
Some people will require he win six to surpass Magic, Oscar, Kobe, Michael and everybody else on the list of all-time legends, but I'm not so sure that's necessary.
If he wins two more before he retires that would be enough for James to be unanimously considered the most dominant player of all time.
By most measures, outside of ring-counting, he already is.