5 Reasons Joakim Soria Is Not Worth the Risk for the Cincinnati Reds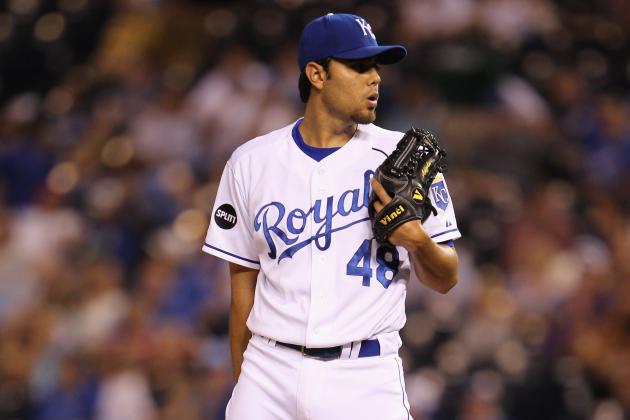 Jamie Squire/Getty Images

According to Ken Rosenthal, the Reds are interested in signing Joakim Soria.
Soria is rehabbing from his second Tommy John surgery and won't be ready to pitch in the majors until May.
The Reds closing situation was a mess last season when Ryan Madson went down with an elbow injury that cost him all of 2012 after undergoing his own Tommy John surgery.
Following the blown experiment with Sean Marshall as the team's closer, the Reds turned to Aroldis Chapman who quite simply made Walt Jocketty and the rest of Reds' management look like geniuses.
Chapman turned in one of the all-time dominating campaigns from a reliever and cemented himself as at least the second best closer in the National League, if not all of Major League Baseball.
So why are the Reds looking to make him a starter? Well, unfortunately, 200 innings is better than 60 innings. Even if they are 60 dominant innings.
Now, there's no doubt that Soria is a talented closer in his own right, but he's got nothing on Aroldis Chapman and he's far too risky for a team like the Reds to take a chance on.
If this were the Yankees it wouldn't matter, but this is a team with a limited budget who can't afford to place upwards of $8 million in a player and have him fail.
So, here's five reasons why Joakim Soria isn't worth the risk for the Cincinnati Reds.
Begin Slideshow

»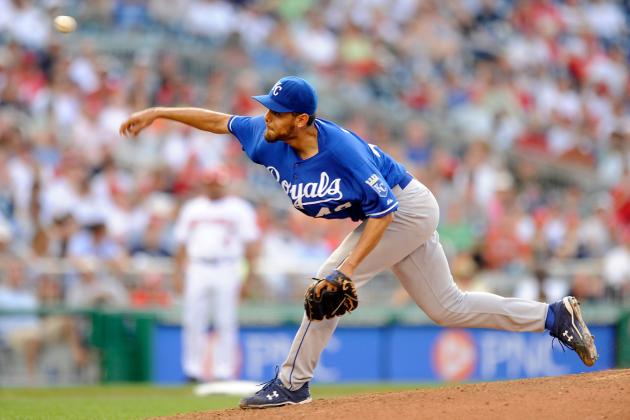 Greg Fiume/Getty Images

Joakim Soria has joined a special group of players to have Tommy John surgery on an already repaired UCL.
According ESPN.com's Stephania Bell, a study conducted by the Los Angeles Dodgers senior director of medical services shows that only 14-percent of starters, and 60-percent of relievers were able to return to their current professional level while carrying 40-percent of their pre-surgery workload.
Though the 60-percent number bodes well for Soria, there's no guarantee.
Let's look at what this really means for Soria though.
In order to assume 40-percent of his 2011 workload, Soria only has to pitch 24 innings. Bill James has him projected to pitch just 50 innings this year. That's a 30-percent decrease from the number of innings Chapman pitched in 2012.
James has Chapman projected to thrown 67 innings this season, Soria's 17-less innings constitutes about 14-17 less appearances and that results in an increased workload for the rest of the bullpen.
Tired bullpens mean blown leads and losses.
If the Reds sign Soria and things don't work out, they've wasted their time and possibly wins in hopes of landing a cheap alternative to Aroldis Chapman.
In addition to possible losses on the field, as well as wasted money and time, the Reds would have to fall back on someone other than Soria compounding the situation into something much worse.
The Reds have several in-house options who could prove useful should this situation arise, (i.e. JJ Hoover, Logan Ondrusek, Nick Masset) but who really wants to have any of these guys thrust into an unfamiliar role?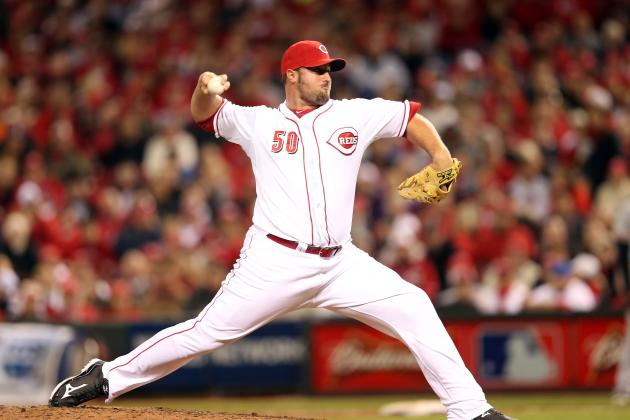 Andy Lyons/Getty Images

Why shoot for Soria when you could have Jonathan Broxton?
If this were an ideal situation and I were picking between the healthy versions of each pitcher I would want Soria. However, no situation is ever ideal and we have a recovering Soria and a healthy Broxton.
Broxton is far less of a risk than Soria.
Now readers of my articles point to Broxton's high ERA and WHIP numbers from 2012 (2.48 and 1.24 respectively), but there are far less medieval methods of measuring a pitcher's production. These statistics include SIERA, FIP, and xFIP.
According to Fangraphs.com:
"SIERA attempts to answer the question: what is the underlying skill level of this pitcher? How well did they actually pitch over the past year? Should their ERA have been higher, lower, or was it about right?"
"Fielding Independent Pitching (FIP) measures what a player's ERA should have looked like over a given time period, assuming that performance on balls in play and timing were league average."
on xFIP-"It's calculated in the same way as FIP, except it replaces a pitcher's home run total with an estimate of how many home runs they should have allowed."
SIERA factors in things like strikeout pitchers generating lower quality contact, higher and lower ground ball rates, higher and lower walk rates among other things. Seriously check out Fangraphs.com for explanations of these types of stats, they're awesome.
So what do these stats tell us about these two closers?
Well, first, that Soria and Broxton aren't all that different in terms of ERA. Soria's career SIERA, FIP and xFIP are 2.74, 2.90 and 3.20 while Broxton's are 2.80, 2.75 and 3.01.
Two of the three metrics show Broxton as a considerably better pitcher while SIERA shows him to be slightly worse than Soria.
Additionally, Broxton lets up significantly less home runs per nine innings pitched. Broxton's career HR/9 value is 0.54 while Soria's is 0.68.
In Soria's last season (2011) he posted a HR/9 value of 1.04. That number won't fly in Cincinnati, only the ball will.
I'd rather have Broxton, or even Madson for that matter but if you want my full take on these two take a look at my last article here.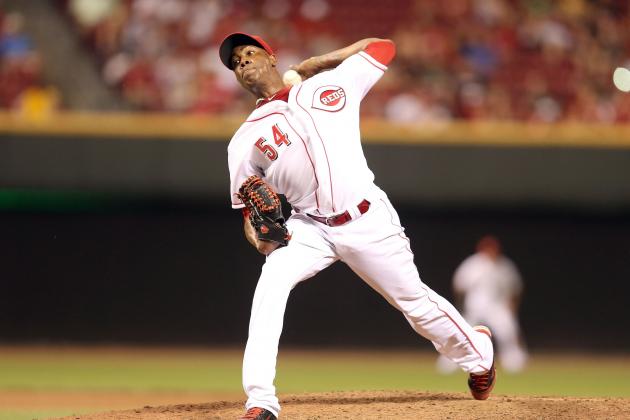 Andy Lyons/Getty Images

The Reds have who I consider to be the second best closer in baseball. While I'll concede that Craig Kimbrel is the best closer in the big leagues, I won't budge on Aroldis Chapman being number two.
Chapman posted basic and advanced statistics in 2012 that were just bonkers.
In 67 innings pitched, Chapman pitched to a 1.51 ERA, 0.81 WHIP a 1.55 FIP, 1.93 xFIP and 1.33 SIERA. In those 67 innings he amassed a whopping 122 strikeouts while walking only 23 batters.
Chapman's ratios are even more impressive.
He finished 2012 with K/9, BB/9, K/BB, and HR/9 ratios of 15.32, 2.89, 5.30 and 0.50 respectively.
Other than Kimbrel, no closer with a K/9 rate higher than 11.00 had better BB/9, or HR/9 rates than Chapman.
As far as comparing Soria to Chapman's 2012 season, it's not even close.
When looking at the same metrics across multiple years, Soria's best performances in these areas look like this; 2.19 ERA, 0.86 WHIP, 2.50 FIP, 2.90 xFIP, 2.37 SIERA, 75 K and 16 BB.
His career bests in K/9, BB/9, K/BB and HR/9 are, 11.72, 2.19, 4.44 and 0.39.
Chapman's single season bests Soria's career bests in ERA, WHIP, FIP, xFIP, SIERA, strikeouts, K/9 and K/BB.
One more crazy stat. Chapman's 122 strikeouts in 2012 account for roughly 36 percent of Soria's career total of 341.
Simply put, Chapman is light years ahead of Soria in terms of pure ability.
In addition to his dominance on the mound, Chapman's in-game presence is electrifying.
As I've mentioned before, I had my first opportunity to see Chapman pitch in person this year. I've seen several exciting professional games in my short 21 years, but no game ever felt as electric as that one.
Now I know the Reds are hellbent on making Chapman a starter, but Soria won't provide half of the raw ability or the excitement of "The Cuban Missile" and that is certainly worth noting.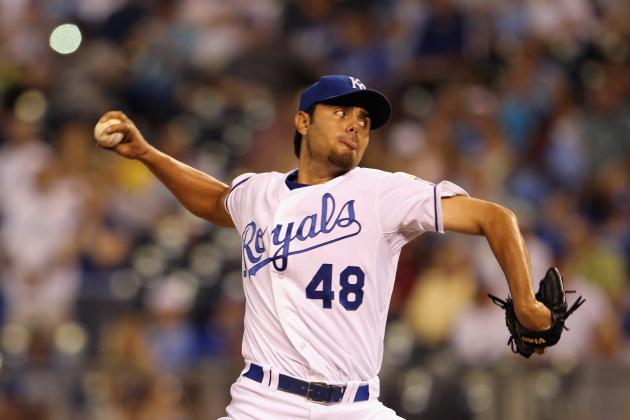 Jamie Squire/Getty Images

This reason pretty well speaks for itself but it's one that is being overlooked in the talk of Soria to the Reds.
Soria's road to recovery doesn't end until May. Any setbacks in his recovery and it starts to look more like he'd return in July, August or not at all.
If the Reds sign him, the team would have to use another pitcher in the closer's role until Soria is ready to pitch at the big league level.
The team does have pitchers who can fill this role and I noted them in the second slide, but this puts both the pitcher and the team in a situation that's far from ideal.
Remember what happened last year when the Reds didn't have a set closer until May?
I do, the Reds went 20-19 in that time, Sean Marshall lost two games himself and blew a save in the process.
After the Chapman took over as the Reds full-time closer, the team went 77-46. While that's obviously not all his doing, he only suffered four losses while blowing just four saves (two in a row) in that time period.
Though closers can be a dime-a-dozen part of a ball club, having a set closer for an entire season certainly helps and juggling closers until May doesn't really help a team's chemistry.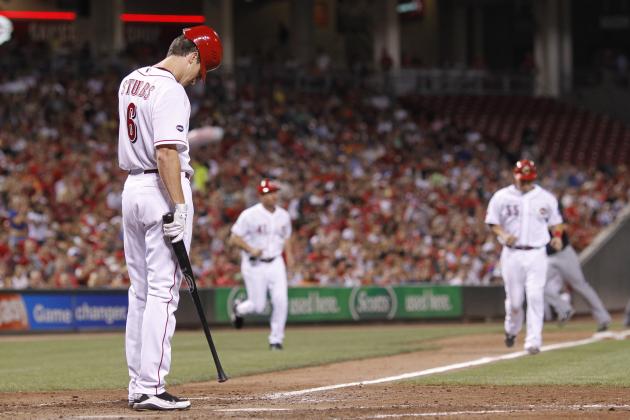 Joe Robbins/Getty Images

The Reds need a leadoff hitter. Signing a closer to replace one of the best in baseball doesn't help the team's ability to address that need.
It's no secret that this is the bigger need for the Reds and if you need proof, here's the Reds stat-line from leadoff hitters in 2012 along with each stat's NL ranking.
.208/.254/.327, 16 HR, 51 XBH, 38 RBI, 84 runs, 148 strikeouts, 37 BB, 10 steals, 10 GDP, 230 TB
Batting Average-16th
OBP-16th
SLG-15th
HR-3rd
XBH-10th
Total Bases-15th
RBI-16th
Runs-T-13th
Strikeouts-14th
Walks-16th
Steals-16th
Double Plays-T-15th
The Reds leadoff spot (outside of home runs) ranks consistently in the bottom two or three in the National League.
If the Reds are going to continue to compete both in the National League and possibly for a World Series, they need to address this issue in a major way.
Now granted the Reds could address this issue via trade, why ship off prospects and/or proven players for someone who's likely going to play one year until Billy Hamilton is ready to take the reins in center field next season?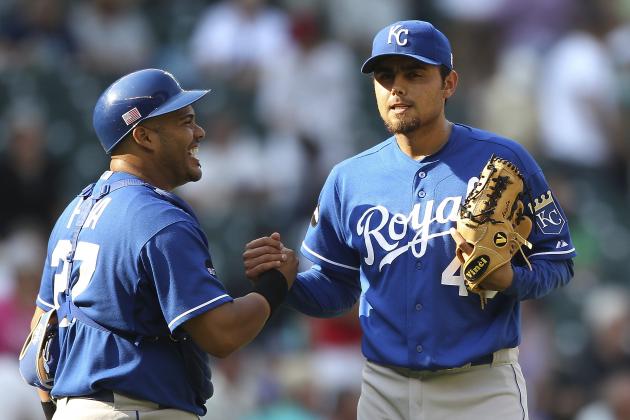 Otto Greule Jr/Getty Images

The Reds really just don't need a closer and that's the biggest thing here.
I understand wanting to have a rotation full of top-flight pitchers but the team had a great starting rotation in 2012.
Cincinnati finished 2012 with a 3.34 team ERA and a 3.64 ERA from starters. Those statistics were good for second and fourth respectively in the National League.
Ultimately though if the Reds are going to replace Chapman, they should do it with someone other than Joakim Soria.
There's no guarantee that when he does return in May, that he'll be the same pitcher he was in 2011. In fact, not only is there no guarantee that he will return to form, there's about a 40-percent chance that he won't.
Throwing money at Soria just doesn't seem to be a wise decision for a small-mid market contender like the Reds.