Exclusive Interview with Jenson Button: Looking Ahead to the US Grand Prix
Clive Mason/Getty Images
The Formula One United States Grand Prix is only days away, and excitement is building around the brand new Circuit of the Americas near Austin, Texas.

The sport has had a chequered history in the USA. Once upon a time, the majestic Watkins Glen attracted thousands of die-hard fans to western New York state.

A few years later, the cars were trundling around a somewhat uninspiring track laid out in the car park of Caesars Palace in Las Vegas.

Detroit, Dallas, Long Beach, Phoenix and Sebring have also had a go at hosting Grands Prix, with varying degrees of success. The most recent spell—when races were held at Indianapolis from 2000 to 2007—was widely seen as something of a failure.

F1 needs to get it right this time, and everyone involved in the sport is hoping the race will be a huge hit, from the drivers and teams to fans and sponsors.

Earlier in the week I had the opportunity—courtesy of McLaren partner Mobil 1—to speak to 2009 world champion Jenson Button about the return of F1 to the USA.
Here's what we discussed.
Connecting with the Fans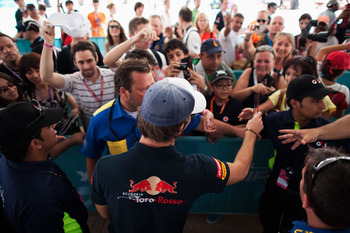 Peter Fox/Getty Images
Connecting with a wide base of fans is something F1 has never really achieved in the United States. Domestic racing series are more open and accessible, while F1 tends to park itself behind gleaming barriers through which only a chosen few may pass.

But recent years have seen a bit of a shift. The advent of social media and a more linked-together world has allowed drivers, teams and sponsors a chance to interact with fans in ways not possible a decade ago.

I asked Jenson if this sort of direct connecting is something F1 has failed to do—particularly in the USA—in the past, and whether things are different now.
I think social networks are really working for the drivers, because we're able to talk directly to fans and they get first-hand information.

And I think it's great for the partners as well and the businesses that are involved in Formula One.

I think in the States, Formula One hasn't been a big sport here in the past so we're trying what we can now and I think having the race here is going to make a big difference.

Also being in Austin I think it's going to be great. It's a very young and vibrant city and I think getting youngsters involved either as fans or actually involved in terms of working in the sport is the best way to grow the sport in the States.
Along with the quality of the racing itself, I feel this is where F1 will truly sink or swim. Many fans enjoy the greater openness their sports are developing, and in a nation with so much sporting choice, seemingly little things like this could make a big difference.
A New Kind of Formula 1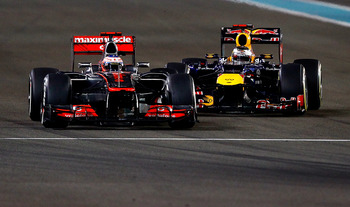 Vladimir Rys/Getty Images
From one past problem to another. One criticism of F1 which crops up time and time again is that it's a dull sport to a casual observer.

I've heard this most in my life from fans of a very different kind of racing—America's number one series, NASCAR. Simply put, the average American racing fan likes close action and excitement—something that F1 isn't known for delivering.

Or rather, wasn't known for delivering until recently.

I asked Jenson if he feels the changes to the sport in recent years—DRS, KERS and the deliberately fast-wearing tyres—have made it a more attractive proposition for the American market.
They love NASCAR because there's a lot of overtaking and it is exciting, there's wheel to wheel action the whole time they're racing.

It's more difficult for us to get close because of the aerodynamics, but with the DRS and the KERS which gives us a boost to help overtaking...the racing's been amazing the last couple of years.
Button added that he feels that now is a great time for F1 to return to the USA.
There have been some really good overtaking manoeuvres, wheel to wheel action and for me it's been the best Formula One I've competed in, the last two or three years, so it's a fantastic time to race in the States and really put forward what we have, and hopefully the American public enjoy what they see.
Hopefully we can see the best of "new F1" this coming Sunday.
The Circuit of the Americas: First Impressions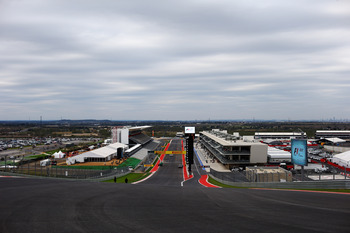 Paul Gilham/Getty Images
The Circuit of the Americas is a brand-new track, designed and built with F1 in mind.

Though no one has driven a competitive lap around it, Button's McLaren team use a simulator (an amazing piece of machinery, which you can see a video about here) to gain information about what to expect.

I asked Jenson for his first impressions, based on the simulator work.
Turn 1 through to Turn 8 is really fast and it's really flowing.

It's really going to be tough on the tyres and on the car. And then you've got a couple of slower corners which will help with overtaking.
The circuit features sections inspired by corners at tracks elsewhere in the world, including Silverstone and Hockenheim. Jenson mentioned a particularly special corner near the end of the lap.
There's a long right-hander...that's a corner that we used to have in Turkey when we raced in Istanbul and it was a left-hander there. It's now a right-hander, it's the same sort of corner and it should be almost flat.
So are the first impressions positive?
I think it's a great layout, I think he's done a really good job and out of all the new circuits that we race on it, for me, looks like it's going to be the best.
Though some fans don't really like any of the new circuits, such an assessment must be seen as promising for all of us.
The First Corner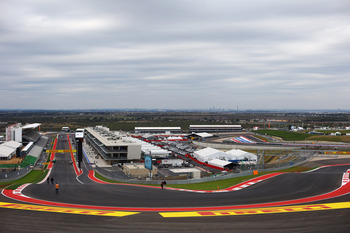 The awesome Turn 1
Paul Gilham/Getty Images
From the moment the circuit design and topography was published, the first corner stood out as a significant challenge. Perched on the crest of a hill after a long straight, it's the kind of turn F1 cars rarely encounter.

I asked Jenson's thoughts on this very unusual corner, and especially on potential difficulties we may see there on Lap 1.
I think it's going to be difficult every lap. It's tricky because it goes uphill and it's a blind apex.

On the first lap? I think it's going to be mayhem! But it's not the only circuit where we have a tough Turn 1, and that obviously adds to the action.
I remarked that it reminds me a little of the first corner at the old venue of the Austrian Grand Prix, which is also a tight corner with an uphill braking zone.
However, Button said the COTA first corner has its own unique challenges, not seen anywhere else in the F1 world.
The problem with this is it goes uphill so it's a blind apex, and then as you exit the corner it drops away so you're going to get a lot of oversteer on exit. We'll see a lot of action there I think.
It certainly has the potential to become one of F1's most memorable corners, and hopefully care will be taken on Sunday.
Elevation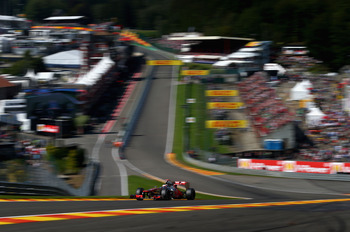 Elevation changes can turn a great corner into an exceptional one
Clive Mason/Getty Images
The elevation changes don't stop there. The track dips and climbs throughout the lap in a style reminiscent of Spa, Suzuka and Laguna Seca.

Jenson told me how such changes affect things from the driver's point of view.
It's mostly about visibility and seeing the corner apexes. If the circuit's flat and you can see the apex you know exactly where to brake and where to turn in.

Whereas when it's blind, even though you've done more than one lap on the circuit, it's still tricky every time you get there to really understand where to turn in and brake.

So blind corners are tough, especially over the brow of a hill.

But it adds to it, and I think it's why we love this kind of circuit.
It's not common to hear such praise given to a new-build venue. Hermann Tilke may just have designed himself a winner.
A Better Place Than Indy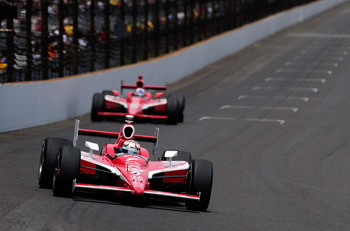 Indy is perfect for IndyCar... but not for F1
Robert Laberge/Getty Images
The last circuit to host F1 in the USA was Indianapolis Motor Speedway. The F1 layout ran in the opposite direction to that usually taken, and included one of the banked corners, the main pit straight and a somewhat uninspiring infield.

It never really took off, and a low point came in 2005, when only six cars started due to tyre issues.

The problem was that part of the circuit had been relaid, but not in a way which suited F1. The Michelin tyres used by most of the teams simply couldn't handle this new surface.

Some fans may be wary of giving F1 another chance after that debacle, so I asked Button to reassure us that there was no chance of a repeat this time around.
The exciting thing for me about this circuit is that it's purposely built for a Formula One car, and it's going to show the performance of a Formula One car.

The fast, flowing parts, the high-speed corners, that's where a Formula One car is at its best—changes of direction, pulling high g-forces left and right. There are also some very good corners which are heavy braking...and some really long straights, so there's going to be some high speed.

This is built for us and this is where we can really showcase what a Formula One car can do, whereas racing in Indy, it's not built for us. Racing on ovals isn't what these cars are built for, not what these tyres are built for.
I couldn't agree more—the COTA is truly on a different level to the Indy infield track.
And Finally, a Look at the McLarens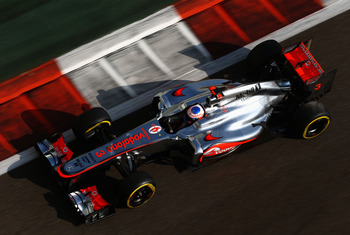 Paul Gilham/Getty Images
More than anything, the drivers want to win. Button's McLaren team have had a torrid time of late, a mixture of poor pace and patchy reliability giving a return of no podiums in the last four races.

I asked Jenson—twice a winner so far in 2012—if he expected the team to again struggle, or if they had a chance of matching the pace-setting Red Bulls.
I hope so. I think it's pretty close at the front, and Red Bull and Ferrari have got their own little battle for the drivers' championship. We're out of that now, which is not so good.

But we're looking for race victories. We feel the car should be strong and we should be able to fight for a victory.
With everyone taking the same step into the unknown, it's likely we won't get a true picture of who does or doesn't have pace until the end of the qualifying at the earliest.

And of course, qualifying pace doesn't necessarily mean a driver will go well in the race.
It Should Be a Great Weekend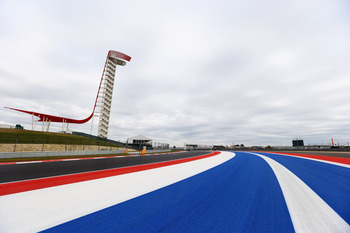 Paul Gilham/Getty Images
It's always fascinating to get insights directly from the world's top sporting stars, and Jenson's answers give us a lot to think about going into the weekend.

A few tickets are still available for those who want to witness the action first-hand.

Those of us not lucky enough to be going can (subscriptions allowing) watch all the action live on Sky Sports F1 (UK), Speed (USA) and on local channels around the world.

Hopefully it'll truly be a weekend to remember.
Keep Reading