NASCAR: 5 Reasons Why You Must Watch Sunday's Sprint Cup Finale at Homestead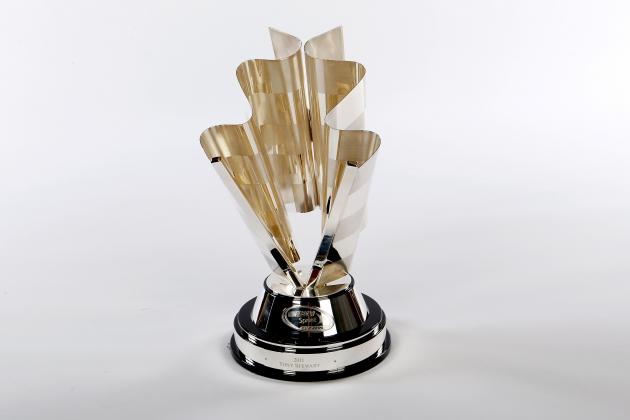 Chris Graythen/Getty Images
After 35 races, NASCAR will finally crown a new Sprint Cup champion Sunday at Homestead Miami Speedway.
It's been a great season for some teams and drivers, not so good for others. While those that fall into the latter category can't wait for the season to end in many cases, teams that have had great seasons are looking to end the 2012 season in the best way possible to send themselves into the offseason on a high of momentum.

If you're a NASCAR fan, this is a bittersweet weekend of sorts: while your own driver may have not done as well as you had hoped (i.e., Dale Earnhardt Jr., defending Cup champ Tony Stewart, Kyle Busch and so many others), you still hate to see the season end because this now means three months without racing.

Sunday's Ford EcoBoost 400 at Homestead Miami Speedway (and for that matter, the undercard races on Friday and Saturday to decide the championships in the Camping World Truck Series and Nationwide Series) will put an emphatic exclamation mark on the season.

Even if your driver had a terrible season, Sunday gives you one last chance to see your favorite try and end the year on somewhat of a high note, or gives you the opportunity for one race to switch allegiances and cheer for another driver, particularly the two drivers left to battle it out for the Sprint Cup championship: Brad Keselowski and Jimmie Johnson.

So without further ado, let's get ready for one last race, one last chance to cheer and boo for the year, and one last episode of five reasons why you must watch Sunday's season-ending race:
(Follow me on Twitter @JerryBonkowski)
Begin Slideshow

»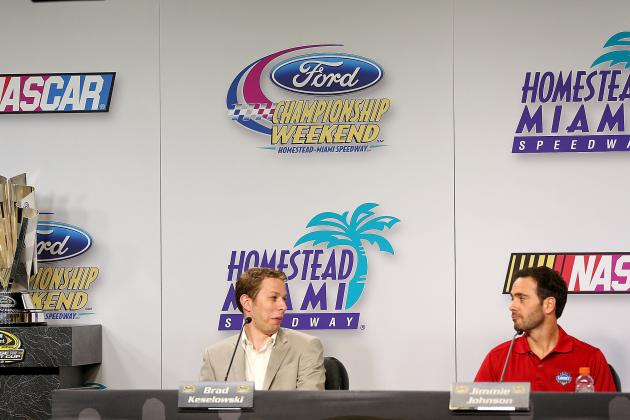 Mike Ehrmann/Getty Images
Brad Keselowski (middle) and five-time champ Jimmie Johnson are the only two drivers eligible to win the Sprint Cup championship Sunday at Homestead Miami Speedway.
This is it, the big enchilada, the battle royale, the bout for all the marbles.

Whatever adjectives you use, this is the marquee event of the season, what the entire 36-race campaign, including the 10-race Chase for the Sprint Cup, comes down to: the crowning of the new 2012 Sprint Cup champion.

With less than four full seasons under his belt, Brad Keselowski is looking for his first career Cup championship, while Jimmie Johnson seeks his sixth career Cup championship, which would put him one title behind the NASCAR-record seven Cup crowns each held by Richard Petty and the late Dale Earnhardt.

Keselowski comes into the race with a semi-comfortable 20-point lead in the standings, but remember this is Johnson. He knows how to battle back and is going for just one thing: to win the race and then see where things shake out.

If Keselowski can finish in the top 15, regardless of where Johnson finishes, he'll win the championship.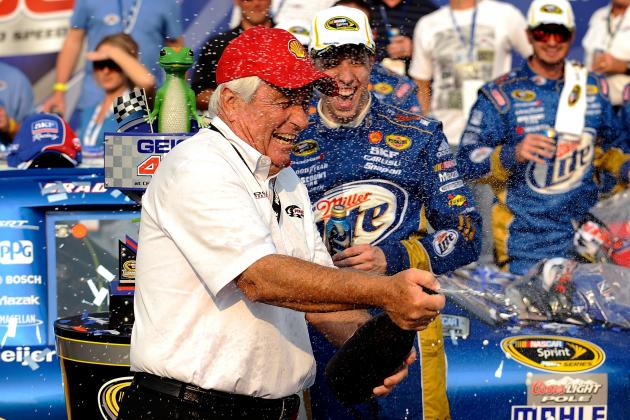 Jared C. Tilton/Getty Images
Winning a race is one thing, but can you imagine the unreal celebration legendary team owner Roger Penske will enjoy Sunday if Brad Keselowski wins the Sprint Cup championship?
Legendary Indy Car owner Roger Penske, with 15 Indianapolis 500 and 12 Indy Car season championships to his credit, has never won a Sprint Cup championship in more than a quarter-century of trying with such previous luminary drivers as Bobby Allison, Rusty Wallace, Kurt Busch and Ryan Newman.

But Keselowski offers the man known as "The Captain" arguably the best chance ever of his career for that elusive first Cup crown at the age of 75.
If there's ever been an owner that truly deserves his first Cup championship, particularly for all he's done for the world of motorsports (in open-wheel and stock-car racing) it's unquestionably Penske.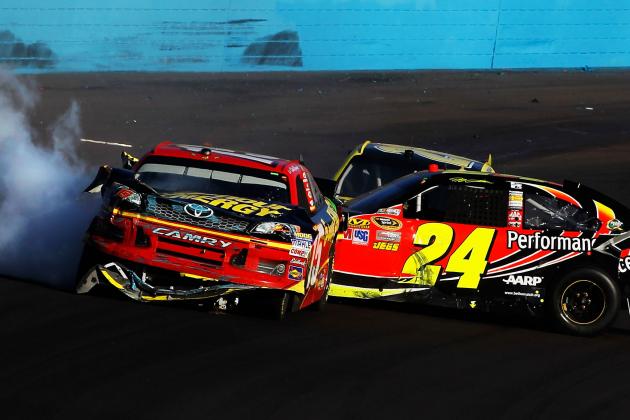 Tom Pennington/Getty Images
NASCAR officials will be watching Jeff Gordon and Clint Bowyer very carefully to make sure we don't see a repeat of this past Sunday's on-track confrontation, followed by a pit-road melee between crew members of both teams.
For as many fans that will attend or tune in to Sunday's race to watch a new Cup champion crowned, there will also likely be at least a significant number who will watch the race to see if there is any type of payback generated from this past Sunday's intentional wreck of Clint Bowyer by
Jeff Gordon
, plus the resulting fracas on pit road and the ensuing penalties against Gordon and crew chief Alan Gustafson, and Bowyer crew chief Brian Pattie.
You can be sure NASCAR has had several long talks with all parties involved...and likely will have more this weekend before the green flag drops, followed by intense watching of both drivers to make sure there are no additional "accidents" between the pair that could potentially mar Sunday's championship outcome.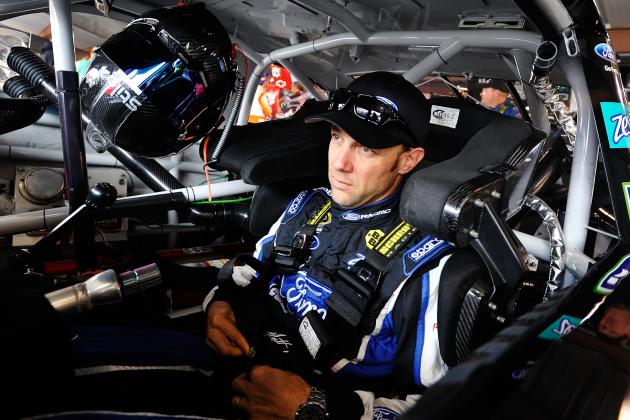 Rainier Ehrhardt/Getty Images
You can bet Matt Kenseth will be a bit introspective and possibly even emotional in his final start for Roush Fenway Racing on Sunday.
Lost in much of the hoopla leading up to Sunday's championship tilt is the final race of Matt Kenseth for Roush Fenway Racing.

After 13 seasons as one of the organization's top drivers, he'll take his talents to Joe Gibbs Racing next season, joining Denny Hamlin and Kyle Busch as teammates.

Kenseth has had a great career at RFR, including the 2003 Cup championship and two Daytona 500 wins, including this year's rain-delayed triumph.

It will be odd enough for the defending 500 champ to come back with a different team for next year's race, driving a different car number (moves from No. 17 to No. 20) and for a sponsor (Home Depot) who has been long associated with drivers Tony Stewart and then Joey Logano.
But it will be even more strange to go from driving a Ford for all these years to racing team owner Jack Roush's most dreaded enemy, a Toyota.

Speaking of Logano, he'll also start a new chapter of his career after Sunday's race, leaving his first NASCAR home, Joe Gibbs Racing, to drive next season for what could potentially be the new Sprint Cup championship organization, Penske Racing.

Kenseth has written a great career book thus far, with Sunday being the final chapter of this part of his career, ready to start writing the next chapter of that storied career beginning Monday.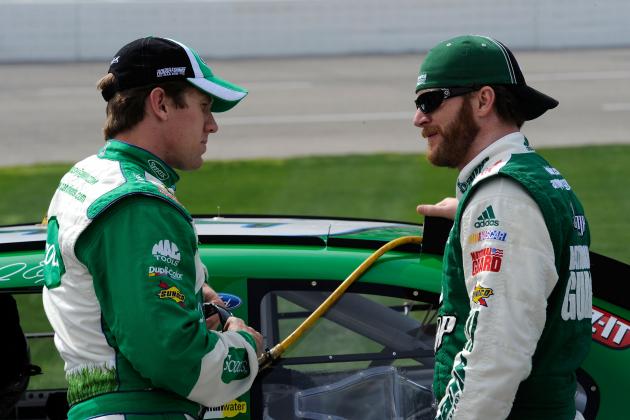 John Harrelson/Getty Images
Carl Edwards (left) is among several drivers still looking for their first win of 2012, while Dale Earnhardt Jr. is among other drivers hoping to end the season with a second win.
This has not been a good season for several drivers, with the list led by
Carl Edwards
.
After tying for last year's Cup championship in the closest title battle in NASCAR history, Edwards was virtually invisible in 2012.
Not only did he fail to make the Chase for the Sprint Cup, he comes into Sunday's race riding a 68-race winless streak.
Even with Kevin Harvick finally breaking through with his first victory of the season at Phoenix this past Sunday, Edwards remains one of several other drivers still looking for his first win of 2012.
Also coming into Sunday with a goose egg in the win column are Martin Truex Jr. (the only driver in the Chase without at least one win), Paul Menard, Jeff Burton, Jamie McMurray, Aric Almirola, Juan Pablo Montoya, Bobby Labonte, Regan Smith, Mark Martin and Kurt Busch.
And speaking of the latter, younger brother Kyle Busch has certainly had an uncharacteristic season, having missed the Chase entirely and owning just one win in the Cup series this season.
He'd love to end the campaign with win No. 2 of the year, as would several others, including Dale Earnhardt Jr., who snapped a 142-race winless streak earlier this year, only to have failed to reach victory lane again since.