Breaking Down the Miami Heat's Backup Plan If Dwyane Wade's Injury Holds Him Out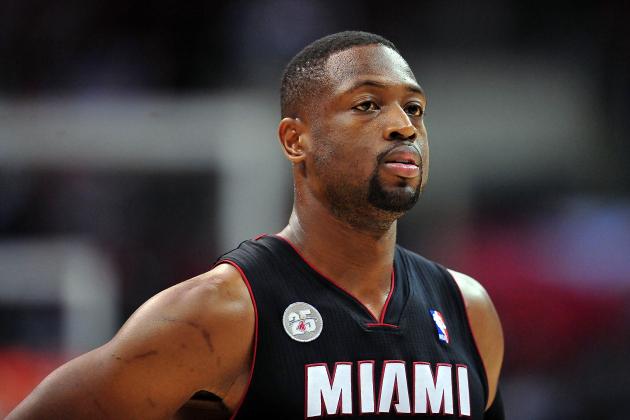 Gary A. Vasquez-US PRESSWIRE

Though the Miami Heat have gone 2-2 on their current road trip, star guard Dwyane Wade has not been himself. The eight-time All Star has been fighting a sore ankle and only has 33 points in his last three games. To add insult to injury, he has only shot 30 percent from the field over that stretch.
Though the Heat are a great team and have enough talent to get by without Wade, he is still the unquestioned leader of the team and is a tremendous loss in the lineup. Still, one has to wonder if Miami would be better off if he rested for the remainder of the road trip.
Keep in mind, the Heat just lost to the Los Angeles Clippers and have games against tough young teams in the Denver Nuggets and Phoenix Suns before they head back to South Beach.
Given the approaches of those two squads, plus Miami's next few games (Milwaukee, Cleveland, San Antonio), head coach Erik Spoelstra should continue a few slight adjustments just in case Wade's injury turns out to be one of the mid to long-term variety.
Begin Slideshow

»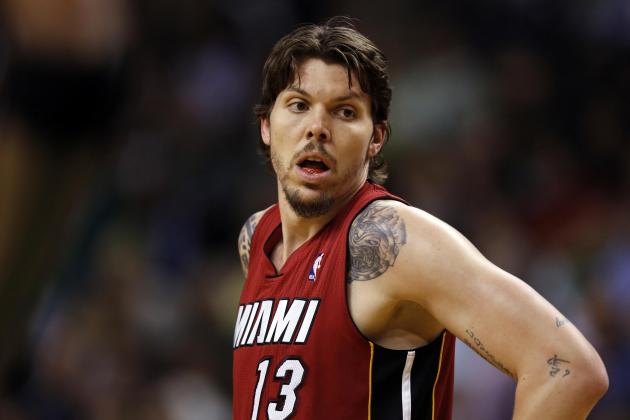 Greg M. Cooper-US PRESSWIRE

Nothing against Rashard Lewis, but the Heat need to give Miller some more minutes. They signed him to a five-year, $25 million deal in 2010, and the fact that chronically being injured has phased him out so quickly is just plain sad. This season, the former Florida Gator has averaged just 10 minutes per game and is only averaging 1.4 points.
Granted, Spoelstra let Miller start at shooting guard in place of Wade when the Heat played in Atlanta on November 9, but the former Florida Gator still isn't getting enough credit.
Keep in mind, this is the same player who was the 2001 NBA Rookie of the Year and 2006 Sixth Man of the Year. For his career, he has averaged 12.7 points per game while shooting 40 percent from long range.
Thus, while he may not be as strong an athlete as Wade, Miller can play the game. If Spoelstra is willing to draw out some plays designed specifically for him, then there really isn't any reason he shouldn't get more playing time should Wade need to miss a game or two.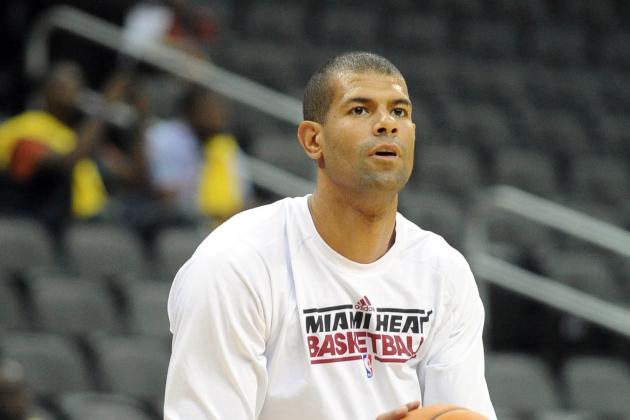 John Rieger-US PRESSWIRE

Since being drafted sixth overall in 2001, Battier has become known for three things in the NBA: his three-point shooting, leadership and tough defense. However, his offensive game has never really gotten the respect it deserves.
So many people seem to forget that Battier won a national championship with Duke in 2001, and that same season, he averaged 19.9 points and 7.3 rebounds per game. Sure enough, in his rookie season with the Memphis Grizzlies, he averaged 14.4 points per game and looked as though he was well on his way to becoming an athletic forward who could both score points and play tough defense.
However, after averaging 12.3 field-goal attempts per game as a rookie, Battier has yet to average more than eight attempts per game since. In favor of playing tough defense and being a shooter, it's as though he abandoned his offensive game.
Still, the fact remains that the man can still score points in bunches on occasion, but is forced to live in the shadow of his team's Big Three. This season, Battier has averaged just 5.8 points per game while shooting 39 percent from long range. Practically all of his shots have come from beyond the arc.
Since he clearly knows how to score points, it wouldn't hurt the Heat to let him get some extra touches while Wade's ankle is bothering him.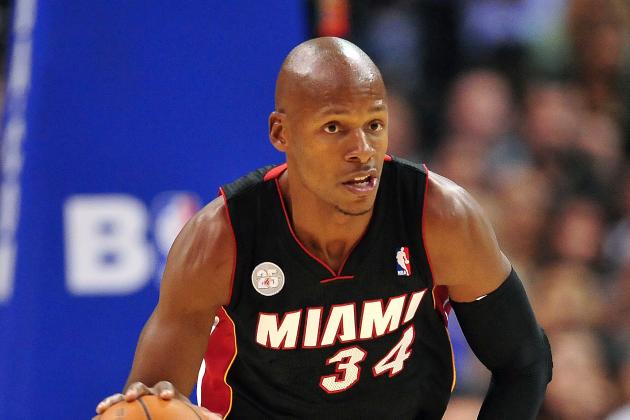 Gary A. Vasquez-US PRESSWIRE

The Heat play the Denver Nuggets tonight, and Wade simply cannot force himself to play most of the game if his ankle is still bothering him. The Heat like to play a fast-paced offense every now and again, but so do the Nuggets. Being the younger team, they will probably do so throughout the entire game.
Given that, Spoelstra should limit Wade's minutes and instead give a majority of the time at shooting guard to Ray Allen. Sure, he may be 37 years old, but Allen can still play the run and gun game and is the all-time leader in three-pointers made.
Through nine games this season, he is averaging 12.8 points and shooting an incredible 54 percent from downtown.
That said, since the Nuggets can score a lot of points in a short amount of time, it would be beneficial for the Heat to not take any risks with Wade's ankle against teams that like to run throughout the game, which leads to the next strategy...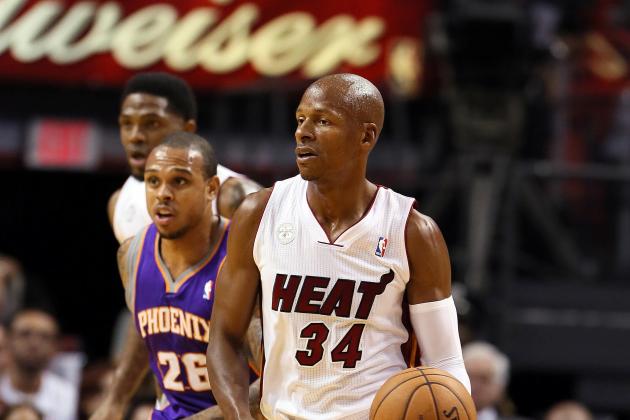 Robert Mayer-US PRESSWIRE

The Heat may have clobbered the Suns 124-99 on November 5, with Wade contributing 22 points, but that was in Miami. The two face each other again on Saturday in Phoenix, where three of the Suns' four wins have taken place.
More importantly, the Suns are a team whose game is defined by a run-and-gun system. Ever since the days of Mike D'Antoni, the team's objective has to been score points in "seven seconds or less" and simply outrun the opposition.
That said, if Wade's ankle is hurting as badly as it seems, then he simply cannot play this game. Allen is more than capable of starting, so it's just common sense that Wade sit if he's not at 100 percent.
This way, he can get some extra rest and be better prepared for the Heat's upcoming homestand, which includes a game against the dangerous San Antonio Spurs on November 29. If he's still injured by that point, then Wade's ankle issue is clearly more than just simple soreness.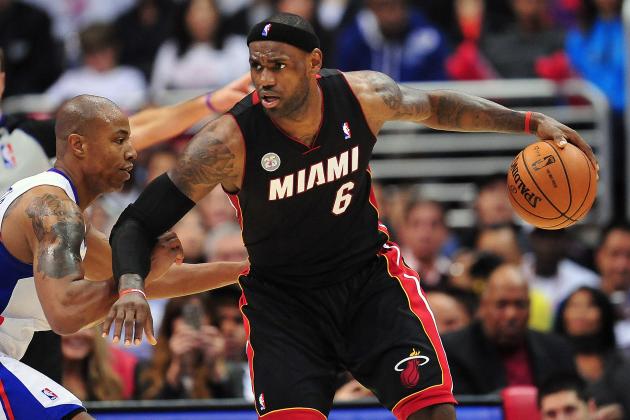 Gary A. Vasquez-US PRESSWIRE

The whole idea of having a Big Three is to have a trio of players who can form a truly dangerous offense and, in some cases, a tough defense. The Heat have just this in Wade, LeBron James and Chris Bosh, but the lack of just one of those players could prove to be a tremendous loss.
Thus, with Wade's ankle still hurting and thus affecting his scoring and field-goal percentage, it is best that Spoelstra readjust the offense so that most of the scoring is done by reigning MVP LeBron James. The former No. 1 pick has averaged 27.6 points per game for his career and led the league in scoring in 2008, so he's beyond capable of handling a little bit of extra work in this department.
More importantly, James is easily the best player in the league. Let him run the offense and handle the majority of the scoring load, and it will be as though Wade never missed any time.