5 Areas Where the Oklahoma City Thunder Must Immediately Improve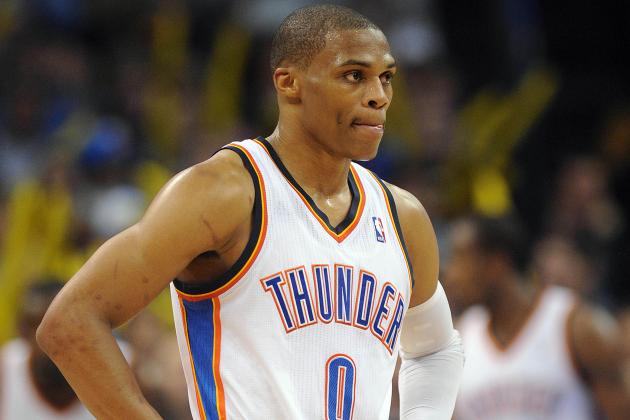 Mark D. Smith-US PRESSWIRE

After a rough start, the Oklahoma City Thunder have finally begun to play like the elite team they were last season. However, there are still some areas in which the Thunder must immediately improve.
No team is perfect, but every team does strive for perfection. This Thunder team is far from perfect in many areas, which gives Kevin Durant and his cohorts plenty of work to do. Rebounding, defense, ball movement and ball security are considered fundamentals, but even professional teams (the best in the world) have to work on the specifics of these fundamentals.
This team needs to get to work if it wants to win a title within the next few years, before its young talent is gone or used up.
Begin Slideshow

»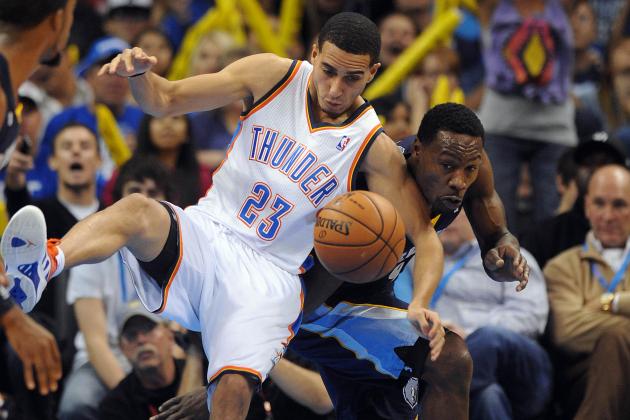 Mark D. Smith-US PRESSWIRE

The Oklahoma City Thunder is at its best when it moves the ball and uses spacing to get open shots for players like Kevin Durant, Thabo Sefolosha and Kevin Martin. However, there are major stretches when the Thunder seem to forget how effective this strategy is.
This has been a problem for a few years now, and it has not been remedied much during the 2012-13. The Thunder ranks 20th in the league in assists with just 20.1 per game. Part of the reason that number is low is because of the type of point guard they have in Russell Westbrook, but the other part is a lack of ball movement.
With a point guard who is not necessarily pass-first, ball movement becomes even more important than it normally would be. There is no reason why players like Sefolosha, Martin, Eric Maynor and Serge Ibaka should be unable to get open shots when they share the court with players like Durant and Westbrook who demand constant defensive attention.
Getting those secondary players involved will make this team much more lethal on offense.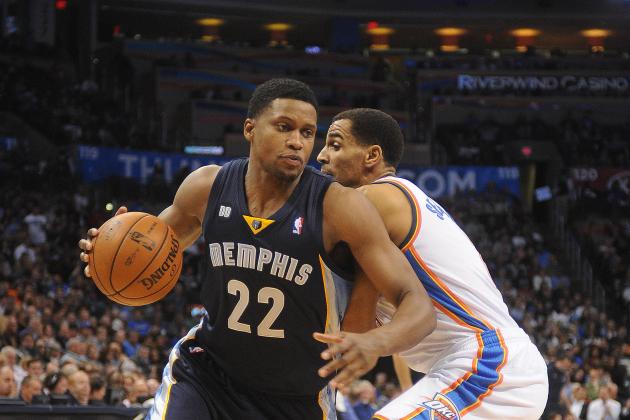 Mark D. Smith-US PRESSWIRE

Defensively, the Thunder is playing pretty well, so far, during the 2011-12 season. In fact, they are one of just three teams (as of 11/14/2012) that ranks in the Top 10 in both points scored per game and least points allowed per game. However, stopping your opponent from scoring is not the only goal of a defense.
It is the main goal, but there is also the idea of stealing the ball, which is something the Thunder have not done well this season. Oklahoma City ranks 25th in the league with just 6.8 steals per game, while their opponents average 8.6 steals per contest.
Offense is about getting into a flow, so defense is about interrupting said flow. Steals interrupt the flow better than anything, and they also give your team an extra possession. Maybe I'm nitpicking the Thunder's defense with this criticism, but to be an elite defensive team, Oklahoma City must begin forcing more turnovers.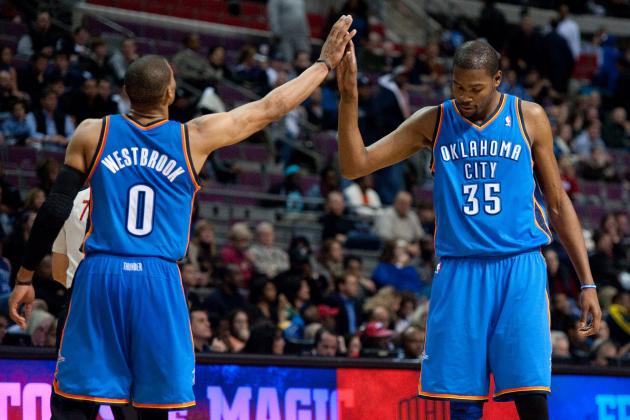 Tim Fuller-US PRESSWIRE

Turnovers have been a consistent problem for the Oklahoma City Thunder over the years, and the 2012-13 season has not been a change. The Thunder committed a league-high 16.3 turnovers during the 2011-12 season, and the following season has them tied with the Los Angeles Lakers for the league high with 18 turnovers per game.
While the inclination may be to blame Russell Westbrook for this problem, the truth is that it is not just a single-player problem. Kevin Durant leads the team in giving the ball to the opponent, averaging over four per game.
Together, Durant and Westbrook average 7.43 turnovers per game. Supporting players Thabo Sefolosha, Kevin Martin, Serge Ibaka, Eric Maynor, Nick Collison and Kendrick Perkins combine for about eight per game as well.
This problem has to be corrected at some point if this team is ever going to win the title it seems destined to achieve. We all understand how young the principal players on this unit are, but they have been playing at the pro level long enough to know how to keep the ball secure on offense.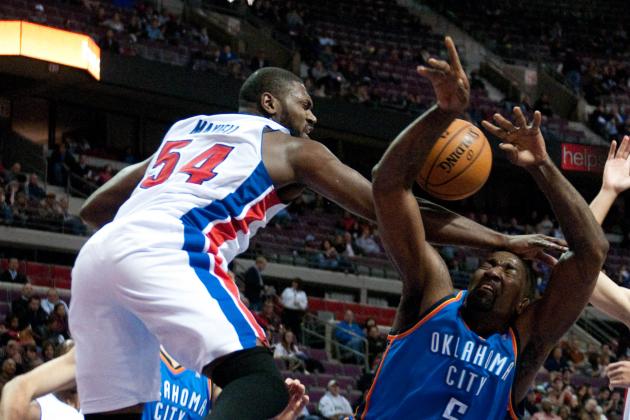 Tim Fuller-US PRESSWIRE

Another mediocre area of the Thunder's all-around game is rebounding. The team ranks 15th in the league for the 2012-13 season with just 42.4 per game. That is another number that has to come up if this team is going to be a championship-worthy one.
The mediocre total rebound numbers are also reflected by a mediocre mark in offensive rebounds allowed. The Thunder give up 11 per game, while achieving only about eight of their own. The Thunder's low offensive rebounding numbers are not a significant issue, as they are likely due to an effort to get back on defense, which is more important.
However, giving opponents 11 extra chances at scoring per game is not something that can be ignored. That is potentially an extra 33 points the Thunder are giving their opponents each game. This is just another problem that must be checked.
Mark D. Smith-US PRESSWIRE

There is this guy the Oklahoma City Thunder has on their team who is really good. Maybe you have heard of him. He is the best all-around scorer in the NBA, and his name is Kevin Durant. However, for some unknown reason, Durant is shooting fewer shots per game during the 2012-13 season than he has in any other season of his career.
He is still averaging 23 points per game, which is a testament to how efficient he is, both from the floor and from the line. But when you have a player who scores so efficiently, you want him to shoot a lot of shots. A player like Durant needs to shoot more than just 16.
The Oklahoma City Thunder has quite a few problems and issues that need to be fixed sooner rather than later, but this issue is the most pressing. I'm not saying that Russell Westbrook needs to shoot less or anything like that, just that Durant needs more shots. Where they come from does not matter.