Iowa Basketball: 5 Overreactions After the First 2 Games of the Season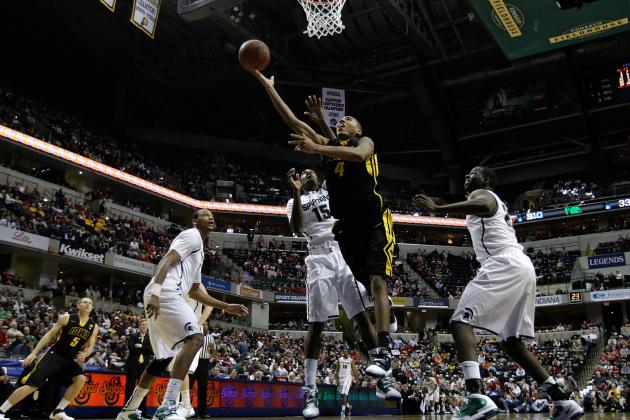 Andy Lyons/Getty Images

During the last two years, the Fran McCaffery led Hawkeyes have started off their seasons with a 2-0 record.
For those readers unfamiliar with the non-successes of the Iowa basketball team since the Lute Olson and Steve Alford days, let me tell you, it's a big deal.
From 2009 to 2011, the Hawkeyes were 1-3 during the first two games of their respective seasons.
One and three against opponents such as the South Dakota State Jackrabbits, Louisiana-Monroe Warhawks (whom they blew out 68-40 in 2010-11), UTSA Roadrunners and the Duquesne Dukes.
Not the schedule that generally blows the socks off of Joe Lunardi.
So forgive me for being a little negative here, but its just a way of life for a former Hawkeye.
As I said above, it's Iowa after all. They are known for football (er...maybe not) and Kurt Angle wrestling.
Not as much resignation holds true to Iowa City's hardwood brigade.
Again, these are things that worry me as a fan/writer. I know it has only been two games. I know Iowa is a young team. I know McCaffery is testing lineups and substitutions. I know that to some of you, I may be an overly dejected individual that needs to get more sunlight in my diet. Regardless, save me the comments.
What I want is for all of you to take a deep breath and please remember I've had a rough go at this point in my sports fandom (Derrick Rose ACL, Jay Cutler concussion, Iowa Football and their promising passing attack, (I hope the sarcasm is palpable after that comment) and the Chicago White Sox choking away the AL Central Division) as I'm sure other Iowa alumnus feel.
Right now, until I see Iowa take care of business against better talent, it's better for me to be overly careful with my passions than exceedingly optimistic.
Plus, all of you would rather me save the glass half-full stuff for when Eric May puts together a 5x5 night (only being semi-sarcastic this time).
Begin Slideshow

»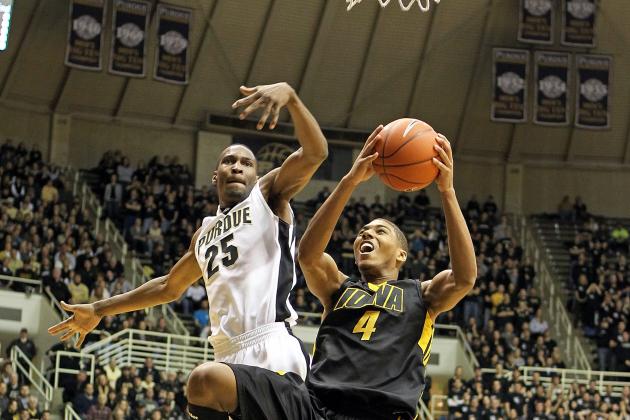 Andy Lyons/Getty Images

31.5 minutes per game.
Texas-Pan American.
Central Michigan Chippewas.
31.5 minutes per game.
Oh and don't forget the one sore hip that was injured in a scrimmage against Creighton that continues to flare up, forcing the junior guard to wear a protective pad to prevent re-injury.
Marble played in 23 minutes of an 86-55 blow out of Texas-Pan American.
Marble played in 40 minutes in a 73-61 victory over Central Michigan.
At this point, Marble is the Luol Deng of Fran McCaffery's Hawkeyes.
I understand he is the only solid offensive threat (which was already established during last years NIT outburst) at this point and that his size creates positive mismatches in the Iowa defense with his ability to guard any one of the three back court players.
But 31.5 minutes a game already?
And 40 minutes against Central Michigan?
Does Fran really find it wise to ride out 31 to 40 minutes a night out of his best offensive player, who is battling a bit of a lingering injury, during the powder puff portion of the schedule?
In all reality, I get why Marble has played so much and perhaps I'm grabbing at straws. I know that it is ultimately only two minutes more than he played during last season.
But with the uptick in minutes and an ongoing hip, let's just say I'm a bit nervous.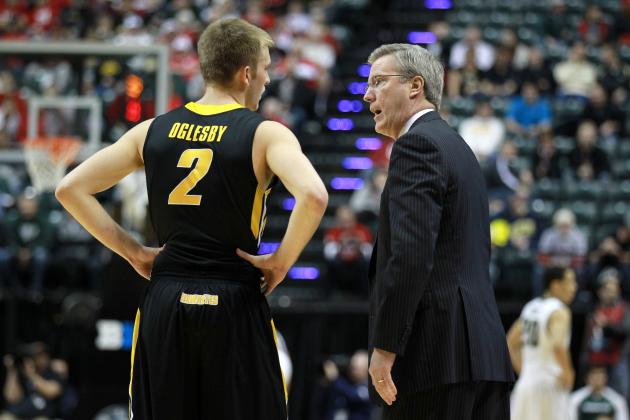 Andy Lyons/Getty Images

Let us go from one extreme to another.
The artist formally known as "Josh Ogles-Three" has been replaced with some pish-posh, Club-Trillion Diaper Dandy named Josh Oglesby.
I hate to harp on minutes relentlessly, so if it's not your thing, move two paragraphs down.
Last year, Ogles-Three averaged 18.7 minutes per game. He took 3.5 three pointers a game and nailed home 1.3 on average; good for 6.4 points per game.
This year, Oglesby is only averaging 10 minutes per game. He is again taking 3.5 three-pointers a game, but only converting an abysmal .5 on average; good for two points per game.
He has attempted seven shots in the season. All from downtown. He has made one of them.
ONE.
I have written a ton about the need for Oglesby to be a viable offensive threat for the Hawkeyes (you can find them here and here).
He is a specialist that needs to find his legs quickly. As the Big Ten season comes around, the ability to have a viable three point shooter will open up the offense, allowing more space for Marble and Mike Gessel to isolate, as well as providing the one-on-one match ups Aaron White, Adam Woodbury, Melsahn Basabe and Zach McCabe need to be productive post players.
Iowa is more than likely going to struggle from the outside, with or without Oglesby (who seems to possibly be in Fran's dog house), but like it or not, the semi-success or complete failure outside of 15-feet rests partially on Oglesby's shoulders.
Our guiding light (or at least mine) was a little absent during the Central Michigan game a few nights ago.
Actually, absent might be a complement at this point.
I love Woodbury. I love what he means for Iowa. I love what he means for Fran McCaffery's future. I love the talent and size.
But that's not enough for everyone to get by.
From reader John Butala after Monday night's win over the Chippewas,
"I just watched Iowa's game against C. Michigan, and let's say I'm less than impressed with Woodbury. Slow, can't jump, and doesn't seem to know what's going on. Several times he had the ball three feet from the basket and instead of shooting, passed off. Easily the tallest kid on the floor, and got his shot blocked several times by much shorter C.M. players. It's going to take a lot of work to turn him into a decent player. Forget this year."
Might be a bit of an over reaction, but I get where John is coming from.
People see his recruiting grades and scout profiles and demand Kentucky-freshman productivity.
But what needs to be realized is that simply, that's not going to happen.
Generally speaking, the transition from a high school to college for a big man is more difficult than it would be for a guard.
The players are bigger, stronger, more involved and knowledgeable than in high school. And because post players are generally slower on their feet (not including one time point guard, Anthony Davis) creating buckets is also not as simple. They need to develop moves, a face up game and footwork.
Yes, Woodbury will always have a size advantage, but that size doesn't matter until he can figure out how the offense runs, where to be defensively (both one-on-one in the post as well as help side) and where he fits in on this team with Aaron White, Melsahn Basabe, Zach McCabe and occasionally Gabe Olaseni all fighting for minutes.
Luckily for Woodbury, his talent, albeit raw, has such a high ceiling.
And at the end of the day you still can't teach size.
But putting up a two-point, five-rebound (four offensive) and two-personal-foul night in 16 minutes is not going to keep the "Johns" of the world away.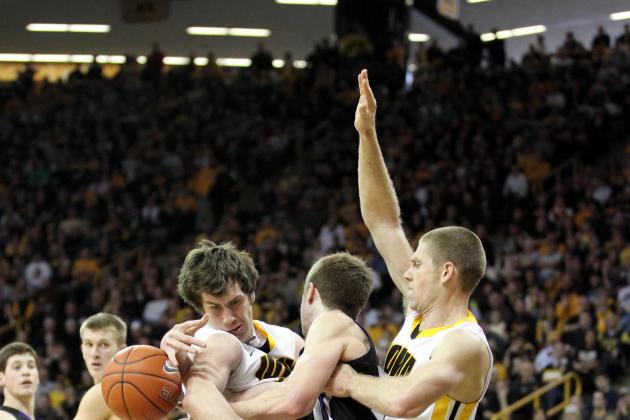 Reese Strickland-US PRESSWIRE

Zero points, four fouls, one turnover, one rebound and one assist against Central Michigan.
Need I really say more?
More Texas-Pan American (14 points, two steals, one assist, eight rebounds, 4-4 from three point range), less Central Michigan.
Got it?
Thanks.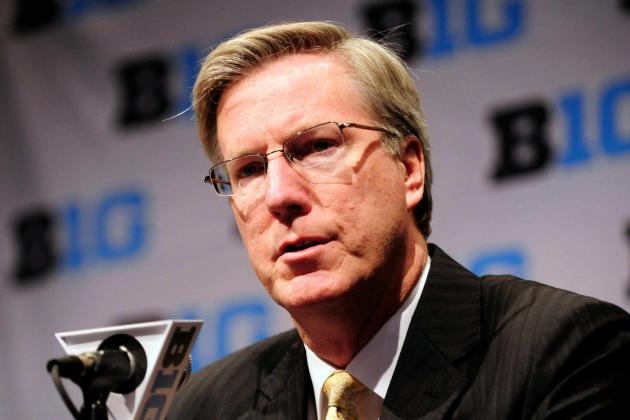 Reid Compton-US PRESSWIRE

Here is a list of seven of the Hawkeyes next ten opponents:
Howard
Gardner-Webb
Western Kentucky (Circa 2012 not 2008)
Texas A&M-CC
South Dakota
South Carolina State
Coppin State
Say Iowa blows out four of these teams (Howard, Gardner-Webb, South Dakota, Coppin State) and marginally beats Western Kentucky, Texas A&M-CC and South Carolina State.
What does that really prove?
All it would mean is that Iowa is 9-0 against teams that resemble the monsters of the Big Ten as much as I resemble Derrick Rose (I'm 5'11, white and built like a linebacker for those playing at home).
As I wrote about before, the real test for the Hawkeyes is going to be against Iowa State, UNI and Virginia Tech.
Until we see how this team can handle themselves in games with tournament talent, I'm holstering my "Big Ten Champion" hopes for a bit (though they are ready to come out at any time).