Oakland Raiders Week 11: 5 Keys to Beat the Saints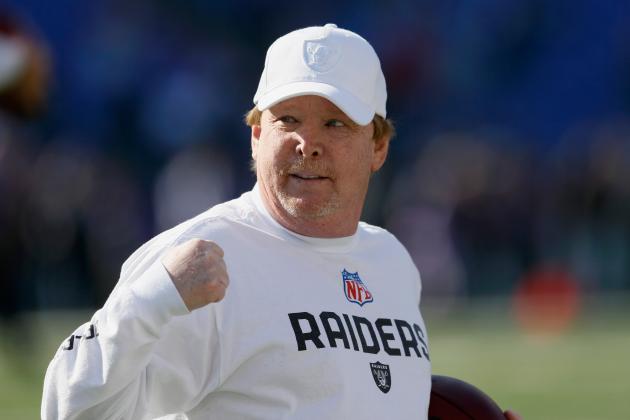 Rob Carr/Getty Images
Mark Davis didn't have much to smile about in Baltimore
Entering their 10th game, the Oakland Raiders have a mark of 3-6 in the 2012 NFL season. Back-to-back losses to Tampa Bay and at Baltimore have realistically ended any playoff aspirations, and now the season is about improvement and player evaluation.
Not exactly what many in Raider Nation had in mind for this season, but year one of a new regime is rarely a stunning success. Even the best teams had to start humbly. Take this team for example. Or even this team. I'm not saying the Raiders are going to wind up dynastic or even that the new model for the NFL leads to sustained success.
But the reality is, most times you have to step back to go forward. Oakland's roster has only begun to be transformed. So look at this team in a longer view, if possible. Stepping off the soapbox and back into the present, the Raiders host the suddenly hot New Orleans Saints. This is the first of four home games in the next five weeks, meaning Oakland does have a chance to notch a couple of wins.
So with that in mind, here are my five keys for the Raiders to pull off the upset against New Orleans on Sunday afternoon.
Begin Slideshow

»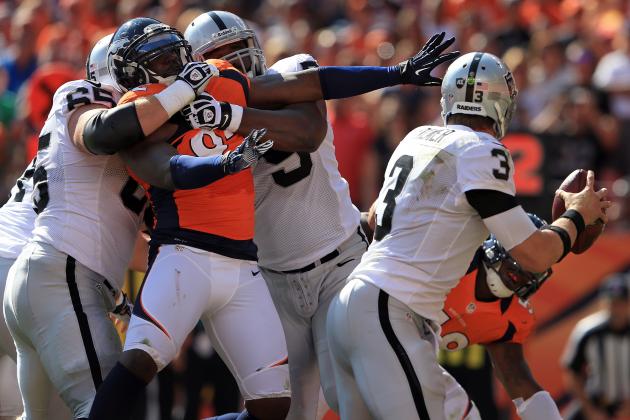 Doug Pensinger/Getty Images
Players like Brisiel (#65) have to be more disciplined Sunday
Over the past four weeks, the Raiders have gone from second in the NFL in fewest penalties to 23rd. Last week, they committed 10 in the meltdown against Baltimore. The past two weeks, while the Raiders have been allowing 97 points to Tampa Bay and the Ravens, they committed six turnovers while only creating two of their own.
All of those numbers add up to red ink when the colors that run deepest here are silver and black. The reality is, Oakland just isn't good enough to beat decent NFL teams with average performances. If it is bad, it will lead to more blowouts. So it is simple: Limit the penalties (six or less) and win the turnover battle against a Saints team that is not nearly the same outside of the Superdome.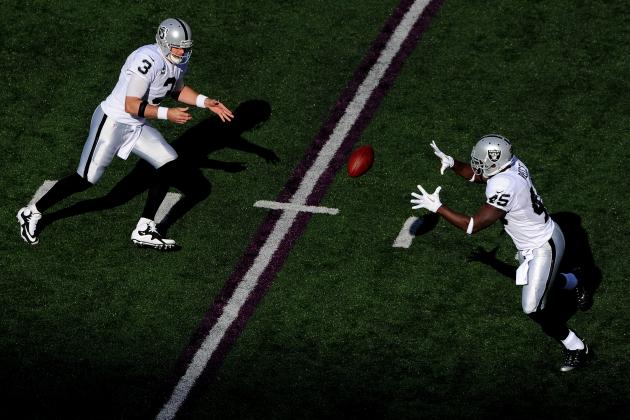 Patrick Smith/Getty Images
Marcel Reece might get a season's worth of carries Sunday
Facing a myriad of injuries on defense, Oakland's chances of winning lay squarely on its ability to either outscore New Orleans (unlikely) or playing a game of keep away from their potent offense (much more realistic).
To do that, Oakland has to be able to possess the ball, march it down the field and score touchdowns in the red zone. In four road games (of which the Saints are 1-3), the Raiders have allowed an average of 162 yards rushing per game. Teams have ground the pace to a halt and stuffed the ball right down New Orleans' collective throats.
That is precisely what the Raiders have to do. The previous three home games have demonstrated that the Raiders can score at home (92 total points). But the key is protecting their defense by keeping them off the field as long as possible. With Darren McFadden and Mike Goodson both likely out Sunday, Marcel Reece and Jeremy Stewart have to get plenty of quality rushes to set Carson Palmer up in favorable situations to sustain drives.
Ultimately, that means lots and lots of ball possession. I'm thinking upwards of 35-37 minutes. Scoring points will be required to win. A full-fledged shootout will not benefit the Raiders.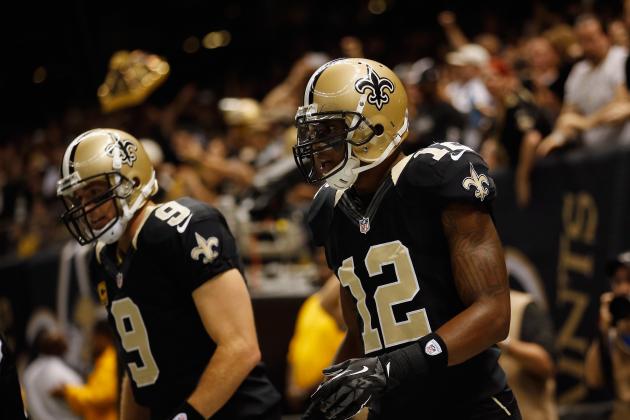 Chris Graythen/Getty Images
Brees and Colston are just two of the many Saints weapons on offense
There's a common idea against great offenses in football that suggests that you concede one element to try and contain the others. Well with the combination of the Raiders porous defense and the variation of the Saints offense, I just don't see how that is a good idea Sunday. New Orleans is just as adept at the quick strike as they are marching methodically 85, 90, even 95 yards down the field.
So for the Raiders, playing back and just hoping for a mistake is foolish. They have to go and make something happen. That means plays will be given up, but let's be honest: Plays are given up from Oakland's defense even in the safest of zone coverage.
What I would like to see is a frontal assault led by two players: Miles Burris and Tyvon Branch. Neither is all that great in man/pass coverage. But both have tremendous speed for their positions and can wreak havoc on the quarterback. Burris was drafted with the hopes of having a linebacker that could get after the quarterback.
At this point, he only has one sack, and while he has been a very solid tackler in tight space, he has not been fully utilized as a blitzing backer. I would love to see that begin Sunday. The Raiders are not shutting down New Orleans. But what they can hope to do is force a turnover or two with pressure. That is as good as it gets defensively.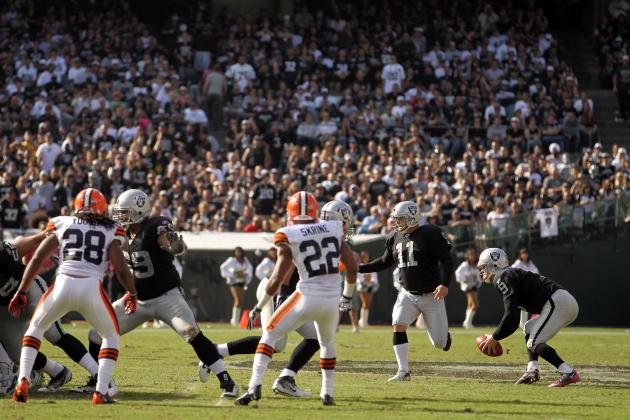 Ezra Shaw/Getty Images
Lechler's fake field goal TD pass was the difference in the 2011 win vs. Cleveland
When you play a superior football team and the expectation to win has decreased, the reaction can be one of two things: Reservation or an all-out effort. I have a sneaky suspicious the Raiders are going to play hard and emotionally against the Saints on Sunday.
But as we have seen in a couple of games, effort is not everything in winning a football game. You also need execution. If this Raider roster (including injuries) lined up against what New Orleans will bring to the Coliseum, it would win probably once or twice every 10 times. To skew the balance in your favor means being a bit unconventional and taking chances you wouldn't normally in an more even contest.
Basically, I'm saying the Raiders need to show the Saints everything they've got in all three phases. A surprise onsides kick, a fake field goal, reverses and double reverses, and every kind of blitz Jason Tarver has in his playbook. Lining up and running zone blocking runs or short passes just isn't going to sustain itself against a team that can put up 42 or 55 just as easily as Tampa Bay and Baltimore did.
So, being that variety is the spice of life, Oakland needs to be a little paprika, a touch of cilantro, a taste of jalapeno, and a bunch of black pepper up the noses of New Orleans. Imagination with that heart and effort could equal a big upset Sunday. But I'm getting ahead of myself...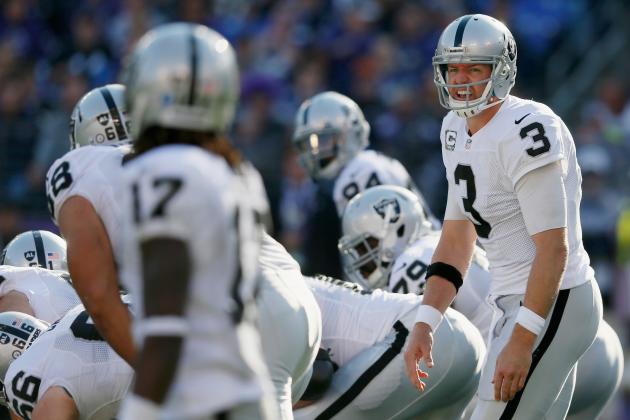 Rob Carr/Getty Images
Palmer has been largely good, but needs support from his teammates
On paper, Carson Palmer is having the kind of year that makes people wonder how/why the Raiders are on pace to win six games. Over 16 games, he would throw 4,357 yards and 24 touchdowns based on his averages so far.
So while he's having a pseudo-renaissance under center, the rest of the Raiders are struggling. We know about the pitiful performance of the running game (31st in the NFL) and the regression of the defense (23rd in the NFL). Which is what I failed to comprehend as I made Palmer the No. 1 key the last two weeks against Tampa and Baltimore.
But let's face facts: Carson Palmer is not the kind of quarterback that will win ballgames by himself. The guy needs help. As we saw in Week 3 against Pittsburgh, just a little balance goes a long way against a good team.
So what specifically is the formula to help Palmer? I see three things:
1. Rush for at least 85 yards (that would entail enough of a ground game and competitiveness in game to not have to abandon it altogether).
2. Keep New Orleans under 31 points (the Raiders average 31.6 ppg allowed on defense).
3. No more than one sack allowed.
If and only if the Raiders can do those three things, they can keep themselves in position to win this game. But they need all three.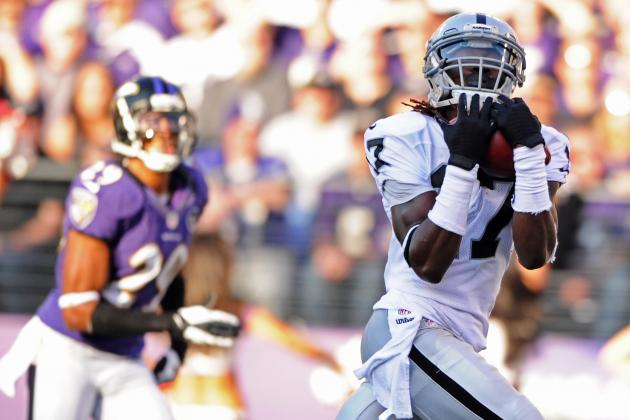 Patrick Smith/Getty Images
The "Truth" needs to be heard all game long for the Raiders
There is a game in every season that confounds me as a Raider fan. They will lose a game you most certainly think they should win and they'll win a game they probably should have lost. It has happened every year.
In 2006, they shocked the defending Super Bowl champion Steelers for one of their two victories. In 2007, there was the thumping of Denver behind Josh McCown of all people. In 2008, it was beating Tampa Bay to eliminate Jon Gruden's Bucs from the playoffs.
In 2009, there was the Bruce Gradkowski miracle in Pittsburgh to shock the champion Steelers again. In 2010, it was Jason Campbell off the bench and Tyvon Branch's scoop and score to beat San Diego for the first time in 13 games. Last year, it was the Thursday night thumping of the Chargers in what looked like Oakland South behind Palmer and former Raider runner Michael Bush.
Well, this year, this is the game I think we will point back to and say, "If they could beat the Saints, how did they end up with that record?"
It's going to happen, Raider Nation. My upset special of the week.
Prediction: Oakland 34, New Orleans 30