Ranking 2012-13 Celtics Against Each Squad of the KG, Pierce and Rondo Era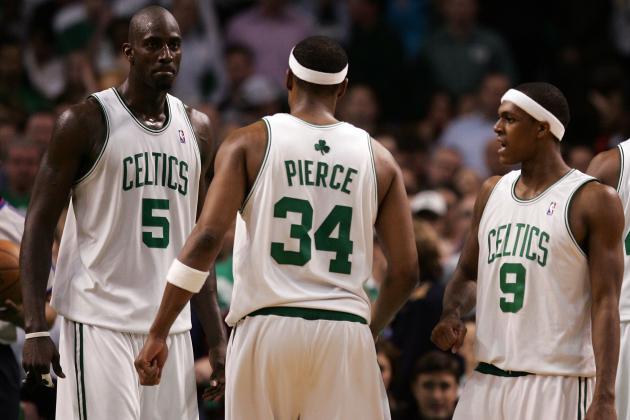 Elsa/Getty Images

The Boston Celtics roster has seen many changes over the past six seasons but there are three constants: Paul Pierce, Kevin Garnett and Rajon Rondo.
Garnett—along with Ray Allen—joined Paul Pierce in Boston in the summer of 2007. Throw in Rondo as a young, intuitive point guard, highly-respected coach Doc Rivers and a bench of role players, and you have a championship team.
After bringing home the Larry O'Brien Championship Trophy in 2008, the Celtics have been chasing their 18th championship. Many players have came and left, including Shaquille O'Neal, Nate Robinson and even Allen.
This season, the Celtics are the deepest they've been since the championship run. The team has an interesting mix of veterans–Pierce, Garnett, Jason Terry—and youth, like Jared Sullinger and Jeff Green.
With this blend of old and new talent, where do the 2012-13 Celtics rank against the other squads of the Rondo, KG, and Pierce era?
Begin Slideshow

»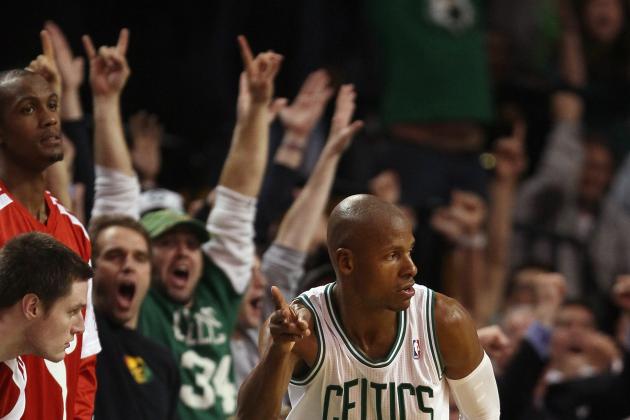 Elsa/Getty Images

Point Guard
2010-11 was Rajon Rondo's breakout season. In just the third game of the season, the point guard dished out a career high 24 assists, with a triple-double, against the New York Knicks. He had a ridiculous 50 assists in the first three games of the season, tying the NBA record. Rondo struggled with injuries in the beginning of the season, but he managed to end with averages of 10.6 points and 11.2 assists per game. Backup point guard Delonte West contributed 5.6 points, 0.8 steals and 2.7 assists per game.
Shooting Guard
After subpar play in the previous season, Ray Allen went off in 2010-11. He shot 49 percent from the field and 44 percent from the three-point line, and both were career-highs at the time. In February 2010, the 35-year-old surpassed Reggie Miller as the NBA's all-time leader in three-point field goals. Healthy and hungry, Allen played one of the best seasons of his entire career.
Small Forward
Paul Pierce should be known as Mr. Consistency because his game is always on point. This season was no different. Pierce averaged 13.9 points, 3.3 assists and 5.4 rebounds in 2010-11, while remaining healthy for the season. Boston also acquired Jeff Green from Oklahoma City at the trade deadline. Green struggled to transition from a starter to bench player, but still managed to put up 9.8 points per game.
Power Forward
Kevin Garnett averaged 14.9 points and 8.9 rebounds during the regular season, despite sitting out two weeks with an injured right knee. Glen Davis saw increased playing time due to increased production on the court. Averaging 11.7 points in 29.5 minutes, Davis was the sixth man for the Celtics.
Center
To the surprise of his Boston teammates and fans, Kendrick Perkins was traded to the Thunder for Nenad Krstic and Green. Shaquille O'Neal was made starting center, but injuries limited him to only 37 games. The Celtics version of Shaq was far from his Superman past.
Overall
The Celtics started strong by winning 23 of their first 26 games. However, the team lacked real depth and had no answer for injuries. Rondo and Allen shined individually, but trading away Perkins left the team without a reliable big man. Ultimately, the Celtics were eliminated from the playoffs in five games by LeBron James, Dwyane Wade and the Miami Heat.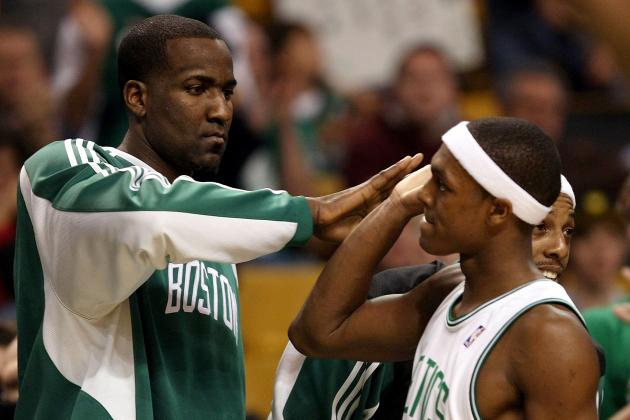 Elsa/Getty Images

Point Guard
The 2008-09 season saw steady improvement in Rajon Rondo's abilities as floor general. He averaged 8.2 assists per game and began to take more shots. As Rondo got more comfortable in his position amongst the veterans, his potential as a star became more apparent. Stephon Marbury was the backup point guard, but he didn't contribute much. Marbury only made 34 percent of his shots and played in 23 games.
Shooting Guard
Ray Allen was money from the free-throw line, making 95 percent of his shots. He was a main offensive threat, averaging 18.2 points per game. Allen was a go-to player in clutch moments, since he still possessed a smooth touch on his jump shots. Tony Allen was a solid role player, contributing 7.8 points per game.
Small Forward
A healthy Paul Pierce played 81 games in the 2007-08 season. He resumed his role as leader of the Celtics and led the team in scoring with 20.5 points per game, while shooting 46 percent. Eddie House consistently lit a fire under the bench by shooting 44 percent from beyond the arc. Between Pierce and House, opponents had a tough time keeping the SF position contained.
Power Forward
Kevin Garnett was a dominating force for the first half of the season. He averaged 15.8 points, 8.5 rebounds and 2.5 assists. In February, he strained his right knee and was forced to miss the next 14 games. He briefly returned to court, only to be sidelined for the remainder of the season with a right knee sprain. Glen Davis and Leon Powe filled in for KG, and both played well in his absence.
Center
As starting center, Kendrick Perkins averaged 8.5 points and 8.1 rebounds per game. Perkins aggressiveness on the court added to the Celtics new defensive mindset, while his efficiency under the basket improved his team's game in the post.
Overall
Boston started the season with a 27-2 record. Although the Celtics were one of the top teams in the Eastern Conference, this was the season that injuries began to plague the group. When Garnett was out, the C's missed his defensive prowess and overall presence and ultimately fell to the Magic in the Conference Semifinals.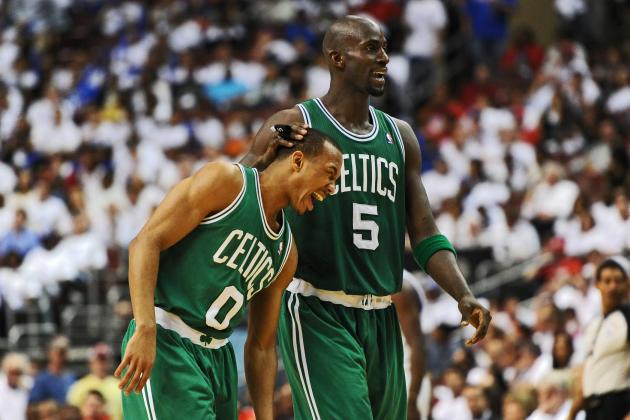 Drew Hallowell/Getty Images

Point Guard
In 2011-12, Rajon Rondo proved to be a true leader who is more than capable of taking over the Celtics after the end of the Big Three era. He registered multiple triple-doubles in both the regular and postseason and ended the season with 24 consecutive games of 10 or more assists. In the playoffs, Rondo also debuted a significantly improved jumper. Veteran Keyon Dooling wasn't much of a factor on the court, but still had a strong presence on the team.
Shooting Guard
Injuries limited Ray Allen for much of the season, including bone spurs in his ankle. While he was sidelined, Avery Bradley filled in as starting shooting guard. Bradley played so well that he kept the starting job after Allen's return. Bradley's aggressive defense, especially along the perimeter, provided the spark the Celtics needed for the second half of the season.
Small Forward
Paul Pierce struggled through various injuries, from his toes to his hip. Although Pierce was still the main offensive option on the Celtics, he was clearly less efficient than previous seasons. His turnovers were the highest they'd been since 2006-07 (2.8), and his field goal percentage was down to 44 percent. Still, Pierce averaged team high 19.4 points. Mickael Pietrus only contributed 6.9 points per game and wasn't much of a factor. Jeff Green sat out the entire season after undergoing heart surgery.
Power Forward
Brandon Bass posted career numbers in his first year with the Celtics, averaging 12.5 points, 6.2 rebounds and 0.9 blocks. Although he struggled using his size in the post, he was one of the most consistent players on the team.
Center
After Jermaine O'Neal was injured, the Celtics were lost at the center position. Doc Rivers decision to move Kevin Garnett to center was arguably the turning point in the Celtics' season. While KG wasn't a traditional big man, the position worked for him and he put up his best numbers since 2008-09. He averaged 15.9 points, 8.2 rebounds and one block per game. Backup center Greg Stiemsma didn't get much playing time, but contributed his share of rebounds and blocks.
Overall
The Celtics entered the All-Star break two games under .500. However, after a couple roster changes, Boston concluded with a 39-27 record, the best in the league after the recess. Rondo emerged as one of the best point guards in the league, and KG was rejuvenated at center. However, due to lack of depth, the Celtics couldn't keep up with the Miami Heat.
Elsa/Getty Images

Point Guard
In 2009-10, Rajon Rondo attempted more field goals than in previous seasons, with 11.2 per game, and he shot 51 percent. He also played excellent defense, averaging 2.3 steals per game. As Rondo continued to drive to the basket more frequently, while dishing out nearly 10 assists a night, his name began to be thrown around as one of the top point guards in the league. Nate Robinson was a firecracker, but had trouble running the offense.
Shooting Guard
While Ray Allen was still an offensive threat, his efficiency was slightly lower than normal. He only connected with 36 percent of his three-point attempts. His inconsistency hurt the Celtics in the 2010 NBA Finals, when Allen went 0-for-13 from the field in Game 3.
Small Forward
Paul Pierce averaged 18.3 points, 3.1 assists and 4.4 rebounds in 2009-10. He continued to be the rock for his team, coming through in the clutch, even when his counterparts sometimes faltered. For example, in Game 3 of the first round against Miami, Pierce hit a 21-foot buzzer-beater to give the Celtics a 3-0 series lead. Marquis Daniels and Michael Finley came off the bench this year but didn't make much of a splash.
Power Forward
Kevin Garnett consistently played well throughout the regular and postseason. He grabbed 7.3 boards a night and was the centerpiece of the Celtics' defense. Glen Davis came into his own as a PF and played roughly 17 minutes a night. Although he was undersized, he still made plays.
Center
Kendrick Perkins remained the starting center, but there was a new big man in town: Rasheed Wallace. Wallace averaged nine points and 4.1 rebounds for the Celtics during his sole season in Boston. Although his production had significantly decreased since his time with the Pistons, his presence in the post was valuable. Unfortunately, Perkins tore two ligaments in his right knee in Game 6 of the Finals, and his team fell short without his big body to match the Lakers' Andrew Bynum and Pau Gasol.
Overall
Injuries and inconsistency plagued the Celtics in the 2009-10 regular season. Rondo showed superiority at his position, but he and the Big Three didn't have enough help. Nonetheless, they made it back to the playoffs, only to lose the NBA Finals in seven games to the Lakers in a nail-biting rematch.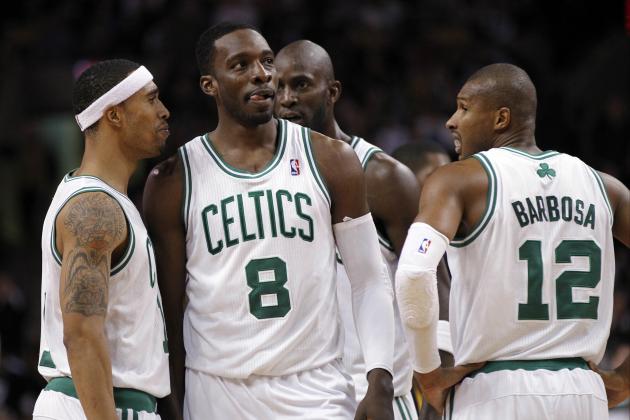 Greg M. Cooper-US PRESSWIRE

Point Guard
Rajon Rondo is on track to establish himself as the best point guard in the NBA. In just eight games, Rondo already has 100 assists, accurate as of Nov. 15. He's confident in his jump shot and has become a serious scoring option for the Celtics. Leandro Barbosa doesn't play much, but when he's in the game he delivers a solid 5.9 points on 49 percent shooting.
Shooting Guard
While Avery Bradley recovers from shoulder surgery, Courtney Lee and Jason Terry share the shooting guard position. Lee was brought to the Celtics for his defense, but he's been inconsistent in his role. Terry is a veteran, former Sixth Man of the Year with a championship under his belt. As he gets more comfortable with his new role, his production should steadily increase. He currently averages 10.8 points per game, accurate as of Nov. 15.
Small Forward
Despite shooting 39 percent from the field, Paul Pierce is averaging 19.8 points per game. He continues to be the most consistent source of offense and keeps his team afloat while they work through growing pains. After sitting out for an entire season, Jeff Green is still struggling to find his rhythm with the team.
Power Forward
Brandon Bass and rookie Jared Sullinger have been alternating at PF, depending on the opponent. Bass is shooting almost 50 percent and has developed a stronger presence under the basket. Sullinger played impressively in the preseason, and while he's held his own in the regular season, he has yet to really shine.
Center
Kevin Garnett resumes his role as starting center and looks healthy so far. He's averaging 15.3 points, 8.1 rebounds and one block, accurate as of Nov. 15. KG has become the voice and emotional leader of the Celtics. Darko Milicic and Jason Collins have hardly seen any playing time this season, simply because they haven't earned it.
Overall
So far, the Celtics are trying to find their identity as a team. Although Ray Allen was replaced by the better duo of Courtney Lee and Jason Terry, they still need to figure out how to fit into Doc Rivers system. The 2012-13 Celtics bench has major depth, but they need to develop chemistry in order to maximize their talents.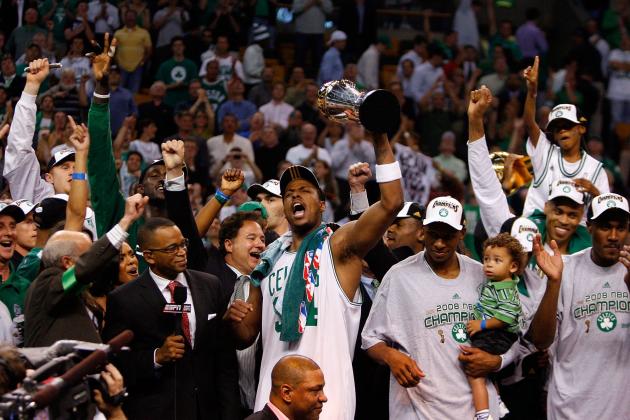 Jim Rogash/Getty Images

Point Guard
In 2007-08, Rajon Rondo was a 21-year-old point guard who had to set up shots for three Hall of Famers in their prime. When he wasn't facilitating the ball, he was taking a back seat and letting the Big Three work their magic. Rondo only averaged 10.6 points and 5.1 assists during the regular season. Veteran Sam Cassell provided experience, as well as a nice touch from beyond the arc.
Shooting Guard
During Ray Allen's first year with the Celtics, he averaged 17.4 points, shooting 45 percent from the field. He was still one of the top scorers in NBA and scored most of his points for the C's with nothing-but-net jumpers from all over the court.
Small Forward
Paul Pierce was at the top of his game in 2007-08. There was no question about whether the veteran could keep up with younger players, such as LeBron James. No stranger to clutch moments, Pierce rose to the occasion during Game 7 of the Conference Semifinals against the Cavaliers with a whopping 41 points. As the sixth man, James Posey was a threat on both sides of the ball. He scored, grabbed boards and made the game that much harder for his opponent.
Power Forward
Kevin Garnett owned the 2007-08 season. KG was named NBA Defensive Player of the Year and led all players in votes for the NBA All-Star ballot. Not only did he put up 18.8 points per game, but he also led the team in rebounds (9.2). Garnett's arrival changed the tone of Celtics defense to this day. Leon Powe was a very efficient shooter and a good role player.
Center
Kendrick Perkins played a supporting role on the 2007-08 Celtics team. He averaged 6.9 points and 6.1 rebounds but was incredibly efficient, shooting 62 percent from the field. Although he was fairly inexperienced, Perkins size played a huge role in lifting the Celtics over the Lakers in the Finals. Like Cassell, P.J. Brown helped guide the younger players, even though he didn't see much playing time.
Overall
The 2007-08 Celtics rank No. 1 because they were able to win a championship with a dream roster. Pierce, Garnett and Allen each took on lesser roles without complaint, in order to better the team as a whole.