Why Opposing Teams Should Fear the Seattle Seahawks' 12th Man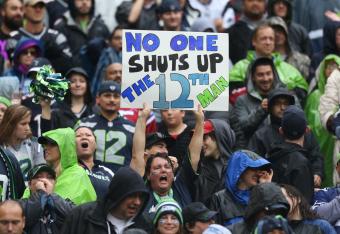 Otto Greule Jr/Getty Images
Welcome to CenturyLink Field, opposing quarterback. Be afraid.
The reputation of the Seattle Seahawks as an up-and-coming football team is growing in 2012. The reputation of CenturyLink Field is already firmly established.
At least it should be.
Fear is an interesting word. It is not as if opposing teams are afraid for their personal safety and well-being. Seattle has yet to establish an equivalent to the Black Hole in Oakland.
Why should opposing teams fear the 12th man? Because the 12th man brings the noise.
When I say noise, I mean ear-splitting volume.
Don't believe me? Try this as an exercise. If you are in Seattle, see if you can get permission to go out on the tarmac at Sea-Tac Airport. Bring a folding chair, your laptop and your smart phone, and then try to get some work done while airplanes fire up their engines all around you.
Now granted, the work you do in your office is far different than the tasks performed by a professional football team. However, what would be similar in that scenario is the volume.
The volume at CenturyLink Field has been measured at 112 decibels. This is not quite the 130 decibels that are produced by a Boeing 747, but that volume is certainly in the ballpark. Compare that to a normal conversation, which is about 60-65. Heavy metal rock concerts can reach 125 decibels.
Why is this an issue? Opposing teams simply cannot hear.
What does that lead to? False starts.
Since 2005, Seattle leads the league in causing false starts. The false start penalty has become the measuring stick of crowd effectiveness at the Clink. You could say that each false start penalty goes in the 12th man trophy case.
Many fans will remember the game against the New York Giants in 2005 when the Giants committed 11 false start penalties. Do you think that contributed to the reputation at all?
If a team false starts, the crowd is only going to get louder. It is almost like the fans smell fear.
The next three stadiums on the false start list are all domed stadiums. You have to credit owner Paul Allen for finding an architect that could contain so much sound in an open-air field.
Obviously we are still talking about professionals when we talk about quarterbacks. CenturyLink Field is not the only hostile environment in the NFL. After all, Philadelphia fans booed Santa Claus.
Opposing quarterbacks are used to noise, but Seattle continues to be a special environment of oppressive volume.
Do you think home-field advantage matters in the NFL? I think it is fair to suggest that Seattle fans believe in some home cooking.
In 2012, the 'Hawks are 5-0 at home. On the road? 1-4.
Since the stadium opened in 2002, Seattle is 56-29 at home. That includes two seasons (2003, 2005) where they were 8-0 in the Emerald City.
Will the Seahawks go 8-0 at home in 2012?
If you take out the dreadful 2008 season where they were 2-6 at home and 4-12 overall, the record is even more impressive.
I know what some fans might be thinking. It can't be that loud, right? Can't opposing quarterbacks just tune out the noise? Couldn't the quarterback just do what Kevin Costner does in "For the Love of the Game" and mentally block out the volume?
Apparently not. Even Tom Brady knew he would be facing a challenge.
Remember when your parents told you to just ignore that person that was annoying you? It didn't work very well, did it? Imagine ignoring 67,000 fans that are screaming at the top of their lungs. The moment you false start, the fans know they are in your head.
To be fair, there are "passionate" fans in every NFL stadium. I think it is fair to suggest that football brings out the most extreme examples of costume, hairstyle and body paint.
The Raiders have the Black Hole, the Browns have the Dawg Pound and you can certainly make arguments for Kansas City, Green Bay and the domed stadiums in terms of volume.
CenturyLink Field is still the gold standard for intimidating environments in the NFL.
Fear the Clink. Fear the 12th man. You have been warned.
This article is
What is the duplicate article?
Why is this article offensive?
Where is this article plagiarized from?
Why is this article poorly edited?

Seattle Seahawks: Like this team?