Ravens vs. Steelers: Baltimore's Biggest Winners and Losers from Week 11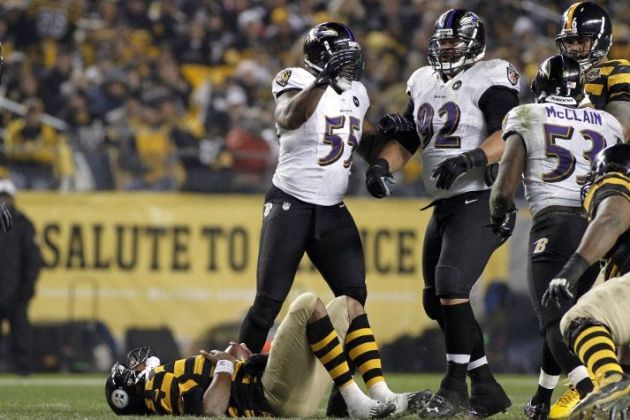 The Baltimore Ravens defeated the Pittsburgh Steelers 13-10 Sunday night at Heinz Field in Pittsburgh, taking a two-game lead over their AFC North rivals. To no one's surprise, the game featured plenty of hard hits and a low-scoring, narrow margin of victory for Baltimore.
The Steelers were without starting quarterback Ben Roethlisberger, who holds a 9-4 all-time record versus the Ravens. Baltimore's defense played admirably after surrendering an unlikely running touchdown from the lumbering Byron Leftwich 43 seconds in.
The Ravens held Pittsburgh to just a field goal over the final 59 minutes and forced three critical turnovers en route to another hard fought win in this rivalry. While the offense seemed to sputter and misfire all night, the defense and special teams stepped up again, leading Baltimore to its 12th consecutive AFC North division win.
Here are my winners and losers from last night's game.
Begin Slideshow

»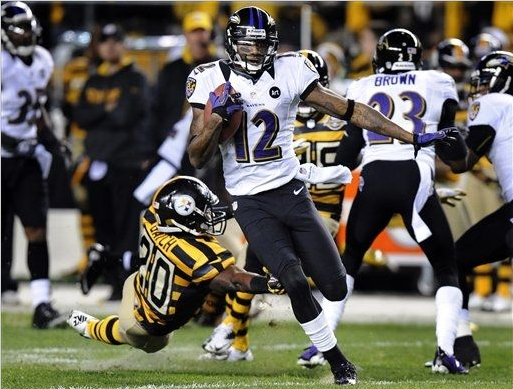 Winner: For the second consecutive week, the Ravens captured lightning in a bottle with their speedy return man. Jones scored the only Baltimore touchdown last night on a 63-yard punt return late in the first quarter.
While last week's dazzling kickoff return might have had more distance, tonight's punt return was a game and momentum changer for the Ravens. At the time, the Steelers held a 7-3 lead and had limited Baltimore on offense early. Jones' touchdown was a punch to the collective stomach of Pittsburgh and their fans. Unfortunately for Baltimore, it was the only real offense they could muster.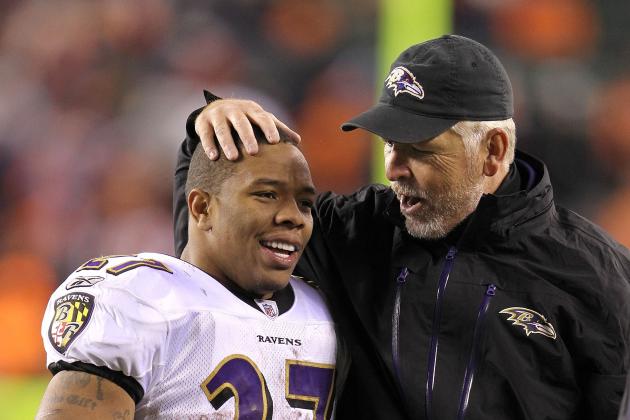 Andy Lyons/Getty Images

Loser: A win is a win, but the Ravens' offensive strategy resembled a high school junior varsity program. A bad junior varsity program. With all of the talent the Ravens have on the offensive side of the ball, they were outgained and pretty much outplayed by Pittsburgh's second-team offense.
I understand the need to be conservative against an aggressive and opportunistic defense, but Cameron basically conceded that the Steelers defense was better than the Ravens offense. If Baltimore wants to get beyond a single round of the playoffs, then they need to show better than they did tonight.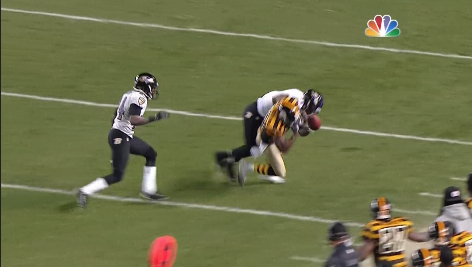 photo: NBCsports.com
Winner: Pollard might have made the play of the game late in the fourth quarter. Protecting a three-point lead the Ravens were trying to keep the Steelers from tying the game or even going ahead.
Leftwich spotted receiver Jericho Cotchery wide open near the sideline. Pollard arrived at almost the exact same time. As the ball nestled into Cotchery's waiting arms for a certain Steeler first down near midfield, Pollard dropped his shoulder and pummeled the receiver, knocking the ball loose and Cotchery out of the game.
Pollard would finish the game with five tackles, including one for a loss, and one pass defended.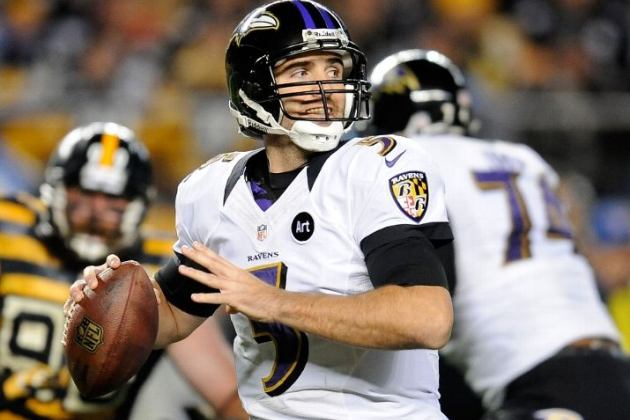 Loser: With Roethlisberger sidelined, last night was an opportunity for Joe Flacco to own the stage and put some of his criticism to bed. While Flacco wasn't awful, he seemed content to manage the game rather than try to make plays.
Again, while you don't want him taking unnecessary chances against a great defense, Flacco looked like he was on the same level as Byron Leftwich, a backup who has lost seven straight starts. His play away from home has been pedestrian at best, and that's the type of performance we saw tonight. No turnovers, no real mistakes, but no offensive touchdowns and no big plays either.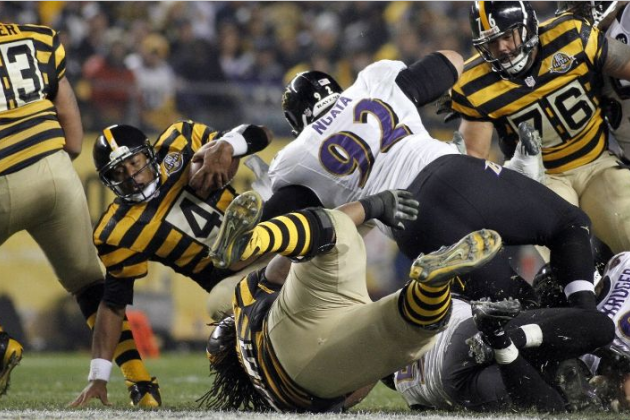 Winner: Haloti Ngata probably isn't at full speed yet, but his presence in the middle made a huge difference at the line of scrimmage. His numbers for the night were decent (five tackles, one sack), but Ngata had to be accounted for by the Pittsburgh line all night.
After being held out of last week's thrashing against Oakland, Ngata was probably pretty pumped to join the fray against Pittsburgh. For a defense that had been ranked in the bottom third in the NFL, seeing one of their defensive stars making plays was good news for the Ravens.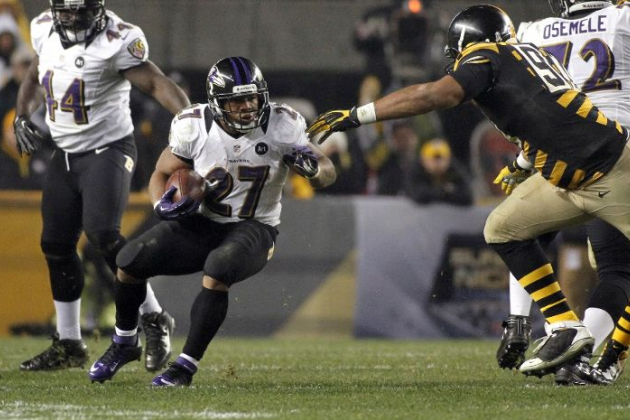 Loser: I don't want to come off too harsh on Ray Rice and Joe Flacco, especially considering the opponent, but Ray Rice was nearly invisible in the running game (20 carries, 40 yards, 2.0 average). He was able to bail out Flacco with five receptions for 53 yards, including one out of the slot position, but overall an average performance from a player that is expected to perform at an elite level.
An argument can be made that Rice was ineffective largely due to the play-calling on offense, but when he did touch the ball, he just didn't seem dangerous and made few people tackling miss him.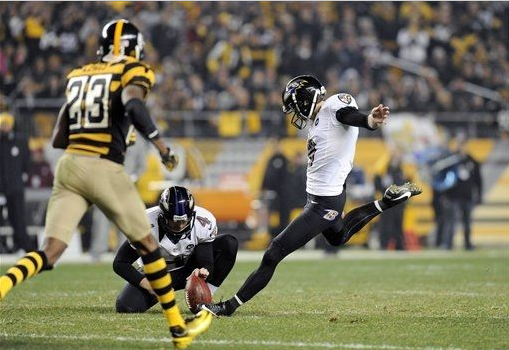 Winner: Kicking in Pittsburgh can be a nightmare for even the most seasoned NFL kickers. Even those who are employed in Pittsburgh. A notoriously choppy turf and swirling winds throughout the stadium can even make an extra point an adventure.
Baltimore's rookie kicker came in on a hot streak but missed his second attempt of the night from 48 yards. A little redemption was in order as he rebounded to nail the decisive 39-yarder in the third quarter. Not a bad night for a rookie on uncomfortable enemy turf.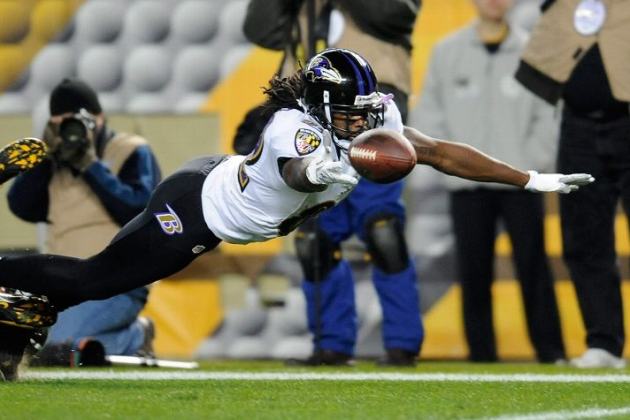 Loser: Torrey Smith did his best impression of an invisible man last night before making his first catch with four minutes left in the game. He was battling with top Pittsburgh corner Ike Taylor all night and ended up on the losing end of the matchup.
Smith has been a big-play favorite for Flacco over the past two seasons. His seven touchdowns are by far the most of any Raven's receiver, and his 71 targets are second to Anquan Boldin's 76. Big games like last night's are when Torrey Smith needs to elevate his game and be a difference-maker. He was targeted seven times but finished with one catch for seven yards.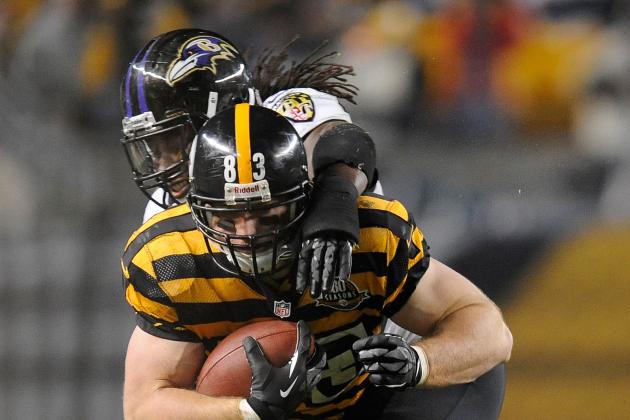 Joe Sargent/Getty Images

Winner: Ellerbe played his heart out and was all over the field last night as the Ravens' leading tackler. He's not Ray Lewis on the field, and doesn't pretend to be, but Ellerbe attacked the ball consistently all night and finished as the Ravens' leading tackler with 12, including one for a loss.
He was effective as a run-stopper and helped corral one of the top tight ends in the game, Heath Miller, limiting him to only two catches on five targets. Ellerbe was a key component for a proud but maligned defense that played as well or better than their much more heralded opponents on the other side of the field.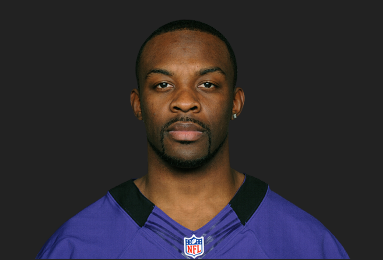 photo: espn.com
Winner: The first-year Raven got his chance to shine with the injuries in the Baltimore secondary. Byron Leftwich went after Graham a few times and paid the price. Graham halted a Steeler drive in Raven territory with a huge interception in the third quarter, returning the ball to the Baltimore 38.
The Ravens would then drive down deep into Steeler territory for what would be the deciding field goal. Graham would finish the game with eight tackles and three passes defensed.