An Early Blueprint for Rebuilding the Philadelphia Eagles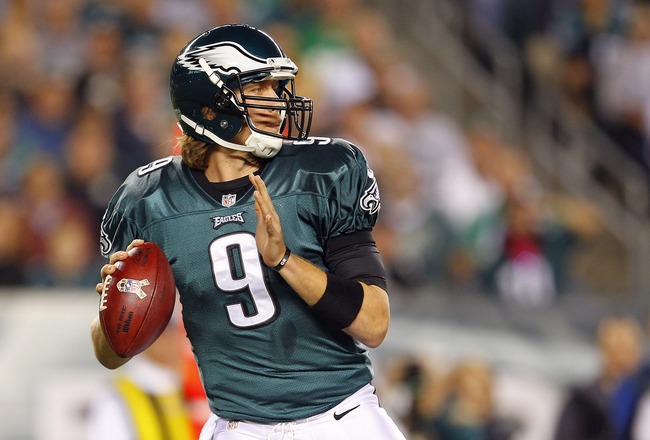 Rich Schultz/Getty Images
Among the bad play-calling, the red-zone blunders, the awful offensive line play and the incapable defense, there are a few bright spots on the horizon for the Philadelphia Eagles and their fans.
With the 2012 season likely over for the Birds, the long-tenured head coach on his way out and the injury-prone scapegoat quarterback, the Philadelphia Eagles should be looking to rebuild at the conclusion of the NFL's final week.
The future will not be as bleak as the present. After all, this year's Eagles team was supposed to be a contender. At least in the future, we'll know the team will be looking to rebuild. In that case, expectations will more than likely be manageable and easily kept in perspective.
Looking ahead, there are some strengths the team can focus on, as well as some weaknesses they should address in their rebuilding efforts.
Get a Legitimate No. 1 Wide Receiver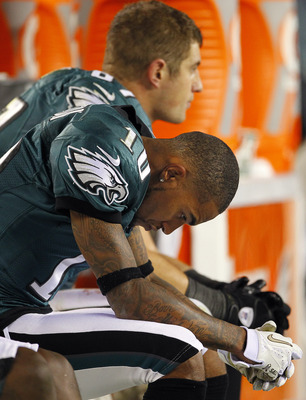 Rich Schultz/Getty Images
The wide receiver position is among the Eagles' weaknesses every year. That's not to take anything away from DeSean Jackson, Jeremy Maclin or Jason Avant.
But, let's be honest in assessing their abilities. Jackson, as explosive and fast as he is, is a slot receiver. He could be the best in the NFL if he had a premier threat lining up with him. Maclin is what he is, a great No. 2 receiver who has been asked to do too much and be something he isn't. Avant has some of the best hands in the NFL—seriously. However, Avant hardly ever gets any yards after a catch.
Furthermore, when is the last time you saw a big play out of any of the Eagles' receivers that came when they weren't wide-open, waiting for the ball?
Both Maclin and Jackson are young enough to keep in the event the team should acquire a young wideout through the draft or a premier wideout via trade.
The birds need that kind of a big, strong, go-to guy. I'm not saying that there is a Calvin Johnson or Brandon Marshall out there waiting, but the Birds need someone who can be a top-tier wideout if they want to succeed in the future. Look at what the Birds did when they had one in TO.
The wide receiver position should be No. 1 on the Eagles' "to-get" list at the conclusion of the NFL season—next to new head coach, of course.
Find a Safety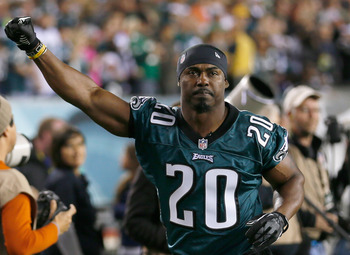 Rob Carr/Getty Images
You can trace the decline of the Philadelphia Eagles back to the release of Brian Dawkins.
Since then, the Birds have been lacking in the safety department.
Not only did the Eagles leave Jason Pierre-Paul on the board when they drafted Brandon Graham, but they also left Seattle's Earl Thomas out there as well.
With Nate Allen's inability to make tackles and Kurt Coleman's overall inability to function in the defenses we've seen him in, it's time the Eagles sought out a safety and cut ties with Allen at the very least.
Find Offensive Line Depth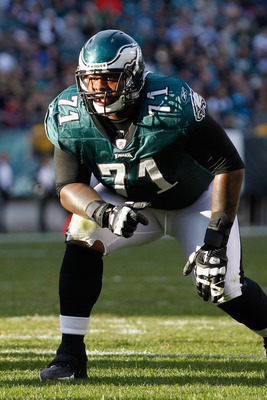 Rob Carr/Getty Images
Though the team's offensive line has been an abomination this season, how many starters are left?
The Birds doubtlessly need to focus on deepening their O-line, but next year shouldn't be as bad when Jason Kelce, Jason Peters and Todd Herremans are back to full strength. Moreover, Watkins is young and it wouldn't be wise to give up on him yet.
King Dunlap could stick around and ride the bench—that wouldn't be the worst thing imaginable. But after the team parts ways with Demetress Bell, or benches him for good because they absolutely can't find anyone else, rebuilding the offensive line should be a top-five priority but not the No. 1.
Draft a Quarterback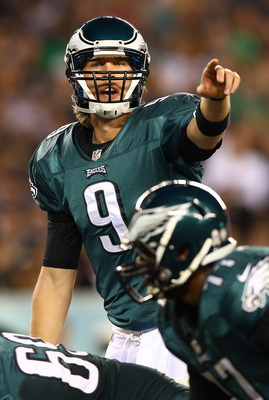 Elsa/Getty Images
Regardless of what the next regime decides to do with Michael Vick, the Eagles should draft another QB.
I'm not saying that Foles can't do anything because we've only seen a couple of quarters from him, so far, but I am saying you can't be too safe in a QB-driven league.
Although I don't put another QB among the team's most dire needs, I wouldn't mind seeing the Eagles moving up in the first round to draft a QB. At the very least, they should grab someone in the second round.
There won't be any Andrew Lucks or Robert Griffin IIIs out there, but there are a few intriguing options, and the more discussion there is about this, the better.
Build on What You Have, Don't Just Sign Whoever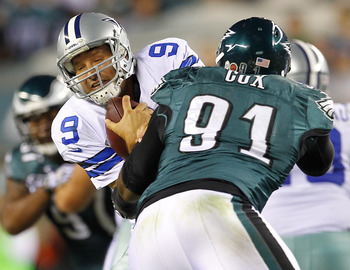 Rich Schultz/Getty Images
There are players whom the team should hang on to while rebuilding.
Guys on the defensive side of the ball like Dominique Rodgers-Cromartie, Mychal Kedricks, Fletcher Cox and the late-blooming Brandon Graham are good enough to use as a defensive foundation.
Offensively, LeSean McCoy, Jeremy Maclin, DeSean Jackson, and hopefully, Nick Foles are young enough to develop together. They're a lineman, a receiver and a coach away from being good (provided Foles lives up to expectations).
With the right mind drawing up the schemes and calling the shots, who knows what could happen with this core of players in the future?
Hire the Right Man for the Job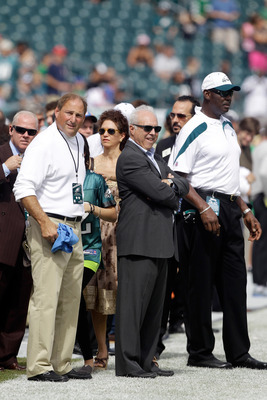 Rob Carr/Getty Images
Though they've been bad this year, there are other coaching matters in the NFL to take notice of. Look at Jim Harbaugh in San Francisco, Wade Phillips and the Houston defense, and even Detroit Lions head coach Jim Schwartz and what he was able to do when he inherited one of the worst teams in NFL history.
How can a defense with names like Asomugh, Ryans, Cole, Babin and Jenkins be so bad? Is it out of the realm of possibilities that a group of proven veterans and Pro Bowlers can regress so much and fall completely off their games so collectively because they haven't been put in the right scheme? I'm not so sure.
Of course, they've underachieved. At the end of the day, the players are the ones on the field. But this kind of a collapse and this kind of collective regression casts a shadow over whether or not they just started to get over the hill as a whole.
If coaching makes all the difference, then could there be a mind out there who could take these guys and make them realize their potential as individuals and as a group?
Of course, it's been discussed far too much that the Eagles are so talented. They're not, and that's evidenced by the team's record this year.
However, with each of those guys on defense and their individual accolades, it's hard to accept that what we've seen is the best we can get.
The next head coach, whoever he is, needs to be someone who can look toward the future and be able to simultaneously capitalize on what he will inherit.
Whether, it's Gruden, Clements, Kelly, Billick, or whoever, how could he not be able to do more with this group than the current staff has?
Keep Reading

Philadelphia Eagles: Like this team?