How Long Will Jimmie Johnson's NASCAR Sprint Cup Dominance Last?
Use your ← → (arrow) keys to browse more stories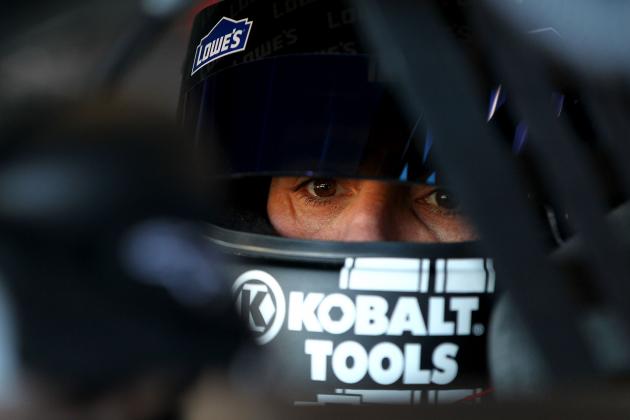 Jonathan Ferrey/Getty Images

Jimmie Johnson was the victim of bad luck at the AdvoCare 500 this past Sunday. Johnson had a tire go down and ended up in the wall.
He entered Phoenix on Sunday with a seven-point lead in The Chase, but left sitting 20 points behind Brad Keselowski.
Johnson's Chase hopes might be over, but he was clearly the most dominant driver when The Chase started.
He has been dominating the Sprint Cup Series since his first championship win in 2006, and is the one driver everyone wants to beat.
How long will Johnson's dominance in the Sprint Cup Series last though?
With young drivers like Brad Keselowski coming up and turning out to be top class drivers of their own, can Johnson continue winning races and winning championships?
Jimmie Johnson is one of the best to ever get into a NASCAR Sprint Cup car, but how long will he continue to be the man to beat?
Hendrick Power
Part of what makes Jimmie Johnson so dominant is the power he has behind the 48 car. Hendrick Motorsports has emerged as the top racing team in NASCAR over the last several years, and as long as Johnson remains part of the Hendrick team, his domination will continue.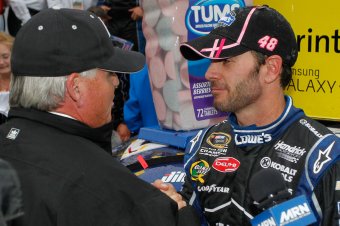 Tyler Barrick/Getty Images
Hendrick motors are some of the best in NASCAR, and the top choice for those in the Sprint Cup who choose the Chevy engine type.
It goes beyond the Hendrick engine and technology though.
Chad Knaus and team behind the 48 car, make Johnson a dominate factor in the Sprint Cup Series.
Knaus is one of the best crew chiefs in NASCAR, and has made the right calls for Johnson and the 48 team over the years.
The crew behind the 48 team is also extremely efficient, allowing Johnson to have one of the fastest pit stop times throughout the season.
Nothing should be taken away from Jimmie Johnson as a driver, but being part of one of the top teams in NASCAR will only add to the years that Johnson is the man to beat. Knaus and the crew behind the 48 were a huge part of Johnson's five championships.
As long as Johnson remains with Hendrick and the 48 team stays intact, expect Johnson to continue dominating throughout the decade.
Dominating Since The Chase
One thing that sticks out about Johnson besides his driving ability, is how he has managed to be a huge part of The Chase. Ever since it was implemented in 2004, Johnson has constantly been a factor.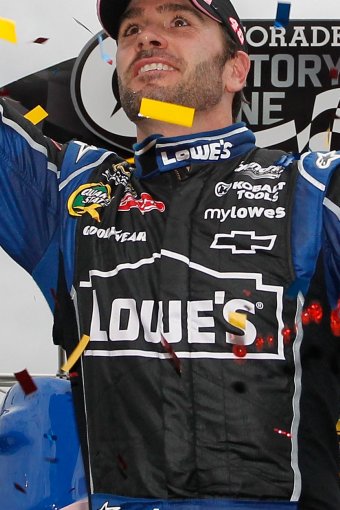 Tyler Barrick/Getty Images
Johnson, winning five championships in a row, established himself on a top tier as a driver. Now it seems like every year Johnson is the man to beat.
After winning his first championship in 2006, all eyes were on Johnson and have remained on him as NASCAR gets set to enter its last race of the 2012 season.
He stumbled last year during The Chase, and may have run into some bad luck this past week at Phoenix that knocked him 20 points behind Brad Keselowski going into Homestead, but Johnson looked like he was ready to win his sixth championship after taking over the points lead at Martinsville.
It goes beyond championships though. Jimmie Johnson is 37-years-old, and has already won 60 races. He is the dominant driver that everyone strives to beat in the Sprint Cup Series.
As NASCAR moves forward, it doesn't seem like Johnson plans on slowing down. He can win on any track type, and knows how to save his car when put in a bad situation.
Johnson is far from over when it comes to winning races and championships, and his domination in NASCAR will continue far into the future.
The Man To Beat
Jimmie Johnson will remain the top driver to beat long into the rest of the decade. Winning five championships in a row was no fluke, and with the 48 team behind him and Hendrick power under the hood of his car, Johnson will continue being dominant for years to come.
This season alone has been a great example of how dominant Johnson can be. After he made it into The Chase, he would continue performing well and eventually grab the points lead. Johnson was the man to beat, and probably would have continued to be the top driver if not for a little bit of bad luck.
So just how long will Johnson's Sprint Cup dominance last?
Well into the future of NASCAR.