5 Changes Coach Lionel Hollins and Memphis Grizzlies Must Make ASAP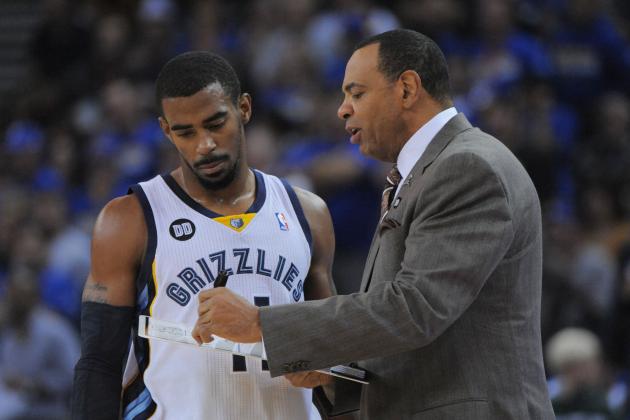 Kyle Terada-US PRESSWIRE

The Memphis Grizzlies are off to their best start in franchise history after routing the Miami Heat by 18. Still, Lionel Hollins' team has work to do in order for the Grizzlies to be considered contenders in the Western Conference at midseason. This is the final year in Hollins' contract and owner Robert Pera wouldn't want to see his new team in a decline.
Hollins told The Commercial Appeal that he doesn't plan to change his coaching style to impress the new ownership, saying, "I'm going to be me. I'm not going to be somebody different and gain their confidence."
The 59-year-old head coach doesn't have to change his style. However, he does need to make a few early adjustments in order to keep things smooth going down the stretch.
Here are some things Hollins and the Grizzlies need to do to keep the "Grindhouse" as strong as it is for the rest of the season.
Begin Slideshow

»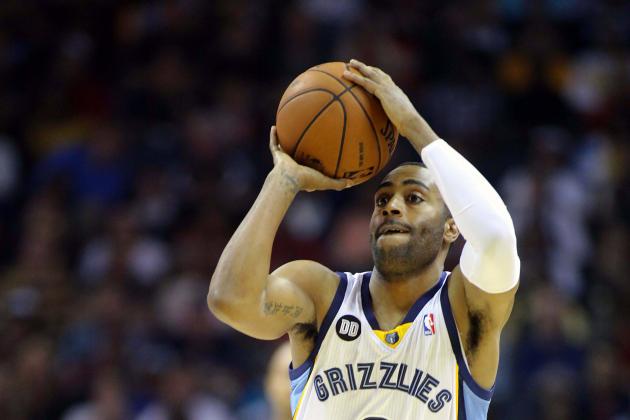 Spruce Derden-US PRESSWIRE

One of two significant adjustments that Lionel Hollins needs to hurry up on is settling on a definite bench rotation. Indeed, Hollins had great uncertainty with his bench coming into this season. O.J. Mayo, the key bench player from the past two seasons, is gone.
In Mayo's place are three newcomers (Jerryd Bayless, Wayne Ellington and Tony Wroten), one returnee whose role is easy to define (Marreese Speights) and another (Quincy Pondexter) who might earn more minutes based on how he plays.
While it's clear that Speights is the key big man off the bench, Hollins needs to determine the primary reserve backcourt player. Bayless best fits as the backup point guard and will predominately be used in that role. Ellington and Pondexter can play the 2 and Pondexter is the most capable reserve at the 3.
Wroten played just once before going to the D-League and Josh Selby has hardly played and it may take time for each of them to gain more minutes despite the hype that's surrounded Selby since summer league.
With the reserve guards fitting roles better than those who played last season, Hollins basically needs to determine whether Pondexter or Ellington deserves more minutes. This didn't seem like a difficult choice early on since Ellington appeared to be a better scorer, averaging 6.1 points per game last season compared to Pondexter's 4.2.
However, Pondexter has had a couple nice scoring games, including a 14-point performance against the Utah Jazz.
Ellington blew up on Sunday against the Heat with a career-high 25 points and seven three-pointers.
Ellington is now averaging 8.5 points per game on 50 percent shooting compared to Pondexter's 6.5 points per game on 42.4 percent shooting.
Hollins experimented with his power forward rotation for a few weeks after Zach Randolph went down, eventually coming to the decision to play Speights more.
This year, he needs to take less time deciding which one should be the one to rotate in more often for Tony Allen. Ellington should be that guy since he scores better and can shoot three-pointers.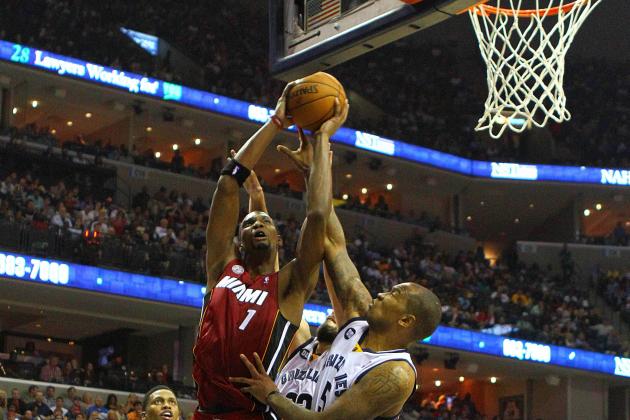 Spruce Derden-US PRESSWIRE

On a bench that has only one center, Hamed Haddadi, a versatile power forward like Marreese Speights becomes more valuable.
Speights has received almost all the big-man minutes off the bench this season. That's still not much, as Speights played only 19.8 minutes per in the first six games. Meanwhile, Marc Gasol and Zach Randolph are being pushed again, playing 36.2 and 38.2 minutes per game, respectively.
If Hollins wants to use Speights in this capacity and get the most from all three of these big men, he needs to play the former Philadelphia 76er more. Randolph isn't liable to get worn out if Speights takes a couple more of his minutes each game.
When Speights gets hot, it's reasonable to give him more minutes. When he dropped 18 points on the Milwaukee Bucks, Speights played 22 minutes, his season high thus far. Some extra time on the floor would have made sense.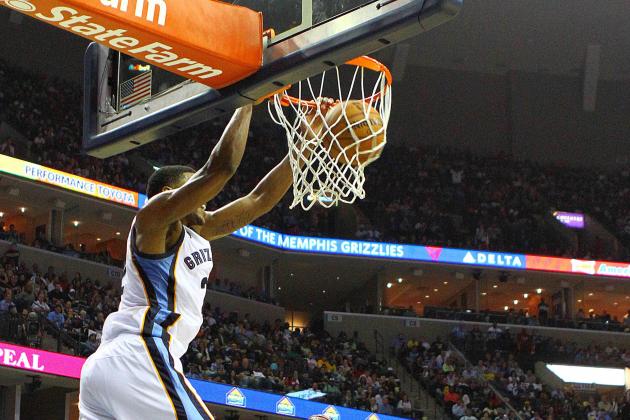 Spruce Derden-US PRESSWIRE

Rudy Gay can be a terror inside. He throws down dunks as spectacularly as almost any other backcourt player. He posts up well for a small forward. His inside moves are strong.
However, he hasn't gone inside as much in the first six games as he usually does. According to basketball-reference.com, Gay has taken 12 attempts at the rim. His preferred spot has been between three and nine feet to this point. This is abnormal for Gay, who took the greatest number of shots at the rim of all ranges four times in his first six years.
Perhaps Gay hasn't had as many transition or dribble-drive opportunities early this season as he did in prior years.
Whatever the case, it's affected his shooting figure. He has shot 38.9 percent from the field thus far, significantly lower than his 45.5 percent career field-goal percentage.
Hollins needs to open up more opportunities for Gay to get to the rack. This may include getting him to jump ahead on fast breaks or drawing up sets that allow him to drive inside or use his post capability effectively.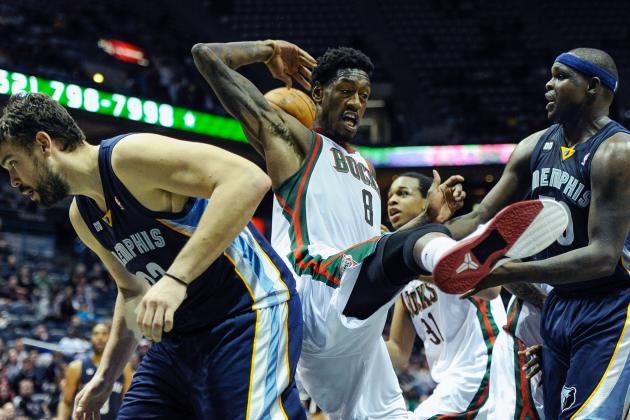 Benny Sieu-US PRESSWIRE

The Grizzlies are typically a bit below average when it comes to restraining themselves from committing fouls. Last season, they had the 12th most personal fouls. In 2010-11, they were 14th.
This season, the Grizzlies are right in the middle at 15th with 122. Memphis' total is being pulled by three players. Marc Gasol and Marreese Speights are averaging 3.2 fouls per game while Tony Allen is averaging 2.8 per game.
Indeed, Gasol and Allen are two of the more aggressive players in the game defensively. When either of them makes a play defensively, he might end up committing a foul. Those instances can be reduced by simply taking care and being precise when making plays.
Speights may make a few mistakes sometimes. This start is an outlier for the fifth-year pro, whose career high is 2.5 fouls per game.
If Hollins can get these three to demonstrate a bit more control, then they'll drop the number of fouls considerably.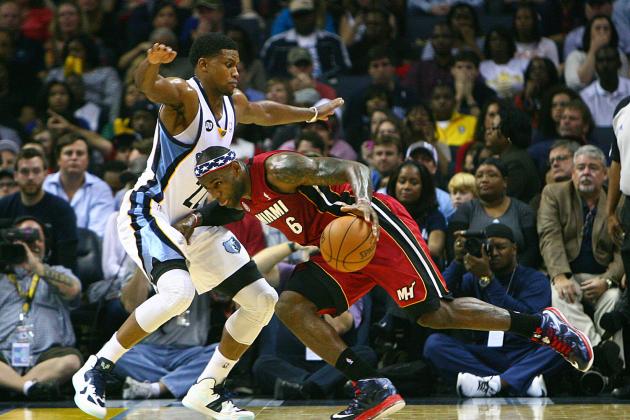 Spruce Derden-US PRESSWIRE

This is only a modest request. The Grizzlies have done a decent job forcing turnovers to this point. They're averaging 16.6 turnovers forced and 10.2 steals per game. That puts them in the top five in both categories.
Still, the "Grindhouse" doesn't stand No. 1 in either category yet. That's the standard for the team that led the league in both categories the past two seasons. Memphis needs to uphold that standard to maintain its status as the most aggressive defensive team in the league.
Mike Conley, Rudy Gay and Tony Allen are once again averaging 1.5 steals per game each. Quincy Pondexter has surprised people by joining that group.
Gay did a good job battling LeBron James and others on Sunday, grabbing four steals.
Just a little more aggression will set the Grizzlies apart from all other teams defensively. Hollins, along with Allen, must continue to exhort the importance of forcing turnovers to win games for this hard-biting team.