Will James Harden and Jeremy Lin Fare Better Against the Heat?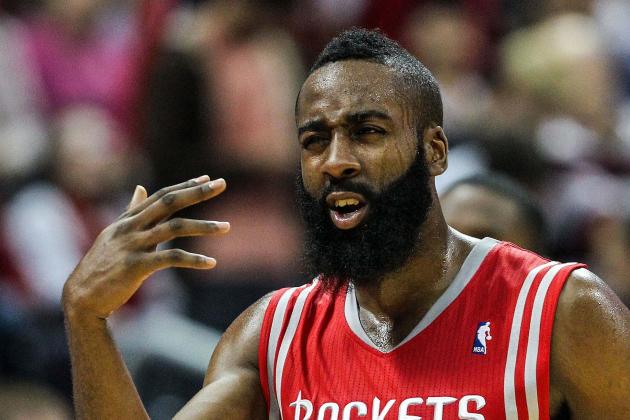 Daniel Shirey-US PRESSWIRE
The beard has been feared early this season.
After allowing Wayne Ellington—Wayne Ellington!—to light them up for seven threes in Memphis, Heat players lifted off for Houston for Monday night's matchup with the 3-3 Rockets.
On the second night of a back-to-back, in contrast to the first, the focus will be on the opposing backcourt and two players the Heat have handled quite well recently.
One is James Harden, who was traded from Oklahoma City just prior to the season, got the contract and starting spot that he sought and enters Monday's play ranked second in the league in scoring.
The other is Jeremy Lin, the former Harvard point guard who was such a sensation with the Knicks last season that LeBron James and Dwyane Wade joked about the way ESPN was even overlooking them. Lin came to the Rockets after the Knicks chose not to match an offer sheet, and he's struggled somewhat so far, averaging 12.3 points but shooting just 37.3 percent.
It will be mostly up to Mario Chalmers and Dwyane Wade to keep the duo under control, while contributing more offensively than either did Sunday, when they combined to shoot 5-for-24.
The good news for Miami is that each has had recent success against his opposing marker.
(All quotes for this article were collected at practices or games by the author.)
Begin Slideshow

»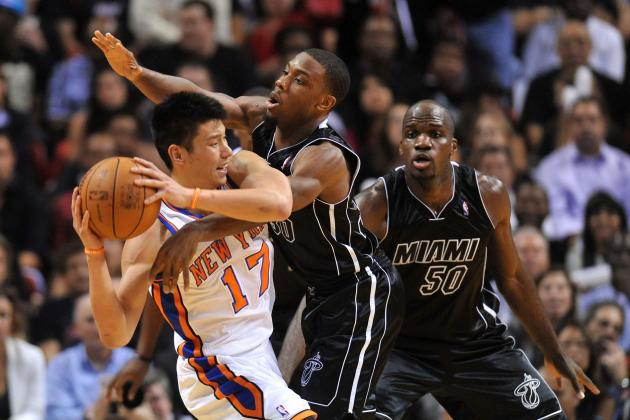 Steve Mitchell-US PRESSWIRE
Everywhere Lin went, he found an unfriendly Heat face.
It was the hottest regular-season ticket in Miami.
Forget Kobe Bryant coming to town.
Or Dallas returning for the first time since the NBA Finals.
Or Kevin Durant taking his shots at LeBron James' MVP lead.
Nothing in 2011-12 compared to South Florida's first direct exposure to "Linsanity."
Jeremy Lin had been to AmericanAirlines Arena before, but not as a starter and not as the sort of sensation that knocked everything else out of the sports-media cycle. The media turnout was enormous. Fans, some wearing his jersey, actually got to their seats on time—a rarity in Miami—to watch his introduction.
Then, the Heat, who had tired of all the Lin talk, showed him quickness and athleticism that he couldn't handle, using Joel Anthony to blitz pick-and-rolls and then get back on defense.
The result?
Lin's line: 1-for-11, 8 points, three assists, eight turnovers.
And this quote:
"They did a great job of making me uncomfortable. I can't remember another game where it was hard to just take dribbles."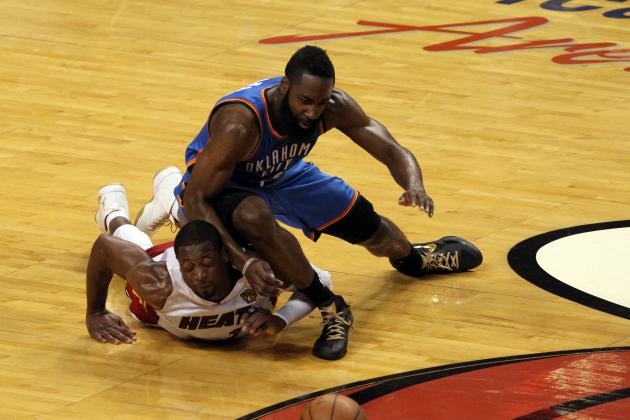 Derick E. Hingle-US PRESSWIRE
In the Finals, Harden never quite got his footing.
Miami knew what James Harden was about.
While they were somewhat bemused by the Jeremy Lin phenomenon, they believed that Harden was for real and well-deserving of his Sixth Man of the Year award for the way his ball-handling, defense and shot-making enhanced Oklahoma City's game. They had seen it firsthand in the regular season, when the Thunder guard averaged 15.5 points on 61.1 percent shooting against them.
So they accorded him the appropriate respect in the NBA Finals. They showed him plenty of different looks and different defenders—from Dwyane Wade to Shane Battier to LeBron James.
And they showed him a really lousy time.
Miami held him to single digits in three of the five games and to 37.5 percent shooting overall. He wasn't awful, but he wasn't consistently impactful, and that was one reason why Oklahoma City couldn't manage to win more than one game.
That didn't diminish the Heat's respect for him, not with Battier recently calling himself a "big fan" and James, with whom he played on the Olympic team, calling him a "great player."
But Miami has already shown what can happen when it keys on someone, and stopping Harden will be the key to beating Houston every night. After Harden's trade, Wade—who had to carry some shorthanded Heat squads—spoke of what awaited Harden in his new role.
"All eyes are focusing on you, you have to do it every night," Wade said. "It's different when you come off the bench, where if you have a big night, everybody talks about it. If you don't, there's not much written about it....He wanted his worth, and he wanted to be featured. He can live up to the billing, but the grind is tough, every night to step up to what everyone believes you should do."
The grind includes a matchup with Wade on Monday.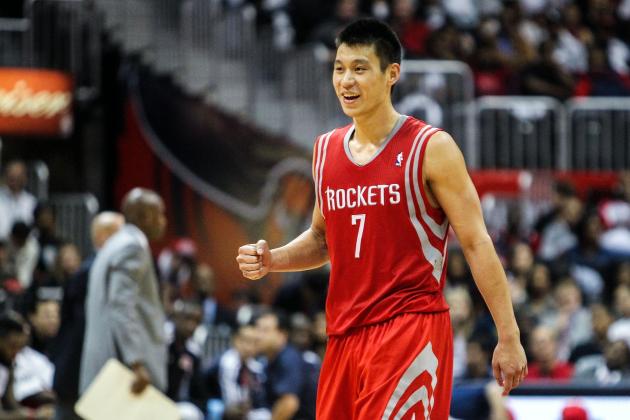 Daniel Shirey-US PRESSWIRE
If the Heat relaxes, it will leave Lin smiling.
Mike Conley got wherever he wanted Sunday.
And while the Memphis point guard is a bit speedier than his counterpart from Houston, which showed in the Grizzlies' recent victory against the Rockets, it illustrated a problem that the Heat have had: stopping penetration.
That penetration has played a major role in Miami's trouble guarding the three-point line in each of its losses, giving up a combined 33 made three-pointers by the Knicks and Grizzlies. In each case, the initial breakdown of the defense has led to some ragged rotations and left shooters alone on the outside.
And, in a razor-thin win against the Nuggets, Miami couldn't keep Ty Lawson out of the paint, which manifested itself in something else: a lot of dunks for the Denver bigs.
Mario Chalmers appears to have vastly improved as a playmaker since last season, and he's always been adept at playing the passing lanes on defense and using his quick hands. Sometimes, his feet are a little slower, and that allows his man to get past. That may force Erik Spoelstra to turn to Norris Cole a bit more, as the Heat coach did Sunday.
Either way, Miami looks different defensively than it did last season, in part because it is playing different personnel. Ray Allen and Rashard Lewis are in, as part of "smallball," meaning less minutes—if any at all—for Joel Anthony, who was so disruptive in the game against Lin's Knicks last season.
After that loss, Lin said he had "a great deal of respect for the Heat."
"Obviously, what they've done in their careers is a thousand-fold compared to what I've done in mine," he added. "It was a learning experience. Obviously, a tough one."
He may not find them as tough this time.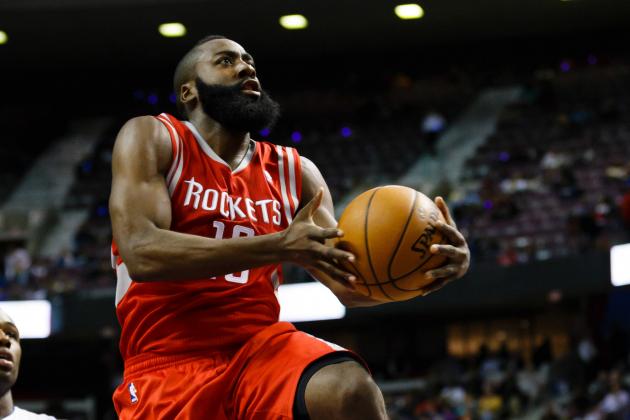 Rick Osentoski-US PRESSWIRE
Harden has found the transition to starter, and star, easy so far.
On the night of the trade, LeBron James tweeted his surprise.
On the day after the trade, he elaborated to reporters.
It's not that James didn't expect something to occur; after all, James Harden wanted an extension for the maximum, and the Thunder didn't appear able or willing to award it. It's just that James didn't expect Oklahoma City to deal such a core part of its team right before beginning defense of its Western Conference title.
Especially when that core part was, as he called it, "a big-time player."
So while some wondered if Houston overpaid—in terms of personnel traded and the $80 million contract provided—James took no issue with the Rockets' aggressiveness.
"He's a complete player," James said. "He can handle the ball, he can shoot the ball, he's strong, he gets to the basket, he makes his free throws. And he loves to play the game."
Certainly, Houston fans have loved the way he's played so far, averaging 26.5 points in 39.8 minutes, after averaging 16.8 points in 31.4 minutes for the Thunder. He is leading the league in free-throw attempts. He's fallen off in only one area, with his shooting percentage dropping from 49.1 to 44.3, but with the extra responsibility and attention, that was somewhat expected.
Harden appeared to lose a little confidence during the course of the Finals.
That won't likely be an issue Monday.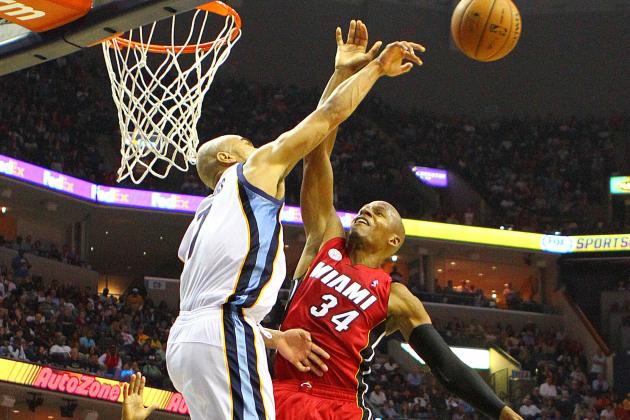 Spruce Derden-US PRESSWIRE
Ray Allen was rejected Sunday and, at the end, the Heat dejected.
The Heat won't see Houston more than one more time.
The Rockets are rebuilding with a young core, and while that rebuilding seems off to a solid start, they're not a threat to represent the West.
Meanwhile, the Heat remain strong favorites to win the East, especially with Indiana and Chicago both at less than full strength and even with the Knicks off to a surprising, but likely unsustainable, start.
So it's silly to say any game in November has long-term implications.
But Monday would be a good time for Miami to start asserting itself on the road, three games into a six-game excursion that also includes stops in Los Angeles (Clippers), Denver and Phoenix.
The Heat have played three games on the road so far this season and been routed in two of them—in New York and then in Memphis. The lone win, against Atlanta, came with Dwyane Wade back in the hotel due to a cold, and it didn't come easy.
Miami is 3-0 at home and figures to be dominant there this season, whether its fans watch from the lounge or the couch rather than a lower-level seat.
What matters more is whether the Heat can begin playing at a high level on the road, and a win in Houston would set a nice tone for the rest of the trip.