Phil Jackson Is the Obvious but Not the Right Choice for the Los Angeles Lakers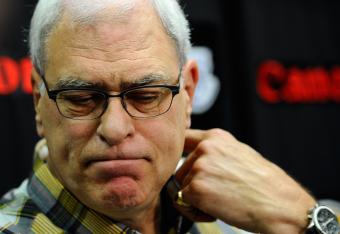 Sometimes, the third time is not the charm
Kevork Djansezian/Getty Images
Sometimes the obvious choice isn't the best one.
Franchises in the NBA have seen this truth played out over and over, most noticeably the Trail Blazers of Portland. They had the second pick in the 1984 draft, which was loaded with talented players. After the Houston Rockets used the No. 1 pick to draft Hakeem Olajuwon the Blazers were on the board.
They had their choice of players such as Charles Barkley, Sam Perkins or even John Stockton. There were so many great players available with the second pick that it would of been difficult for the Blazers to not end up with a solid NBA player at worst, or an NBA Hall of Famer at best.
They opted to select a player who averaged 17.5 ppg and 9.0 rpg his sophomore year. A player who landed on the cover of SI. A player certain to be a double-double machine for the next 20 years.
The choice to them was obvious. They selected Sam Bowie. The Chicago Bulls picked next and drafted Michael Jordan.
Sometimes the obvious choice isn't the best one.
The toughest thing about picking the best option over the obvious one is that, more often than not, there is pressure to go with the obvious choice. Peer pressure doesn't stop after high school. As a matter of fact, the Blazers were bitten by it not once, but twice.
The 2007 draft was not as stockpiled with talent as the 1984 one was, but the Blazers did, once again, have a high pick. This time, unlike in 1984, they had the first pick. There was no chance they would mess up this time!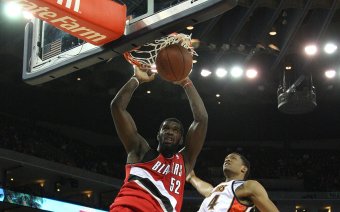 Jed Jacobsohn/Getty Images
The selection came down to two players. One most saw as the re-incarnation of Bill Russell, the other was a skinny kid from Texas. It was obvious to the Blazers that the rigors of a long NBA season would be too much for that skinny kid so they opted to draft the next Bill Russell. A player certain to be a double-double machine for the next 20 years.
Greg Oden went first, Kevin Durant followed.
Sometimes the obvious choice isn't the best one.
Unlike the Portland Trail Blazers, the Los Angeles Lakers have enjoyed a relatively error-free existence. Sure, they had some less-than-spectacular drafts, trades that failed to work out and even some coaching decisions that flopped. Thus far, however, they have avoided mistakes on par with failing to draft Michael Jordan or Kevin Durant. The Lakers simply do not make mistakes of that magnitude, but it seems they are about to.
Hiring Phil Jackson would qualify as a mistake on par with anything the Blazers have done.
Look, I get it. How can you turn down a coach with 11 NBA championships? A coach who not only was able to handle the pressures of leading one of the NBA's premier franchises, but one who excelled in that role. Kobe wants him, Magic Johnson wants him, all of L.A. wants him. The pressure to bring Phil Jackson back is on.
He is the obvious choice.
I was enjoying lunch in Fullerton, about 25 miles out of L.A., when I spotted someone wearing a Kobe jersey. I had just received word that Mike Brown was let go. Always interested in keeping my ear to the ground when it comes to fans' thoughts, I stopped the Lakers-jersey-wearing guy and asked him if he was excited that Brown was fired. His reply has since been echoed by many here in L.A., "Heck Ya, He had to go! Let's get Phil Back! Go Lakers!"
Magic Johnson himself, arguably the greatest Laker of all time, came out to endorse Phil Jackson after sharing his thoughts that the job was simply too big for Mike Brown. One odd thing about Magic's endorsement of Jackson, however, was hidden in his criticism of Brown.
Johnson felt, as many others did, that Brown's insistence on running the Princeton offense showed a lack of flexibility. He felt that a good coach needs to adjust his schemes to the team he has, not make his team adjust to the schemes he wants to run. These Lakers, with Stave Nash at the point, were built to run, not bring the ball up past half court, then react.
That certainly makes sense, but what scheme does Magic think Phil would implement? Will he let this team run, as it was built to do, or will he enforce a slower tempo on offense? Hmmmm.
Basketball fans have always been told that the triangle offense was the most difficult offense to learn. We were told that fans of teams implementing it would have to be patient as each player learned all of its intricacies.
If this Lakers team had trouble learning and properly running a scheme invented for and run by 19-year-old college players, how is it going to learn and perfect the triangle?
Lets say, for the sake of argument, that the team successfully implements the triangle after a few games. What then becomes of Steve Nash? The triangle was run once before by a Phil Jackson-coached Lakers team with an elite point guard who thrived in an up-tempo game. That experiment worked OK at the start of the regular season, but by the end and as the playoffs began, Gary Payton saw more time next to Phil Jackson than on the court.
This Lakers team needs to run. This Lakers team needs to win now. This Lakers team does not need Phil Jackson.
Yet, he is the obvious choice.
Counting only full seasons, Kobe Bryant has enjoyed a 61 percent winning percentage under coaches other than Phil Jackson. If you remove the early years under Del Harris, when Kobe was a good player but not yet the Black Mamba, his winning percentage is only 51 percent. With Phil Jackson at the helm that percentage swells to 68 percent.
Of course, those were full seasons with time to teach and prepare. Should Jackson agree to take the job this time, he would not have the luxury of a preseason or of a multitude of players who already understand the triangle. Given those obstacles the Lakers would be lucky to win at a 60 percent clip through the reminder of the year.
That would give them a record of 48-34. Certainly playoff-worthy, but only at about the sixth spot in the West.
Maybe that's the Lakers goal though. They want to bring in the very best coach available to coach one of the very best teams ever assembled in Lakers history. They want to salvage what they can of the season in which so many of their fans are still unable to watch them on TV, thanks to a cable TV squabble. The Lakers want to make the playoffs on a roll and shock everyone.
Maybe that's the plan.
Of course, instead of doing the obvious thing, they could roll the dice and do the right thing. They could pick a coach who runs an offense built for Showtime. A coach who wouldn't necessarily be the popular pick but one who would loosen the constraints on the thoroughbred that is the Lakers and let them run. A coach who would adjust his scheme to fit the team, not force the team to adjust to his scheme.
A coach like Mike D'Antoni.
Sometimes the obvious choice isn't the right one. Phil Jackson is the obvious choice; Mike D'Antoni is the right one.
This article is
What is the duplicate article?
Why is this article offensive?
Where is this article plagiarized from?
Why is this article poorly edited?

Los Angeles Lakers: Like this team?