Cowboys vs. Eagles: Dallas Cowboys' Biggest Winners and Losers from NFL Week 10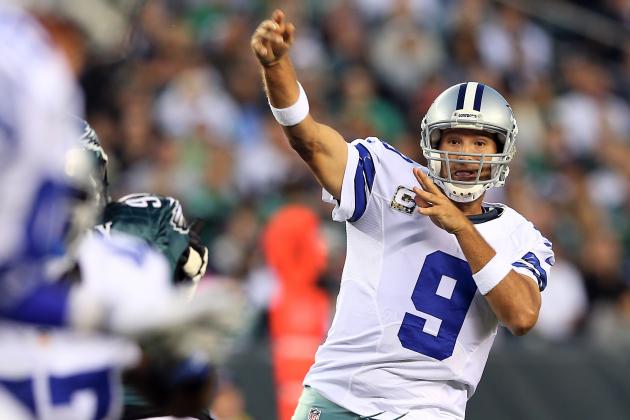 Elsa/Getty Images

The NFL Week 10 showdown between the Dallas Cowboys and Philadelphia Eagles was touted as "America's Game of the Week" by FOX, and it certainly delivered.
With the New York Giants seemingly headed into another November swoon, the winner of this classic rivalry would find themselves right back in the playoff picture, and the loser be rendered virtually insignificant.
A punt return touchdown and two defensive scores later, the Eagles found themselves in the middle of a five-game losing streak, their season virtually over, and the tenure of their head coach and franchise quarterback in jeopardy.
The Cowboys on the other hand, have new life. Although they are 4-5 on the year, they stand just a game and a half behind the Giants, and have a three game home stretch against the Cleveland Browns, Washington Redskins and these same Eagles over the next three weeks.
But let's not get ahead of ourselves. First, the winners and losers from Week 10.
Begin Slideshow

»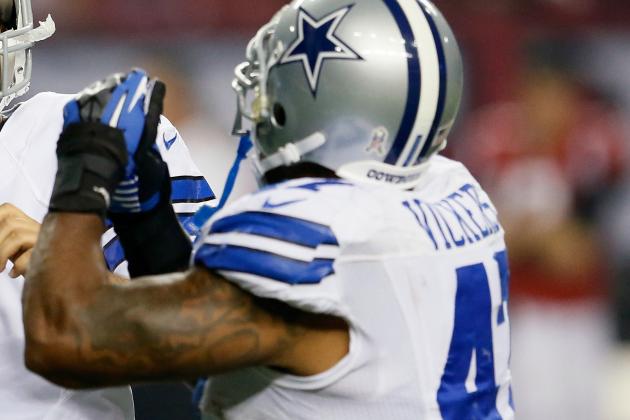 Kevin C. Cox/Getty Images

Coming into Sunday's game, Cowboys fullback Lawrence Vickers had totaled a whopping zero yards rushing, and just 28 yards receiving on the season.
Cowboys fans surely didn't predict any meaningful yardage contribution from Vickers against the Eagles.
Fortunately, neither did the Eagles.
Running behind the element of surprise, Vickers picked up 29 yards on four touches on the day, good for a doubling of his season total.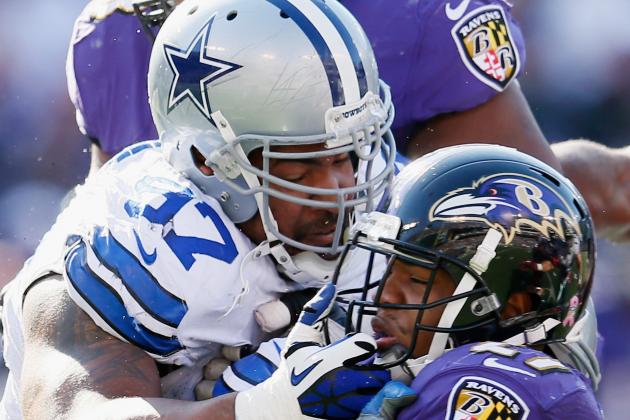 Rob Carr/Getty Images

The Dallas Cowboys tried to beat themselves with penalties yet again this week, and they almost succeeded.
Great effort in the offsides department came from defensive end Jason Hatcher, who was able to extend two Eagle first-half drives with his mistakes.
Sure, Hatcher found a little redemption by recovering a Nick Foles fumble in the end zone during garbage time, but his two first-half gaffes were not forgotten.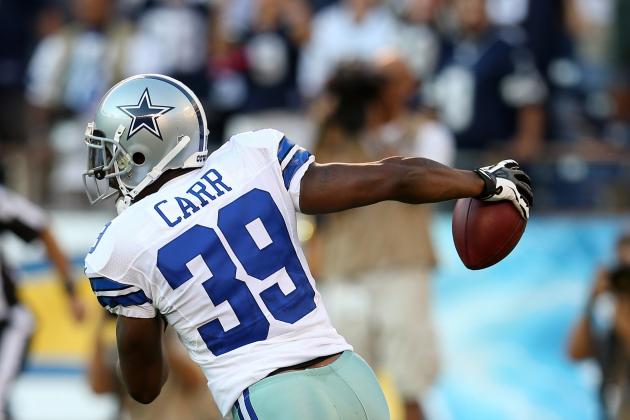 Stephen Dunn/Getty Images

Brandon Carr had a great day in the defensive backfield, deflecting a pass while recording four solo tackles.
The clincher though, came with his game-sealing pick-six of Nick Foles, his first ever interception as a Dallas Cowboy.
Continued top-notch play from the Pro Bowler is something the Cowboys will need to rely on as they look to build playoff momentum.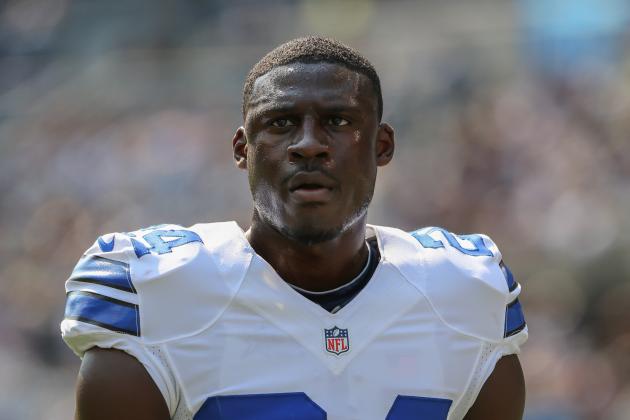 Otto Greule Jr/Getty Images

For as well as his defensive backfield mate preformed, Morris Claiborne was nearly the opposite.
In one of the worst games of his early career, Claiborne was called for both offsides and defensive holding twice, and threw in a pass interference for good measure.
If you're keeping score at home, that's five penalties from one player.
The clincher was that his second defensive holding call negated a game-changing interception from Anthony Spencer.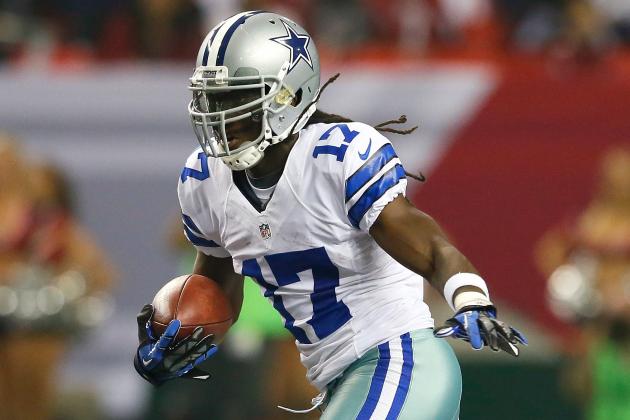 Kevin C. Cox/Getty Images

Although it was Brandon Carr's interception return that sealed the deal, the Dwayne Harris punt-return touchdown in the opening minutes of the fourth quarter was equally important.
Even though he didn't have to do anything fancy on the touchdown gallop, the special team's play kept the momentum in the Cowboys favor, and caused the Eagles' faithful to begin to lose hope.
In the end, it was nice to see something positive come out of the punt return game after Dez Bryant's early season miscues.
Ronald Martinez/Getty Images

Despite the victory, the Dallas Cowboy offensive line did little to ease fans' concerns about it going forward.
On top of three false start penalties, Tony Romo was sacked three times and under heavy pressure for most of the game. It's easy to forget that 21 of the Cowboys' 38 points came from the defensive and special team units.
The Cowboys cannot be considered a legitimate threat to play late into the postseason unless they figure out their offensive line struggles.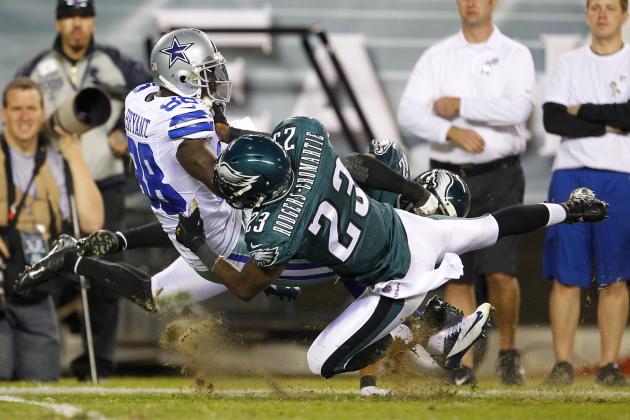 Rich Schultz/Getty Images

Even though he's been under intense scrutiny all season long, Dez Bryant turned in a quality performance when his team needed it most.
Bryant's 87 receiving yards led the team, but it was his 30-yard touchdown grab that ignited the Dallas comeback.
Cowboys fans just want to see this type of play more consistently from their number one receiver.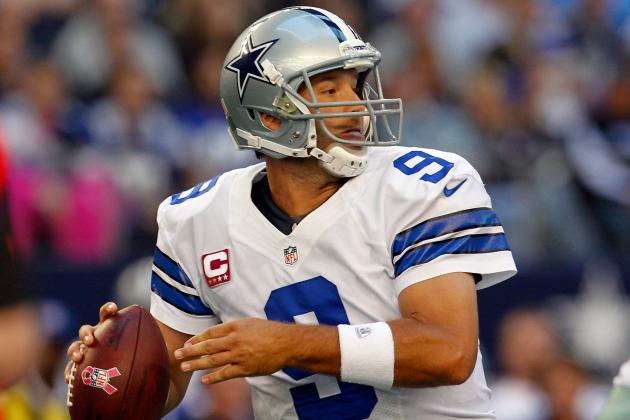 Tom Pennington/Getty Images

For all of the heat that Tony Romo takes, it's easy to forget that he's a pretty darn good quarterback when all is said and done.
The Eagles were reminded of that reality Sunday afternoon.
Despite playing behind a hugely porous offensive line, Romo channeled his inner Favre, and was nearly flawless—completing 19-of-26 passes to go along with two touchdowns and zero interceptions.
The Cowboys will need this type of play from Romo down the stretch in order to make a run at the playoffs.