Giants vs. Bengals: Instant Grades, Analysis for Cincinnati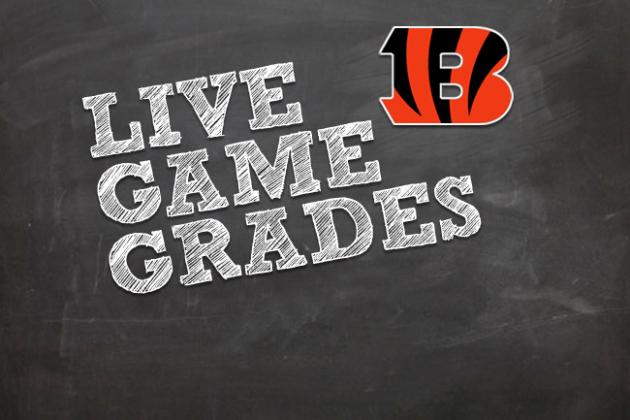 The Cincinnati Bengals (4-5) and New York Giants (6-4) game from Paul Brown Stadium in Cincinnati has come and gone with some stellar play all around by the Bengals.
The Bengals played a fantastic game in all phases and earned a huge victory (31-13) over the Giants to get them back in to some sort of relevancy in the AFC playoff picture.
Going forward, it will be difficult to count out the Bengals for the remainder of the season as they face only two teams with winning records in their final seven games.
Let's take a look at some player grades from the game against the Giants on Sunday afternoon.
Final
Bengals - 31
Giants - 13
Begin Slideshow

»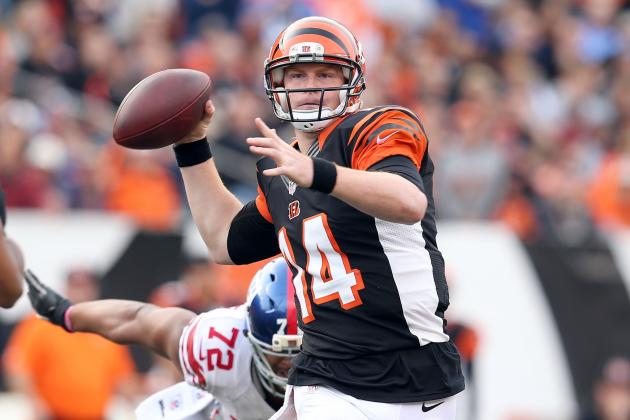 Andy Lyons/Getty Images

Andy Dalton's Overall Game Grade - A
From the beginning of the game, Andy Dalton was poised and composed in the pocket. Dalton led his offense to scoring drives early on as the Bengals got off to a very fast start.
This is not something that Bengals fans are accustomed to as generally Cincinnati has been known for slow starts to football games.
On the Bengals first drive, Dalton completed several accurate passes to start the game and capped off the drive with a 56-yard touchdown to a wide open A.J. Green.
After some crucial turnovers by the Cincinnati defense, Dalton had some short fields to work with as he threw three more touchdown passes to Andrew Hawkins, Jermaine Gresham and Mohamed Sanu.
For the first time in Dalton's young career, he was able to connect for four touchdown tosses on the day. This also marks the first time this season where Dalton has not thrown an interception for the duration of a game.
If Dalton can keep up this caliber of play for the remainder of the season, Cincinnati's offense can become a huge threat each week.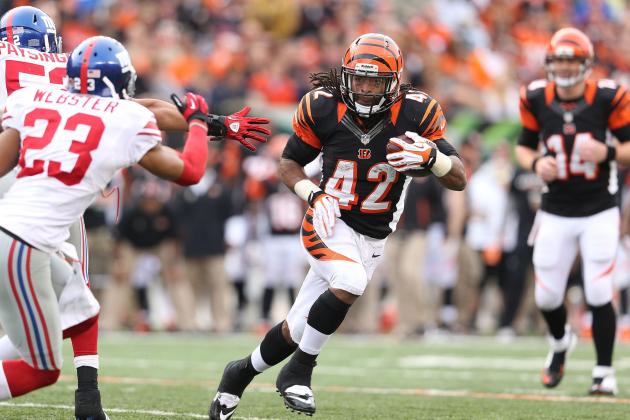 Andy Lyons/Getty Images

BenJarvus Green-Ellis - C-
Green-Ellis struggled once again and failed to eclipse the 100-yard mark for the ninth straight time this season. In fact, Green-Ellis only had 50 yards rushing on 15 attempts for the day.
Green-Ellis shows his strength to get tough yards on occasion and will barrel forward for tough yards. However, he seems to move slowly out of the backfield and often will get stuffed for no-gain on a rushing play.
Green-Ellis needs to make better decisions and hit holes with authority and speed going forward.
Cedric Peerman - C+
Peerman only had 6 carries for 21 yards on the day, but did have Cincinnati's long rush of 9 yards. It would be interesting to see Peerman in more of a dominant role in the backfield as he seems to be Cincinnati's best option at the running back position going forward.
Peerman provides a burst out of the backfield that Green-Ellis severely lacks. With Green-Ellis continuing to show his ineptitude at the running back position this year, the coaching staff may decide that it is time for a change.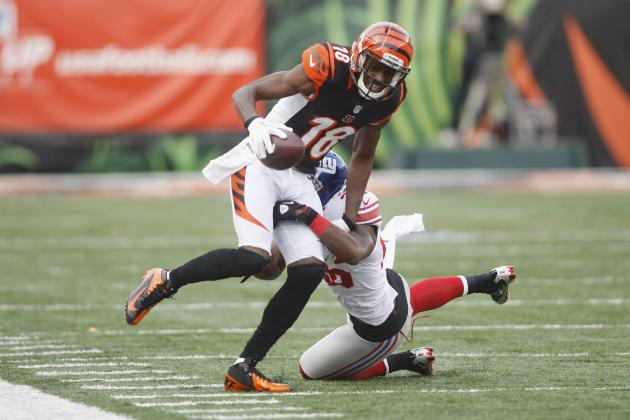 John Grieshop/Getty Images

A.J. Green - A+
Green showed once again why he is amongst the elite at the wide receiver position in the NFL. Green was able to exploit the Giants' secondary to provide some explosive plays for the Bengals.
On the very first drive of the game, Green broke coverage and found himself wide open about 40 yards down the field. Dalton hit his target and Green turned it into a 56-yard touchdown reception. Green finished the game with seven receptions for 85 yards and a score.
Andrew Hawkins - B+
Hawkins showed his off-the-charts talent once again against the Giants. Dalton connected with Hawkins for an 11-yard touchdown in the first quarter. Hawkins made a great one-handed reception and showed his speed1to get to the sideline and squeak in for the score.
Later, Hawkins almost recorded his second touchdown of the game on another spectacular catch, but his toe was just outside the end zone. Hawkins finished the game with three receptions for 16 yards and a score.
Mohamed Sanu - A
Sanu proved that he can be a major factor at wide receiver in the NFL on Sunday. He played the outside position opposite Green and also played out of the slot. Sanu has continued to show that he has strong hands and can make catches in traffic.
Sanu had a touchdown against the Giants as he plucked the ball away from the Giants' secondary in the end zone for a touchdown. Sanu also had a great grab over the middle in traffic earlier in the game to convert a crucial fourth down for Cincinnati.
Sanu finished the game with four receptions for 47 yards and a touchdown along with one rush for three yards.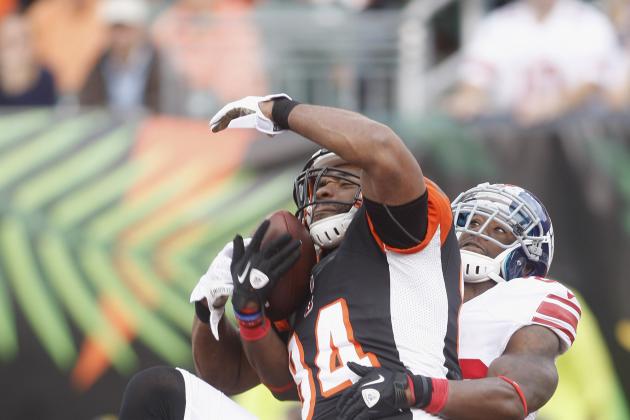 John Grieshop/Getty Images

Jermaine Gresham - A
Gresham continues to impress as he has had another solid game after his 108-yard performance against Denver last week. Gresham and Dalton seem to have a great rapport together and it has been showing of late.
Gresham hauled in one of Dalton's four touchdown passes in the third quarter for a 10-yard score. Gresham finished the game with 3 receptions for 15 yards and a touchdown.
Gresham was also good in pass protection and aside from a holding penalty in the third quarter, he really helped quell the dangerous Giants pass rush.
Orson Charles - B
Charles did not get much playing time as he was only out in two-tight end packages with Gresham. However, he did make the most of it when the ball came his way. Dalton connected with Charles for a 19-yard reception which was the Bengals second longest of the game.
Charles is being worked in slowly, but has already shown that if he continues to progress, he could be a very dangerous weapon in the years to come.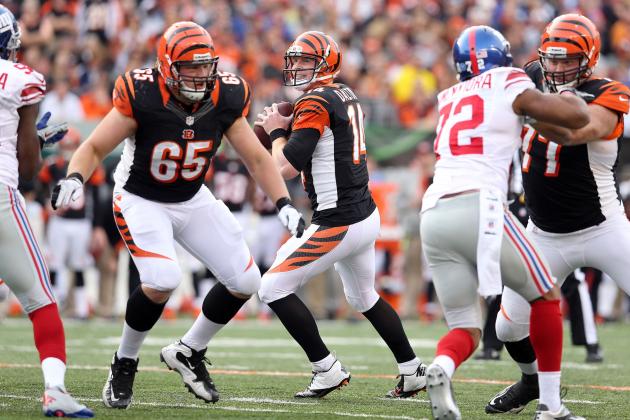 Andy Lyons/Getty Images

Offensive Line Overall Game Grade - A
Generally, the offensive line would be broken down into individual players for their performances here. However, the way they played as a unit on Sunday against the Giants pass rush was fantastic.
The offensive line did not allow one sack on Dalton throughout the game and he was not pressured often at all. This was simply the best that the offensive line looked all season.
On another note, the Bengals offensive line also cut down severely on the holding penalties that have been plaguing them all season. This was huge and it allowed the Bengals to sustain drives and win the time of possession battle on long drives.
Dalton was able to show what kind of talent he has and what he is capable of doing when given time to throw the football. If the offensive line can continue to play as they did on Sunday, Cincinnati could see the offense suddenly become one of the more dominant forces in the NFL.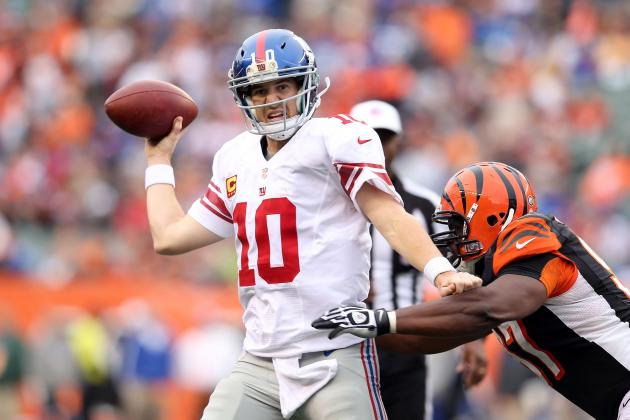 Andy Lyons/Getty Images

Defensive Line Overall Game Grade - A+
The "Fisher Price Package" was back at it again on Sunday as they caused an onslaught of havoc in the Giants backfield.
The Giants' offensive line is by not stretch a slouch, so it goes to show exactly how talented these players have become.
Everyone got in to the action on Sunday as Eli Manning was sacked four times. Carlos Dunlap led the way with 1.5 sacks. Geathers and Gilberry each had a sack on Manning, and Peko recorded a half of a sack.
Geno Atkins did not record a sack, but was a constant disruption in the Giants backfield and forced Eli Manning into making some bad decisions under pressure.
Because of the constant duress, Manning finished the game with abysmal numbers. He went 29/46 for 215 yards, zero touchdowns, two interceptions and two fumbles lost.
The line was also stout against the run as they held the Giants elusive backs in check for most of the game. Rushing yards were added later in "garbage time" once some of the Bengals starters were pulled from the game in the fourth quarter.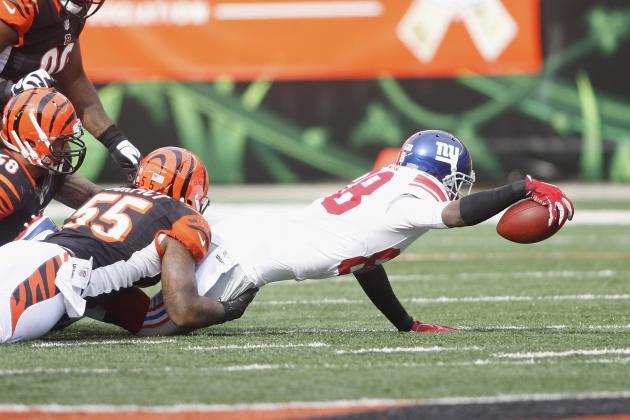 John Grieshop/Getty Images

Vontaze Burfict - B+
Burfict continues to prove that he is the best linebacker in the Bengals organization right now.
Burfict continues to make plays all over the field and is a tremendous tackler in space. He is great at maintaining his lane on rushing plays and is solid in coverage. Even when his assigned receiver makes a catch, Burfict is generally right there to make a quick tackle.
Burfict finished the game with eight tackles and is still on pace to break the Bengals single-season rookie tackles record.
Rey Maualuga - C-
Maualuga actually had one of his stronger games this season against the Giants. That really isn't saying much, however. Maualuga has struggled throughout the entire season and has yet to find his form.
He did have 12 total tackles against the Giants and seemed to find his way in pass coverage better than normal.
The reason for his lower grade is because he did miss a couple of tackles in space that should have been relatively easy for him and he was hit with two big penalties in the game which extended Giants' drives.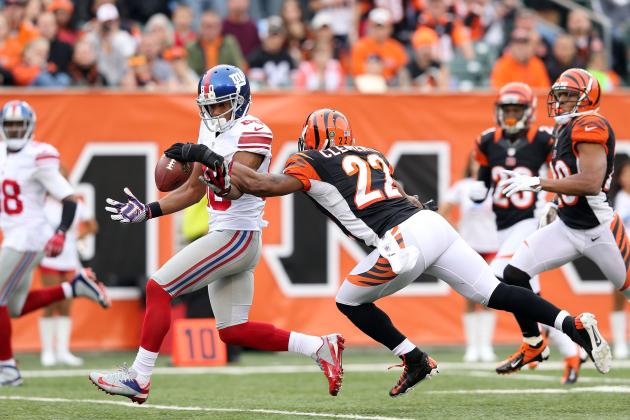 Andy Lyons/Getty Images

Leon Hall & Terence Newman - A
Hall and Newman turned out to be quite the dynamic duo on Sunday as they equally had their receivers locked down to the point where Manning refused to throw their way at times.
Together they held the dangerous Victor Cruz to just three receptions for 26 yards. Since both players were in such tight coverage, tackles were made immediately which was also important because of the loss of sure-tackling safety, Reggie Nelson for the week.
Newman led the team in unassisted tackles for the game with six and Hall had three.
Adam Jones - A-
Jones had a great game in all aspects. He was generally being picked on as Newman and Hall were in tight coverage for the game, however, Jones held his own.
Jones had five tackles on the day along with a pass defensed and a forced fumble. Jones was everywhere he was supposed to be on Sunday and did not get overwhelmed by the amount of times the ball was thrown his way.
These three corners were so great in coverage that Manning was sacked at least twice due to the lack of open targets down the field.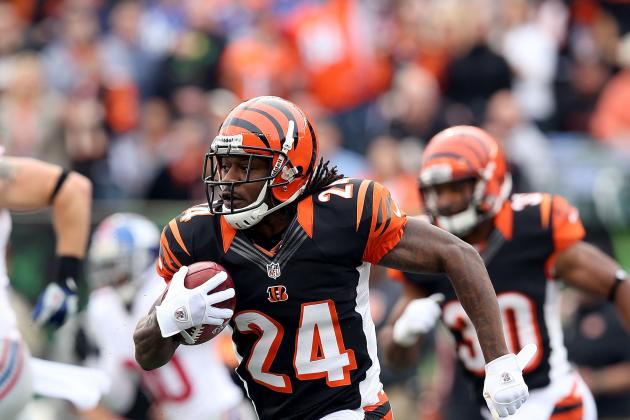 Andy Lyons/Getty Images

Adam Jones - A+
Not only did Jones have a huge day on defense, but he also had one on special teams as well. Jones returned a punt 70 yards in the first quarter down to the Giants 10-yard line which lead to a Cincinnati touchdown.
Jones seems to be the best option as a returner going forward as he is always a threat to hit a home run each time he touches the ball.
Andrew Hawkins - B+
Hawkins did not contribute too much on special teams on Sunday aside from one huge play in the fourth quarter. With the Giants down by a huge margin in the fourth quarter, a great Huber punt was downed at the Giants' two-yard line by Hawkins who bolted quickly down the field and made a great play.
Hawkins, like Jones, is one of those dynamic players that can contribute in so many phases of the game and is always a threat when on the field
Brandon Tate - F
One Bengal was not able to escape Sunday's slaughtering of the Giants unscathed. Brandon Tate has already proven that he does not have what it takes to be a complimentary wide receiver with this franchise.
Going forward it seemed that Tate would only be a return specialist. That is not also in doubt. Tate lost control of the football during a punt return in the first quarter of the game and fumbled deep in Bengals territory that was recovered by the Giants.
Tate also struggles with his decision making in the return game as well as he has made some questionable calls in the past. It is looking very dismal for this player in Cincinnati going forward as he seems to be only taking up a roster spot at this point.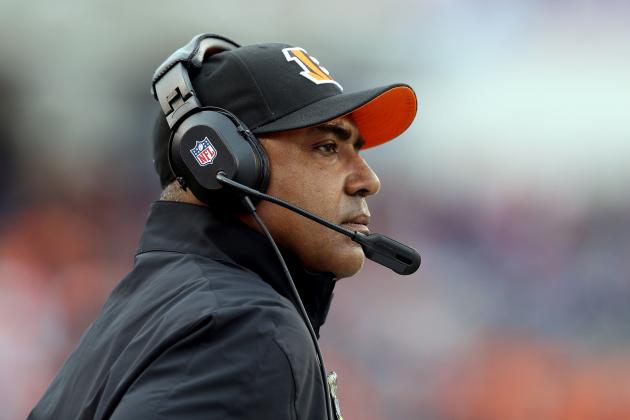 Andy Lyons/Getty Images

Coaching Staff Overall Game Grade - A-
The Bengals were hitting on all cylinders on Sunday as it was very apparent that the coaching staff had their team very well prepared.
Coming into the week, there were plenty of questions as to how this franchise could possibly continue under Marvin Lewis.
Lewis stepped it up and should be able to silence his critics for a moment after this win. Lewis was not afraid to attempt fourth down conversions early in the game and has more of a gambling attitude than he ever has before. Could this possibly be the end of the conservative Marvin Lewis?
Jay Gruden continued to make improvements to his offense as he utilized rookie receiver Mohamed Sanu more than he has all season. He continues to move A.J. Green around to get favorable match-ups and has implemented the no-huddle offense with precision.
On defense, Mike Zimmer continues to be a mad scientist of all defensive schemes. He moved personnel around and disguised personnel packages so well that Manning could not figure out what the Bengals were doing throughout the game. The defense played on an extremely high level up until the end of the game and Zimmer is to credit for that.