The Buffalo Bills aren't necessarily walking into a slaughter against the New England Patriots, but the past, recent past and present do not bode well for Buffalo's immediate future.
A lot of balls that will likely have to bounce Buffalo's way if it's to pick up its first win at Gillette Stadium since the building went up in 2002, but there are some measures the Bills can take to at least give themselves a chance.
How can they do it? Here's a preview of the game, with some key matchups to watch and some potential winning and losing scenarios.
Catching Up with New England
Coming off the bye week, New England just watched the Dolphins and Bills both drop games in Week 9, helping the Patriots retain sole possession of the lead in the AFC East.
The Patriots have been great with extra time to prepare, and a win over Buffalo would put the Patriots at 3-0 in the division and help them stay at least a game ahead in the standings.
These are not the same invulnerable Patriots we've come to know, and the green curtain has long since been pulled back on their struggles on the back end, but it looked like the Patriots hit their stride against the Rams. With only their second winning streak of the season, they could carry that momentum through the bye week.
Catching Up with Buffalo
The Bills are more desperate for wins now than they've been at any point in Chan Gailey's three years as head coach. A loss would drop them to 3-6 and 0-3 in the division. They ride a two-game losing streak into Foxboro, where they have lost 11 straight dating back to 2000.
Many are wondering what the future holds for Gailey, even though he's been publicly (if indirectly) endorsed for at least another year by general manager Buddy Nix.
They're not completely out of the playoff race yet, and they have a favorable schedule in the second half of the season to help them make a push, but the vultures are circling in the skies, and a loss in New England might begin feeding time.
Key Matchup: Nick Barnett/Kelvin Sheppard vs. Stevan Ridley/Patriots RBs
The Bills have been one of the league's worst run defenses all year, but one of the Bills' biggest problems in Week 4 was that they couldn't stop the run in the nickel package. The Patriots almost always took advantage of these looks, and both Brandon Bolden and Stevan Ridley took advantage by picking up over 100 yards apiece.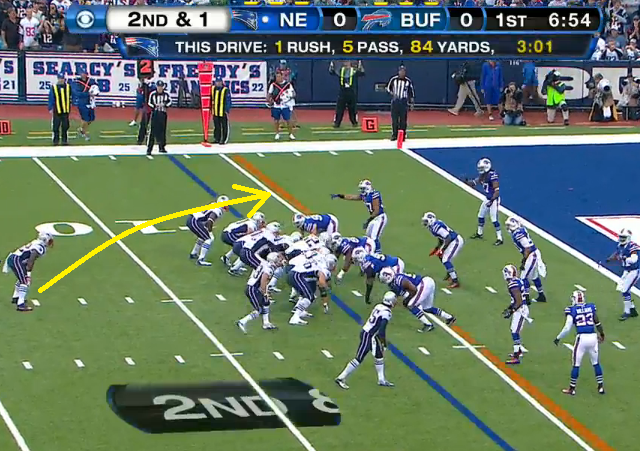 Take this play, for example.
The Bills were lined up with four linemen, two linebackers and five defensive backs. The Patriots came onto the field in the 12 personnel grouping: one running back, two tight ends to the left and two wide receivers to the right.
This sets up beautifully for a running play to the left, and Stevan Ridley takes full advantage by plowing ahead past linebacker Bryan Scott and Nick Barnett for a touchdown.
The numbers are staggering. The Patriots had more yards per carry and rushed for more touchdowns than they have on average, or in any single game this season, while putting up their second-highest rushing total of the season against the Bills.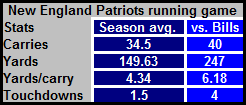 As odd as it may sound, the Bills must shut down the run, and since the Bills will likely be loading up to stop the pass, the responsibility will fall on their linebackers to get it done against the Patriots backs.
Tom Brady has eaten them alive for years, but their only chance is to make him one-dimensional. Taking the ball out of his hands and forcing the Patriots to run is a good strategy, but the Bills must then capitalize and not allow one big gain after another on the ground as they did against the Patriots in the previous meeting.
Biggest Advantage for Buffalo
They can gash the Patriots in the passing game.
It may be inconsistent, and it may come with a fair share of turnovers, but the Bills have proven that they can expose New England on the back end of the defense.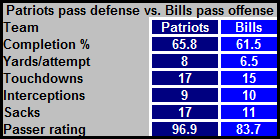 They
did it in Week 4
, and although there were some meltdowns on Fitzpatrick's behalf—as there have
often been this season
—he completed seven passes that gained 20 or more yards and had his second-highest
YPA
of the season at 8.9.
The Patriots, on the other hand, have been one of the most generous defenses to opposing quarterbacks, yielding 17 touchdown passes, 8.03 YPA and a 96.9 passer rating.
C.J. Spiller really should be getting the ball more, but against a defense like the Patriots that's great against the run and awful in the air, I'll give them a free pass (eyoooo) if they opt to air it out this one last time.
Biggest Advantage for New England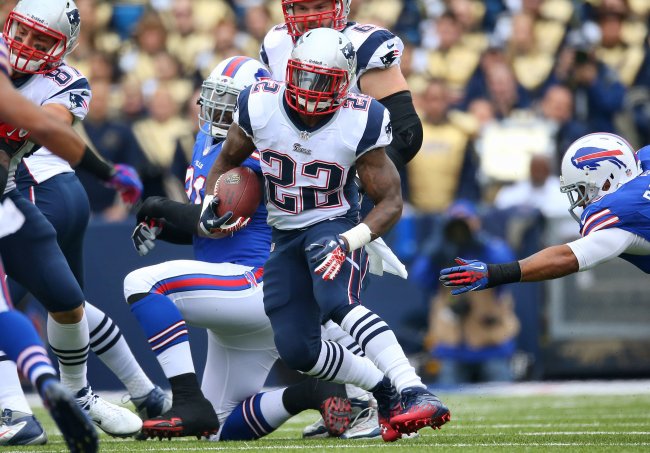 Tom Szczerbowski/Getty Images
Besides the extra time to prepare following a bye week, where Bill Belichick is 9-3 in his career with the Patriots?
It has to be the running game.
As mentioned above, New England proved more than capable of running the ball against favorable looks when the Bills went "small" in the words of Tom Brady. They have continued to prove their ability to run the ball in those situations all season.
The fact that New England has a running game which it can count on to gain yards in those situations is a huge advantage for the Patriots, because it will only allow Brady to be that much more effective, with the defense constantly having to keep the run in the back of their mind.
The Bills would likely much rather get beat by Ridley than by Brady, but the Patriots running game has already proven capable of dominating the Bills defense.
Bills Win If...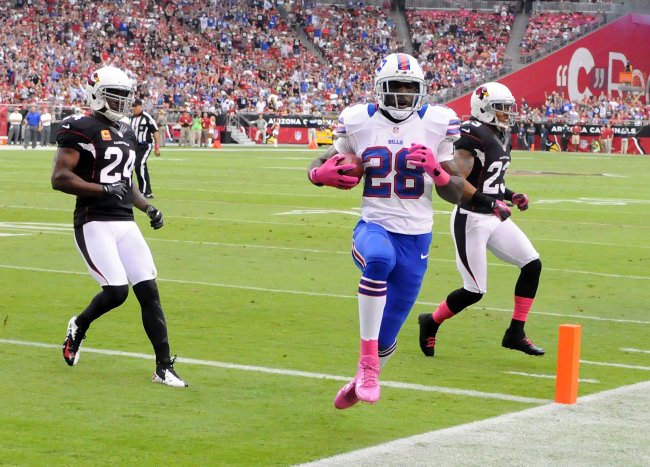 Norm Hall/Getty Images
C.J. Spiller has a big day.
Yes, the Bills have to take advantage of New England's porous secondary, as mentioned above, but the game will come down to whether the Bills offense can match blows with the Patriots.
They could even use the passing game to set up big plays for Spiller, as indicated by Bleacher Report Bills featured columnist Chris Trapasso on Thursday:
#Bills have called 75 run plays from shotgun or pistol formation (discounting Wildcat). They have totaled 529 yards for a 7.05 YPC average.

— Chris

Trapasso

(@ChrisTrapasso) November 8, 2012
#Bills RB statistics from those formations: Fred Jackson - 23 carries, 87 yards = 3.78 YPC. CJ Spiller - 36 carries, 347 yards = 9.64 YPC.

— Chris

Trapasso

(@ChrisTrapasso) November 8, 2012
A big day for Spiller would likely indicate that the Bills were successful in doing so, barring an epic meltdown from Ryan Fitzpatrick. Stopping the run is one of very few things the Patriots defense consistently does well, and if they're not able to do that against the Bills, it could be a very long day.
And put it this way: The Bills are a modest 2-2 when Spiller has 10 or more carries, but when he has less than that, they're 1-3. That stat comes with the postscript that Spiller averages 7.2 yards per carry, the league's highest average through nine weeks, and should never be getting the ball less than 10 carries in a game.
Patriots Win If...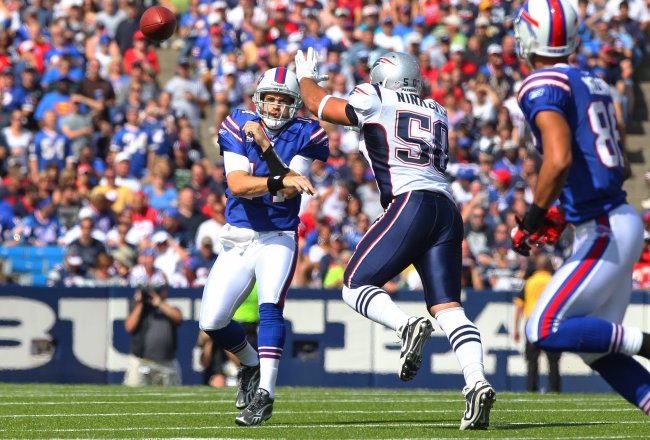 Tom Szczerbowski/Getty Images
They are patient enough for Fitzpatrick to make mistakes.
Fitzpatrick has the sixth-highest interception rate of starting quarterbacks, throwing a pick on 3.5 percent of his throws. Even when he's having a good game, he is still prone to make some bad throws.
He looked great on some throws against the Patriots, but threw some head-scratchers into coverage as well.
The Patriots pass defense hasn't done a good job of slowing down opposing quarterbacks, but as usual, it lives and dies by turnovers. It ranks eighth in the NFL, intercepting 3.1 percent of pass attempts on its watch.
In five games against the Patriots since 2010, Fitzpatrick has thrown 10 touchdowns and 15 interceptions. History tells us New England's secondary will have its chances to get in front of a pass or two and take it the other way.
Outlook
Protecting the football on offense and stopping the run on defense are paramount to a win. That is to say, the Bills need to do what they have not done this year if they are to win this week.
They always play New England tough, but there's nothing tangible off which to logically predict a win for the Bills this week.
Patriots 30, Bills 24
Erik Frenz is the AFC East lead blogger for Bleacher Report. Be sure to follow Erik on Twitter and "like" the AFC East blog on Facebook to keep up with all the updates. Unless specified otherwise, all quotes are obtained firsthand.