Arizona Football: 5 Reasons Matt Scott Is the Most Underrated QB in the Nation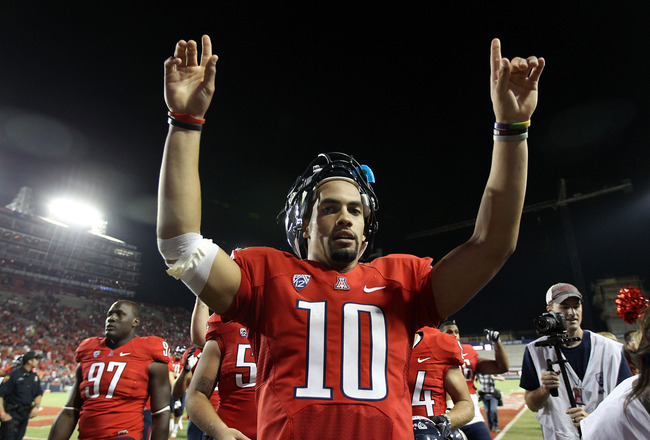 Christian Petersen/Getty Images
In a recent article for the Arizona Daily Star, columnist Greg Hansen pegged the Arizona Wildcats as no different from Colorado or Washington State without star quarterback Matt Scott. Here is an excerpt from Hansen's piece:
Minus Matt Scott, Arizona is Colorado. That's the personnel difference between the two teams: a skilled quarterback.

That should tell you two things. One, how important quarterbacking is in football and, two, how well Rich Rodriguez and his staff have coached this season.

They have done so well in covering up deficiencies, everywhere, that one of the major dailies in Los Angeles referred to UCLA's victory over Arizona as a "signature win."

That's pretty funny. Arizona is Wazzu with better quarterbacking.
To place Hansen's comments in proper perspective, take a moment to contrast Arizona and Colorado.
Arizona (5-4, 2-4 Pac-12) has spent three weeks ranked in at least one national poll, boasts signature wins over Oklahoma State and USC, and sits one win shy of bowl eligibility.
Colorado (1-8, 1-5 Pac-12) has been routinely taken to the woodshed. Their average margin of defeat exceeds 30 points, including a 55-point shellacking at the hands of Fresno State. Their only win comes against lowly Washington State (2-7, 0-6).
Hansen asserts that the difference between a soon-to-be bowl eligible team with multiple quality wins and the laughing stock of the Pac-12 is one Matt Scott.
If Scott truly is the difference between the two, invaluable wouldn't begin to describe him.
Unfortunately for Wildcats fans, Hansen's assessment may be immediately put to the test. Scott suffered a concussion in Arizona's embarrassing defeat at the Rose Bowl and is, by most accounts, unlikely to play against Colorado on Saturday.
While Hansen's comments are a bit blown out of proportion—the Wildcats do have excellent skill position players on offense and a proven coach—the point remains: Scott is irreplaceable.
Despite his value to the Wildcats, Scott rarely receives mention as one of the nation's elite at his position. His numbers, however, are elite. So is his impact on an otherwise paper-thin roster.
Read on to find out five reasons why Matt Scott is unequivocally the most underrated quarterback in the nation.
Scott Puts Up Gaudy Numbers Comparable to the Nation's Elite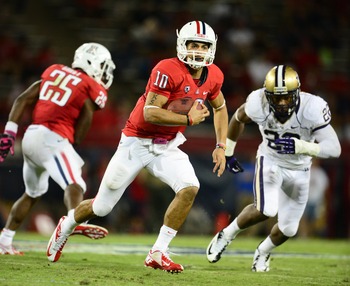 Mark J. Rebilas-US PRESSWIRE
By the numbers, Matt Scott is one of the nation's elite quarterbacks.
Scott ranks fourth in total yardage (357 YPG), eighth in passing yards (316 YPG), and T-17th in passing touchdowns (20).
What's more, Scott has passed for over 350 yards in four of his team's nine games this season, including back-to-back 400-plus-yard games against quality defenses in Oregon State and Stanford.
Where Scott lacks compared to other elite quarterbacks is in his QB rating (137.1), which ranks outside of the nation's top 50.
Nonetheless, Scott has flourished in Rich Rodriguez' system, putting up showy numbers in a host of important categories.
Scott Anchors an Offense That Compensates for a Porous Defense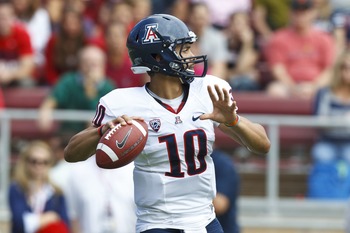 Jason O. Watson/Getty Images
Put simply, the Arizona defense is bad.
Including its most recent debacle—allowing 66 points to UCLA—the 'Cats defense has held its opponent under 36 points just three times in nine games.
What that means is Matt Scott and co. have to be on top of their game every time out for Arizona to have a chance to win.
And in all but two games—Oregon and UCLA—they have been.
Orchestrated by Scott, the Wildcats' rank 11th in total offense and 29th in points scored, which are improvements from last year's team, headed by current NFL players in Nick Foles and Juron Criner.
With losses to Stanford (54-48 in OT) and Oregon State (38-35) at little fault of the offense, suffice it to say the 'Cats could very well be 7-2 with even a mediocre defense.
Scott Has Elevated Arizona to Respectability Faster Than Anyone Expected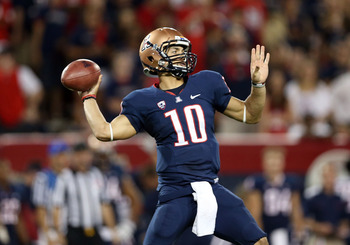 Christian Petersen/Getty Images
Rich Rodriguez has a history of losing big in his first year at any program he takes over.
Matt Scott didn't seem to care.
Sure, the Wildcats are only 5-4, but when you consider that Rodriguez' best mark as a first-year head coach at any previous program was 3-8, it becomes something to write home about.
Scott and Rodriguez were seemingly made for one another thanks to Scott's familiarity with and affection for RichRod's system.
The results indicate they are indeed the perfect marriage.
After having already surpassed last year's win total of four, the 'Cats appear bowl-bound. Rodriguez may be forever indebted to his quarterback should that happen.
Arizona Doesn't Win Enough for Scott to Garner Attention Nationally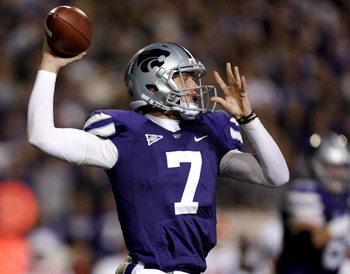 Kansas State quarterback Collin Klein receives plenty of love for leading the Wildcats to a No. 2 ranking.
Ed Zurga/Getty Images
His numbers are great. He leads an offense that more often than not compensates for a lackluster defense. He has Arizona winning again.
But, the Wildcats don't win enough for Scott to receive the attention he deserves nationally.
Quarterback is among the most glamorous positions in all of sports.
The quarterbacks who win—think Collin Klein—and the quarterbacks who play for traditional powers—think Matt Barkley—invariably receive a surplus of adoration.
Quarterbacks who put up gaudy numbers while elevating an otherwise shaky team to respectability—think Matt Scott—receive some love, but not nearly enough.
Compound that with the fact Arizona is anything but a historical power, and you have the perfect recipe for being overlooked.
Scott may rank among the nation's elite in total yards, passing yards and touchdowns, but Arizona is out of the running for the conference championship game and any BCS bowl. Therefore, the likes of Collin Klein, who is currently thinking BCS National Championship, will garner far more attention.
Scott Is Overlooked in His Own League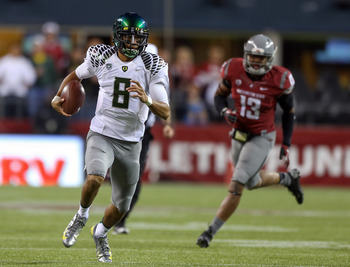 Otto Greule Jr/Getty Images
Disregard the lack of attention Scott receives on a national level. Within his own conference he ranks a distant third behind USC's Matt Barkley and Oregon's Marcus Mariota in terms of quarterback prestige.
Barkley, declared a Heisman favorite by many prior to the season, set the Pac-12 conference and USC school record by eclipsing 100 touchdown passes earlier this year. While USC has struggled, Barkley, as quarterback for the nationally relevant Trojans, has rightfully earned plenty of attention.
Mariota, as a freshman, has been nothing short of outstanding. He has been instrumental in keeping the Oregon machine in tip-top shape. The Ducks appear poised to reach the BCS National Championship Game if they win out.
Quite simply, the quarterback for a 5-4 Arizona team won't be stealing attention from the man behind center at Oregon or USC.
It's difficult to receive love on a national level when you're second or third fiddle in your own region.
Keep Reading