Studs and Duds from the L.A. Lakers' First Slate of Games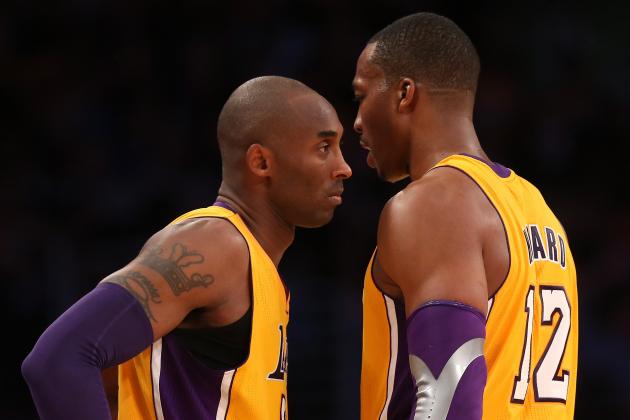 Stephen Dunn/Getty Images

There aren't a lot of positives to take out of the Los Angeles Lakers' four losses.
The Lakers are struggling to conform to the Princeton, Steve Nash is injured, the Lakers aren't utilizing the fast break, the bench is underperforming and there are seeds of a mindset clash being sowed between Dwight Howard and Kobe Bryant.
Ironically, amidst the struggles there are several individual players who have distinguished themselves in two different ways.
At least statistically, there are the studs who have performed well individually under the Princeton offense.
In contrast, there are players who have underperformed. Whether it be due to injury or unfamiliarity with the offense, there is no doubt that the Lakers have their fair share of underachievers.
Identifying these studs and duds and utilizing their strengths while marginalizing their weaknesses can be a key to achieving success for a struggling Lakers squad.
Begin Slideshow

»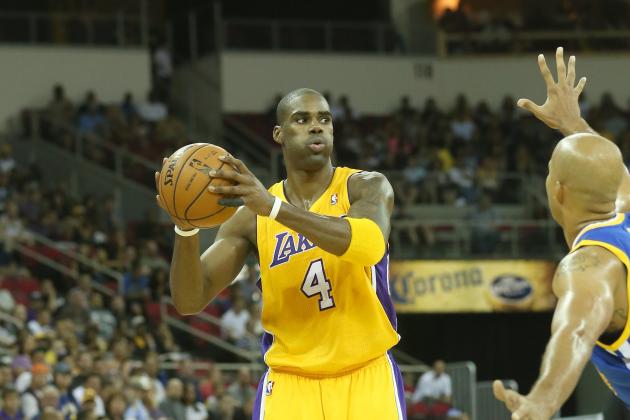 Stephen Dunn/Getty Images

Averaging 3.8 points, 3.4 rebounds, 0.8 assists and 0.6 steals, Antawn Jamison is perhaps the biggest dud during this NBA season.
After his return from pinky surgery, Jamison never seemed the same. However, such a massive drop off in production wasn't expected when the Lakers signed him to be the first man off the bench.
Consulting with Mike Brown and his family hasn't seemed to rekindle the fire that made him one of the better big-man scorers in the league for the majority of his career.
After averaging over 36 minutes per game over the duration of his career, his 16 minutes per game might be one of the factors that has contributed to his major decline in statistical output.
His atrocious 16.7 percent three-point shooting has mitigated his ability to stretch the floor for the Lakers.
Furthermore, he isn't a particularly effective post up scorer or passer, and used to score his points via his perimeter shooting and unorthodox interior layups. Therefore, expecting him to go in and be an initiator for the second unit might be asking too much.
Jamison put up impressive scoring numbers working off of proven scorers like Gilbert Arenas, Caron Butler and Lebron James. Jamison has always been a scorer who works off of other players.
Perhaps adding a creator to the second unit in the form of a play-making guard or increasing his minutes alongside a creator like Steve Nash may jump-start Jamison's production.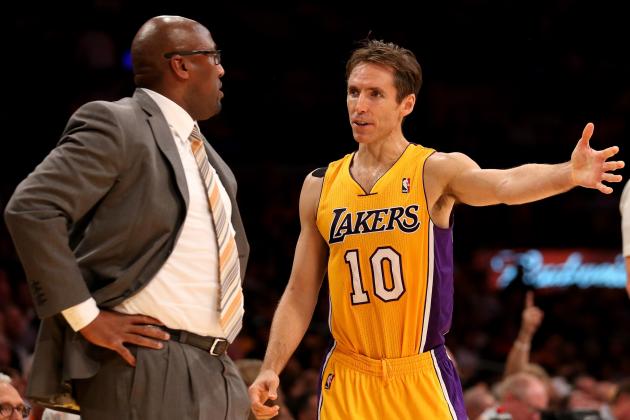 Stephen Dunn/Getty Images

Although the leg injury is the main factor in the labeling of Steve Nash as a dud, there is no getting around his low averages of 4.5 points, 3 rebounds and 4 assists per game.
Playing in only two of the Lakers' five games thus far, there is no telling how well Nash could utilize the weapons around him if Mike Brown released him from the metaphorical leash that is the Princeton offense.
Although age and injures are a big factor, perhaps the largest detriment to Nash's performance is the Princeton offense itself.
As part of an offense that utilizes screens, cuts, motion and post play, Nash's creative abilities on the break and via the pick-and-roll are significantly hindered.
It's hard to balance the complexity of the Princeton with the pick-and-roll, but the Lakers still need to push the break after every rebound before settling into the Princeton should no easy basket be available.
Steve Nash does his best work pushing the tempo of the game. The Lakers' poor fast break numbers and Nash's atrocious averages coincide with the Lakers' transition into the slowest team in the NBA.
Either Nash has to conform to his roll as a shooter and start shooting in volume, or the Lakers need to seriously rethink their strategy in order to take full advantage of Nash's myriad of skills.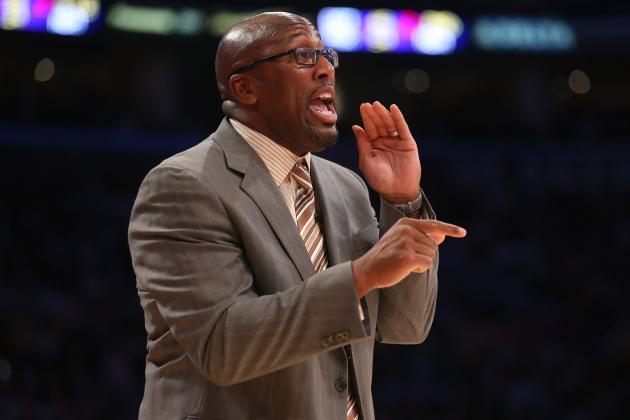 Stephen Dunn/Getty Images

Mike Brown is definitely a dud to start off this NBA season.
Furthermore, despite the vote of confidence from the Lakers' organization, Mike Brown will continue to sit in the NBA's hottest seat, under the NBA's brightest spotlight, as his team dwindles in the standings.
Defensively speaking, Mike Brown has a great reputation as one of the brightest coaching minds.
However, despite Mike Brown's reputation as a defensive specialist, the Lakers are allowing 98.8 points per game. That is good for 19th in the NBA.
Allowing 42 points in the paint per game, which is good for 16th in the league, is quite surprising for a team with one of the largest frontcourts in the NBA.
Furthermore, adding Dwight Howard, a defensive specialist himself, has yet to yield the defensive dominance expected out of this roster.
Despite these defensive struggles, the main criticisms of Brown stem from his controversial implementation of the Princeton offense.
Perhaps the most troubling thing is that Mike Brown isn't even familiar enough with the offense to implement it himself. Eddie Jordan, the Lakers' assistant coach, is the man primarily responsible for implementing this offense.
With a defense that has yet to live up to expectations and an offense Brown hasn't even truly mastered, the Lakers' coach is in for some rough times if the team continues to struggle.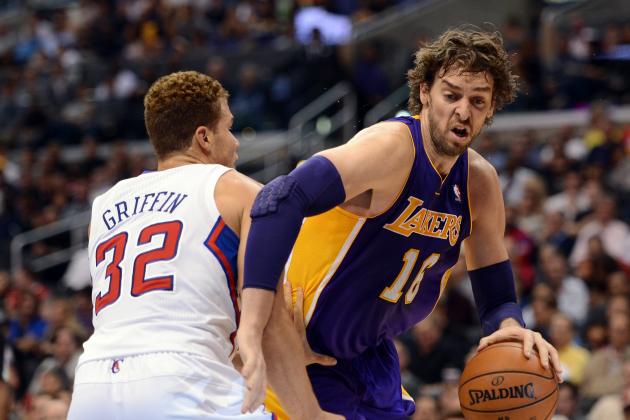 Harry How/Getty Images

Pau Gasol sits on the fence between being a statistical stud and a dud performance-wise.
Putting up decent averages of 13.6 points, 9.6 rebounds and 3 assists, the main knock on Gasol has been what it has always been.
Gasol needs to assert himself.
Being one of the most gifted post players in the league, Gasol has often found himself playing soft and tentatively despite his talents.
Although the Princeton has allowed him to really utilize his passing, Gasol needs to be much more aggressive in the post.
For almost half a decade, the Lakers have had a considerable size advantage with Pau Gasol, Andrew Bynum and now Dwight Howard.
The previous two titles won by the franchise were obviously buoyed by Kobe Bryant's killer will and leadership.
However, their advantages were their versatility and their size.
If the Lakers want to regain their stranglehold over the league, they need to reestablish their strengths.
Gasol and Howard make up one of the most imposing front courts in the NBA. However, their confusion and lack of chemistry on both ends of the court seem to really mitigate their strengths and are a major contribution to the Lakers' struggles thus far.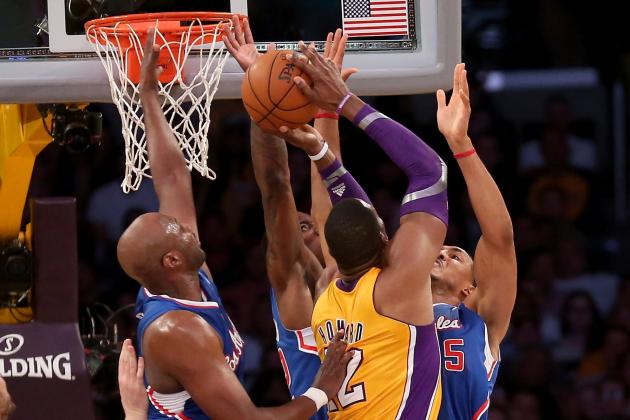 Stephen Dunn/Getty Images

Dwight Howard is another player who has been a statistical stud while underperforming on the floor.
Part of his struggles have come due to the fact that he doesn't seem fully recovered from his back problems yet.
However, he has still managed to put up big-man numbers to the tune of 22.4 points, 9.6 rebounds, 2.2 assists and 2.4 blocks per game.
Furthermore, he is shooting close to 70 percent from the field.
No matter how you spin it, Howard has been an offensive spark plug and a big contributor on the glass.
However, these numbers mean nothing if the Lakers are not able to yield victories from them.
Although most of the struggles the Lakers are undergoing are due to their shoddy defensive schemes and their offensive confusion, part of the Lakers' regression on defense may be due to the fact that Howard seems a step slow on his coverages and his timing.
He will only get better, though, and the fact that he can produce at such a high rate while blocking an impressive number of shots despite his injury woes may be a positive sign.
If Dwight Howard can continue to post big numbers and improve them as he continues to recover, the Lakers may be in good shape in terms of his individual production.
However, true dominance from the big man will require him to regain his Defensive Player of the Year form in terms of altering shots and pick and roll coverages.
Furthermore, even more important than developing moves in the low post may be increasing the atrocious 50 percent free throw shooting we are seeing from the talented big man.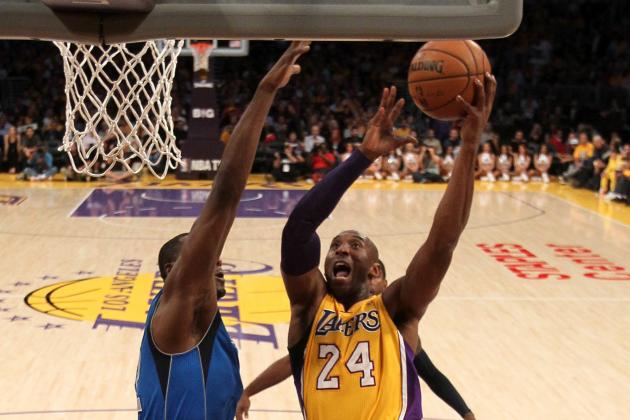 Stephen Dunn/Getty Images

Perhaps the only true stud on the roster thus far has been the Black Mamba.
Kobe Bryant proves that he is still one of the most dangerous players in the league by averaging 27.2 points on a career-high 56 percent field goal percentage.
Though it's not reasonable to expect him to continue shooting at such a high clip, his efficient scoring is a clear sign that Bryant has a lot of fight left in him.
Furthermore, there is no question that his competitive spirit still burns strong.
Despite the fact that he has been criticized for being a ball-stopper and a ball-hog throughout his career, the 56 percent field goal percentage validates his high volume shooting, at least for this season.
Bryant continues to perform well offensively despite his diminishing athleticism while also continuing his excellence on defense.
Bryant is averaging 1.4 steals and 5 rebounds per game and is still a pest on the perimeter.
Despite their early season struggles, the blame should not fall on Bryant, who is playing perhaps his most efficient brand of basketball despite injuries that continue to linger.