5 Troubling Signs from the L.A. Lakers' Early Season Games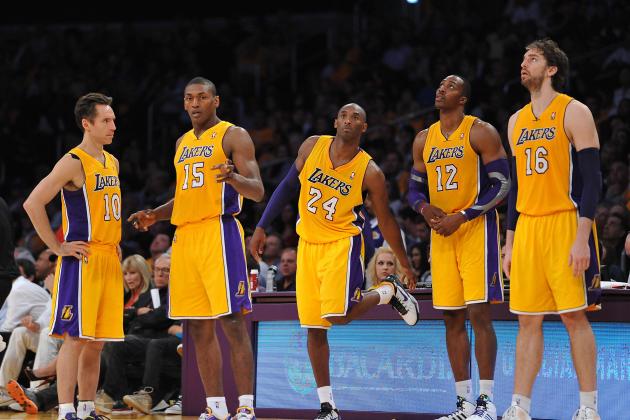 Jayne Kamin-Oncea-US PRESSWIRE

When looking at the big, season-long picture, there's a lot to like about the Los Angeles Lakers. They have an excellent starting five, an improved bench and the playoff experience necessary to contend for an NBA title.
But there's no doubting that L.A. has gotten off to a slow start. And it's not just about their subpar record. There's been an injury preventing the team from building chemistry, some of the new acquisitions haven't hit the ground running and the defense has yet to fire on all cylinders.
That's expected with a team that has had as much roster turnover as the Lakers did this offseason. We knew it would take time to get everybody on the same page. Nonetheless, there are some areas of this team that could become worrisome as it goes forward in the season.
Speaking of which, here are five troubling signs from the L.A. Lakers' early season games...
Note: To be clear, this isn't a projection of what will or won't happen going forward. It's simply a reflection of what's happened so far. So while some of these signs may be troubling through the team's first five games, their inclusion doesn't necessarily mean they're something that'll plague the team all season long.
Begin Slideshow

»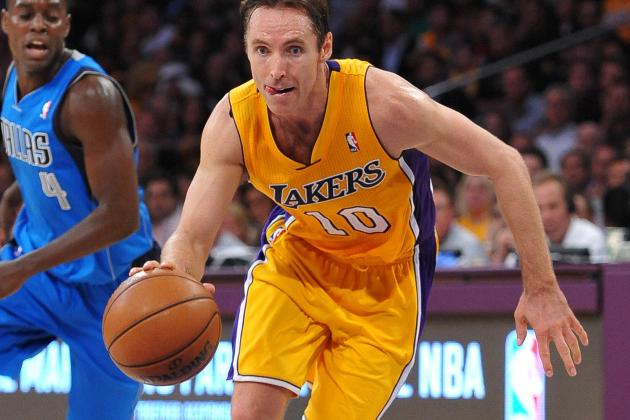 Jayne Kamin-Oncea-US PRESSWIRE

It was reported by Dave McMenamin of ESPN on Nov. 3 that newly acquired point guard Steve Nash would miss at least a week with a small leg fracture. That comes after Nash already missed all but the team's first two games, which were both losses (the first to Dallas and the second to Portland).
Nash's absence is worrisome for two factors. The first one is fairly obvious: the team is worse off with Steve Blake running the point than it would be with Nash at the helm. There's really no comparing the two. Blake is a decent backup point guard, while Nash is a future Hall of Famer and was an All-Star as recently as last season.
But what's also worrisome about Nash's absence is the effect it will have on the team's chemistry. After all, as talented as the Lakers are, they haven't spent much time on the court together as they're currently constructed. Dwight Howard missed most of the preseason and training camp so they weren't able to work with him much. And now that Howard's finally healthy, Nash is out.
There are a lot of very good teams in the NBA, and there are a couple like Miami and Oklahoma City that could give the Lakers a run for their money even if L.A. was fully healthy and had a full season to gain chemistry.
The longer Nash is out means less time for the Lakers to become cohesive. As a side effect, they'll have to do that even later in the season, and given their aging roster, they'll have to do it as their geriatric legs become even more tired.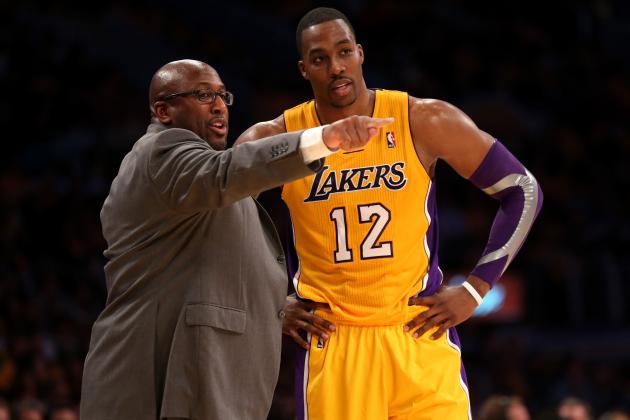 Stephen Dunn/Getty Images

Look at the NBA champions from the past 20 years. The common thread among all of them is that they all were good defensive teams. So far, the Lakers defense has left a lot to be desired.
Through the first five games, the Lakers are ranked 12th in points allowed per game, their field-goal percentage allowed (.447) ranks 15th and their defensive rating (108.8) is 26th in the NBA.
But it's not just about statistics with this team. The Lakers aren't rotating as well as they should, they aren't playing passing lanes as well as they need to and the perimeter defense's ability to prevent penetration has left a lot to be desired. And with Steve Nash being a below-average defender, it doesn't figure to drastically improve as soon as he returns to the court.
Now, with the exclusion of Nash, all of the players in the starting five are good if not great individual defenders. By having more time together on the court, they'll begin to build a rapport; at that point, learning when to help or rotate will become more instinctual.
But in the early goings of the season, it's an area that needs some work.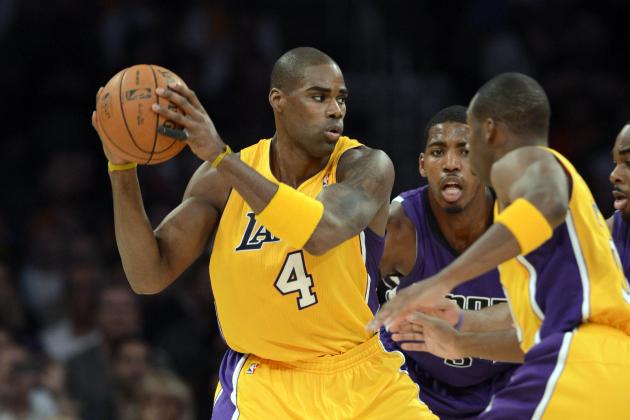 Richard Mackson-US PRESSWIRE

When the Lakers brought in Antawn Jamison this offseason, it looked like they finally had a legitimate scoring threat coming off the bench.
Entering the season, Jamison averaged 19.5 points per game for his career. It's true that the vast majority of those games had Jamison starting. But it's also true that the one year he was predominantly a bench player (2003-04) he won the NBA's Sixth Man of the Year Award and averaged 14.8 points per game. The Lakers were hoping to get similar production from Jamison this year.
Instead, Jamison's only averaging 4.3 points per game. What's even more troubling is that he hasn't been shooting the ball as much as you'd expect, only putting up an average of three shots per game. This team needs him to be more productive and the only way that's going to happen is if Jamison becomes more aggressive and starts shooting the ball more.
Given his track record of success, there's reason to believe that Jamison can turn it around as the season goes forward. But this much is sure: if he doesn't, this team is in a lot of trouble, especially when you consider a lack of production from the bench last season was the one thing really holding it back.
Which brings me to the next point...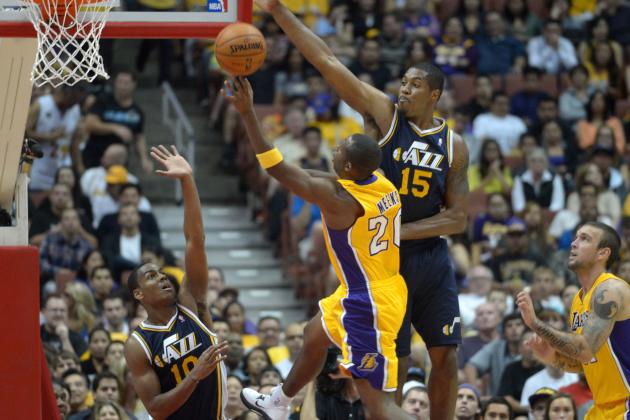 Kirby Lee-US PRESSWIRE

The improved Lakers bench was supposed to be one of the main reasons this team could contend for an NBA title this season. Obviously the acquisitions of Howard and Nash help, but the Lakers had one of the best starting units last season and still got knocked out in the second round of the playoffs. A fortified bench was supposed to be one of the difference-makers.
So far, the bench has not lived up to expectations. The aforementioned Antawn Jamison hasn't been able to get his game going. But it's not just Jamison. The bench as a whole isn't making enough of an impact. Jodie Meeks hasn't been shooting up to his capabilities. Jordan Hill hasn't played well so far.
Consider that through five games, the Lakers bench is only averaging 17.4 points per game. That's the 29th-worst bench production in the NBA. Compared to last season's average (20.5 points per game), there's not much—if any—improvement there.
The difference between this year and last year is that the Lakers possess the personnel to have a more effective bench. But like anything else, at some point an improved bench has to start equating to improved results. Up to this point, that hasn't happened.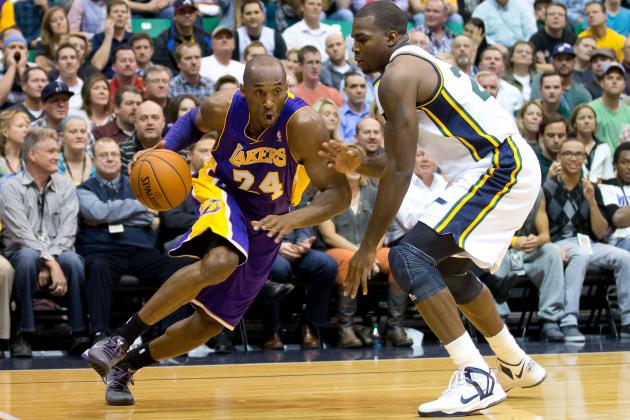 Russ Isabella-US PRESSWIRE

For the most part, the Lakers offense is doing what it needs to do. That's an encouraging sign considering they've been without Steve Nash and they're trying to implement the Princeton offense. But the one area of L.A.'s offense that needs some work is its ability to prevent turnovers.
The Lakers are currently last in the NBA in turnover percentage (30 percent). With the way things currently stand, their excellent field-goal percentage (.503) and offensive rebound rate (34 percent) give them opportunities to make up for it.
But what happens if the team has an off night shooting or sees a dip in its offensive rebounding? In that situation, it'll need to cut down on its turnovers in order to stay productive on offense.
With the other aspects of the offense going as well as they are, the turnover issue is being masked. But if the defense doesn't start picking it up, or if the offense stops shooting so efficiently, the turnovers will become a real problem.
Luckily for L.A., Steve Nash should return shortly, which will give the team one of the most efficient point guards in recent memory. That should help cut down on the turnovers.