Last season, the Knicks finished in the Top 10 in several defensive categories, including fifth in defensive efficiency—a measure of opponents' points per 100 possessions. This season, the first full campaign under Mike Woodson, the Knicks should be as good, if not better.
New York upgraded defensively at a few positions during the offseason, and Woodson has lit a fire under some of the Knicks' returning players. So far, the results have been fantastic. The Knicks' stifling defense gave up just 84 points to an explosive Miami Heat team, then held the 76ers to 84 and 88 in a home-and-home matchup.
Here's a breakdown of why the Knicks' defense has been so impressive and what they need to do to remain an elite defense throughout the entire season.
Protect the Basketball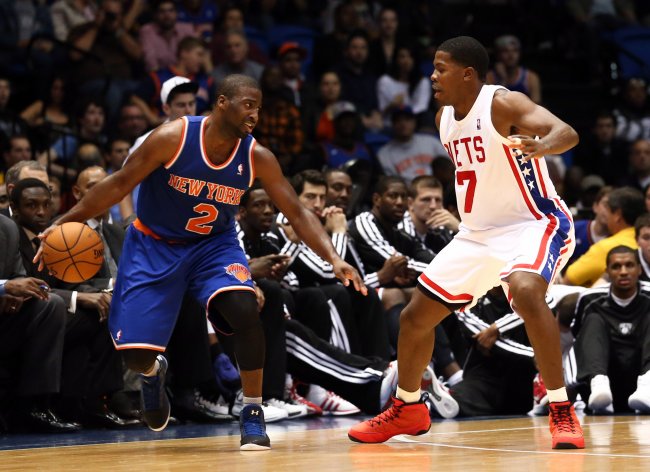 Anthony Gruppuso-US PRESSWIRE
Inefficient offense kills a team's defense. Ill-advised shots, poor spacing and turnovers create fast-break opportunities and easy baskets for the opposing team.
Last season, the Knicks' turnover rate (percentage of possessions ending in a turnover) of 14.85 was fourth highest in the league. That rate could be attributed to the Knicks' lack of stability at the point guard position last season.
Overnight sensation Jeremy Lin coughed up the ball 3.6 times per game for a turnover rate of 21.4, and an injury-riddled Baron Davis was even worse, compiling a turnover rate of 28.9 last season.
Coach Woodson asked his general manager for an experienced point guard, and Glen Grunwald delivered, replacing Lin with eight-year veteran Raymond Felton, future Hall of Famer Jason Kidd and 35-year old rookie Pablo Prigioni.
Felton's turnover rate was right around 16 in each of his first seven seasons in the league before it ballooned to 19.5 during his surprisingly poor season with the Portland Trailblazers last year. Felton slimmed down for training camp after admitting that he was out of shape last season and should return to his previous form. Kidd's 24.2 turnover rate, while not exactly impressive, represents a significant improvement over Baron Davis' rate.
Woodson has further improved the team's ball security by starting Felton and Kidd together and keeping one of them in the game to share the backcourt with Prigioni. The result has been a drastic decrease in the team's turnover percentage, which has allowed them to setup their halfcourt defense.
The Knicks turned the ball over on just 11.7 percent of their possessions against a stingy Miami Heat team and followed that up with turnover rates of 14.2 and 7.1 in their two wins over the Philadelphia 76ers.
Carmelo Anthony Must Set an Example on Defense

Carmelo Anthony can ignite his team by giving maximum effort on defense.
In order for the Knicks to be an elite defensive team, Carmelo Anthony must provide a consistent effort on that end of the floor. Woodson challenged his best player to come to training camp in better shape, more focused on being a leader and determined to improve in all aspects of his game.
The five-time All-Star responded by losing weight during the offseason and dedicating himself to being a better defender. He set the tone for the Knicks during the first game of the season with his physical play against his good friend LeBron James.
Melo made a statement to his teammates and opponents early in the Knicks matchup with the Heat by not apologizing after accidentally whacking James in the head while swiping at the ball.
During the first quarter of the Knicks' first matchup against the 76ers, Anthony rejected Nick Young's shot at the rim, then dove into the stands while attempting to save the ball from going out of bounds. His effort galvanized the Madison Square Garden crowd, and the forward will inspire his teammates if he brings that kind of energy to the defensive end of a regular basis.
Fighting Over Screens on the Pick-and-Roll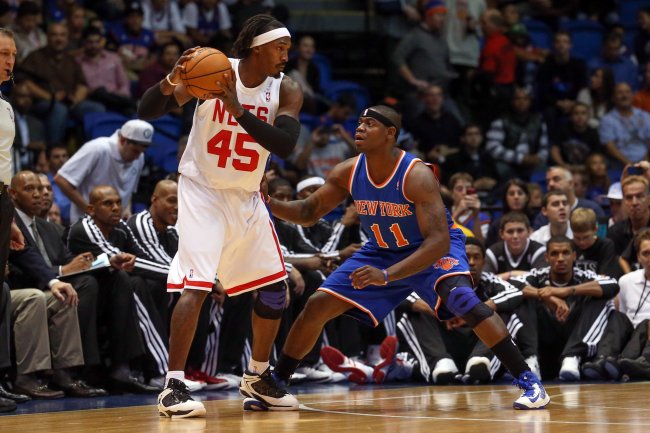 Anthony Gruppuso-US PRESSWIRE
The pick-and-roll is the bread-and-butter of most NBA team's offensive systems. In order to be an elite defensive team, the Knicks need to defend it effectively. That begins with the perimeter player who is being screened.
Under Mike D'Antoni, New York switched on every pick-and-roll. Far too often that resulted in unfavorable matchups, with Knicks' big men covering quick guards on the perimeter. When Mike Woodson took over, he continued to rely on a switching defense due in large part to the defensive deficiencies of his perimeter players, particularly at point guard.
The Knicks added defensive-minded players over the summer in Felton and Ronnie Brewer. While they continue to switch on many occasions, the Knicks have also defended the pick-and-roll straight up, with the big man showing and the man being picked fighting over the screen.
Felton, a feisty defender who is strong for his size, fought over screens repeatedly to keep Jrue Holiday in front of him when the Knicks faced the 76ers. A few nights earlier, Brewer drew a moving pick call while attempting to fight over a screen by the Heat's center.
The Knicks' guards' ability to go over the top of screens is particularly crucial against the Heat because LeBron James and Dwyane Wade are virtually unstoppable when they are able to turn the corner and square their shoulders to the basket. They are too athletic for a big man to cover via a switch off a pick-and-roll.
Rotate to the Open Man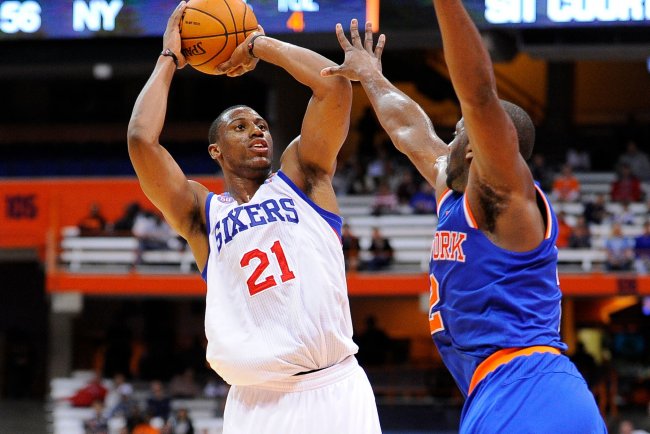 Rich Barnes-US PRESSWIRE
Tyson Chandler's commitment to team defense earned him Defensive Player of the Year honors last season. Now it's time for the rest of the Knicks to cover for a teammate who is beat off the dribble and rotate to the open man.
Team defense begins with communication, and it usually takes a couple of years playing together for a unit to develop cohesion on that end of the floor. The combined experience of the Knicks' roster should reduce that learning curve.
Newcomer Ronnie Brewer's hustle, long wing span and proclivity for stepping into passing lanes make him a superb help defender. Marcus Camby and Kurt Thomas add a defensive presence in the paint off the bench.
During their first three games, the Knicks have excelled at clogging the paint and helping each other out on defense. They need to improve at closing out on shooters.
Last season, teams shot 35.9 percent on three-point attempts against the Knicks, the eighth highest percentage allowed. The numbers have been even worse this season. Miami and Philadelphia combined to knock down 39 percent of their shots from downtown.
It Must Be a Team Effort on the Boards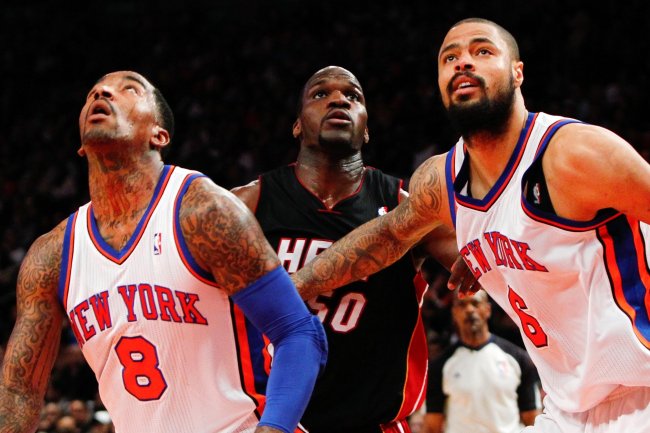 Debby Wong-US PRESSWIRE
There is nothing more deflating for a team than surrendering an offensive rebound after 24 seconds of stellar defense. Dating back to Bill Russell's Boston Celtics, great defensive teams have always controlled their defensive backboard.
The Knicks' defensive rebound rate was .737 last season, according to Hoopdata.com, good enough for 12th in the league. Based on several of their offseason additions and greater dedication to rebounding by some of their returning players, they have the potential to be a much better defensive rebounding team this season.
Jason Kidd has always been an excellent rebounder for a guard, and Ronnie Brewer has averaged 4.4 boards per 36 minutes for his career. The player who will have the greatest impact on the Knicks' rebounding is Marcus Camby. The 38-year-old center/power forward grabbed a league-leading 18.8 rebounds per 48 minutes last season.
Mike Woodson emphasizes that rebounding requires a team effort, especially while the Knicks are playing a smaller lineup with Stoudemire out. Thus far, his players have responded.
Brewer is averaging 6.7 boards again through the first three games, including a 10-rebound performance against the 76ers Monday night. Anthony grabbed 10 boards himself against the Heat, and J.R. Smith, never known for his rebounding, swiped seven and nine rebounds in the Knicks' first two games.