25 Philadelphia Phillies Rumors You'll Hear This Winter but Shouldn't Believe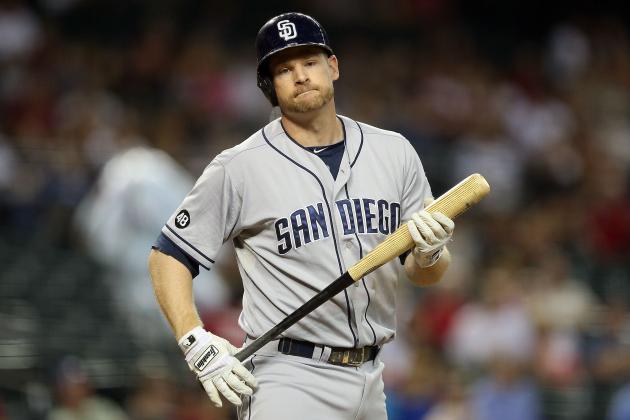 Christian Petersen/Getty Images

Regardless of what actually happens this winter, you will hear plenty of Philadelphia Phillies rumors. Some of them may come true, but most of them will be too far-fetched to even be a realistic possibility.
Multiply that by the fact that they could potentially have four major holes (center field, third base, setup man and starting pitcher) to fill this winter and you know we're in for a long offseason in the rumor mill.
So how do you know what to believe and what not to believe? Well, the answer is a bit more simple than you think—Read this slideshow.
The best way to sort through most of these rumors is to find out what is feasible and what is completely asinine. Take a look at the Phillies' payroll and state of the farm system and figure out what is completely out of the realm of possibility.
Sounds like too much work? No problem. I'll do it for you. Here are 25 rumors that you will hear about the Phillies this winter that you shouldn't believe.
Begin Slideshow

»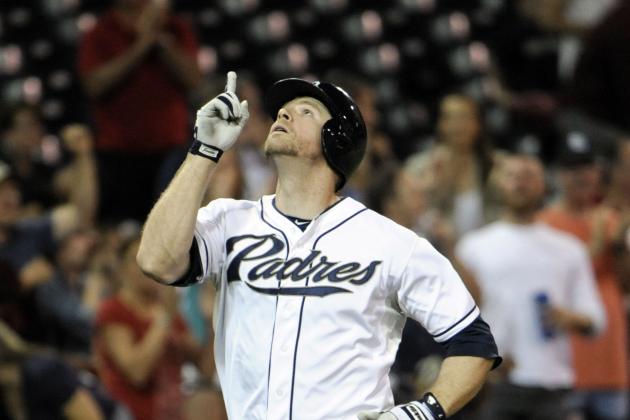 Denis Poroy/Getty Images

The Phillies are probably sitting around a table drooling about the thought of prying third baseman Chase Headley out of San Diego, but it's not going to happen.
First and foremost, the Padres actually like their team. They showed life at the end of last season, have a solid lineup and with a few arms could realistically make a run at the NL West title.
That obviously changes if they move Headley, which they won't do for anything short of a king's ransom—and the Phillies don't have the chips to make that kind of trade.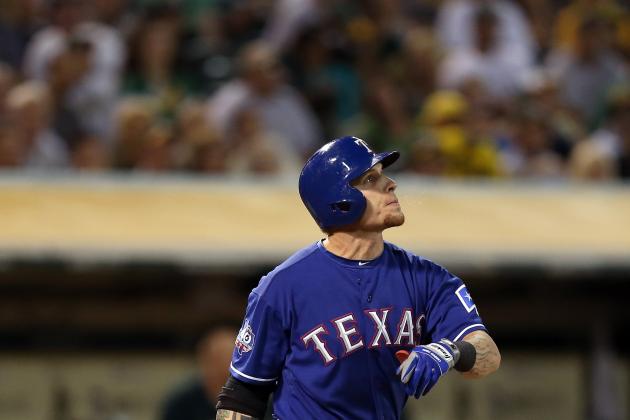 Ezra Shaw/Getty Images

Josh Hamilton's asking price is going to fluctuate a ton over the offseason, and whatever kind of contract he demands is likely going to be too rich for the Phillies' blood.
That's not because they can't afford him, but because he doesn't necessarily fit the lineup. Hamilton would be yet another left-handed bat in the middle of an order that already looks like minced meat against left-handed pitching, and he is not going to be able to play center field long term.
He would look nice on paper, but the Phillies will pass on Hamilton.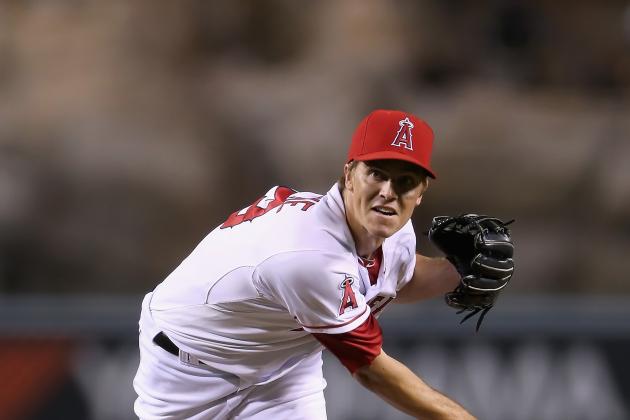 Jeff Gross/Getty Images

The thought has probably crossed Ruben Amaro Jr.'s mind already, but the Phillies won't be signing Zack Greinke this winter.
The obvious reason is because the Phillies already have a ton of money tied up in three starting pitchers on their payroll. They just can't afford to add another starter that will likely earn north of $20 million per year, especially if Greinke wants to be paid among baseball's richest pitchers.
The Phillies are a team that believes pitching and defense wins championships, so I wouldn't put it past them to pursue a pitcher, but it won't be Greinke.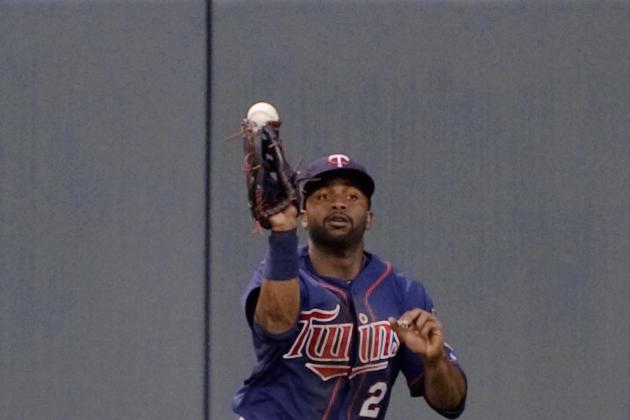 Hannah Foslien/Getty Images

Admittedly, I'm on the fringe about Denard Span.
The Minnesota Twins are in desperate need of MLB-ready starting pitching and the Phillies could offer them guys like Vance Worley or Kyle Kendrick in a heartbeat. Minor league guys like Tyler Cloyd and Jonathan Pettibone could be of interest to the Twins too.
But although their situation is a bit different now, this is the same club that wouldn't agree to a swap of Span and Drew Storen with the Washington Nationals, and Storen may have more upside in the bullpen than any Phillies starter.
Right now, I think the Phillies would prefer to sign a free-agent outfielder as opposed to trade for one, so this option isn't at the top of their list.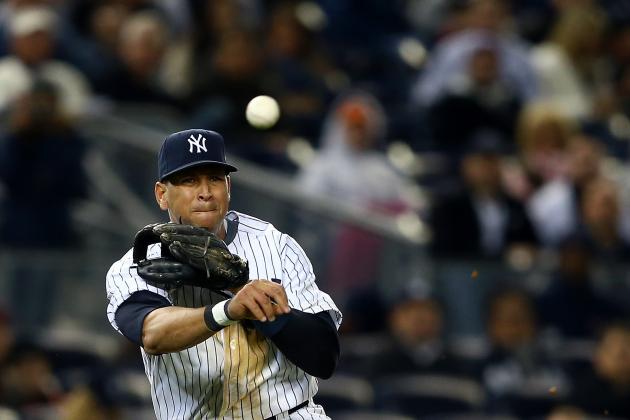 Al Bello/Getty Images

Drama.
Whatever happens with Alex Rodriguez this offseason, the one thing that I can guarantee you is that there will be drama. Will the New York Yankees attempt to trade him? Would Rodriguez waive his no-trade clause?
Who knows.
And while the Phillies could use a third baseman and may give the Yankees a call, A-Rod won't be playing third base in Philadelphia next season. The Phillies would likely need the Yankees to eat about $100 million, and to do that, they'll ask for a top prospect (or more).
Not happening.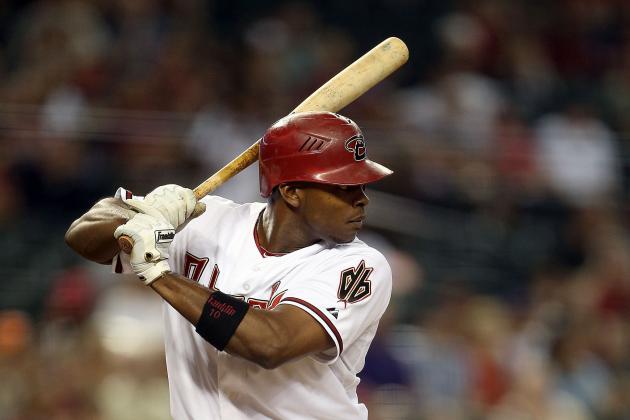 Christian Petersen/Getty Images

Justin Upton is everything the Phillies are dreaming of. He's a right-handed corner outfielder with power that would slot nicely into the middle of their order, and is under team control and affordable for the next few seasons.
The only problem is that they don't have much of a shot of getting him out of Arizona.
The Diamondbacks are trading from a position of depth (outfielders) in order to find a middle infielder. The Phillies' best trade chip there is Freddy Galvis, and that may not be enough to land Upton.
The D'backs are also loaded with starting pitching—one of the Phillies' deepest areas as far as potential trade chips are concerned—so that probably isn't going to help.
One outside the box idea is to revisit that Cliff Lee rumor from the trade deadline, reported by Ken Rosenthal of Fox Sports, that involves the Phillies eating some money to swap him with Upton. The D'backs would like to have an ace at the top of their starting rotation. But this is a long shot.
There are teams better equipped to trade with the Diamondbacks than the Phillies.
Greg Fiume/Getty Images

It seems like Cliff Lee comes up in a trade rumor or two every time there is an opportunity, but the Phillies are not going to be trading Lee over the offseason. They just don't have the means to do it.
Regardless of the deal, you have to look at what moving Lee would do to the Phillies rotation. Even in a year where Roy Halladay proved he was mortal, the starting rotation was still one of the Phillies' strongest areas.
Moving Lee would mean, as things stand now, that both Kyle Kendrick and Tyler Cloyd would be in the rotation, and that is a recipe for disaster.
If the Phillies do trade Lee, any deal would have to upgrade their lineup (likely with a controllable, right-handed outfielder with power) and a starting pitcher.
It's just not going to happen with all of the money still owed to him.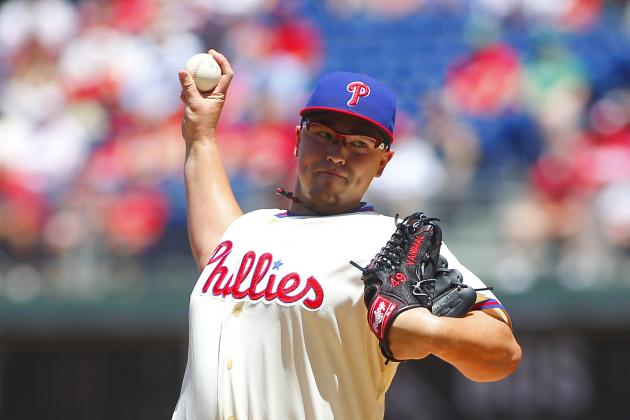 Rich Schultz/Getty Images

Vance Worley is going to come up in a few rumors this winter, but I don't think that the Phillies will wind up trading him.
First and foremost, the Phillies would like to fill all of their big holes via free agency. Finding a center fielder and a setup man can be done on the open market.
At that point, the Phillies likely won't fill smaller needs (third base, corner outfield) with a trade unless an extraordinary deal presents itself. More than likely, it won't. Even if it did, you have to weigh which positions are more valuable.
For example, would you rather have Freddy Galvis at third base or Tyler Cloyd (who would likely replace Worley) in the starting rotation?
It's a long shot.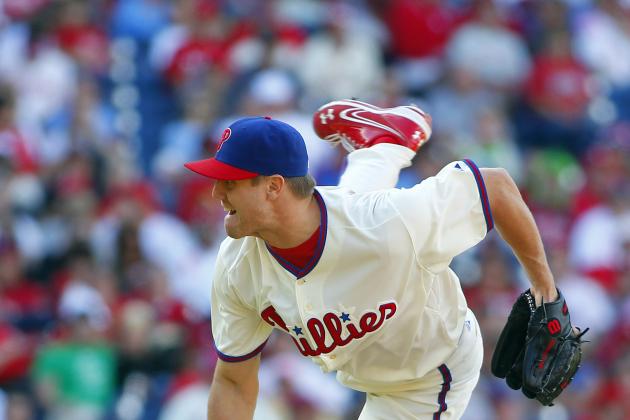 Rich Schultz/Getty Images

One thing that teams are always looking to move in the offseason is a large payroll. While the Phillies could, theoretically, have conversations about moving Jonathan Papelbon's contract, it isn't going to happen.
When the Phillies made Papelbon's $50 million deal official last winter, they immediately came under scrutiny for throwing so much money at a guy who pitches a maximum of 70 innings a year.
With several high-upside power arms on the way, the Phillies could stand to trade Papelbon and free up some payroll, but they won't.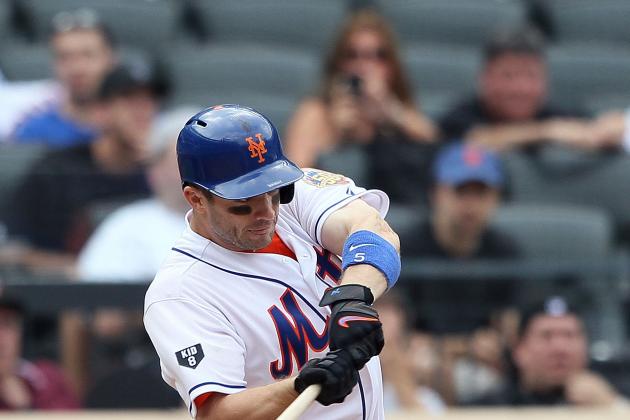 Alex Trautwig/Getty Images

He. Is. Not. Available.
Eventually, the talk about David Wright will die down. Until that day, however, people will look at his current situation and assume that the New York Mets will make him available in a trade.
They're not going to—especially to a team like the Phillies.
While the Phillies would jump at the chance to make the Mets an offer for their star third baseman, they likely wouldn't have the resources it takes to trade him within the division. Instead, they will look to sign him to a contract extension so that he may terrorize the Phillies for years to come.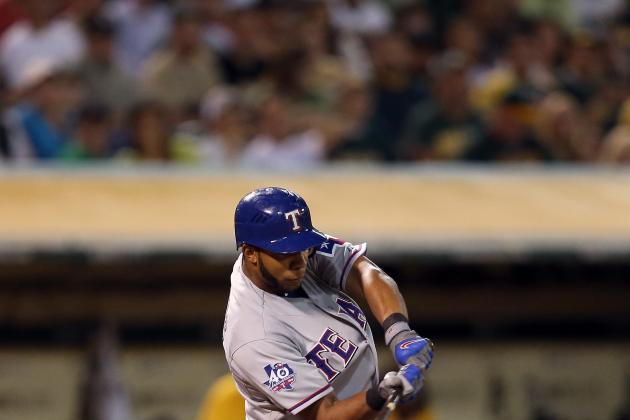 Ezra Shaw/Getty Images

The options for the Phillies to fill their void at third base aren't exactly plentiful. The in-house options include Freddy Galvis and Kevin Frandsen. The free-agent market really begins and ends with Kevin Youkilis.
The trade market is a little deeper, but the Phillies don't have a ton of resources to make a deal. One name that could come up as a potential replacement at third base is Texas Rangers shortstop Elvis Andrus.
With elite shortstop prospect Jurickson Profar ready for the MLB, the Rangers find themselves with a bit of a logjam in the middle infield with Ian Kinsler at second base.
The Rangers could conceivably cash in on Andrus' value before he reaches free agency in a couple of years, when he and agent Scott Boras will likely price themselves right out of Texas.
But the Rangers don't have to move him. He isn't a natural fit for the Phillies at third base. I don't see a match.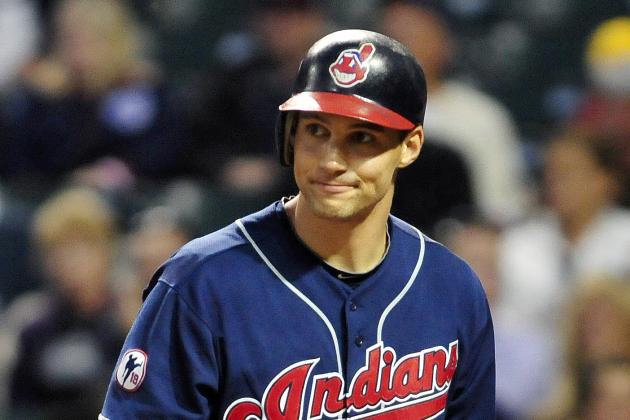 Jason Miller/Getty Images

With quite a few holes to fill and not much money to spend, the Phillies could look to pick a few free agents up off of the scrap heap this winter, and few have more potential than Grady Sizemore.
Early in his career, Sizemore looked like a future superstar for the Cleveland Indians, but after years of injuries and poor performance, the two sides have parted ways.
Sizemore will likely be looking for a one-year deal to prove that he is healthy and re-establish his value, and I imagine that the Phillies will be interested as long as the base salary does not climb too high, but does he fit?
We're talking about another left-handed bat that struggles against left-handed pitching—something that the Phillies don't need. He'll also likely be relegated to a corner outfield spot to prevent further injury, which dims his value a bit.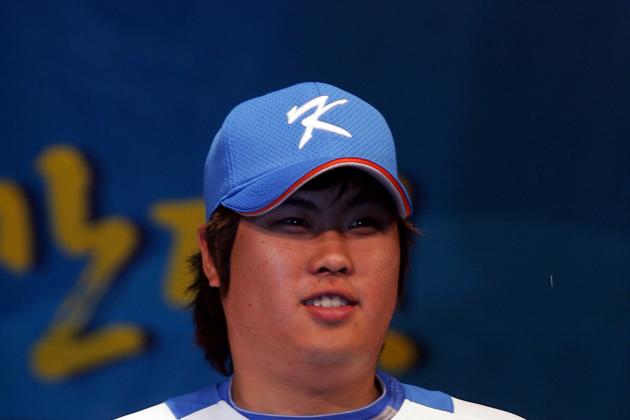 Chung Sung-Jun/Getty Images

It would be prudent for the Phillies to get involved in the international market this winter, but history says that they won't.
While plenty of pitchers will hit the open market here in the United States, one pitcher with a load of potential will only be available through the posting process. His name is Ryu Hyun-Jin.
A big, left-handed pitcher who could either pitch in the back end of a starting rotation or help out the back end of a bullpen should be of some interest to the Phillies, but I just can't see them outbidding other savvy teams that have been more active in the posting process in the past.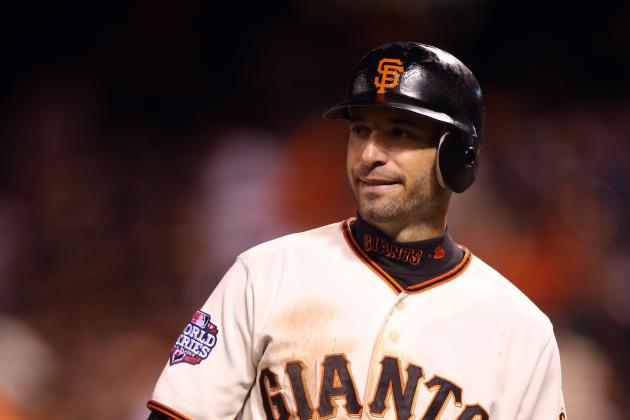 Christian Petersen/Getty Images

I'm sure that the Phillies have some interest in Marco Scutaro, but he isn't the best fit for the club.
What the Phillies really need out of an infielder is a guy who can play a solid defensive third base while contributing from the right side of the plate in their order.
Scutaro fits that bill to an extent, but he's not much of a third baseman. He's played 15 games at third base since 2008. He's not much of a right-handed power threat either, which the Phillies could desperately use.
So again: Scutaro to the Phillies makes sense on some levels, but don't you think that he is a better fit for most teams as a middle infielder?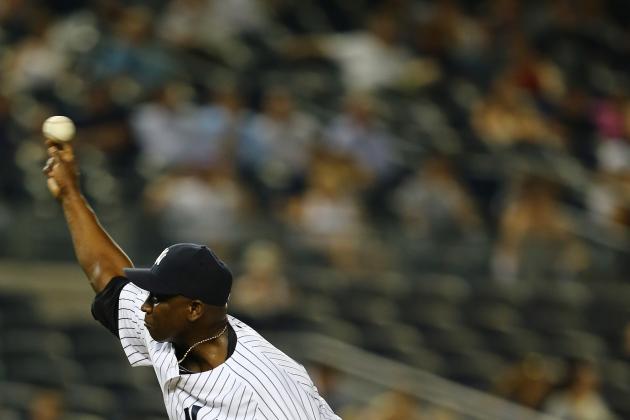 Al Bello/Getty Images

When Rafael Soriano opted out of his contract with the New York Yankees, something tells me that it wasn't because he wanted to serve as a setup man for a different club.
That was the deal that he signed with the Yankees when Mariano Rivera was healthy, but when Rivera was injured (followed by David Robertson), it was Soriano who stepped up as the Yankees closer.
Now that Rivera is expected to return, Soriano and agent Scott Boras are going to be looking for a closer's gig with a different club, and with the numbers that he put up in 2012, he'll likely get it.
The Phillies, obviously, don't need another closer.
Lisa Blumenfeld/Getty Images

The biggest question surrounding free-agent starting pitcher Dan Haren is whether or not he is actually healthy. After missing time during the regular season with an injury, a new rumor surfaced that medical records nixed a trade between the Los Angeles Angels and Chicago Cubs.
ESPN's Buster Olney tweeted:
After CHC/LAA trade of Marmol/Haren fell apart, execs speculated Haren's back is an issue. "Dan is healthy," said his agent, Greg Landry.

— Buster Olney (@Buster_ESPN) November 6, 2012
If Haren is healthy, he is going to generate plenty of interest. He'll likely be looking for a one-year deal to re-establish his value and won't have a problem finding a job for the 2013 season.
I don't expect the Phillies to get involved unless his price comes way down though, and frankly, it is hard to see that happening. Plenty of clubs have a greater need for starting pitching than the Phillies.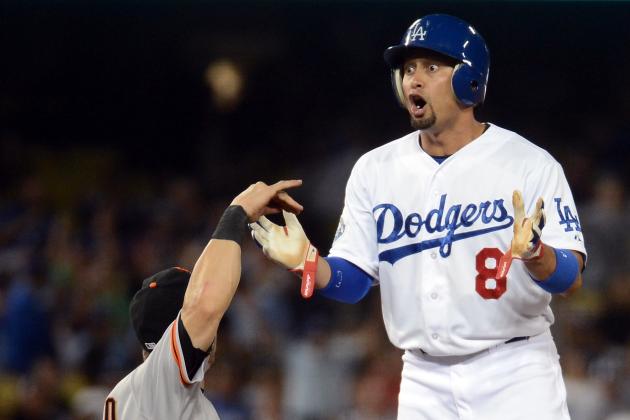 Harry How/Getty Images

Shane Victorino is kind of like the Phillies' "Plan F" this offseason.
One of the things a team is trying to do when they move a player like Victorino at the trade deadline is to change the "culture" of the team. In Victorino's case, that was prevalent in a couple of ways.
For starters, the front office probably wanted to rattle the clubhouse; keep other players who aren't in contract years from getting content.
But it was practical from a baseball perspective as well. The Phillies wanted to change their approach offensively, and there are few better ways to accomplish that than bringing in new players altogether.
Is Victorino still a very good center fielder? Sure. And he's going to make whatever team signs him better. But the Phillies probably want to get a fresh face in the clubhouse and shake things up a bit.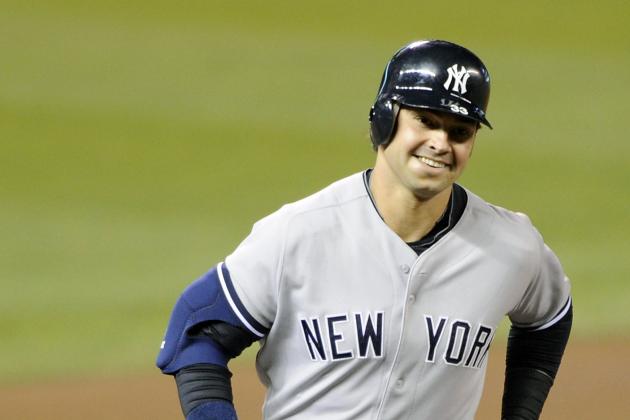 Hannah Foslien/Getty Images

Nick Swisher is one of the better corner outfielders available this winter and he is going to be paid like it.
The Phillies probably can't afford that.
Plans can obviously change, but right now, the Phillies are focused on filling holes in center field, the bullpen and third base—likely in that order. If there is any money left over after those positions are filled, then we can start talking about corner outfielders, but there won't be enough to sign Swisher.
The Phillies do need offense, and Swisher would help, but so do teams with a little more money to spend than the Phillies. I expect Swisher gets a nice four-year deal from a team that is looking to add offense and energy to the clubhouse.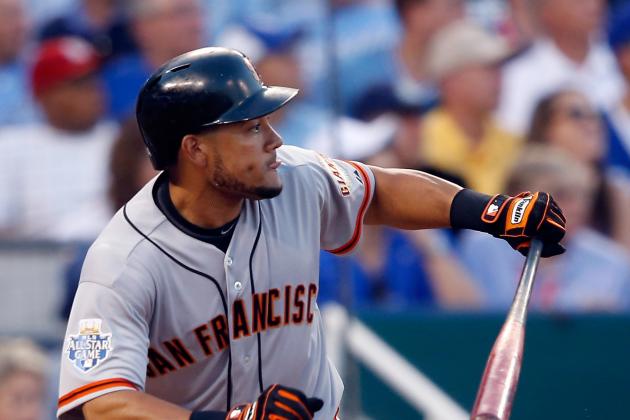 Jamie Squire/Getty Images

Logistically speaking, Melky Cabrera makes a lot of sense for the Phillies. He cost himself millions of dollars by testing positive for a banned substance last season, and the Phillies could certainly use a bargain.
But do they need another headache? Cabrera is not going to come without his baggage. Two of his best seasons are officially tainted by that positive test, and you can bet that the media won't forget about it.
The Phillies are a team that is built around clubhouse character. Does Cabrera really fit into their plans? Now, let's not fool ourselves. I think we all know that if he comes cheaply enough, they'll make room for him in those plans.
But with cheap options like Darin Ruf, John Mayberry Jr. and Nate Schierholtz already on the roster, I expect the Phillies to pass on Cabrera.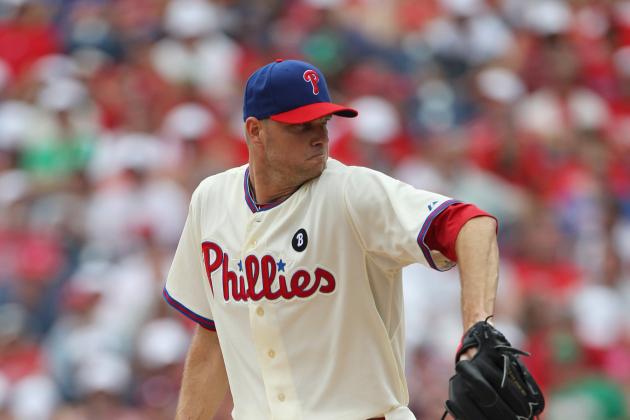 Hunter Martin/Getty Images

If there was a bold prediction to be made this winter, it would be that the Phillies will sign Ryan Madson to be their setup man. As things stand right now, however, I think that this deal is still a long shot.
Even if the Phillies, Madson and Scott Boras all put whatever quarrel they had last offseason behind them, it is important to understand that Madson still wants to be a closer, and even if he comes on a one-year deal, he'll want to be paid like one.
There aren't a ton of roles for closers this winter, but there are definitely teams with a greater need than the Phillies. At that point, Madson and his camp will have to decide what is more important: closing games for a fringe team or setting up for a contender.
With that being said, if there is a contending team that offers Madson the closer's gig (like the Cincinnati Reds), I think he accepts. He wants to be a closer.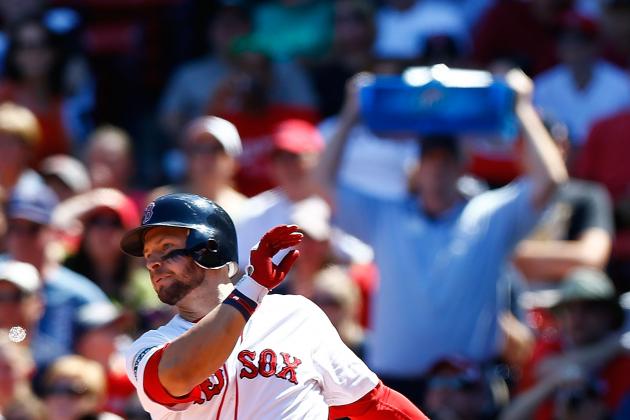 Jared Wickerham/Getty Images

As far as corner outfielders are concerned, Cody Ross is probably one of the best fits for the Phillies.
He is a right-handed bat that has hit well in Citizens Bank Park in the past and likely isn't going to cost more than $10 million per year (like Nick Swisher would). If the Phillies can get him at the right price, they make a play.
Of course, all of that information is for naught if Ross continues to seek a three-year deal, which I doubt the Phillies would do.
ESPN's Buster Olney reported:
In Cody Ross's talks with the Red Sox, his side was looking for something in the 3-year, $25 million range.

— Buster Olney (@Buster_ESPN) November 6, 2012

After being snake-bitten by similar deals to guys like Raul Ibanez and Placido Polanco, I think the Phillies would pass. If his price comes down, I could see them getting involved.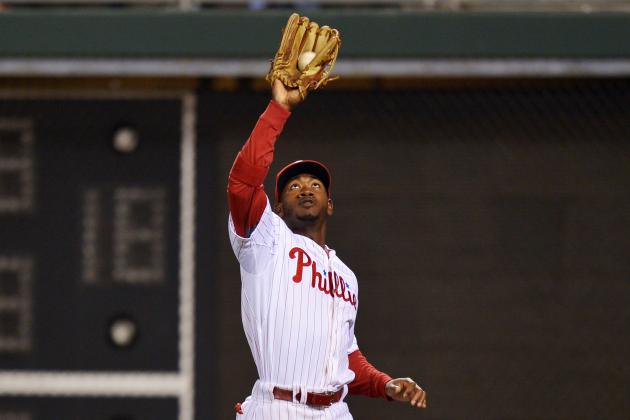 Drew Hallowell/Getty Images

At this time of year, the trade market is always flush with teams putting their superstars on the trading block to see if there is a general manager out there that is dumb enough to pull the trigger on a huge deal for him.
The Phillies need help in a lot of different areas, and I'm sure they would love to be able to acquire some affordable talent in an area where the free-agent market isn't very deep (like third base), but they won't trade Domonic Brown to do it.
His name seems to come up in every big deal in recent seasons, but the fact of the matter is that Brown still has a ton of potential and this Phillies team is better off with his bat in the lineup.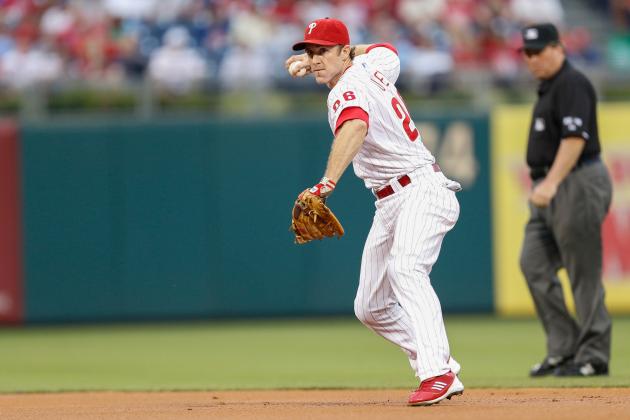 Brian Garfinkel/Getty Images

Chase Utley is not moving to third base.
This is coming from someone who thought it would be beneficial to both he and the Phillies to at least give it a shot at the end of last season, but it never happened.
Fast forward a couple of months and a few things remain the same: The Phillies still need a third baseman and Utley is still not going to play third base next season.
If worst comes to worst, that man would be Freddy Galvis, but I expect the Phillies to pursue a new name to man the hot corner in 2013, because...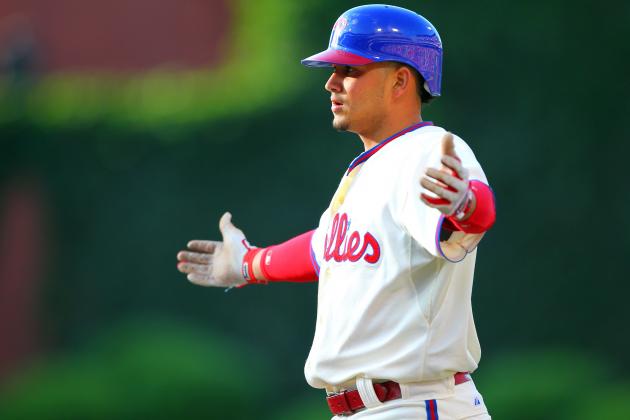 Rich Schultz/Getty Images

Just because guys like Freddy Galvis and Kevin Frandsen are currently penciled in to play third base for the Phillies in 2013, doesn't mean that they will. There are obvious concerns with each of those players.
Frandsen is the easy one. The short story is that you don't make decisions about the future based on a 210 plate-appearance sample size (and the same could be said for Galvis and his 200 plate appearances).
Frandsen did a solid job for the Phillies at the end of last season, but he was hitting way over his head (.366 BABIP in 2012 versus a .284 career BABIP) and has played 104 career games at third base. He has no power and if he isn't at least as "lucky" at the plate in 2013, won't solve the Phillies' offensive problems.
If I had to pick a third baseman from these two names, I'd be more inclined to choose Galvis because he has more upside at the plate and is easily the better defender.
But again, neither of these options is exactly awe inspiring. I think the Phillies will look for help from outside of the organization, either in a trade or on the free-agent market.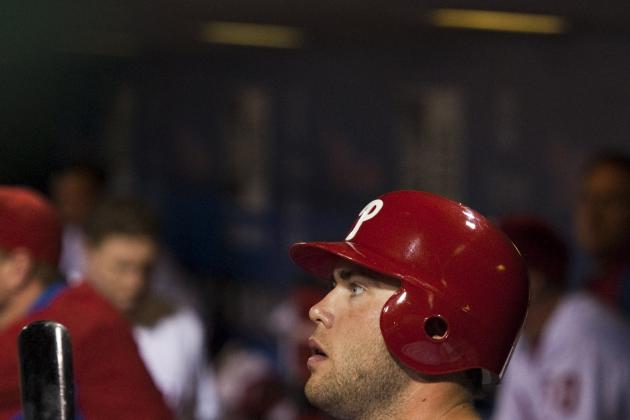 Howard Smith-US PRESSWIRE

If the Phillies pursue a corner outfielder, it will be because they feel as though the target helps them offensively. Right now, I don't even think that pursuing a corner outfielder is a necessary endeavor.
Assuming that the Phillies can fill their voids at third base and in center field, they have some affordable options capable of playing left field and helping out offensively.
The obvious name is Darin Ruf. Even if Ruf can't handle the strain of playing left field every day, he has mashed left-handed pitching throughout his minor league career and hasn't exactly been too shabby against right-handed pitchers lately either.
If a platoon is necessary, Nate Schierholtz would make a good partner. He is a good defender that has handled right-handed pitching well over the course of his career.
Of course, another option is John Mayberry Jr., who just can't seem to live up to his potential, but has always hit lefties well.
The bottom line is this: The Phillies don't have to spend money on a corner outfielder. They have options.