3 Reasons the Dallas Mavericks Will Have an Uphill Battle Without Dirk Nowitzki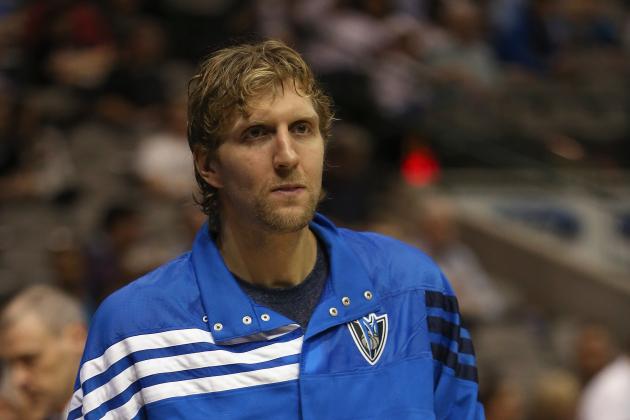 Ronald Martinez/Getty Images
The Dallas Mavericks are 3-1 early on in the season, but they will certainly miss Dirk Nowitzki as time goes on.
For the Dallas Mavericks, there is no doubt that Dirk Nowitzki is an invaluable commodity. Considering his talent and ability, the Mavericks were disappointed to find out that their 7" scoring machine would be unavailable for at least the first few weeks following offseason knee surgery.
Surprisingly, however, the Mavs have looked solid without him. After a shocking upset opening night against the Los Angeles Lakers, the Dirk-less Dallas Mavericks are quietly 3-1 and have beat their last two opponents by double digit margins. They are also a game behind the San Antonio Spurs for the lead in the Southwest Division.
Sure, in the short term, the Mavs can get away with not having Dirk in the line-up, but, as time goes on, there is no doubt the Mavs will miss having their ultra-talented German sharpshooter on the floor.
Here are three reasons why the Mavericks will have a tough test ahead of them in Dirk's absence.
Begin Slideshow

»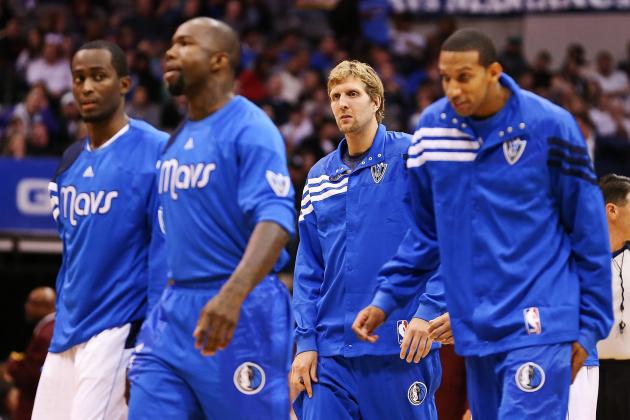 Kevin Jairaj-US PRESSWIRE

In basketball, chemistry is everything. When you adjust lineups due to injuries or extraneous reasons, players have to adapt to the change.
Sometimes, especially for players who love to shoot the ball, certain guys will flourish in a particular player's absence. In this Dirk-less Mavs' offense, we're seeing the same exact phenomena from the Mavericks' starters.
OJ Mayo, the former Memphis Grizzlies combo guard, has had back-to-back 30-point scoring affairs—both of which he shot above 50 percent.
Coming off the bench, former All-Star center Chris Kaman had 18 points and only missed one of his nine field goal attempts in the Mavericks' game against the Charlotte Bobcats. He also shot 80 percent in a recent win against the Portland Blazers—a game in which he scored 16 points and snagged six boards.
Starting point guard Darren Collison has looked incredibly solid—he is currently averaging about 17 points and nine assists per game.
However, a disappointing tendency early on, as far as starters go, is Elton Brand. He's only averaging about five points and five rebounds per game.
Against the Utah Jazz, (the Mavs' only loss so far this season) the Mavericks' starters were dominated on the boards. Jazz starting big men Al Jefferson and Paul Millsap combined for 29 boards—as much as the Dallas starters rebounded in total. Overall that game, the Mavs were out-rebounded by a margin of 21—a very significant difference.
Because Brand is not necessarily making a huge impact on the boards or scoring-wise, the Mavs certainly want him to step it up. Although it should be noted that the past two games (Mavs beat the Bobcats and Portland Trailblazers) head coach Rick Carlisle has split the minutes between Elton Brand and Chris Kaman.
Assuming the current production continues from both of them, we might see Brand's minutes reduced in favor of Kaman when Dirk comes back. Either way, the Mavs still have another dependable big man—starting center Brandan Wright. Brandan Wright's12 points per game and five boards are great numbers among the Mavericks' pool of big men.
There is no doubt that the Mavs are doing quite well as a team adapting to the change in chemistry, but if injuries begin to take a toll, they might miss Dirk even more.
Unfortunately, for their sake, the Mavericks will have to adapt to yet another absence in their starting line-up. Starting small forward Shawn Marion will be out for about at least the next couple of games due to a knee sprain he sustained in the Mavs recent game against the Blazers.
While Marion was healthy, he was averaging a solid eight points and nine boards per game—solid output from the three spot. So far, the overall supporting cast is adapting well, but only time will tell if they can sustain this collective success without Dirk.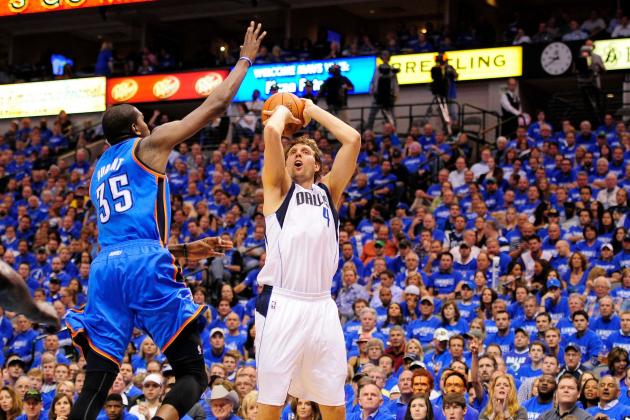 Jerome Miron-US PRESSWIRE

There is no question that Dirk's biggest impact on the court is his ability to score the basketball. Over his career, Dirk has averaged around 23 points per game, and the Mavs will surely welcome his scoring prowess when he returns.
Thanks to his 7" frame and high-arcing jumpshot, he is an extremely tough guard for most opposing forwards or centers assigned to stop him in the post. Also, throughout his career, Dirk shoots over 38 percent from three-point range—a phenomenal percentage considering his size.
Although the Mavs are currently the third best offensive team in the league without him, their high-powered offense will be much more lethal when he returns. Sure, the team is doing fine right now, but it remains to be seen if the entire lineup can continue to roll the way they have in terms of offense.
With Dirk on the floor again, the Mavs would have confidence that they can get consistent scoring on any given night.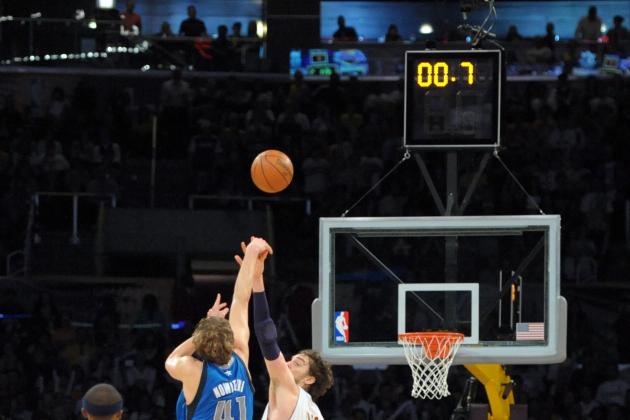 Kirby Lee-US PRESSWIRE

Besides all that Dirk brings scoring throughout the game, he is often most heralded for being a clutch performer. According to a list compiled by 82games.com, Dirk was among the top 20 highest scorers in the clutch during the 2011-2012 NBA season.
According to 82games.com, their stat considers "clutch time" to be "4th quarter or overtime, less than 5 minutes left and neither team ahead by more than 5 points". During this time frame within a game, Dirk averages about 30 points per 48 minutes of clutch time.
Another clutch list compiled by libertyballers.com determined that since the year 2000, Dirk has the highest field goal percentage among some of the game's greatest elite scorers (LeBron James, Kobe Bryant, Vince Carter and Tracy McGrady are just a few from the list) of this past decade.
In the final minute of games where their teams were down or tied, Dirk's 44 percent shooting percentage in the final minute was the highest on the list. Among active players, Dirk also has the third most game-winning shots (he has 25 of them)—only Kobe Bryant and Vince Carter have more.
Considering Dirk's outstanding ability to get off his own shot and his ability to shoot from anywhere on the floor, he is a nightmare for opposing defenses in plays drawn up in the clutch.
Another interesting thing to consider is how many more big shots Dirk will get now that former Dallas Mavericks' guard Jason Terry is no longer with the team.
In the same aforementioned 82games.com list, Terry was actually ranked higher than Dirk as far as clutchness is concerned. Terry had a higher shooting percentage, (45 percent as opposed to Dirk's 38 percent) and he also averaged about four more points than Dirk (43 as opposed to Dirks 39).
Now in Terry's absence, it will be interesting to see how many more opportunities Dirk is going to get when it matters most.
Although a lot of the Mavs recent wins haven't exactly come all the way down to the wire, there is no question they'll be a lot more comfortable having Dirk shoot the ball in do-or-die situations than anyone else on the roster.