NASCAR: The Top 5 Scenarios for the Final Two Chase Races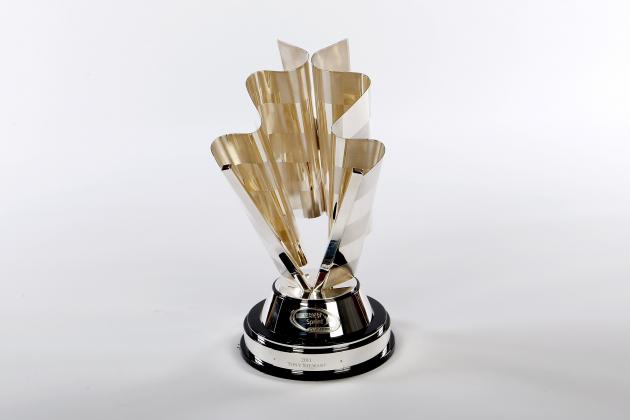 Chris Graythen/Getty Images
This is the big and final prize, but there are still races left to win.
Two races remain in the 2012 NASCAR Sprint Cup season, this Sunday at Phoenix and the season finale on Nov. 18 at Homestead.

It's the time of the season where anything can happen—and oftentimes does.
Not only is there the battle going on between Jimmie Johnson and Brad Keselowski for the championship, the last two races offer a platform for momentum building for next year if a non-Chase driver wins (much like Kasey Kahne in last year's fall race at Phoenix).

Trying to analyze the last two races is almost as much of a chore as a driver winning one or both of them.

So without further adieu, here's the five top scenarios that we envision on how the last two races stack up.

Follow me on Twitter @JerryBonkowski
Begin Slideshow

»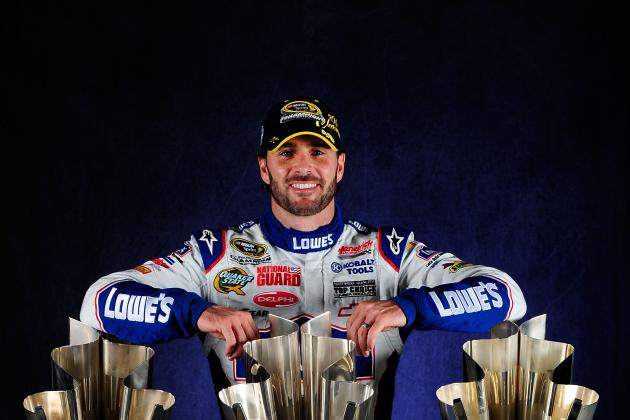 Rusty Jarrett/Getty Images
There's room up front for a sixth championship trophy for Johnson.
While his seven-point edge over Brad Keselowski is nowhere near comfortable, remember that this is Jimmie "Five-time" Johnson, the same guy who wants to change that dreaded nickname to something better.

Like, say, "Six-time."

Having won the last two races, Martinsville and Texas, Johnson is obviously the hottest driver going right now. If he can win at Phoenix, he'll gain at least a few more points on Keselowski (depending on where he finishes, of course), and could potentially go into Homestead in much the same fashion as he did in several of his previous championships: just having to coast through the final race to lock up the title.

This is a very dangerous time for every other driver, because a hot Johnson is the worst Johnson to have around. When he's on top of his game, as he's been the last couple of weeks, he's virtually unstoppable and unbeatable.

While we're not ready to discount Keselowski, you have to admit, the odds do somewhat seem to be pointing towards Johnson winning a sixth title.

The key is how he does at Phoenix. Anything less than a win for Johnson and Keselowski has a fighting chance heading into Homestead.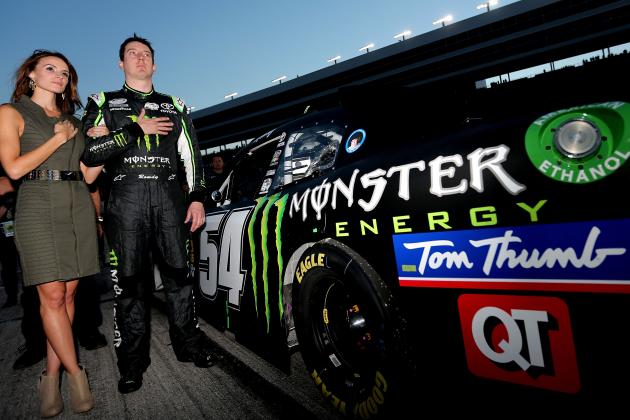 Tom Pennington/Getty Images
Kyle Busch could have some monster wins in the last two races.
This definitely has not been a Kyle Busch-type season. He has won just one race and failed to make the Chase. He's been almost a non-factor in most races.

But if you haven't noticed, the younger Busch brother has recorded four Top 5 finishes in the last five races.

He's as close to another win as he has been all season, and both Phoenix and Homestead provide opportunities for him to do so (we're giving a slight edge to him to win at Phoenix).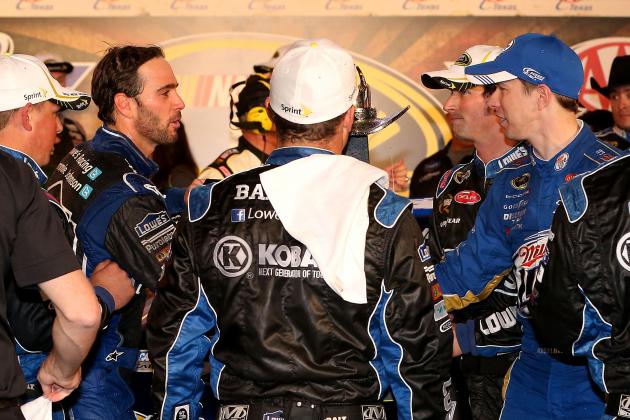 Tom Pennington/Getty Images
Let's get ready to rumble, gentlemen!
One of the top scenarios we can definitely envision is Brad Keselowski winning the Cup championship at Homestead. Some might say he'll steal it away, but no matter how you say it, Keselowski has a great chance of depriving Jimmie Johnson from his sixth career Cup crown.

But there's a big "if" in the way—if Keselowski can get through Phoenix and not lose any ground to Johnson. Better yet, if Keselowski can cut off a few points from the current seven-point margin between Johnson and himself, all the better.

If the Polish Rocket can go into Homestead within five or less points of Johnson, he has a great chance to be the third champion in as many years who came into Homestead in second place in the standings, only to leave there a few hours later as the season champ.

Tony Stewart was second to Carl Edwards heading into Homestead last year and won the crown (albeit by tiebreaker, having more overall wins in the season than Edwards).
In 2010, Johnson went into Homestead ranked second to Denny Hamlin, 33 points behind, but still managed to eek out a come-from-behind championship run.

Don't forget, too, that was under a different points structure than the one we have today.
With the new points system that was instituted last season, Keselowski is fairly safe if he can go into Homestead with less than 10 points separating him and Johnson.

But if Keselowski has a bad race at Phoenix, it'll be next to impossible to catch Johnson at Homestead unless the five-time champ suffers mechanical failure or gets wrecked—neither of which he suffered en route to any of his previous five straight title runs.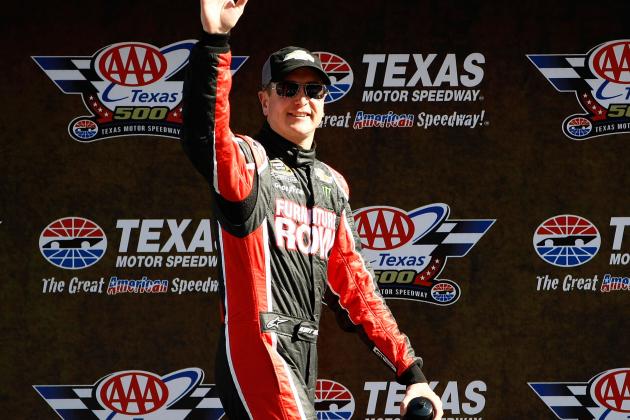 Jonathan Ferrey/Getty Images
Don't be surprised if Kurt Busch wins one of the last two races.
While we won't be surprised if guys like Kyle Busch or last year's Phoenix winner, Kasey Kahne, win this Sunday at Phoenix or in the season finale at Homestead, there is a caveat.

For some reason, the last two races typically see outstanding performances from drivers who have either missed the Chase that season (like Kahne at Phoenix) or have surprisingly strong performances to hopefully gain some momentum going into the offseason.

We're going to throw out five names of drivers we feel could have strong surprise finishes— including the potential of a win—at both Phoenix and Homestead.

First is Kevin Harvick. Sure, even though he made this year's Chase, he's hardly been heard from. He has a great overall record at Phoenix and it would be a great way to soften some of the disappointment he's had in the Chase thus far.

As for others, keep your eyes on Joey Logano, who will be making his final two starts for Joe Gibbs Racing before moving to Penske Racing next season. Also watch Regan Smith, Marcos Ambrose and a real dark horse—but someone who has some outstanding horses under his hood in his new ride at Furniture Row Racing—in Kurt Busch.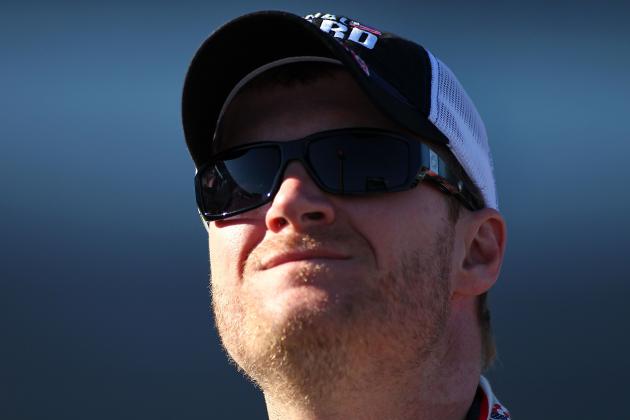 Jonathan Ferrey/Getty Images
Is Junior looking at the sun or for help from a higher power?
Given the great season he had up to the start of the Chase, and then the debacle that has been the Chase—including missing two races due to post-concussion symptoms—it would be a huge boost for both Dale Earnhardt Jr. and his team if they manage to pull off another win this season.

If the No. 88 is to reach victory lane, it's more likely to be at Phoenix this weekend, a place that Junior has had some decent success over the years—particularly earlier in his Cup career.

Homestead is not one of Earnhardt's best tracks, so a win or even a top five at PIR would be a huge boost to a team that has seen some big highs and some rather deep lows thus far in 2012.

What better way to kick off 2013 right than to end 2012 on a high note, correct?

And, hasn't the guy suffered enough already in the Chase?
He needs some good news and good luck.