For the first six or seven weeks of 2012, it appeared Robert Griffin III was a lock to capture the NFL's Offensive Rookie of the Year award. After all, the No. 2 overall pick out of Baylor was at or near the top of the league in nearly every major passing category and was a top-10 rusher in the NFC.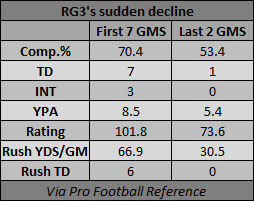 But things have changed dramatically the last two weeks for the
Washington Redskins
' franchise quarterback. From a passer-rating perspective, he's played his two worst games thus far in back-to-back weeks, and he hasn't been able to make plays with his legs either.
You could argue that he's faced two pretty good defenses and that, with the Redskins depleted on both sides of the ball, he isn't exactly getting a ton of support. But Andrew Luck has dealt with similar challenges in Indianapolis, yet the No. 1 overall pick out of Stanford is quickly becoming one of the league's most dangerous quarterbacks.
In stark contrast, the last two games Luck has played have arguably been the best of his career thus far.
Here's the suddenly close comparison:

Some will want to dismiss them, but wins and losses matter to lots of dinosaurs who believe that quarterbacks deserve credit for the former and blame for the latter. Luck is winning games, and Griffin isn't. That's the primary reason why the
Colts
quarterback has a legitimate chance to steal Rookie of the Year honors despite trailing RG3 in seven of the other nine categories listed in the above comparison.
The point is that it's now at least a race with more than one competitor. And Luck, not Griffin, possesses the momentum.
Who's the offensive rookie of the year right now?
However, if you want to take things a step further, there's a possibility that No. 31 overall pick Doug Martin emerges to steal the damn thing from both blue-chip quarterbacks. The
Tampa Bay Buccaneers
' new franchise running back has a ridiculous 386 rushing yards in his last two games and is now averaging more yards per game than every back in the league except
Adrian Peterson
.
At this point, I still give the edge to Griffin, because I'm considering what he's done as a runner and the overall statistical edge he has over Luck. I also believe it's tougher for rookie quarterbacks to shine consistently than it is for first-year running backs.
Still, it's going to be interesting to see if RG3 can hang on during the second half of the season. Like his team, Griffin is sliding quickly. Is he good enough already to regain his footing, or did he peak early in his rookie season?