Steelers vs. Giants: Impressive Pittsburgh Win Makes Giants Look Small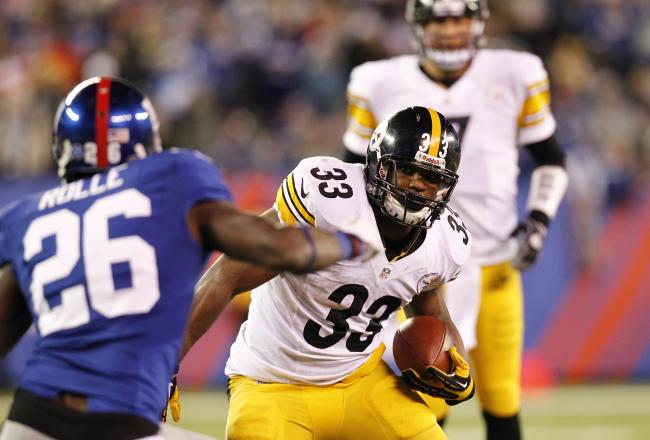 Next-man-up seems to work just fine for the Steelers run game now; Isaac Redman had 147 yards and a score in his return from an ankle injury.
Jeff Zelevansky/Getty Images
It was an imperfect and dominant win for the Pittsburgh Steelers over the New York Giants on Sunday, toppling the defending Super Bowl champion, 24-20, in a game in which only the score was close.
The Steelers put up 349 yards of total offense to New York's 182, had 35:15 of time of possession as compared to 24:45 for New York and converted six of 13 third downs to 2-for-10 for the Giants.
But mistakes and controversial officiating decisions helped the Giants stay in a game they otherwise statistically weren't. In one drive alone, the Steelers had a questionable defensive pass interference called against cornerback Keenan Lewis as well as a personal foul helmet-to-helmet flag thrown on safety Ryan Clark, though the replay clearly showed a shoulder-to-ribs hit on Giants receiver Victor Cruz. The latter provided the Giants with a fresh set of downs that resulted in a (not necessarily unquestionable) short touchdown run by Andre Brown.
This is what passed as a personal foul penalty on Sunday.
The Star-Ledger-US PRESSWIRE
In the drive immediately following, Steelers quarterback Ben Roethlisberger fumbled the ball (again, not necessarily unquestionably), which was returned for a touchdown by Michael Boley, and the Steelers found themselves down, 14-7—then 14-10 at halftime.
The second half wasn't so fraught with error and penalties. Pittsburgh's defense stiffened, and the result was a mere 68 total rushing yards for New York, 125 yards and an interception for Eli Manning and that single offensive touchdown. Lawrence Timmons and LaMarr Woodley sacked the hard-to-get-to Manning once each.
It was better for the offense, as well. For the third straight week, the Steelers run game was strong. On 26 carries, Isaac Redman, back in the game after two weeks with Jonathan Dwyer at starter, contributed 147 of Pittsburgh's total 158 rush yards.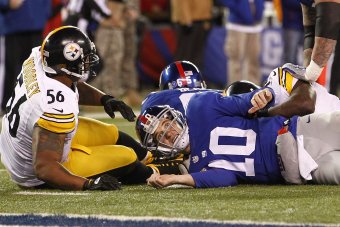 The hard-to-hit Manning was sacked twice.
Jeff Zelevansky/Getty Images
Though Roethlisberger had that fumble and an interception, he also went 21-of-30 for 216 yards and two scores and could have potentially run in a touchdown if Mike Tomlin elected for a quarterback sneak instead of a field goal fake on 4th-and-1 in the fourth quarter.
With another week of good running, it's clear Pittsburgh's offensive line has come together as a solid group of run blockers. Redman averaged 5.7 yards per carry—after two five-plus per-run averages for Dwyer in the previous two games—and scored the game-winning touchdown with just over four minutes remaining.
Though passing didn't always come easily for Roethlisberger, considering he was sacked four times this week—the most he's been taken down since Week 1—he still connected with his receivers when it mattered. In the first quarter, he threw a four-yard touchdown pass to Emmanuel Sanders, putting up the first points of the game, and in the fourth, Mike Wallace took off for a 51-yard catch-and-run that helped close the gap against the Giants and set up Redman's later score.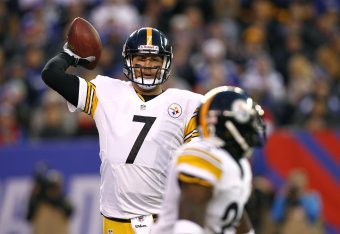 Roethlisberger wasn't perfect, but his two touchdown passes were invaluable.
Jeff Zelevansky/Getty Images
Though the Giants and Steelers aren't in the same conference, this game had a particularly "playoffs" feel to it. There was the sense that this mattered more to each team than a typical Week 9 interconference clash generally would. The Giants needed to prove they are an even better version of the team that won the Super Bowl last year, and defeating a team of the Steelers' caliber would only advance the narrative, while the Steelers sought a return to the discussion when it comes to the AFC's best, upward-trending squads.
The Steelers are but one game behind the current AFC North leaders, the Baltimore Ravens, whom they're set to face twice over the next four weeks. With the Cleveland Browns basically out of the race and the Cincinnati Bengals losing their fourth straight, the Steelers cannot have many more losses if they hope to reach the playoffs, let alone take the division.
Statement wins like these go a long way in terms of momentum, morale and reputation as the tough second-half stretch gets into full swing. Everyone wondered if the Steelers could possibly be a playoff team this year, and a road win like this against the Giants, mistakes and all, absolutely shows that this team still has what it takes down the stretch.
This article is
What is the duplicate article?
Why is this article offensive?
Where is this article plagiarized from?
Why is this article poorly edited?