6 Keys to Terry Francona's First Season with the Cleveland Indians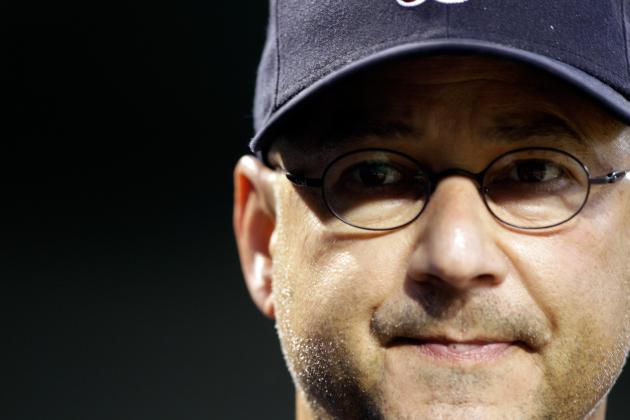 Rob Carr/Getty Images

Terry Francona will take over the managerial position for the Cleveland Indians in 2013 after spending one seasons as an analyst for ESPN in 2012. The two-time World Series champion manager of the Boston Red Sox has the credentials, but is there more to success in Cleveland than a resume?
After going 68-94 and finishing 20 games back of the AL Central champion Detroit Tigers, there may be a learning curve and patience needed, not only by Francona, but the fans of the Tribe.
Francona has the accolades to bring immediate excitement to Cleveland, but his 12-year managerial career isn't filled with fairytale endings. In four seasons in Philadelphia, the Phillies were just 285-363 (.440), falling short of the playoffs and a winning record over his time in "The City of Brotherly Love." The Boston Red Sox missed the playoffs in three of Francona's eight seasons, although his teams never won fewer than 86 games in a season, averaging 93 wins per season.
However, Francona does not have the massive payrolls or the talent in Cleveland that he had in Boston. He does not have the large, passionate fanbase that comes along with Philadelphia. The Cleveland Indians drew just over 1.6 million fans over 81 home games in 2012, 13th out of 14 American League teams, while their payroll was 10th in the AL ($78,430,300).
How can "Tito" thrive in his first season in Cleveland? Can he overcome the failures and collapses that have occurred in the second half the last two seasons?
Here you'll find several keys to Terry Francona's first season in Cleveland.
Begin Slideshow

»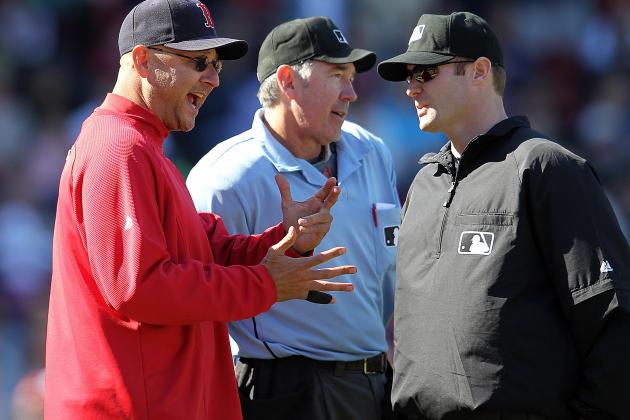 Jim Rogash/Getty Images

On August 27, 2011, the Boston Red Sox swept a doubleheader from the Oakland A's at Fenway Park. Upon completion of those two games, the Red Sox were in first place, leading the AL East by two games with an 82-51 record.
Then...history happened. The Red Sox finished 8-21, finishing seven games out in third place in the AL East. A collapse for the ages, or just another season for the Cleveland Indians?
On May 23, 2011, the Tribe led the AL Central by seven games, sitting at 30-15 early in the season. Even at the All Star break, the Indians were just 0.5 games back of Detroit with a 47-42 record. However, after having their big, seven-game lead in late May and being within striking distance heading into the second half, Cleveland finished 80-82, 15 games back of the Tigers.
While the Indians' largest lead in 2012 was just four games (May 17) in 2012, they held the lead much later, losing first place for the last time on June 23. At 37-33, the Indians took a terrible turn, going just 31-61 (.337) from that point on, including an 18-44 record from August 1 through the end of the season.
Whether the Indians' issue is conditioning, depth, motivation or expectations, Terry Francona's first, clear task is to change the culture of a team and a fanbase, moving the Tribe forward as a team that contend over an entire season.
However, is that possible?
After watching his own, more talented team collapse and cost him his job in Boston in 2011, that is a reasonable question that Francona needs to answer. He can only answer that by helping keep the Indians in contention for the entire 2013 season.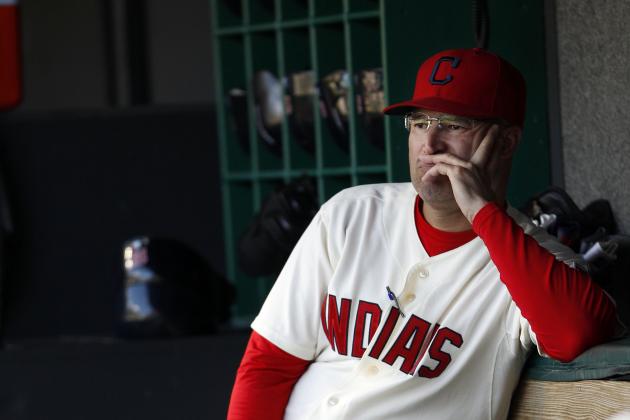 David Maxwell/Getty Images

Manny Acta seems like a nice guy. He had a nice relationship with his players, he is well-respected around the league due to his time in the Dominican Winter League and he deserved to have the opportunity to manage, although he is just 43 years old.
However, the picture above is a perfect example of why the Indians had a collapse last season. Were there any closed-door meetings that we don't know about? Maybe, but something was lacking in leadership and tenacity which allowed such an atrocious collapse.
Besides the hip glasses and chilled appearance, could Francona also present the same lack of leadership and fire that didn't ask for more from his struggling team? Could he sit on the bench and not step on the field to show that he doesn't agree with a call?
The Cleveland Indians of the last two seasons needed a fire lit under them to continue to matter throughout the entire season, avoiding the lethargic nature that led to their collapses.
Francona needs to be that support, that fire and that motivator that the team so desperately needed.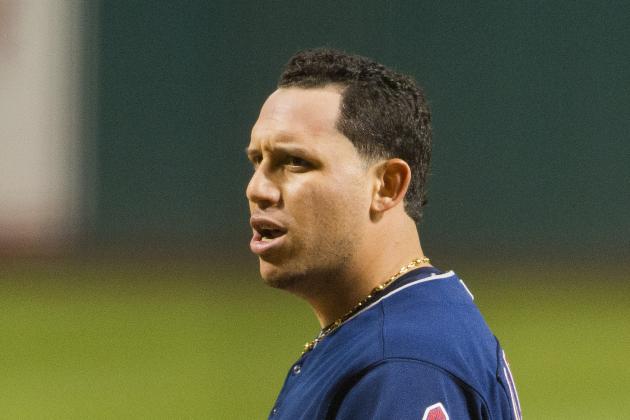 Jason Miller/Getty Images

The last couple of seasons, the players that the Indians count on the most have not come up with what the club has needed.
Asdrubal Cabrera has faltered the last two seasons late in the year:
2011 First Half: .293/.347/.489, 22 doubles, 14 home runs and 51 RBI
2011 Second Half: .244/.310/.419, 10 doubles, 11 home runs and 41 RBI
2012 First Half: .286/.364/.467, 20 doubles, 11 home runs and 42 RBI
2012 Second Half: .251/.305/.371, 15 doubles, five home runs and 26 RBI
Carlos Santana was supposed to take a huge step forward in 2012:
2012 First Half: .221/.339/.336, 13 doubles, five home runs and 30 RBI
2012 Second Half: .281/.389/.498, 14 doubles, 13 home runs and 46 RBI
Jason Kipnis was an All-Star snub turned average player in 2012:
2012 First Half: .277/.345/.419, eight doubles, 11 home runs, 20 stolen bases and 49 RBI
2012 Second Half: .233/.322/.328, 14 doubles, three home runs, 11 stolen bases and 27 RBI
So, if the core of your franchise is unable to be consistent all at the same time or over an entire season, can the team ever get or stay hot for an extended period of time? If Cabrera, Santana and Kipnis are the stars or the future of the current roster, Francona has to demand more consistency, better conditioning and attainable expectations for the faces of the franchise.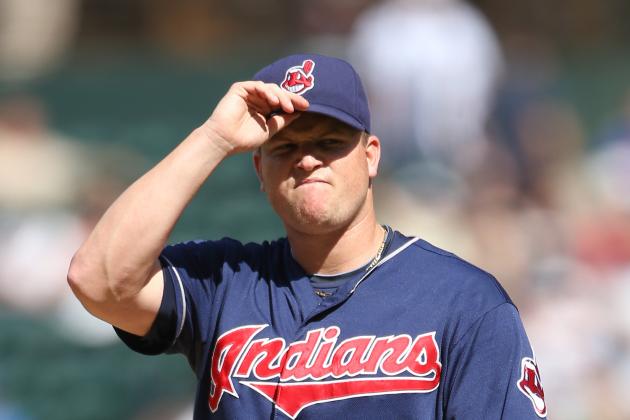 Otto Greule Jr/Getty Images

In 2012, the Cleveland Indians' bullpen was not very good. The Tribe 'pen ranked 13th in the American League with a 3.99 ERA, but that is a bit misleading. The core of the bullpen was pretty dominant in 2012, but the rest of the group was a nightmare.
The four major right-handers (Chris Perez, Vinnie Pestano, Joe Smith and Esmil Rogers) combined for a 3.02 ERA over 247.2 innings. The rest of the bullpen posted a 4.84 ERA over 280.2 innings.
With the trade of Rogers to the Toronto Blue Jays for Mike Aviles and Yan Gomes, Terry Francona loses a weapon that was very productive upon his acquisition from Colorado, weakening a group that was very weak to begin with.
When Indians' general manager Chris Antonetti did little more than acquire Brent Lillibridge at the trade deadline in 2012, Manny Acta was forced to roll the dice with the players that he had. Clearly, that did not work out very well.
With a cash-strapped group in management and an owner who is unwilling to spend, Terry Francona will have to develop and work with a group who showed themselves as being incapable of being described as reliable.
With the added offensive depth that was acquired in Aviles and Gomes, Francona already has better than the Aaron Cunningham-type depth that Acta was stuck with, but he'll have to manipulate whatever he is given when the Tribe breaks camp in the spring because the majority of the world knows that Indian ownership won't help the team out much at the trade deadline.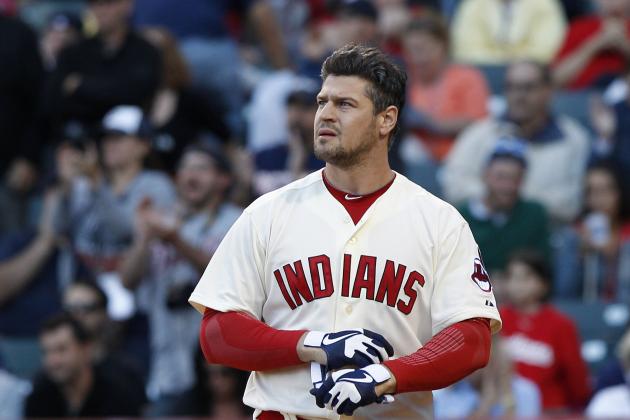 David Maxwell/Getty Images

After being selected with the seventh overall pick in the 2007 MLB Draft, Matt LaPorta reported to the Milwaukee Brewers minor league affiliates and started his career. LaPorta hit .293 with 32 home runs and 97 RBI in his first 417 at-bats in the Brewers system...
...then he was acquired by the Cleveland Indians in the deal that sent C.C. Sabathia to Milwaukee.
LaPorta has been a major disappointment as the centerpiece to the blockbuster, hitting .285 with 44 home runs and 149 RBI in 851 at-bats in the Indians' minor league system, but just .238/.301/.393 with 31 home runs and 120 RBI in 967 at-bats in Cleveland.
LaPorta is out of options and he will either be on the Tribe Opening Day roster or he will be playing elsewhere in 2013. While LaPorta, who will be 28 years old in January, could be a lost cause, can Terry Francona change the players that he is managing, helping them develop into the players that they are supposed to be?
Working closely with his hitting and pitching coaches, Francona needs to get something out of everyone, utilizing the strengths of each player, even if that means benching Shin-Soo Choo against left-handed pitchers in 2013. Francona needs to do more than fill out a lineup, impacting his roster in each of the Indians' 162-games and guiding his 25-man roster to become better together.
LaPorta is one example, but Ubaldo Jimenez, Justin Masterson and Lonnie Chisenhall each need to reach high levels of achievement for the Indians to be taken seriously for more than just the first half of 2013.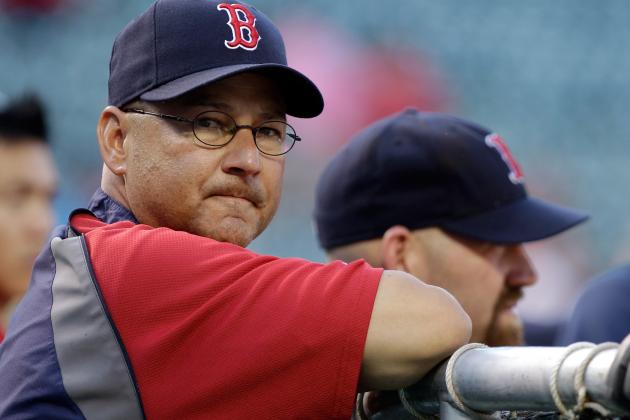 Rob Carr/Getty Images

When the Cleveland Indians refused to extend Josh Willingham a third year on a contract last offseason, the club sat back and eventually signed Johnny Damon well into spring training. Damon went on to hit .221/.281/.329 with four home runs and 19 RBI over 207 at-bats before being released on August 9 after earning $1.25 million. Willingham went on to hit .260/.366/.524 with 35 home runs and 110 RBI in 519 at-bats for Minnesota, who paid him an average salary of $7 million per year for three years to smack the ball around Target Field.
When you consider that Damon earned $1.25 million to be so awful, and that the Indians invested in Casey Kotchman at $3 million for one year, you have to wonder why an additional year, for the type of production they missed out on, was not given.
To become a contending team, you have to show the willingness to change, mixing up your roster and improving in areas of weakness from year-to-year. The Indians needed a left fielder all offseason and it was not addressed. Grady Sizemore was out for the year before spring training started, but why were they counting on him after the several years full of injuries prior to the 2012 season? Matt LaPorta had been shaky enough to warrant the investment of a fall-back option.
The signing of Damon was out of desperation, nothing more. The team was not going to add any additional season tickets when they signed a 38-year-old who played all of 84 innings in the outfield in 2011, but was thrust into the everyday left field role in Cleveland.
Terry Francona has the resume to demand more out of the Dolan family and Chris Antonetti. If Francona feels like the club needs something as the deadline approaches, he should expect it. The Indians need to become either buyers or sellers, not pathetic sit-back-and-watchers like they were at the 2012 deadline, which was absolutely unacceptable.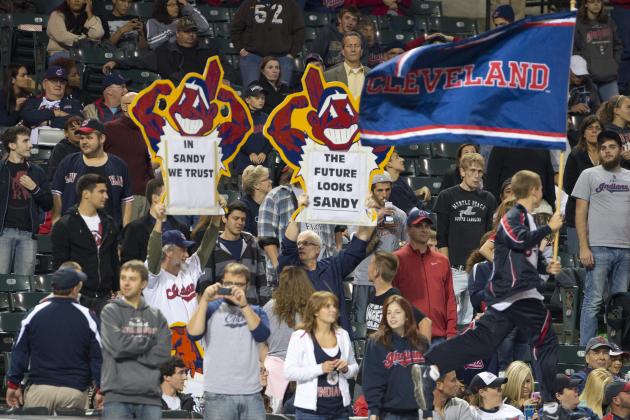 Jason Miller/Getty Images

Sandy Alomar, Jr. is a beloved figure in Cleveland, having caught for 11 years for the Tribe. He was the bench coach for Manny Acta and took over for Acta when he was fired late in the 2012 season, finishing the season as the interim manager.
For many fans, he was the perfect choice to become the manager in the 2013 season; however, ownership and management, once again, didn't meet the demands of the fans in Cleveland, hiring Terry Francona instead.
Francona has experience as a player but, most importantly, as a manager. He brings a solid track record (if you only consider his time in Boston), and his father, Tito, who played six seasons for the Indians, was a big influence on Terry landing in Cleveland.
With all of that being said, Francona's back is already against a wall. He inherits a terrible team with a major lack of leadership. He inherits a roster who, specifically with Chris Perez, was unwilling to hold their tongues with their frustrations with ownership in 2012. He has a fanbase that is lukewarm to his hiring and who finished 13th in the American League in attendance in 2012.
Francona needs to show fire, be very demanding, and totally unforgiving to lackluster play to be successful. Due to the collapse of the 2011 Boston Red Sox, you have to wonder if Francona was the right hire for this club. He has to really step up his personality to make sure that he proves that his managerial skills were the reason that the Red Sox were successful, and not the talent around him.
Which leads to another question: how important is a manager in baseball? Francona can answer that in Cleveland in 2013.