New England Patriots: 5 Defensive Backs the Pats Must Scout in 2013 NFL Draft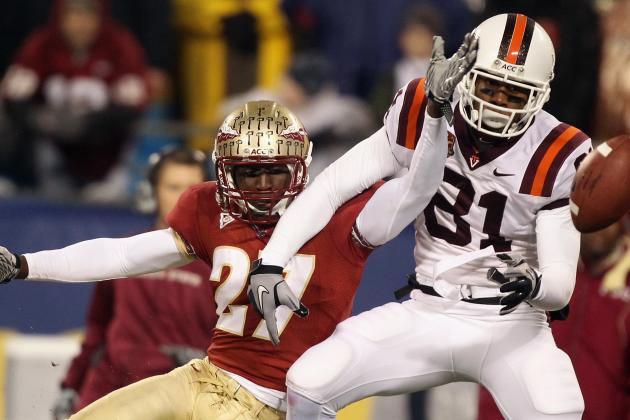 Streeter Lecka/Getty Images
The Pats desperately need guys who put themselves in position to contest the ball.
The New England Patriots began the long march toward a respectable pass defense with their trade deadline acquisition of former Tampa Bay CB Aqib Talib. But a return to the Ty Law and Lawyer Milloy days of yore is a ways off for this Pats secondary. New England still lacks an elite defensive back—especially if Talib departs via free agency this offseason—and there are some viable options available in the 2013 draft.
The Patriots generally employ a base 4-3, Cover 1 man-free or Cover 2 deep zone. They like to play their corners in man coverage on the outsides, with safety support over the top. They're also in sub-packages over half the time on the field, with at least one extra defensive back.
For New England's defensive philosophy to work, they'll need corners who can play shuffle, or press-man, coverage to throw off timing patterns.
With adequate safety help in the deep third, the Pats don't necessarily need top-end burners defending the sidelines. They do need big, physical corners who can gain inside leverage on receivers and won't "open the gate" by turning their hips when they line up in press.
As for the safety position, the Patriots don't typically use the traditional FS/SS split in the deep middle (though I argued in my recent article on the Pats secondary that they should, at least this year). They like to split the field up the middle and give each safety responsibility for their half.
To that end, they'll need two-way players with experience in zone coverage, the instincts to read the QB's eyes and close on the ball and the strength and toughness to play the box and stuff the run.
Let's take a look at five college DBs who can become elite players in New England's system. Keep in mind, these are players who could realistically be available when the Patriots draft. Apologies to Eric Reid and DeMarcus Milliner who should be top-20 picks.
Begin Slideshow

»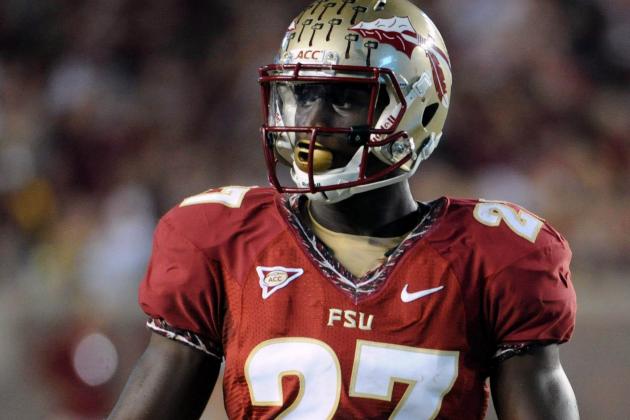 Melina Vastola-US PRESSWIRE
Rhodes is a press-man corner who plays well against the run.
Xavier Rhodes was a reluctant convert from WR to CB in his freshman year at FSU.
Now a redshirt junior, it looks like Rhodes made the right decision in agreeing to switch to defense.
He's one of the top CBs in the 2013 draft discussion and looks to be a late first-round pick. Rhodes is a big (6'1", 217 lb) physical corner who has great ball skills as a former pass-catcher.
He excels in press coverage and uses his long arms to leverage receivers at the line. He keeps his center of gravity low out of his stance and uses leverage to reroute WRs off the snap.
Rhodes enjoyed a breakout freshman year in 2010. He racked up four INTs and 12 pass deflections en route to ACC Defensive Rookie of the Year honors.
His INT numbers since then don't look as sexy, but that's largely a product of opposing QBs being unwilling to test him.
Against the run, Rhodes is a solid tackler, making him the type of two-way DB that Pats coach Bill Belichick loves.
Rhodes looks like a perfect fit for the Pats defensive backfield, and fans of the Flying Elvis should hope that Belichick takes a close look at him prior to the 2013 NFL draft.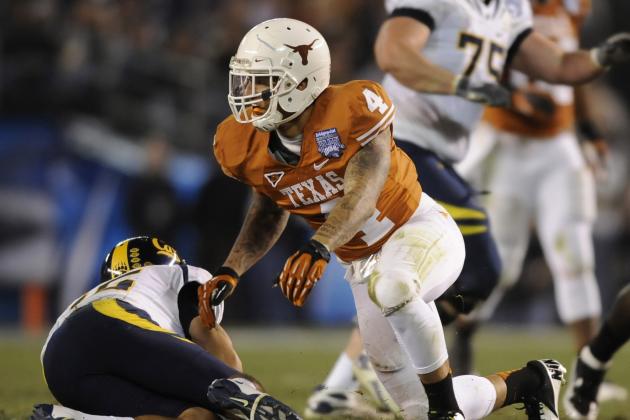 Christopher Hanewinckel-US PRESS
Vaccaro could be a huge boost to the Pats in coverage.
Are you a Pats fan frustrated by your team's safeties constantly demonstrating poor coverage skills and bad instincts? Does it break your heart to watch them make the same mistakes again and again, all the while getting burned repeatedly for huge plays?
Then you just might be rooting for your hometown squad to keep an eye on Texas senior Kenny Vaccaro.
According to ESPN Insider's scouting team, Vaccaro is the kind of safety who can hold down a deep zone or draw toward the line and match up against TEs and slot receivers. The scouting report:
Possesses rare movement skills for the position. He is a quick-twitched athlete that shows good balance and explosive movements. Maintains good leverage in backpedal and can instantly plant and drive. Also is loose in the hips and changes directions instantly. Can flip hips and turn and run with receivers down field. Closes quickly and shows an extra gear which provides him with solid range.
Vaccaro has a rare combination of size (6'0", 210 lbs) and athleticism for an NFL safety. He grades out as an elite prospect in pass coverage, with the ability to mirror receiver routes when matched up in man and the explosiveness to stay with receivers after the release and close in zone coverage.
The Pats desperately need a pure-coverage safety, and even if Vaccaro doesn't start his rookie year, he could come in and instantly make an impact in nickel packages. He'll likely be a mid-to-low first-rounder, so the Pats may need to trade up a few spots to get him.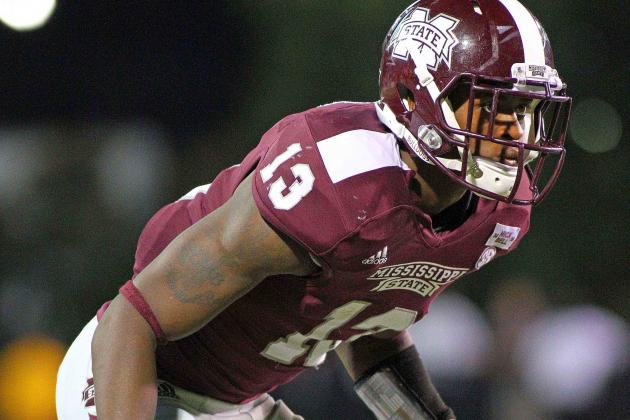 Spruce Derden-US PRESSWIRE
Banks is one of the top CBs in the 2013 class.
Senior Johnthan Banks is a classic Belichick corner.
Like Rhodes, Banks is a physical DB who is at his best in press man. He excels in gaining outside leverage and rerouting receivers into safety support.
Banks is more of a playmaker than Rhodes, with 16 INTs in his collegiate career.
He's got long arms and good hands, and though he struggles against quicker WRs (making him a less-than-ideal option in the slot), he plays well against bigger, more physical pass-catchers.
What makes him a prototypical Pats corner (besides his occasionally annoying tendency to give WRs too big a cushion) is his elite run support and versatility within defensive schemes. As Mel Kiper of ESPN writes:
[Banks] is willing and active in run support. Not afraid to mix it up near the line of scrimmage. Has experience at DS and has worked as an eight defender in the box. Does a better job than most college CBs of finishing tackles. Looks to strip the ball when possible and has flashed effectiveness in that area.
Banks has also demonstrated effectiveness as an edge blitzer, with four sacks in college. That kind of skill set is a defensive coordinator's dream—it allows him to disguise blitzes, drop others into zone coverage and flummox QBs.
Banks is another low first-round pick—he's graded out as the second-best CB in the draft per ESPN. He may be available when the Pats pick, but depending on their finish, they might need to package a low-rounder to trade up a few spots for him.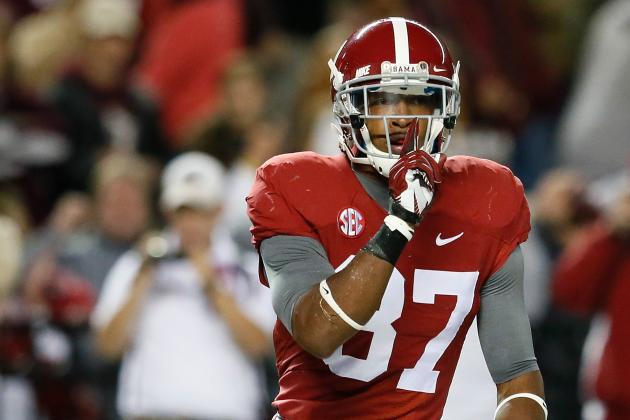 Kevin C. Cox/Getty Images
Lester could be a good replacement for Pat Chung.
Should the Pats lose S Patrick Chung to free agency this offseason, they might be primed for an upgrade through the draft.
Alabama's Robert Lester might just be the perfect player to pair with Devin McCourty (if the Pats' third-year DB sticks at safety).
He's the wood-laying type, a big hitter with sound tackling skills. Lester can play either safety position and is smooth in coverage while taking good angles to the ball.
He's not an elite coverage corner, but he's got better upside in that department than Chung. Lester is also a better ball hawk than the Pats' current safety, with 13 INTs in his college career.
While the Alabama senior lacks the top-end quickness and footwork to stay with slot WRs, he's strong in vertical coverage and given his size (6'2", 210 lbs) he should be an asset covering TEs running up the seam.
In the run game, Lester takes good angles and hits hard, wrapping up well.
If the Patriots wish to find a new partner for McCourty in a traditional FS/SS scheme, Lester might be that man. McCourty can play a center fielder role, and Lester can play the strong position.
Lester could fall into the second round, and he might be a good option for the Pats if they pass on a first-round DB and want a high-ceiling option a little later.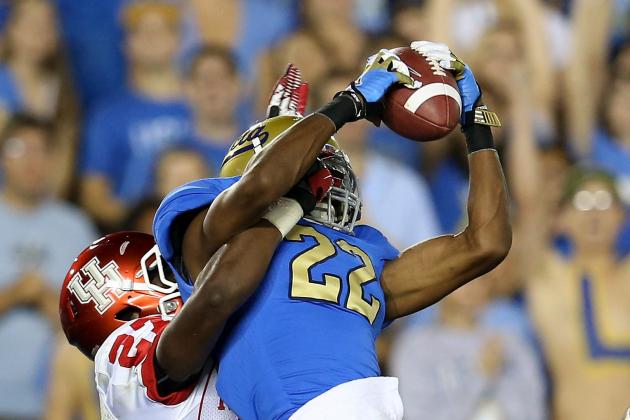 Stephen Dunn/Getty Images
Price might be a steal in the middle rounds.
UCLA senior Sheldon Price doesn't have first-round measurables, and for that, he might be a value pick in the mid-to-high rounds.
Price is one of those cases where a player isn't best evaluated by his combine numbers. He's trim for his size (6'1", 185 lbs), and that tends to make people underrate his physicality. He's deceptively strong in press coverage because he locks his long arms on receivers' pads like a lineman, leveraging and rerouting them.
He also doesn't have an eye-popping 40 yard dash, with a 4.56 40 time (per NFLDraftScout). Still, he plays much faster on the field and can stay with all but the fastest receivers.
Price protects solidly over the top and flips his hips quickly before cleanly turning on the burners. Couple that with his great press technique and he's a potential shutdown man corner.
The other thing that caused college football viewers to underrate Price was his unsexy career INT totals—heading into this year, he had only one INT. Still, he's improved wildly in that department, with four picks on the year. He has the range and the wingspan to make plays on the ball.
Price needs to improve his instincts—like many of the Pats' current DBs, he struggles in getting his head around to make a play on the ball—but he's got a lot of potential.
Price may be available as late as the third round, and that could be a high-yield pick for the Pats. They should be sure to scout Price closely heading into the 2013 draft.