South Carolina Football: 6 Reasons the Gamecocks Are Built for 2013 Success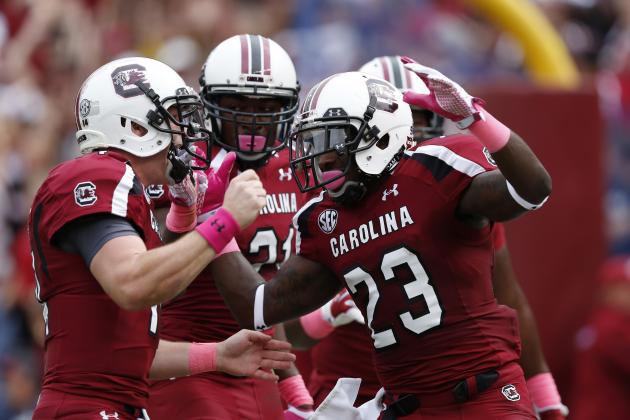 Joe Robbins/Getty Images

The 2012 college football season for the South Carolina Gamecocks has been reminiscent of a six-reel Saturday matinee, with plenty of dramatic ups and downs and a third act still waiting to be spliced in.
Regardless of what the final three games and bowl appearance bring for the Gamecocks, there is plenty to look forward to in 2013.
Marcus Lattimore's horrific knee injury has put his football career on hold until at least the 2014 season, but Steve Spurrier has a plethora of strong recruits to bolster some key positions, mainly on defense.
Not only that, he is going to have key veterans such as Connor Shaw and Jadeveon Clowney returning to provide their leadership to a program that will once again contend for the SEC East Title.
And maybe, just maybe, take the next step in the process to an SEC Championship.
Here are six reasons the Gamecocks are built to be successful in 2013.
Begin Slideshow

»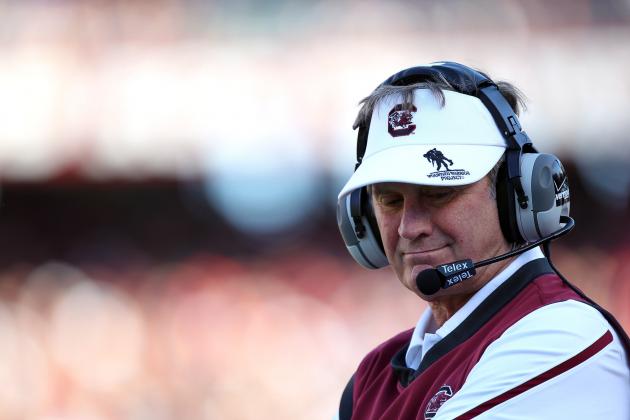 Streeter Lecka/Getty Images

South Carolina's 2013 schedule cannot be overlooked as part of the Gamecocks' potential success next season.
Where the 2012 schedule had South Carolina in a three-game gauntlet with Georgia, LSU, and Florida (who all turned out to be top-10 teams), next season has South Carolina on a three-game road trip to Arkansas, Tennessee, and Missouri in October.
Thus far, those teams are a combined 10-14 this season.
There is also no LSU or Alabama on the schedule, which keeps South Carolina from playing the top SEC West schools in 2013, a definite plus.
But not to be overlooked is a Week 1 meeting with a much-improved North Carolina team at home followed by a visit to Athens to take on Georgia.
If the Gamecocks take care of business in those games, there is a great chance they will be undefeated going into their November 16th contest at home against Florida.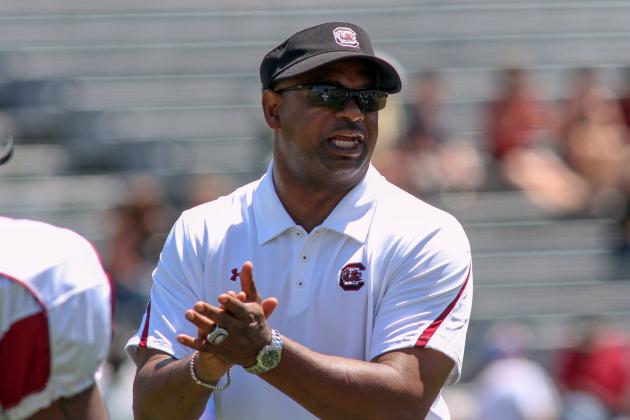 Jeremy Brevard-US PRESSWIRE

It's no secret that a large part of South Carolina's success in 2012 has been its 13th ranked defense, which has created all kinds of havoc this season and in many cases kept the Gamecocks alive in games where the offense struggled.
But with Devin Taylor, Byron Jerideau, Shaq Wilson and D.J. Swearinger all graduating, the Gamecocks will have plenty of holes to fill on defense. They have already stepped up with 12 committed recruits to foster the rebuilding.
Of the 12 commitments on defense, Matt Rolin (OLB) and Kelsey Griffin (DT) are listed on ESPN's Top 150 with Larenz Bryant (ILB) making the Top 300. Besides that, they've also received commitments from 4-star recruits Devin Washington (DE) and David Johnson (OLB).
Who will be pressed into starting next season of those recruits has yet to be determined, of course, but the Gamecocks also have the benefit of Gerald Dixon and Chaz Sutton among others returning from this year's team to guide the new class. (Not to mention a certain Lombardi Award semifinalist who we will get to later.)
South Carolina's success in 2013 will once again depend on the strength of Lorenzo Ward's defense, and by the way they're reloading with the talent they've recruited thus far, they're well on their way.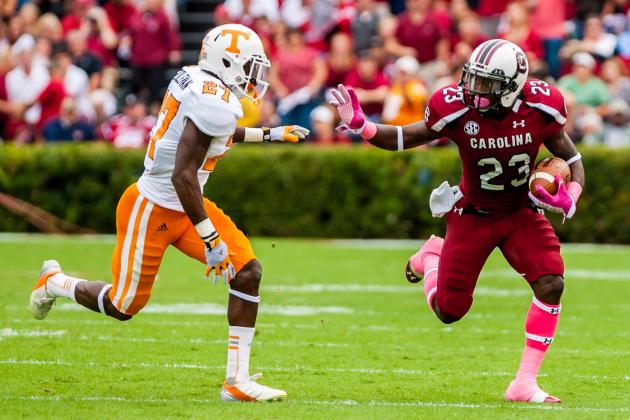 Jeff Blake-US PRESSWIRE

Between the offensive line and many of South Carolina's wide receivers, the Gamecocks were young and growing into their own in 2012.
Only three of the offensive starters in 2012 are seniors, including WR D.L. Moore and TE Justice Cunningham.
Questions will be in the air whether junior WR/PR Ace Sanders will come back for his senior season, but if he does, he will be a focal point in next year's aerial and special teams attack.
What will benefit the offense the most, however, is the fact that the Gamecocks should only be losing one starter off of the offensive line in center T.J. Johnson, with the rest of the starters in position to return for 2013.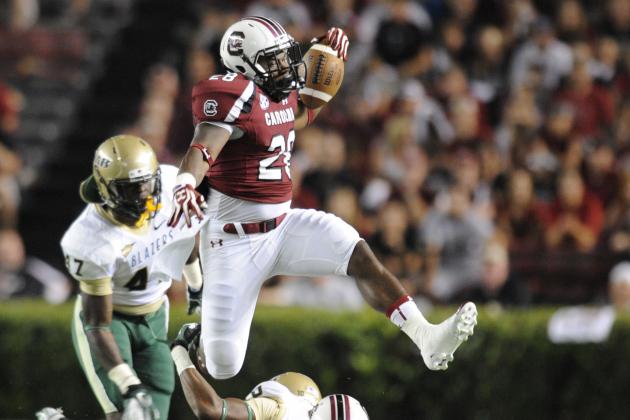 Mary Ann Chastain/Getty Images

When you are recruited under the guise of being the "successor to Marcus Lattimore" (h/t Atlanta Journal Constitution), you know you've got big shoes to fill if you're Mike Davis going into next season.
Even without the horrific events of last Saturday that cost Lattimore the rest of the 2012 season, Davis has been touted to move into the leading rushing position going into 2013.
His numbers in 2012 have been minimal thus far (24 carries, 157 yards, one touchdown) as the third running back on the depth chart, but starting with the game next Saturday against Arkansas, that is surely going to change.
Davis is a smaller back than Lattimore but has a bit more speed coming out of the backfield and could very well provide a similar spark as Lattimore did in his breakout season in 2010.
Spurrier has a real gem on his hands in Davis, who was regarded as one of the top 10 backs according to rivals.com when he signed with South Carolina earlier this year.
If Davis can fill the large shoes of Lattimore in 2013 (with 2014 still hanging in the balance for a possible return for No. 21), the Gamecocks are guaranteed to sustain and exceed the success of 2012 behind what will be a more seasoned returning offensive line.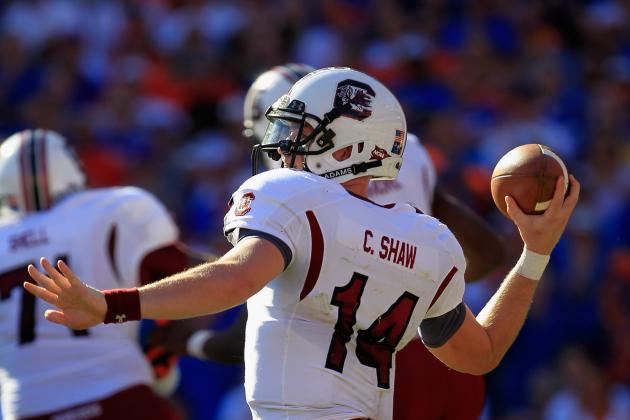 Chris Trotman/Getty Images

The 2012 season has been quite the journey for Connor Shaw thus far.
But through the various highs and lows that included a near-perfect effort against Missouri (20-for-21 passing) and a second half benching against Florida, Shaw still remains the leader of the Gamecocks' offense.
Shaw's record as a starter is an impressive 14-3 over his first 17 starts, which is the best of any South Carolina quarterback in school history.
His most recent game against Tennessee was a masterpiece as he completed 22-of-32 passes for 356 yards (career high) and three touchdowns while adding another 33 yards and a touchdown on the ground.
His numbers in 2012 thus far demonstrate how efficient he has been in the mid range passing game, completing 66.3 percent of his throws for 1,338 yards, 12 touchdowns and only five interceptions.
Shaw's ground game isn't bad either, accounting for an additional 311 yards and two touchdowns.
The overall consistency and maturity that Shaw has shown over what will be his first full season as the Gamecocks' starter will certainly have South Carolina primed to repeat their recent success heading into next season.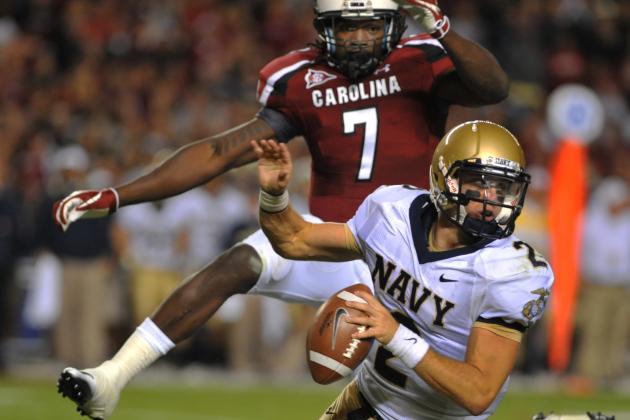 Al Messerschmidt/Getty Images

If there were any reason to forecast the continued success of the South Carolina football program in 2013, it would certainly be because the Gamecocks will have another year with Jadeveon Clowney lining up at defensive end.
The sophomore has had a breakout year in 2012 thus far, amassing 40 tackles and 8.5 sacks (ranked 13th in FBS play) and has already made the semifinalist list for the Lombardi award along with a host of others.
Undeniably, Clowney has become the face of the South Carolina defense and an absolute menace towards offensive lineman, attracting more than his share of double teams in 2012.
At least one highlight per game has the 6'6" incarnation of The Predator leaping over hapless blockers and causing the quarterback to either hit the turf or be disrupted in his rhythm with a wayward throw.
South Carolina's defense may be losing a host of starters from this year's squad, but Clowney's leadership among his rising underclassmen and the highly touted recruits signed thus far puts the Gamecocks in prime position to once again be one of the most dominant defenses heading into next year.
What do you think will be the keys to South Carolina's success in 2013?