Power Ranking 25 Most Pivotal Players in Eagles-Saints Game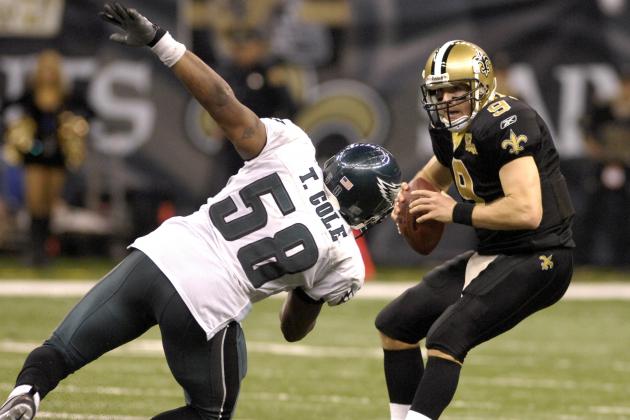 A. Messerschmidt/Getty Images

The Monday Night Football matchup between the Philadelphia Eagles and New Orleans Saints is a make-or-break game for each club.
The 3-4 Eagles are looking to get back on track following three straight losses that have threatened the job security of both quarterback Michael Vick and head coach Andy Reid. Meanwhile, the Saints are desperately trying to keep their heads above water in a season that's been mired by an awful defense and the absence of their coach, Sean Payton.
The game could be a high-scoring affair, and if it is like many Eagles games in 2012, one play could ultimately decide the outcome of the contest. The following 25 players will have the biggest effect in winning or losing the game for their respective team.
Begin Slideshow

»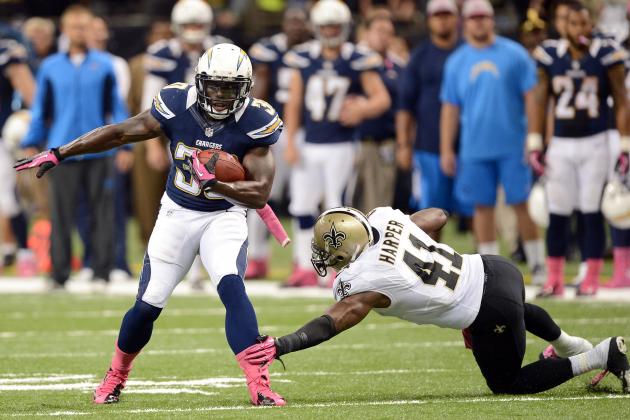 Harry How/Getty Images

Once upon a time, Roman Harper was a two-time Pro Bowl safety for the New Orleans Saints.
Since then, he's nothing like the player that was regarded as one of the best safeties in the league. He's a terrific pass rusher, especially for a safety, but he's not too adept in pass coverage or run defense.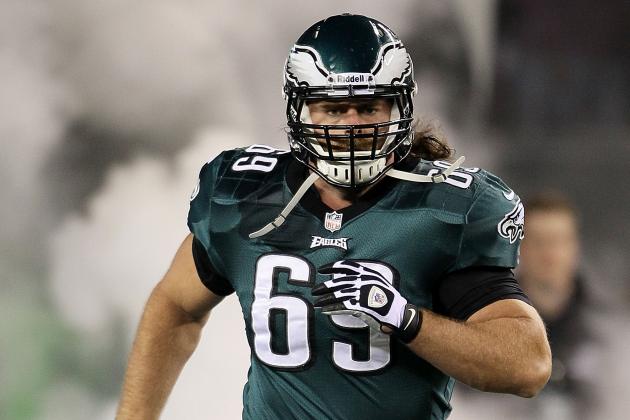 Alex Trautwig/Getty Images

With Jason Peters and Jason Kelce lost for the season due to injuries, Evan Mathis takes over as the team's best offensive lineman.
He's been very solid in 2012, much like his breakout 2011 campaign with the Philadelphia Eagles. Mathis has not yet given up a sack in 23 games with the team, and he's even better as a run blocker. That should come in huge if the Eagles actually decide to run the ball with LeSean McCoy.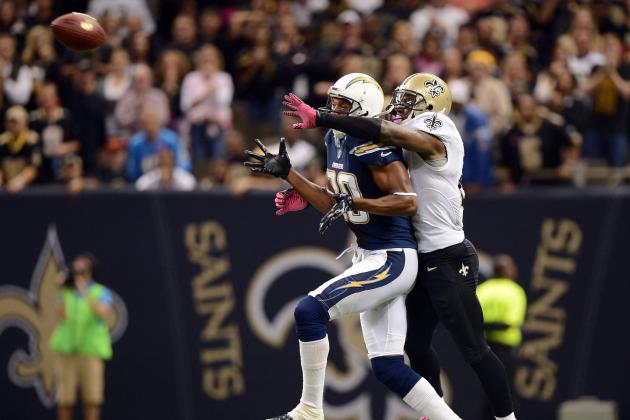 Harry How/Getty Images

The New Orleans Saints haven't exactly hit with their recent first-round draft picks, whiffing (so far) on safety Malcolm Jenkins, cornerback Patrick Robinson, and defensive end Cameron Jordan.
But for Jenkins to have been picked in the first round, he has to have some big-play potential. The Saints have to be hoping that comes through against a Philadelphia Eagles team that turns the ball over at will.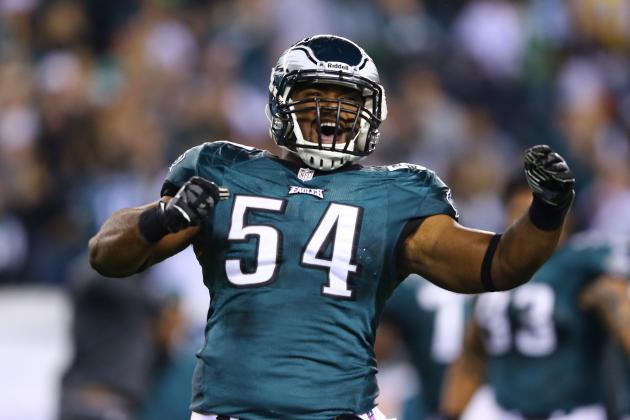 Al Bello/Getty Images

If Jason Babin isn't going to sack the quarterback this season, someone needs to. Brandon Graham took half of Babin's snaps last week against Atlanta, and he should see just as much action this week against Drew Brees and the New Orleans Saints.
Graham still has just a half-sack in seven contests in 2012, but he has been getting constant pressure on the opposing quarterback as of late. Graham has registered five quarterback hurries in just 53 snaps over the last two weeks. It's now time for him to break through and wrap up Brees when it really matters.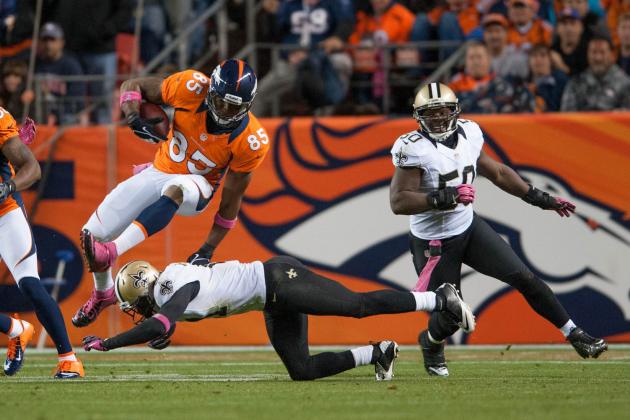 Dustin Bradford/Getty Images

The New Orleans Saints made a fairly big splash in free agency this past offseason when they signed linebacker Curtis Lofton from the Atlanta Falcons.
Lofton has been subpar thus far in seven games, and he's a big reason the defense ranks 30th in the league in scoring and 32nd in yardage. He will be a big factor if the Saints want to try to contain explosive All-Pro runner LeSean McCoy.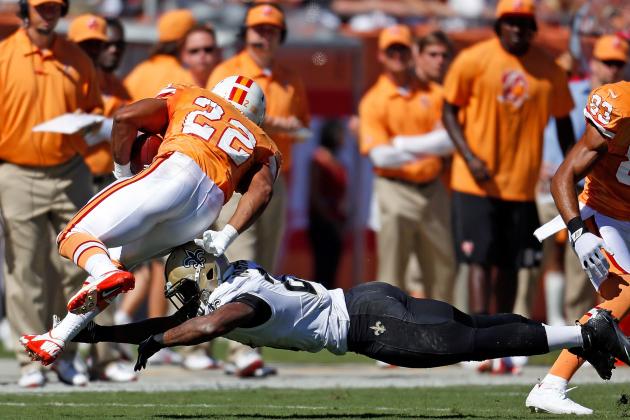 J. Meric/Getty Images

Patrick Robinson has gotten torched repeatedly in pass coverage this season. He's surrendered 572 passing yards and three touchdowns in just seven games, coming out to a 104.2 passer rating.
Remarkably, that's actually a better passer rating than the New Orleans Saints as a team (110.6), but it's still an awful number. Robinson in no way represents the first-round selection the team spent on him. In the last two weeks, he's given up 11 receptions for 265 yards and a pair of touchdowns (including a 95-yard score).
He will have his hands full on Monday night against either DeSean Jackson or Jeremy Maclin, who both have big-play potential.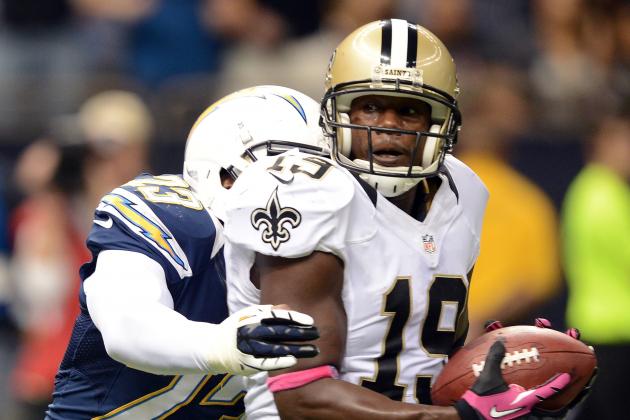 Harry How/Getty Images

Marques Colston doesn't seem like the type of receiver that should scare anyone. He was just a seventh-round pick coming out of college after a brutal NFL Scouting Combine. He's just six feet tall and 205 pounds.
But he's shown remarkable sustainability over his career. Colston has totaled 1,000 receiving yards five times, and he's scored 53 touchdowns in seven seasons.
Colston is catching just 59.7 percent of passes from Drew Brees in 2012 after a ridiculous 76.2 percent success rate in 2011. If the two can recapture their magic on prime time, it could be a dangerous combination.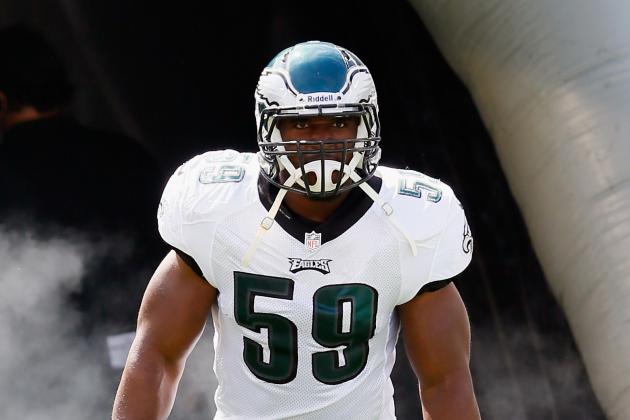 Rob Carr/Getty Images

DeMeco Ryans has been unquestionably the finest player on a subpar Philadelphia Eagles defense in 2012.
He can cover the pass and stop the run, and he's even a good pass rusher. Ryans will need to have a big all-around performance for the Eagles against the New Orleans Saints' explosive offensive on Monday night.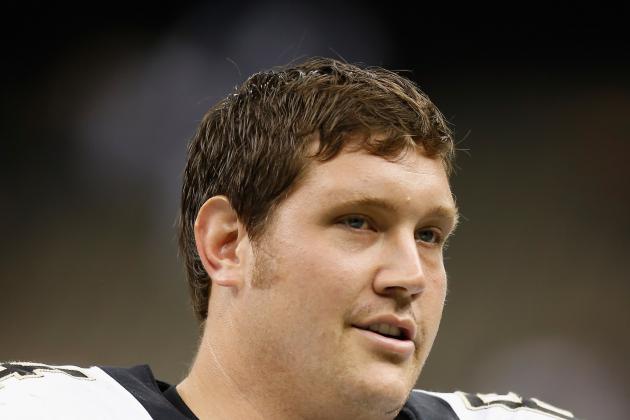 Chris Graythen/Getty Images

The New Orleans Saints have utilized all five offensive linemen for every snap thus far in 2012. Zach Strief has been vulnerable at times, but he's allowed just one sack in seven contests this season.
He will be facing a Philadelphia Eagles defense that has just two sacks in its last four games. But don't underestimate the potential Trent Cole and Jason Babin have of wreaking havoc on opposing quarterbacks.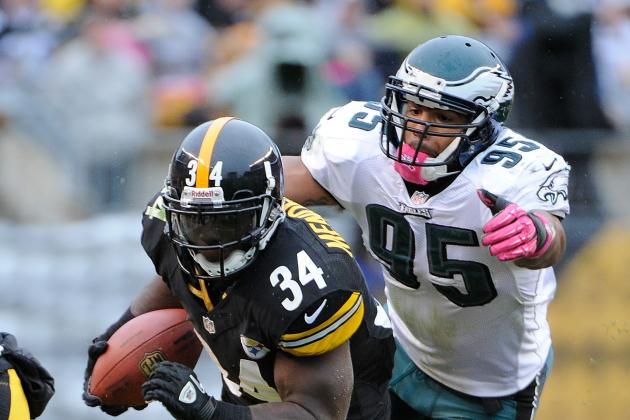 Joe Sargent/Getty Images

Mychal Kendricks looked like a Pro Bowl outside linebacker for his first several games, but he's looked vulnerable recently.
Kendricks leads all 4-3 outside linebackers in missed tackles (10), but he has terrific sideline-to-sideline speed. He will also be given the task of facing off against All-World tight end Jimmy Graham, who possesses unstoppable athletic ability.
A good day from Kendricks could go a long way to securing a Philadelphia Eagles win.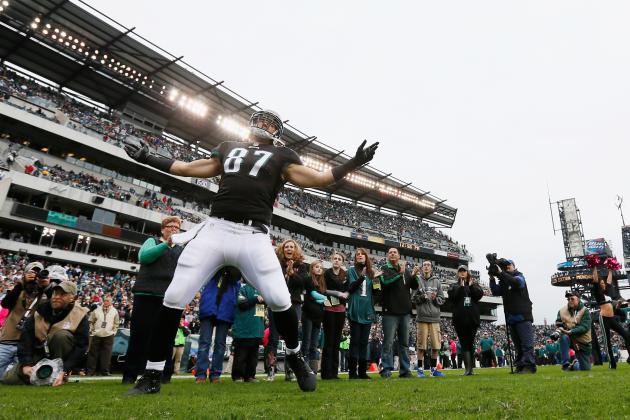 Rob Carr/Getty Images

Because of the inability of their offensive line to protect Michael Vick, Brent Celek has been heavily used as a blocker. That's cut down on his receiving numbers, but he's still on pace for over 800 receiving yards on 60 catches.
Celek went off for eight catches and 104 yards last time these two teams met. Philadelphia Eagles fans would gladly take that performance again.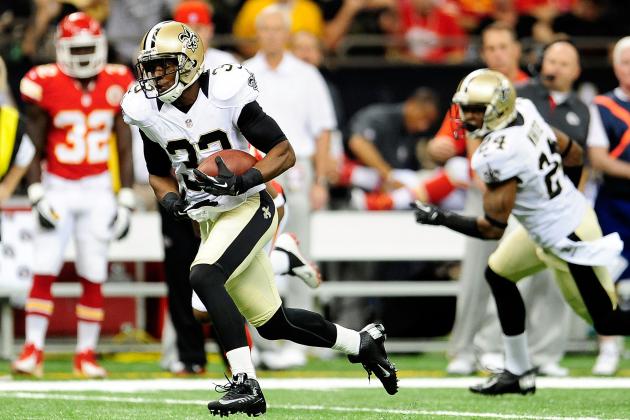 Stacy Revere/Getty Images

When the New Orleans Saints won the Super Bowl in 2009, Jabari Greer's fine play on defense was a major factor.
He gave up just 359 passing yards all season, holding opposing quarterbacks to a 48.2 completion percentage, a single touchdown pass, and a 54.5 passer rating.
Last year, Greer gave up 857 yards and four touchdowns, and he's off to another shaky start in 2012. Whichever receiver he has to cover will be a tough one.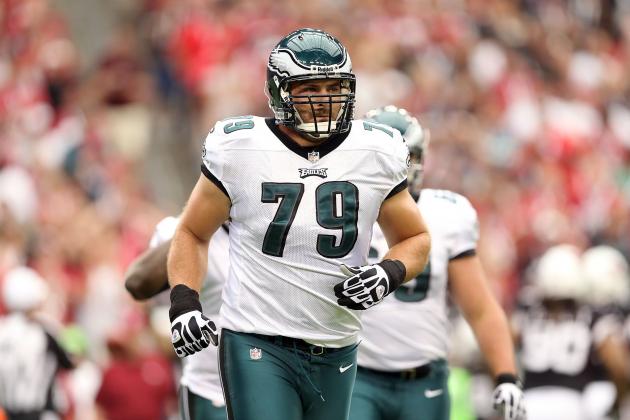 Christian Petersen/Getty Images

The Philadelphia Eagles' right tackle has been one of the more inconsistent players on the team in 2012.
Todd Herremans has already given up three sacks this season after allowing just four all of last year. He's struggled in recent games, and the Eagles will need him to protect Michael Vick against the New Orleans Saints.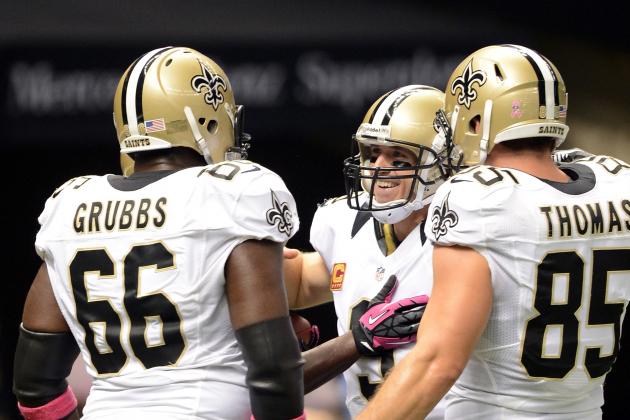 Harry How/Getty Images

Ben Grubbs was one of the more underrated offseason acquisitions in the NFL, and he's contributed heavily to the ferocious New Orleans Saints offense.
Grubbs is a reigning Pro Bowl player from the AFC's Baltimore Ravens, and he's a stellar all-around guard as both a run and pass blocker. He will face a tough interior combination of Mike Patterson, Fletcher Cox, and Cullen Jenkins, all strong pass rushers.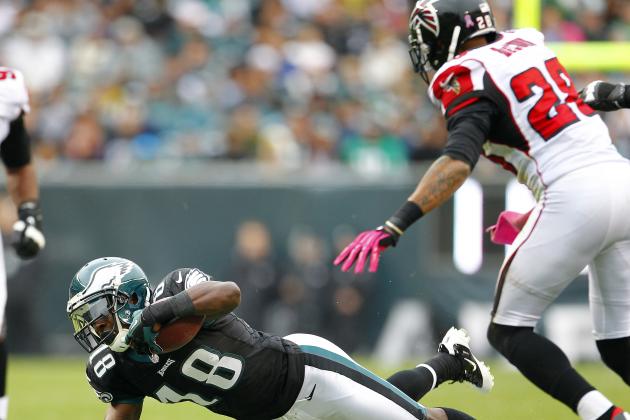 Rich Schultz/Getty Images

Jeremy Maclin is a borderline No. 1 wide receiver but a terrific complement to DeSean Jackson. Maclin has only faced the New Orleans Saints once, and that was in his first-ever NFL game. He finished with two catches for 12 yards, making little impact in the 48-22 loss.
Maclin has the ability to make plays for the Philadelphia Eagles, though, and if he breaks out against the Saints like he did against the Detroit Lions, it could be huge for the Eagles.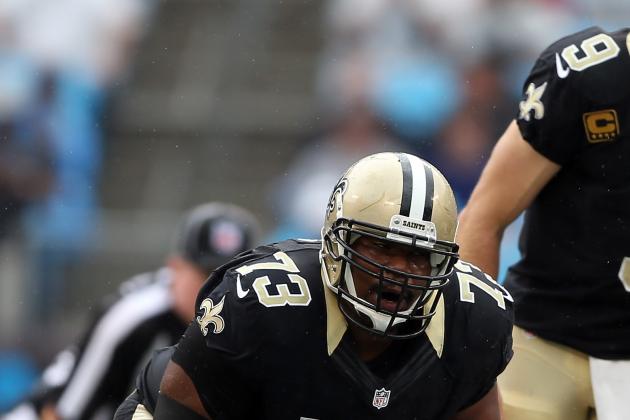 Streeter Lecka/Getty Images

Jahri Evans is the best offensive lineman on the New Orleans Saints now that Carl Nicks has departed for Tampa Bay.
Evans is a three-time Pro Bowler and three-time All-Pro, and he's never missed a start in his NFL career. Evans hasn't allowed a sack yet this season and a strong game from him will go a long way for one of the league's greatest offenses.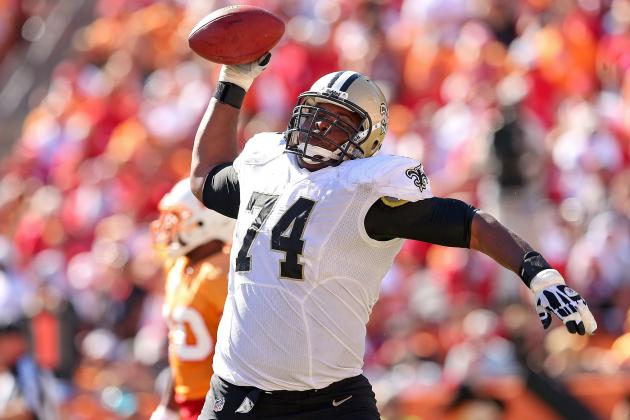 Mike Ehrmann/Getty Images

Jahri Evans is a better lineman than Jermon Bushrod, but Bushrod plays a tougher position given that he's Drew Brees' blindside protector.
Bushrod will have his hands full against Philadelphia Eagles defensive end Trent Cole. Regardless of whether Cole is having a good season—and he's not—Cole is still a phenomenal player who frequently requires double teams.
If Bushrod can neutralize Cole and effectively take him out of the game, that goes a long way for the New Orleans Saints.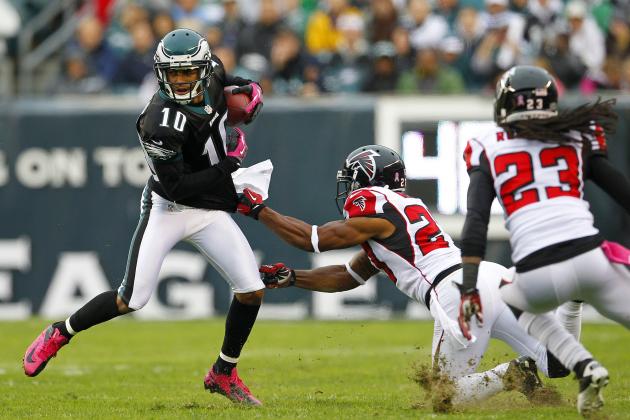 Rich Schultz/Getty Images

It's tough to say that DeSean Jackson isn't the same player this year as he was in 2009 and 2010. After all, the offensive line is so poor that the Philadelphia Eagles don't throw deep anymore.
In his first three NFL seasons, Jackson scored 15 touchdowns of at least 40 yards. In the 23 games since, he's scored just one touchdown of 40 or more yards.
Jackson still possesses that straightaway speed that makes him one of the league's most dangerous weapons. But the trick is the offensive line giving Michael Vick enough time to get the ball to Jackson, and that hasn't been working as of late.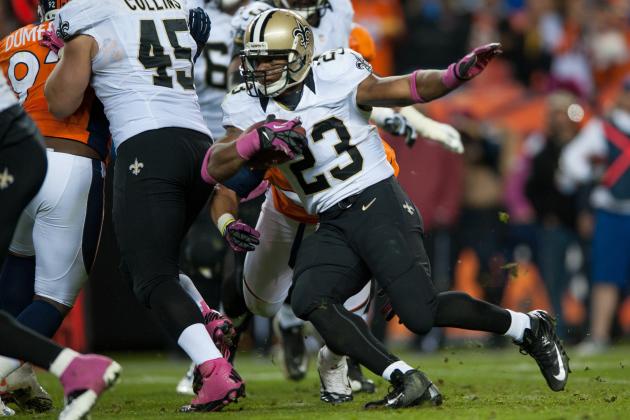 Dustin Bradford/Getty Images

With Darren Sproles ruled out of Monday night's game due to a broken hand, Pierre Thomas's role drastically increases.
Thomas becomes the feature back in the New Orleans Saints offense. While the Saints don't run the ball a lot—they rank 32nd in the league in rushing attempts—Thomas should still get 12-15 rushes and a handful of receptions out of the backfield.
He's a complete back with the ability to cause problems for the Philadelphia Eagles, especially since the Eagles are among the worst at screen passes.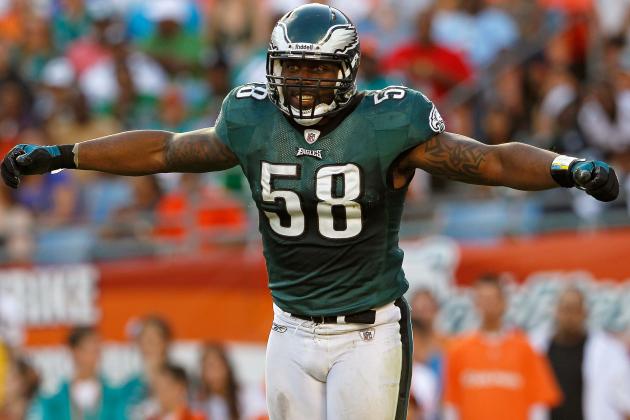 Mike Ehrmann/Getty Images

For the last six NFL seasons, Trent Cole has averaged 10.5 sacks and two forced fumbles per campaign. He's made two Pro Bowls and been widely regarded as one of the best 4-3 defensive ends in the league.
That's what makes his current 1.5 sack season so perplexing. The entire Philadelphia Eagles defensive line is underachieving, and Cole's reputation as a stellar player makes it so frustrating.
He could still go off against Drew Brees and the New Orleans Saints on Monday night. If the Eagles want to win this game, they're going to need Cole to be at his best.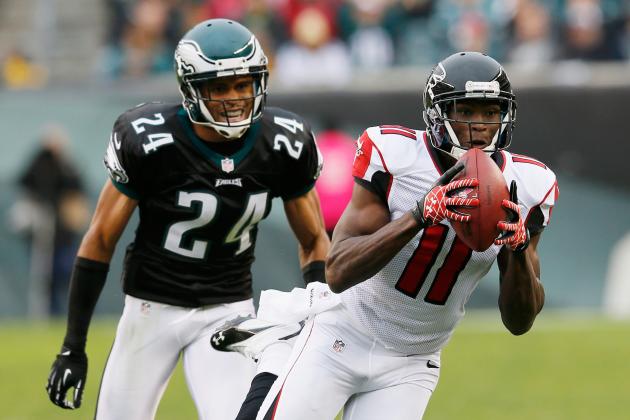 Rob Carr/Getty Images

The Philadelphia Eagles spent $60 million on cornerback Nnamdi Asomugha in the 2011 offseason and haven't reaped the benefits yet.
Asomugha struggled to get acclimated to Juan Castillo's system last year, and his poor play was written off for such. But in 2012, Asomugha has just gotten burned. He was torched for a 63-yard touchdown by Julio Jones in last Sunday's game.
He will need to have a huge impact on Monday night because Drew Brees has the ability to torch even the best cornerbacks.
Jeff Gross/Getty Images

With his freakish size, speed, and athletic ability, Jimmy Graham is a nightmare for any defensive coordinator.
Todd Bowles will have to come up with a pretty fine game plan, whether it's strong side linebacker Mychal Kendricks or strong safety Kurt Coleman responsible for covering Graham.
Rich Schultz/Getty Images

The Philadelphia Eagles have an All-Pro running back in LeSean McCoy, but Andy Reid seems hesitant to run the football.
McCoy can handle a full workload, and he can even catch passes well out of the backfield. If the team gives him 20-25 carries and five receptions, that should be the recipe for a win.
But if Reid abandons the run and McCoy barely reaches double-digit carries, that's trouble.
Rich Schultz/Getty Images

The Philadelphia Eagles may be giving quarterback Michael Vick one last chance.
He has been facing serious questions about his job security for much of the 2012 season, and his play against the Atlanta Falcons didn't help matters. That, and the fact that Vick's 13 turnovers rank third-worst in the NFL.
Vick has cut down on his interceptions as of late. Believe it or not, but only Peyton Manning has thrown fewer picks than Vick since Week 3. If Vick can cut down on his picks again, complete at least 65 percent of his passes and lead the Eagles to 21-24 points, that's good news for Eagles fans.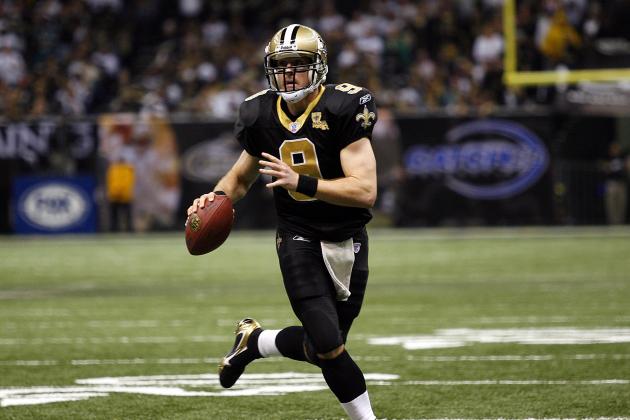 Kevin C. Cox/Getty Images

Who else could possibly be number one but Drew Brees? He's probably the best quarterback in the game not named Aaron Rodgers.
Brees' numbers are slightly off this year, as his completion percentage has dropped below 60. But he's still thrown a ridiculous 20 touchdown passes in just seven games. And this is a quarterback that has the ability to throw for 300 yards and three scores in any given week.
Brees picked the Philadelphia Eagles apart the last time he played them, scoring 48 points in a win back in 2009. He completed 73.5 percent of his passes for 311 yards, three touchdowns to a lone interception, and a 118.6 passer rating. Expect a similar performance this Monday night.