Chicago Bears vs Tennessee Titans: Final Game Grades and Player Analysis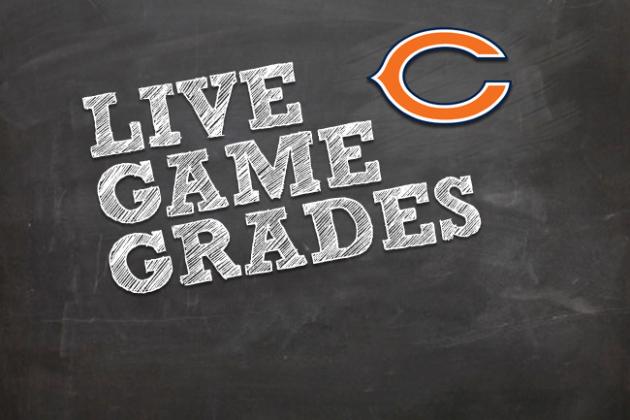 This one seemed to be over before it even got going. By the end of the first quarter the Chicago Bears had a 28-2 lead over the Tennessee Titans.
The defense was terrific once again, putting up their seventh defensive touchdown and forcing five Titans turnovers. Charles Tillman had four forced fumbles and Brian Urlacher had an interception returned for a touchdown.
Jay Cutler was very good in his return back to Nashville. He had three touchdown passes all to Brandon Marshall, who finished the game with nine receptions for 122 yards. Matt Forte carried the ball 12 times for 103 yards and a touchdown, and he added another 45 yards receiving.
The Bears will now head home to face the Houston Texans in a prime-time matchup that faces two division leaders against each other.
Begin Slideshow

»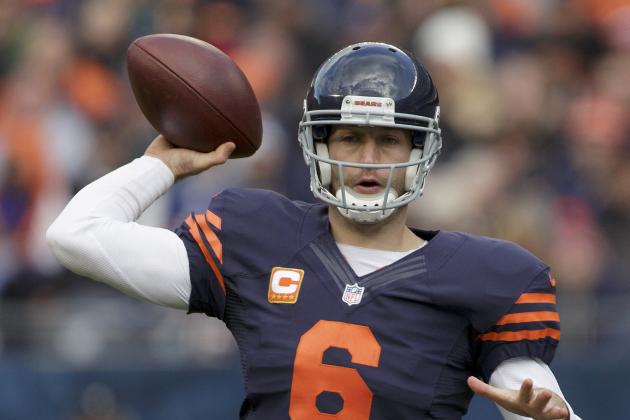 John Gress/Getty Images
Jay Cutler
Jay Cutler: A
It was Cutler's first game in Nashville since he starred at Vanderbilt University and he had a great welcome-back party.
Cutler was outstanding on the move and made some terrific throws, in particular to Brandon Marshall. Cutler finished with 229 yards, three touchdowns and a quarterback rating of 138.1.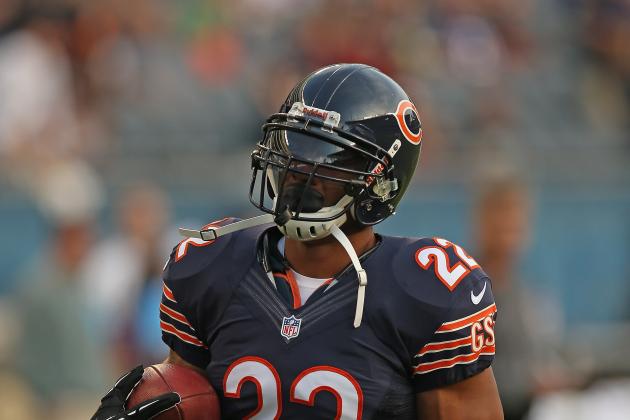 Jonathan Daniel/Getty Images
Matt Forte
Matt Forte: A
Great all-around game for Forte. He had over 100 yards on the ground on only 12 carries and a touchdown. He had a big catch on a screen that resulted in 47 yards. He was quick, looked sharp and was cutting well the entire day.
Michael Bush: C-
Bush had 10 carries but really couldn't get going. He struggled to hit the holes and left his feet on a couple of occasions when he didn't need to.
Armando Allen: B
He got a shot in garbage time and had a couple good, hard runs.
Evan Rodriguez: C
There was a rare Rodriguez sighting. He was targeted on a pass but it never got to him.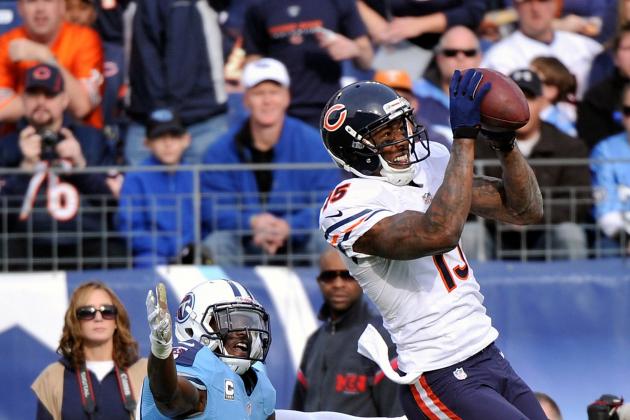 Frederick Breedon/Getty Images
Brandon Marshall
Brandon Marshall: A
Marshall has been an absolute beast against opposing defenses. He had another huge day with nine catches for 122 yards and three touchdowns.
Earl Bennett: B-
Bennett was targeted eight times and caught four of them. He was working underneath for most of the game but did make a couple tough catches.
Devin Hester: B-
The big-play threat of Hester wasn't needed in a blowout. He was targeted twice and made both catches.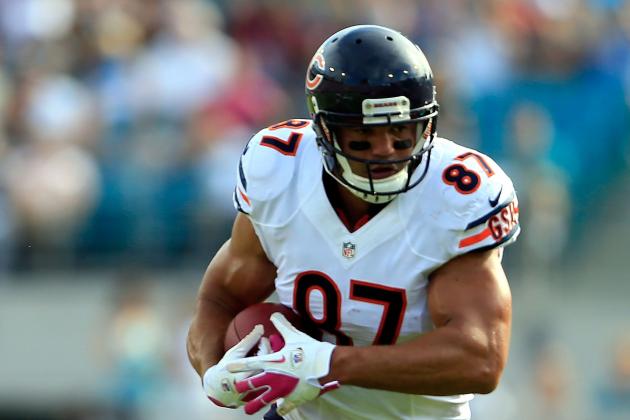 Sam Greenwood/Getty Images
Kellen Davis
Kellen Davis: C-
Davis was a non-factor in the passing game so you have to go off his blocking, which wasn't very good. He was smoked a couple times by Kamerion Wimbley coming off the edge.
Matt Spaeth: B+
He did better than Davis when it came to protecting Cutler, but then again he usually does.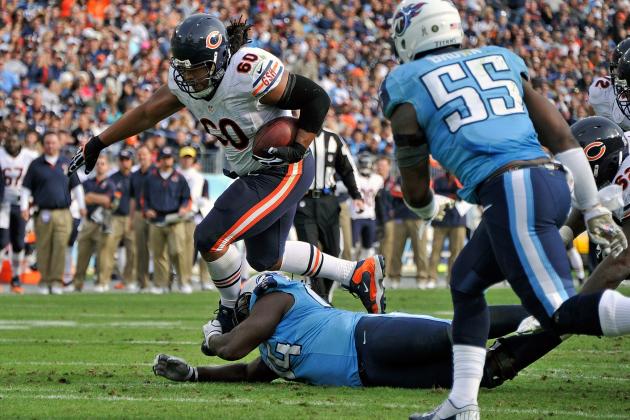 Frederick Breedon/Getty Images
Lance Louis
J'Marcus Webb: D
Whenever Webb was left to go one on one he did terribly. He looked flat-footed and unable to shuffle his feet whenever a defender looked to go around him.
Chilo Rachal: B
Rachal actually had a decent game. He was able to move defenders off the ball in the running game and didn't have any glaring mistakes in pass protection.
Roberto Garza: B
The Bears were fairly solid up the middle all game from the offensive line, and that includes Garza.
Lance Louis: A
Louis continues to be a bright spot on the offensive line. He was very good in run blocking, had a key block on the Matt Forte screen pass that sprung him for 47 yards and even caught a pass.
Gabe Carimi: D
Like Webb, Carimi just cannot move his feet and was beaten badly on several occasions. He's consistently been the team's worst lineman all year.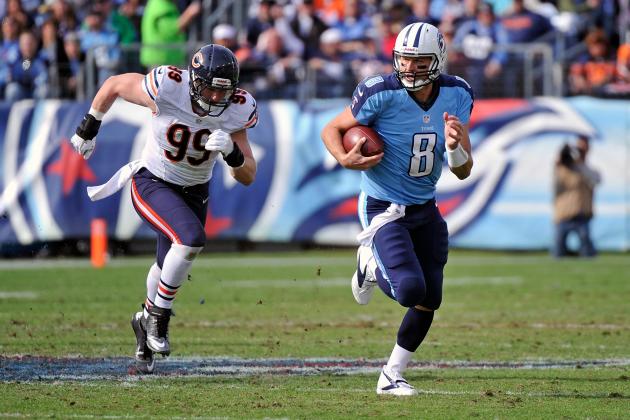 Frederick Breedon/Getty Images
Shea McClellin
Julius Peppers: B
No statistical presence for Peppers but he did a great job setting the edge early in the ballgame.
Stephen Paea: A
He was a force up the middle early on. He had half a sack and a couple tackles.
Nate Collins: A
Since being activated last week Collins has been terrific. He has been active and disruptive in both the passing and running games.
Corey Wootton: A
When you can get a sack and a touchdown on special teams you can safely say you've had a great game.
Shea McClellin: B
No sacks but the rookie had some great spots where he put pressure on the quarterback and showed off his speed.
Israel Idonije: A
Like Peppers, Idonije did a nice job setting the edge and had half a sack. He left with an injury but came back late in the game.
Henry Melton: B
Limited game for Melton, as he left early with an injury.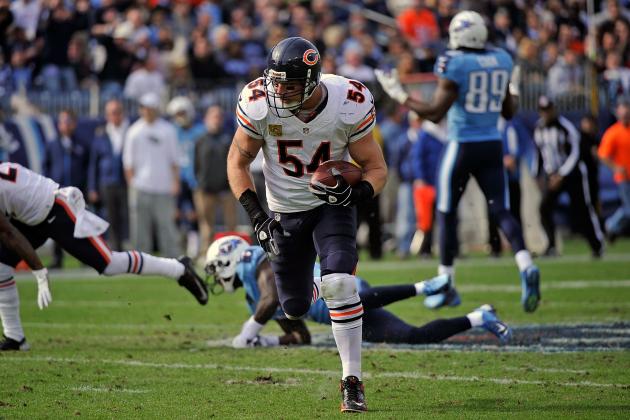 Frederick Breedon/Getty Images
Brian Urlacher
Brian Urlacher: A
The old veteran showed he can still move with the football in his hands. He sought out the end zone and added to the Bears' total of defensive touchdowns this year.
Lance Briggs: B+
Just another day at the office for Briggs. He did a nice job early limiting the running game.
Nick Roach: B+
Roach was great once again in funneling all the action towards Briggs, Urlacher and the corners.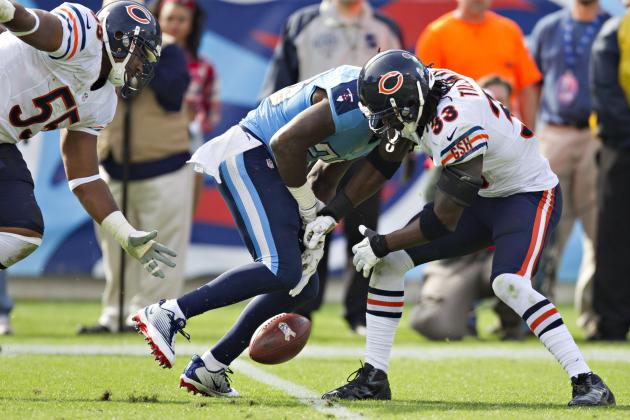 Wesley Hitt/Getty Images
Charles Tillman
Charles Tillman: A
What started off as a Defensive Player of the Year campaign now needs to shift towards an MVP campaign. Four forced fumbles is a career high for him and he was outstanding all game.
Tim Jennings: B
You can't forget about Jennings in all the Tillman love. He was very good especially against the run. He had god coverage on the touchdown pass to Nate Washington, but the catch was just great.
Chris Conte: C
He wasn't beat down the field at any point but it's rare to see Conte go an entire game without a tackle.
Major Wright: B
Wright had a couple nice tackles in the box and like Conte wasn't beat over the top.
Kelvin Hayden: B+
Hayden has done a nice job taking over for D.J. Moore in the nickel spot. He was the beneficiary of a fumble recovery after a Tillman forced fumble.
Sherrick McManis: A
Great job to get penetration on the blocked punt that led to a touchdown.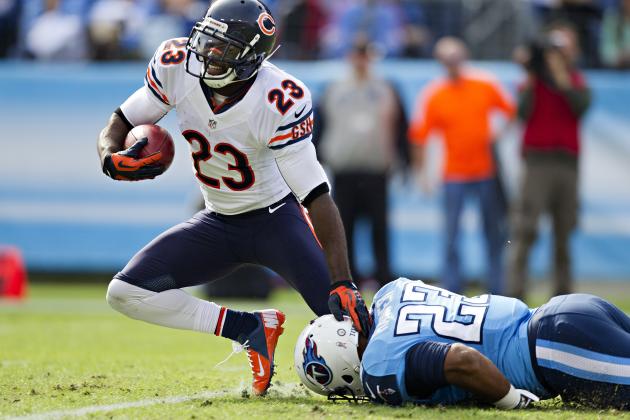 Wesley Hitt/Getty Images
Devin Hester
Robbie Gould: A
Another perfect day for Mr. Automatic.
Adam Podlesh: A
Not too many chances for Podlesh but he was able to pin the Titans deep on one occasion.
Devin Hester: A
It was nice to see Hester take a punt and turn up the field with it for a change.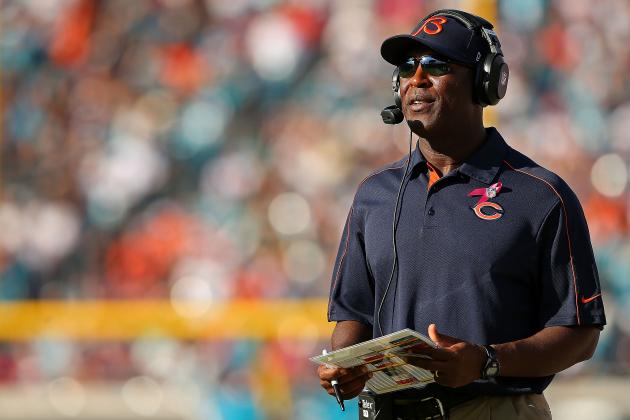 Mike Ehrmann/Getty Images
Lovie Smith
Lovie Smith: A
The Bears needed to come out strong after a dud performance against the Panthers last week, and Smith had his football team prepared heading into Nashville.
Mike Tice: C
Another slow start by the offense and a couple questionable calls including the one that led to the Cutler fumble. He did have his team run the ball well and had some nice passing plays in the second half, albeit when the game was out of hand.
Rod Marinelli: A
Marinelli has preached takeaways the entire season and the Bears continue to listen. The early turnovers by the Titans were back-breakers.
Dave Toub: A
Toub's group saw a blocked punt, a perfect day from Robbie Gould and a nice return by Devin Hester.