Buffalo Bills vs. Houston Texans: 10 Keys to the Game for Buffalo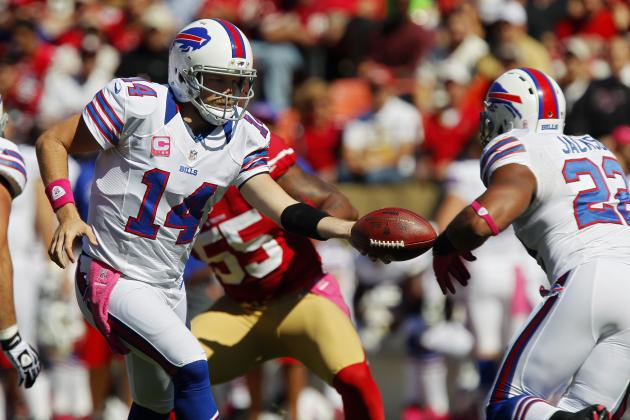 Brian Bahr/Getty Images

If the Buffalo Bills are going to stampede into Houston and beat the Texans on the road, they're going to need to check off a lot of items on a long list of keys to the game.
The Bills sit at 3-4 coming off their bye. Though they're not out of anything just yet, their journey toward the postseason starts in Week 9 against the AFC's top team. And it won't be a walk in the park.
It'll be a matchup of familiar faces, too. Texans defensive coordinator Wade Phillips served as the head coach of the Bills from 1998-2000. Meanwhile, Buffalo defensive end Mario Williams faces his former team after signing a $100 million contract with the Bills in the offseason.
Houston is led by a superior defense and plenty of playmakers on offense. In order to sneak away with a victory, Buffalo needs to play the best football it has all season.
Here are 10 keys to the game for the Bills defeating the Texans.
Begin Slideshow

»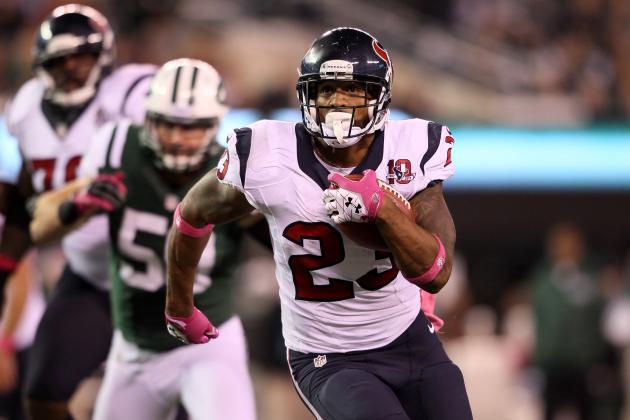 Alex Trautwig/Getty Images

Arguably the best running back in the entire NFL, Arian Foster is probably licking his chops—or better yet, writing a profound poem—thinking about Buffalo's porous run defense.
Shall I compare thee to a summer's day?
Because, man, I see open field all day long on this defense! Woohoo!
The Bills will look to squash Foster's poetic ways from defeating them on defense. He's an elusive back who can do everything, and he'll certainly look to emphatically expose their holes.
Foster is fifth in the league in total rushing yards with 659. He has nine touchdowns rushing and another receiving.
To make matters scarier, Buffalo ranks dead last in the league in both yards-per-carry average (6.0) and rushing yards per game (176.9). Houston is at home. It's coming off a bye. This all equates to no bueno.
The silver lining here, though, is that Foster is averaging just 3.9 yards per carry, his lowest average of his career. It won't be easy, but the Bills have a shot at stopping Foster if they can prevent the big play and get off the field on third downs.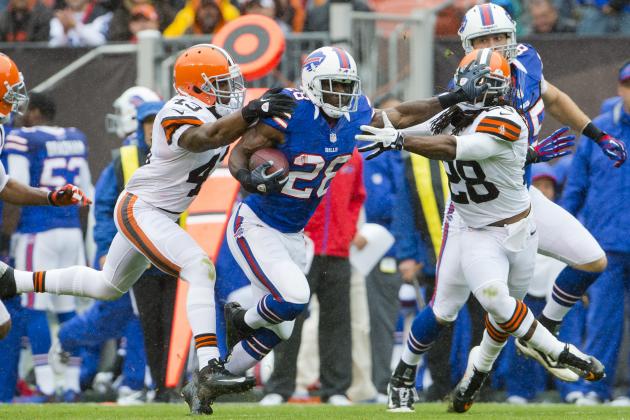 Jason Miller/Getty Images

Buffalo's offense runs through Fred Jackson and C.J. Spiller. That's no secret message on Little Orphan Annie's decoder ring. It's pretty straightforward.
Jackson is a versatile all-around back, while Spiller is explosive and leads the league in yards per carry.
According to Jay Skurski of the Buffalo News, head coach Chan Gailey stated this week that he wants to get the ball in these two players' hands "between 30 and 40 times a game."
As any Bills fan would tell you, that would be a good idea.
The loss of David Nelson has really hurt Buffalo's passing game. Ryan Fitzpatrick's chemistry with Stevie Johnson has felt a bit off at times this year, and no one has established himself as a primary No. 2 target for the "Amish Rifle."
By establishing the run early, Buffalo can limit the throws Fitz has to make. It will also help stabilize the relentless pressure that Wade Phillips likes to bring on defense, making his unit play more honestly on each down.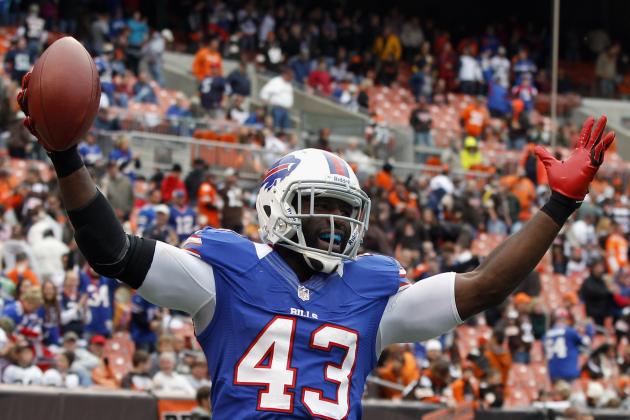 Matt Sullivan/Getty Images

Turnovers are always important, but battling a team that's as dangerous as the Texans, the Bills will need to be darn close to perfect.
It's not a coincidence that the Texans are plus-seven in turnover ratio and sit comfortably in first place in their division. On the other side of the spectrum, the Bills are minus-six in turnovers and are trying not to join the Jets in the basement of the AFC East.
Buffalo's defense has vastly underperformed in 2012. Supposed to be a new and improved strength of the team, the defense has six interceptions and five recovered fumbles, which would be more impressive if it didn't give up yards and points in buckets. In addition, none of those forced turnovers have gone for defensive scores.
Meanwhile, Houston has already returned three of its nine interceptions for touchdowns.
The Bills would greatly benefit on Sunday by winning the turnover battle and taking care of the ball, and if they can score on defense it would greatly help them sneak away with a victory.
Mark J. Rebilas-US PRESSWIRE

This is a textbook matchup for controlling the clock. Buffalo's offense, while productive at times, squares off against a Houston defense that flies to the ball and creates pressure. They can create game-changing plays.
Couple that with a dynamic Texans offense led by Arian Foster, Matt Schaub, Andre Johnson and Owen Daniels, and this is a very good team.
By winning the time of possession battle, Buffalo will hopefully be able to tire out Houston's defense. They'll also limit the time that their offense is on the field and prevent them from getting into a rhythm.
Most importantly, it will limit the time Buffalo's defense is on the field. This unit may have worked out the kinks over the bye week (Hey, it could have happened.), but fans will be happy to tell you they'd rather see that unit resting on the sideline rather than chasing down Foster and Co. all game long trying to prove it.
For the Bills, their game plan has to be controlling the clock, establishing the run and getting off the field on third downs.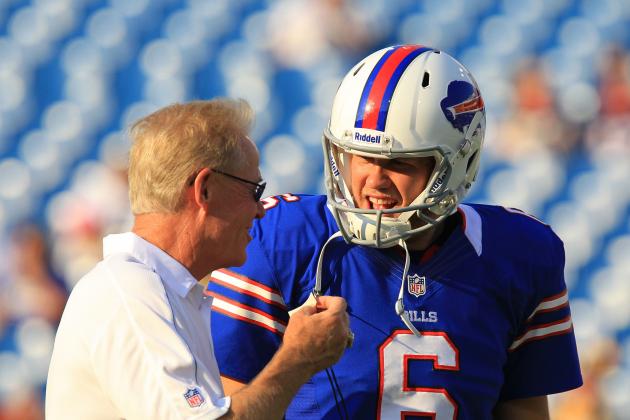 Kevin Hoffman-US PRESSWIRE

The Bills made two significant moves on special teams this year. First, they opted to keep two kickers on the active roster by hanging onto John Potter in addition to Rian Lindell. Then, they released longtime veteran and fan favorite Brian Moorman, choosing instead to re-sign undrafted rookie punter Shawn Powell.
Now, the team needs to take advantage of those moves.
Potter was retained to ensure touchbacks on kickoffs. He has an extremely strong leg, and the staff felt that his ability to kick the ball out of the end zone would ensure the opposition starting on the 20-yard line each drive. He hasn't done that very well in recent weeks, but playing in Houston's dome should give him a good chance to get back on track.
Meanwhile, Powell has had a few ugly punts since joining the team in Week 4 vs. the Pats. If he wants start out on the right foot (pardon the pun) with fans, he better get his act together. His lone punt in a disappointing loss to the Titans in Week 7 went for just 22 yards and put the team in a real bind late in the game.
Buffalo has to earn the advantage in field position, and when it does, it will also need to capitalize on those opportunities.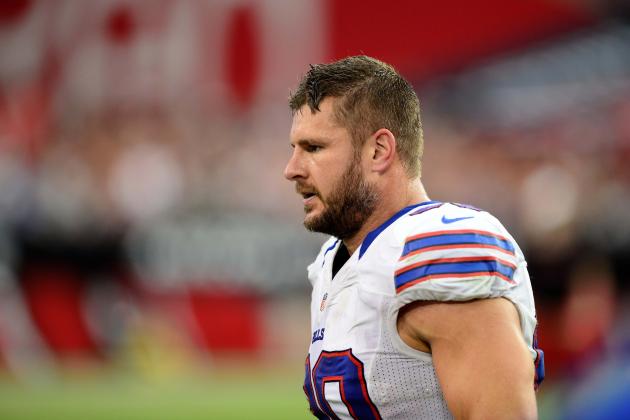 Mark J. Rebilas-US PRESSWIRE

There's been some chatter the past couple of weeks—from the Bills' own locker room, even—about the people on the team not playing hard on every play. Veteran defensive end Chris Kelsay called out his teammates to play better, but his comments also were shared by others, including star safety Jairus Byrd.
Head coach Chan Gailey, too, is never one to shy away from criticism, and he knows better than anybody that the Bills need to come out and play one heck of a football game to steal a win away from the Texans.
To set the tone and maintain it, the Bills have to get physical. From the first whistle, they need to battle with emotion, heart and controlled intensity. If they can maintain that style of play for 60 minutes, the results may surprise some folks.
Playing physically is as much active as it is mental; the team has to approach this game with the right frame of mind and carry it out for four quarters. It's difficult to play on the road, but it's even more difficult playing from behind on the road.
Getting off to a physical start will help set the tone of the game and hopefully score early. After that, the Bills need to maintain it.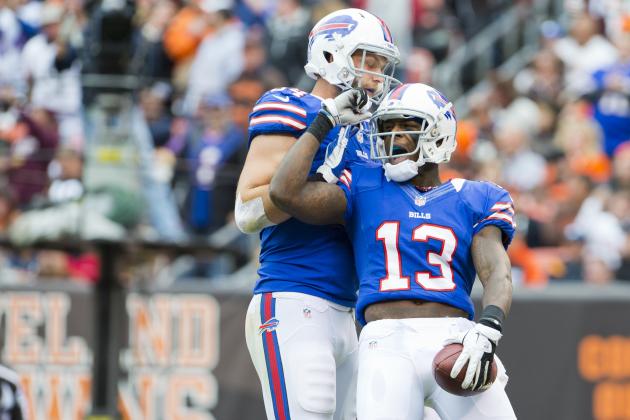 Jason Miller/Getty Images

Quarterback Ryan Fitzpatrick has connected on just three plays of over 32 yards in 2012 (43, 49, 68). More importantly, those long plays haven't been downfield bombs that beam with beauty. Instead, they've been primarily runs after the catch.
Needless to say, Buffalo has had a difficult time connecting on the long ball this year. For whatever reason, Fitz hasn't been connecting downfield, and the lack of that threat is working against the offense.
In this matchup, they'll need to connect downfield at least once to have a shot against the Texans. A big play at some point—preferably early—will convince Houston's defense to play the pass more honestly.
More directly, though, it will ideally create a game-changing play to help the Bills spark momentum and play with confidence.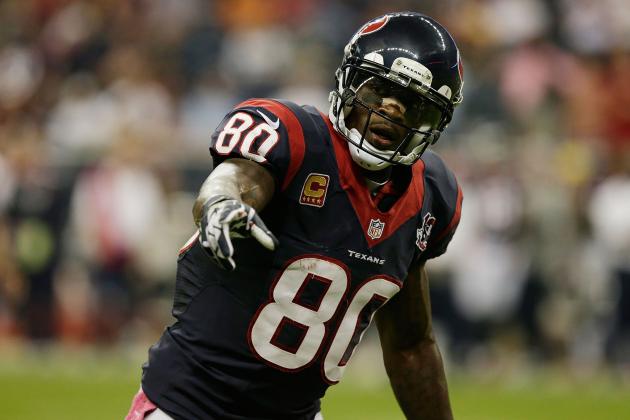 Scott Halleran/Getty Images

After Arian Foster, wide receiver Andre Johnson is the Texans most lethal offensive weapon. He's had a fantastic career so far, and while he may not have his typical dynamic numbers, he still has the ability to completely take over a game.
Through seven games, Johnson has totaled 34 catches for 444 yards and two touchdowns. His mere presence alone forces defenses to roll coverage to his side of the field.
Buffalo's secondary has struggled at times this year. It's a young group with a banged up veteran leader in Terrence McGee. They'll have to step up huge in this one to help give their offense opportunities.
Rookie cornerback Stephon Gilmore has had his fair share of quality wideouts thus far, and if he sees Johnson on Sunday, it could be the best he's faced in his young career.
The good news for the Bills is that Houston doesn't have many quality receiving targets after Johnson. Tight end Owen Daniels has regained his title of Matt Schaub's No. 2, and while he won't be an easy task, Buffalo has a chance to limit the veteran's production.
Look for a lot of double coverage on Johnson throughout this one.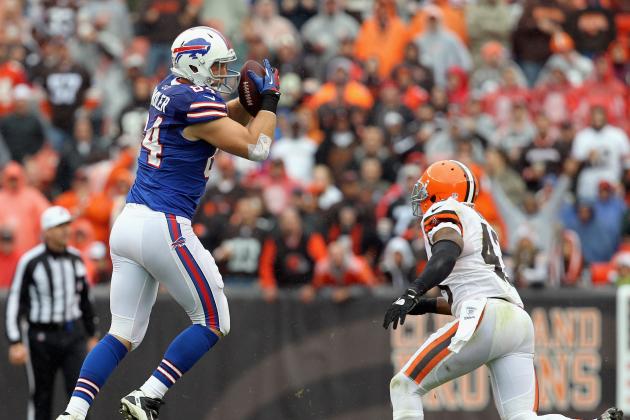 Matt Sullivan/Getty Images

Scott Chandler started out the season red hot, scoring four touchdowns through the first four games of the season. In his last two contests, however, the big tight end has only three catches for 19 yards and zero scores.
Additionally, Chandler's targets have decreased, as he's seen no more than four targets in the Bills' last two games.
Minus David Nelson in the slot, Chandler is perhaps Ryan Fitzpatrick's favorite weapon in the short game, and for good reason. The 6'7", 260-pounder is a huge target with great hands, and he's especially productive in the red zone where his lack of speed is irrelevant.
Chan Gailey and Fitz need to utilize him and get him involved early. While Chandler isn't a huge game-breaker, he's a valuable pass-catcher and can help move the chains on offense.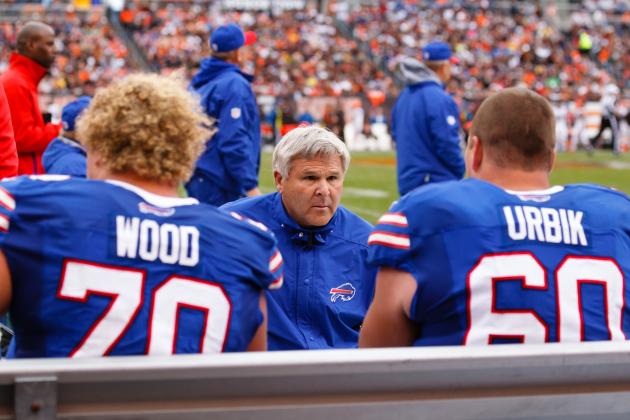 Rick Osentoski-US PRESSWIRE

There's some good news for the Bills on the injury front in Week 9, especially as it pertains the both the offensive and defensive lines.
According to Bills beat writer Joe Buscaglia via Twitter, starting right guard Kraig Urbik (high ankle sprain) is fully expected to return to action in Week 9 against Houston. Urbik's return will be a welcome sight on offense. While backup Chad Rinehart is a serviceable player, he's also been battling injuries and now might be out for the season, per Buscaglia. The line has definitely missed a consistent presence at right guard the past few weeks.
Head coach Chan Gailey is also optimistic about starting left tackle Cordy Glenn. The rookie has been out with a high ankle sprain as well, but it sounds like he's close to returning.
On defense, Mario Williams is ready to go after undergoing minor surgery on his bothersome wrist. Bills lead journalist Chris Brown interviewed Williams, and the defensive end said he "feels great" and sounds extremely motivated to clash with his former team.
Regardless of the lineup, though, the Bills need to control the line of scrimmage in this matchup. It means shutting down Arian Foster. It means establishing the run. It means putting pressure on Matt Schaub. And it means protecting Ryan Fitzpatrick.
It's going to be a tough battle, but if the Bills can execute a smart game plan, they could escape with a surprising victory against the Texans.