Chicago Bears vs Tennessee Titans: 10 Keys to the Game for Chicago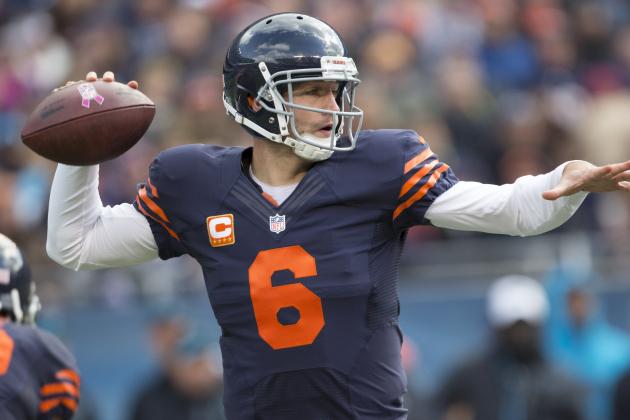 John Gress/Getty Images
Jay Cutler
The Bears ride into Nashville this Sunday on a five game winning streak. They will look to add another win against the Titans before going through a tough stretch of games.
Tennessee currently sits third in their division. They own a 2-2 record at home, but also have one of the league's worst defenses. They could be the perfect team for the Bears to get back on track offensively.
If the Bears want to improve to 7-1, they will need to execute these 10 keys to the game.
Begin Slideshow

»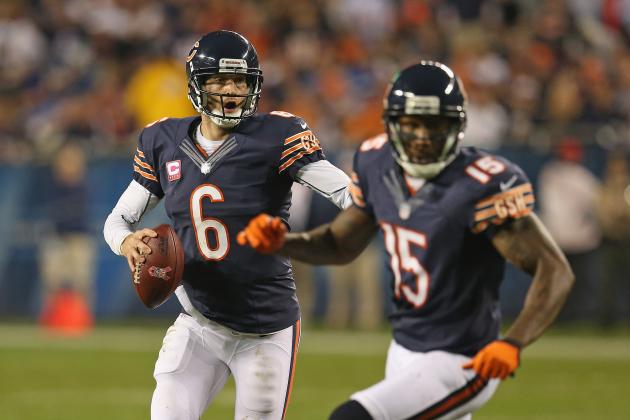 Jonathan Daniel/Getty Images
Jay Cutler and Brandon Marshall
The Bears have gotten into a habit of starting slow on offense this season, but this could be the week they break out.
The Titans come into this matchup giving up 32.1 points per game. That's good for 31st in the league. They have not shown the ability to keep the opposing team out of the endzone all season.
Tennessee has given up 30 or more points six out of their eight games this season. With a good mix of run and pass, the Bears should be able to be the seventh team added to the list.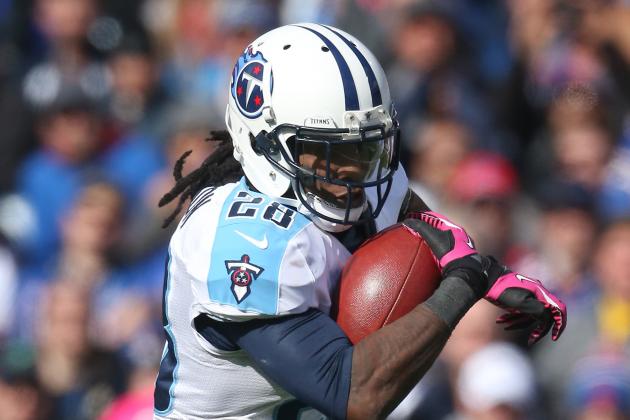 Tom Szczerbowski/Getty Images
Chris Johnson
Don't look now but Chris Johnson is starting to look like the guy he used to be. Over the past three games, he has been very strong.
He's produced 385 yards and two touchdowns, including a 195-yard effort against Buffalo. It's up to the Bears to put a stop to his momentum and make him look more like he did at the beginning of the season when he got four yards against the Patriots and 17 against the Chargers.
Johnson only has one career game against the Bears. It was 2008, and it was his rookie season. He only had eight yards on 14 carries. The Bears would love to duplicate that performance.
Sam Greenwood/Getty Images
Michael Bush
Has Michael Bush done something wrong to get on Mike Tice's bad side? Over the last three games he only has 13 carries.
Matt Forte has been and always will be the feature back, but Bush should still get plenty of touches. He's being underutilized right now, and that needs to change.
As the season goes along not only are you going to want to preserve Forte, but you want to be able to count on different dimensions of the offense going forward.
This could be the perfect game to get Bush going again. The Titans have given up more than 140 yards on the ground six times this season. Bush and Forte should be able to run rampant on Tennessee.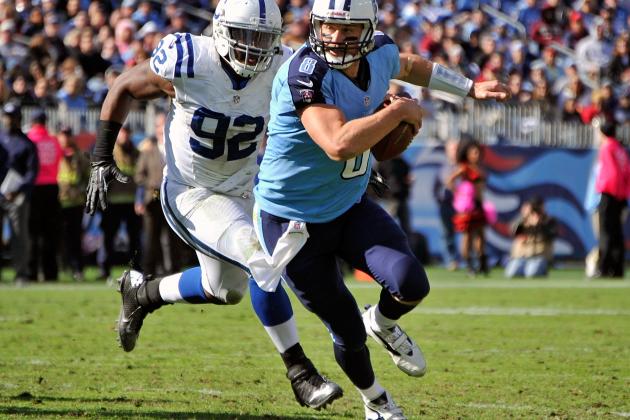 Frederick Breedon/Getty Images
Matt Hasselbeck
Jake Locker will miss another game due to an injury in his non-throwing shoulder. That means Matt Hasselbeck will make his fifth start of the season.
The 37-year-old veteran has a solid completion percentage, but has four interceptions to his six touchdown passes. He's been sacked 12 times over four games compared to just three for Locker over the same amount of games.
The obvious game plan is to make Hasselbeck uncomfortable in the pocket in the hopes of adding to the Bears' 23 takeaways on the season.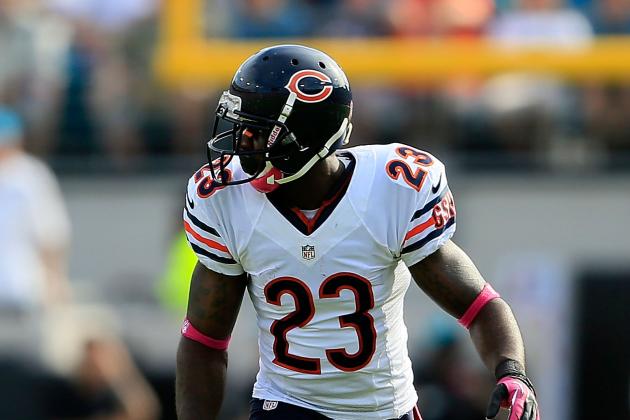 Sam Greenwood/Getty Images
Devin Hester
In no way does this contradict the idea of running the football and getting Michael Bush going. When the Bears have established the run, they need to take their shots deep because they will be available against the Titans.
Tennessee has a poor secondary and struggles to get pressure on the quarterback. They have only 11 sacks and six interceptions. Jay Cutler should have no issues dropping back and going deep against the Titans.
As long as it's in the confines of the offense, the Bears should take their shots. They need to regain confidence in themselves that they are a big time offense and compete with anybody in the league. Look for both Devin Hester and Brandon Marshall to stretch the defense.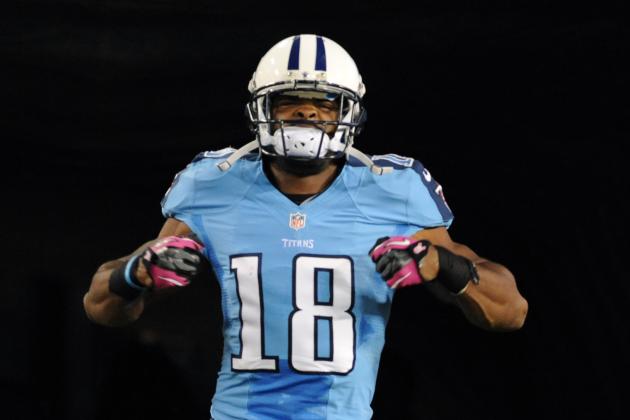 Al Messerschmidt/Getty Images
Kenny Britt
Kenny Britt has not had a huge impact this season due to injures and, well, just being Kenny Britt, but he is a guy you can never forget about.
At 6'3'', 215 lbs, Britt is a big and physical receiver who has been known to punish secondaries in the vertical game. Last week he had a touchdown taken back on a questionable pass interference call.
He has been slowed by a knee injury, but has participated in practice all week. He is just now coming into his own this season and could be a big threat in the passing game. No doubt Charles Tillman will have to give him the same attention he gave to Calvin Johnson a couple weeks ago.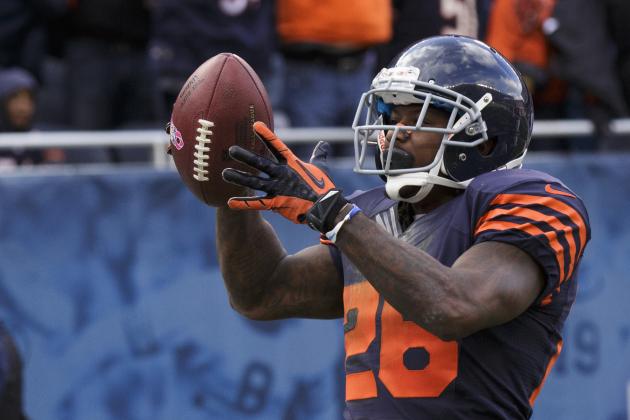 John Gress/Getty Images
Tim Jennings
Ah a staple to every coach's weekly gameplan. So simple yet so important. Win the turnover battle and odds are you will win the game.
The Bears come into this game first in the NFL with a +12 on takeaway/giveaway differential. The Titans are in the lower half of the league at -3.
As long as the Bears' defense continues to frustrate teams and force them to turn the ball over, they will always be in every game. They will go for their seventh defensive touchdown of the season against the Titans.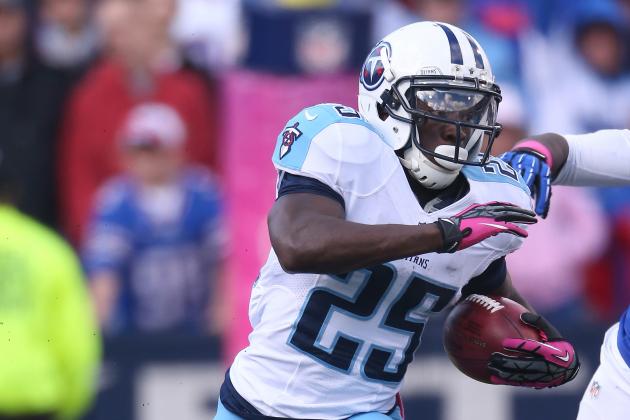 Tom Szczerbowski/Getty Images
Darius Reynaud
The Bears have always been good on special teams, but this is one of the few areas where the Titans can matchup well.
Return specialist Darius Reynaud has been a bright spot for Tennessee. He has 868 all-purpose yards and has a kickoff return for a touchdown this year.
Rod Bironas comes into the game making 12-15 kicks and maintains a reputation for having one of the strongest legs in the league. Punter Brett Kern has been pinning teams deep and carries an average of 47.4 yards per punt this year.
There should be no worries about the Bears matching up in this area, but it would be nice to see them be more effective than the Titans in special teams. Robbie Gould and Adam Podlesh can continue their strong seasons and for goodness sake can somebody get Devin Hester going again.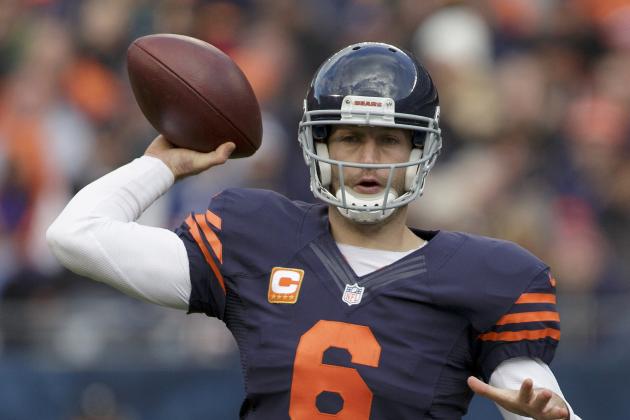 John Gress/Getty Images
Jay Cutler
In case you didn't know, Jay Cutler was a standout quarterback at Vanderbilt University in Nashville. It would mean everything to him if he played well in the town he went to college.
Cutler still doesn't get the respect as a top level quarterback in the league, but it's time for him to have a coming out party in the same place he once shined.
It makes all the sense in the world for your franchise quarterback to step back into the place he called home and just light it up for old time's sake.
Right now Cutler is one of the best in the league once the fourth quarter starts, but let's start calling him one of the best in the league period. A great performance this weekend for a first place team will go a long way towards that.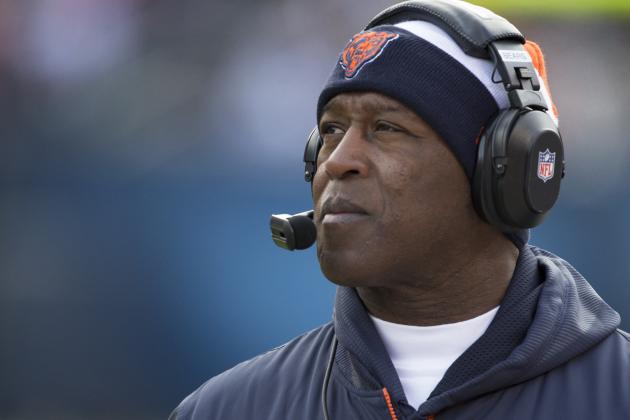 John Gress/Getty Images
Lovie Smith
Against the Panthers the Bears looked flat and uninterested. They were lucky to walk away with the win. They need not look ahead to next week's opponent and look past the Titans.
Even though the Titans are near the bottom of their division, they still have wins against the Lions, Steelers and Bills. They're not great teams, but no slouches by any means.
The Bears could be thinking about their upcoming games against the Texans, 49ers and Vikings. Lovie Smith needs to have his team focused and prepared on defeating the Titans. If they start slow again they might not get another chance to recover like they did last week.