4 Best Candidates to Replace Pat Shurmur as Cleveland Browns' Head Coach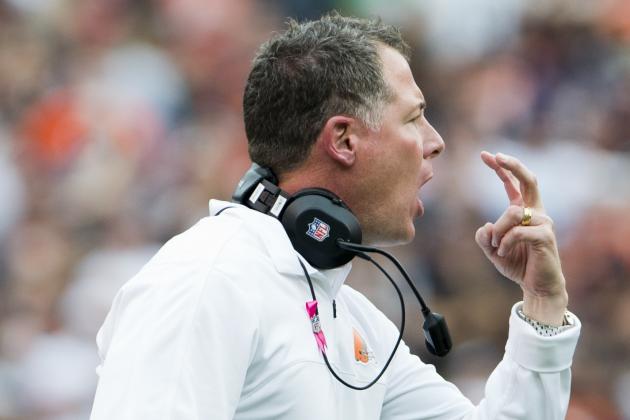 Jason Miller/Getty Images

After an abysmal 0-5 start, the Cleveland Browns are 2-1 over the past three weeks. It's still unclear whether that's enough to deflect the scrutiny off of head coach Pat Shurmur.
There are still whispers surrounding the security of Shurmur's job in Cleveland.
A lot can happen in the second half of the season. It will take consistent play and discipline from his players and strategic play-calling from Shurmur to dig himself out of this hole.
But the future is still bright for the Browns.
There are a few coaches out there that have the right strategies and experience to lead this team out of the utter mess of the past decade.
My first choice, for instance, was Gordon Bombay, but I'm told he's unavailable.
And so, in the spirit of the upcoming holiday season, here are my top four choices for Shurmur's replacement (should he be let go) and the holiday characters they resemble.
Begin Slideshow

»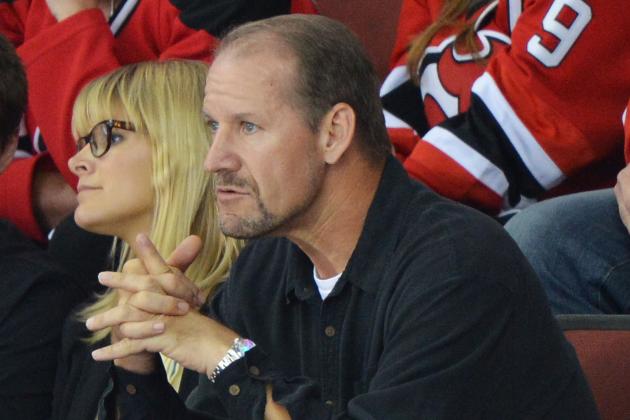 Mike Coppola/Getty Images

We don't like him, but the guy knows how to coach a football team.
Bill Cowher started his career with the Cleveland Browns, coaching special teams and the secondary unit for four years in the mid-80s. And just as Mr. Scrooge originally started out pure and innocent, so did Cowher, before he sold his soul to coach the Steelers in 1992.
He knows the Browns and, more importantly, he knows the AFC North.
But there are a couple other statistics that make Cowher a compelling bet for the future of this franchise.
Cowher coached the Steelers from a 6-10 record in 2003 to 15-1 in 2004. The Browns could use that resilience, particularly to pull them out of the convoluted mess known as the last decade of Cleveland football.
But there's another, perhaps more important point to consider.
The Browns have a long, sad history of blowing early leads (Week 5 vs. the Giants, for example). Cowher has a staggering statistic to counter that trend. According to a post-Super Bowl article in the Pittsburgh Post-Gazette, Cowher is 108-1-1 in games when his team has led by 11 or more points.
Would I want to have a beer with Ebeneezer Scrooge? Not really, but I might hire him to run my business.
It's doubtful, honestly, that Cowher will come out of retirement.
In a 2009 broadcast of NFL Today, he stated that he wasn't planning on returning to coaching. But if he changes his mind, Cleveland might just be the perfect place for him.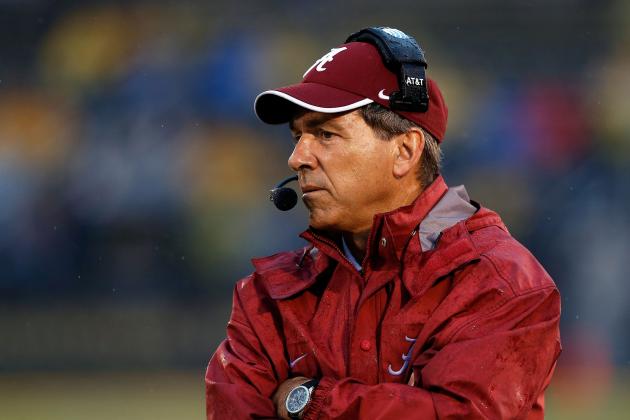 Jamie Squire/Getty Images

Nick Saban knows how to build a winning football team...by paying players!
Just kidding, 'Bama fans.
He's the one we sit on Santa's lap and ask for, ever so innocently, ignoring the inherent risk in the request. The college-to-NFL transition can be a slippery one, but it's been done successfully before.
And at this point, the Browns just need to bring in a coach that knows how to win games and who surrounds himself with a staff possessing the same killer instinct.
Saban's 2007 team finished the season with a 7-6 record. He's had the same number of losses (six) in the last four years at Alabama.
That's an unreal statistic, and it's led to a period of complete national domination for the Crimson Tide.
There's a very slim chance, in this fan's opinion, that he'll leave his current job. But, as we've seen elsewhere in professional sports for decades, money speaks louder than loyalty.
You can't buy a Nintendo Wii and ask the cashier if you can pay in good intentions. That kind of stuff will get you kicked out of Walmart. But that's a sore subject.
Anyway, it's worth dreaming about Saban, even if it's nothing but a dream.
Just ask Ralphie.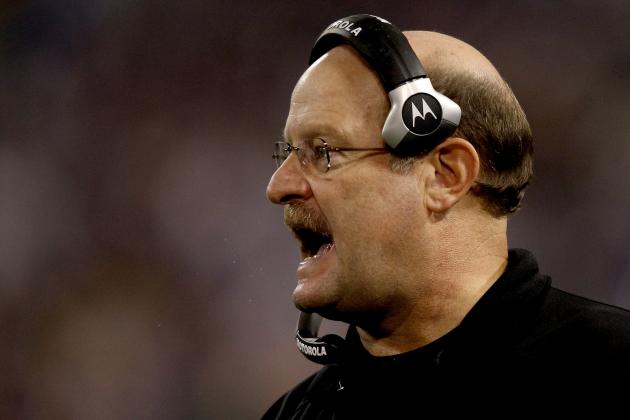 Matthew Stockman/Getty Images

My god, he's trying.
Brad Childress inherited a broken offense this year, and he's turned it into a watchable one that gets stronger every week. Like Clark Griswold, he's doing what he can in a tough situation.
I can almost see him drinking from that reindeer mug.
His coaching record is spotty to be sure. He helped to bring three NFC titles to Philadelphia but basically imploded in Minnesota once Brett Farve packed his bags.
However, he's familiar with the West Coast offense and has been doing a decent job of running it in Cleveland.
If Haslem and company are looking to keep it in the family, then Childress is the choice for this fan. If he surrounds himself with a competent supporting cast, Chilly could help Weeden and company become a well-oiled and consistent offense.
Will he kidnap his boss and electrocute a cat, or will he save the day and remind all of us what football is really all about?
That remains to be seen.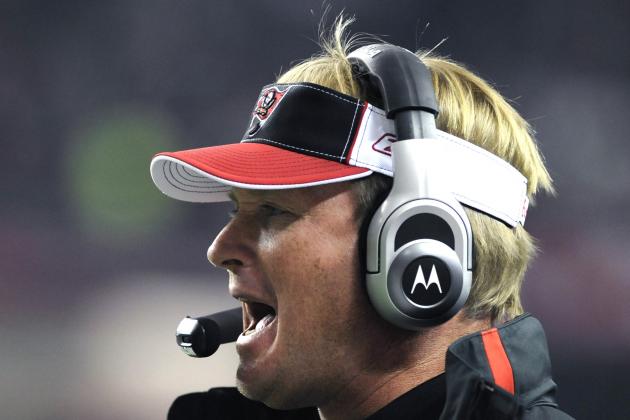 Al Messerschmidt/Getty Images

Jon Gruden is the Charlie Brown to football's decrepit Christmas tree, waving his arms maniacally until a lovely display of holiday spirit appears as if from nothing.
Gruden took a small market franchise in offensive turmoil at Tampa Bay and turned them into conference leaders seemingly overnight.
When you combine an impressive pool of young talent and Gruden's ability to squeeze blood from a turnip, the situation in Cleveland takes on a very different tone.
He's known as a no-nonsense guy that expects a lot from his players. He was (at the time) the youngest coach to win the Super Bowl. The Bucs hit a nosedive immediately after their Super Bowl run, but that could be attributed to a series of complex factors, including injuries and severely limited cap space.
When he's out from under those limitations, and even including some of them, Gruden has shown his immense potential as a head coach.
Let's just hope that Lucy minds her own business so he doesn't whiff.