5 Things We Learned from Jeremy Lin and James Harden's Rockets Debut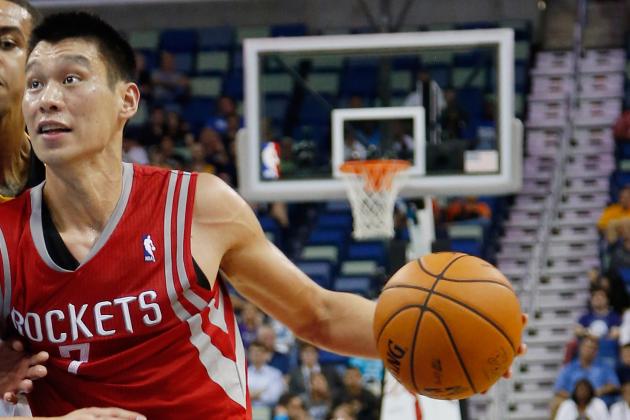 Chris Graythen/Getty Images

What a win for the Houston Rockets, and the result matters less than how their main pieces looked. James Harden, Jeremy Lin and, yes, even Omer Asik appeared to be worth every penny. The Houston triad was much mocked and questioned, but the Rockets emerged from the night with one of the NBA's most promising young teams.
League Pass aficionados, take note: This is your team until further notice. The Rockets might not make the playoffs this season, but their core is capable of such heights.
Begin Slideshow

»
"Is James Harden worth a max contract?" gave way to "How many max contracts is James Harden worth?" as Houston's newest addition coasted to 37 points, 12 assists, six rebounds, four steals and one block.
From the outset, he announced his presence, notching 19 points and five assists at the half. He was patient and incisive with the basketball, slaloming his way to the hoop with a crisp ease. If half the league's teams wouldn't give him a max deal before Wednesday night, then they'd certainly be willing to do so now. Daryl Morey must be ecstatic.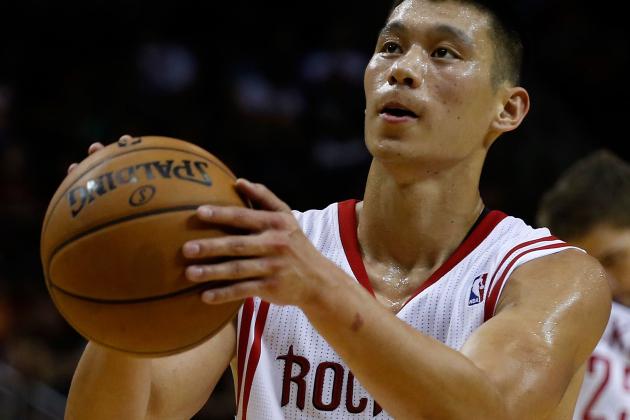 Scott Halleran/Getty Images

As for Houston's technical point guard (James Harden looked to be the main game manager), Jeremy Lin quelled fears in his debut. His mobility had seemed a bit compromised in preseason, perhaps due to his offseason knee surgery. In the opener, however, Lin was his typical active self, getting to the rack with nearly the ease that Harden exhibited.
Lin was not without mistakes—he turned the ball over four times and missed a few easy shots at the cup. But, altogether, he played well enough to shut up a New York beat writer or two. Getting 12 points and eight assists is nothing to sneeze at.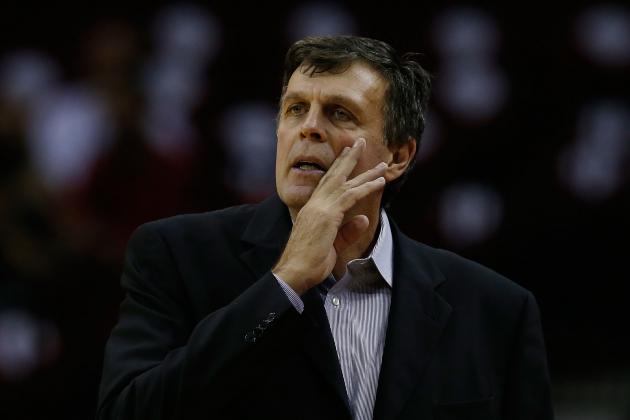 Scott Halleran/Getty Images

Thanks to the fine play of James Harden, Jeremy Lin and Omer Asik, Houston's ceiling rose considerably (corny rocket jokes can be applied here). The Western Conference is a beast, but they have a better shot than we collectively anticipated.
"If James Harden is the best player on your team..." usually ends in a pejorative pronouncement. But if the best player on your team can get damn-near 40 points, in rhythm, while making his teammates better? Well then, your team just might be a playoff contender.
Drew Hallowell/Getty Images

Omer Asik showed up this evening, thwarting more drives than "two blocks" would suggest. His $25.1 million deal was mocked because the casual fan cares not for defense. Guess what? Defense matters, and Asik did his best to advertise its impact.
Chandler Parsons and Greg Smith also provided capable grunt work around the rim. The roster is thin and a bit young, but it is not without its value—Daryl Morey tends to excel on the margins. The peripheral actors played well, and Asik showed himself to be better than marginal.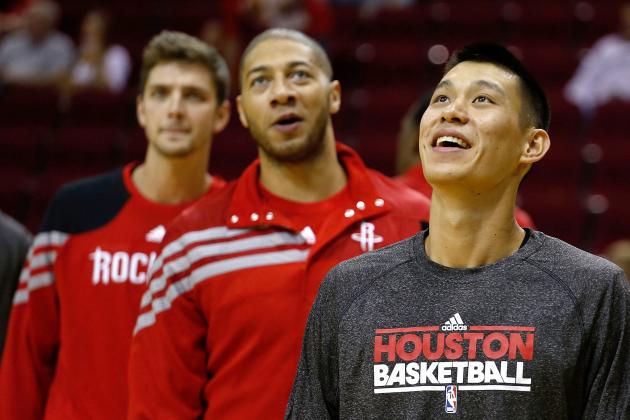 Scott Halleran/Getty Images

Wednesday night was a reminder of just how youthful and exciting this squad is. The average age of this Houston roster is 23.5, meaning that there's plenty of room for growth and improvement.
This is the new talent incubator out West (though, Utah and New Orleans do have claims to the title). Royce White and Terrence Jones have yet to see a minute, but they'll be brought into the fold as this season progresses. The Rockets are building up, and they're doing it around a youthful franchise player in James Harden.