Saints Defensive Secondary: Is the Problem Personnel or Scheme-Related, or Both?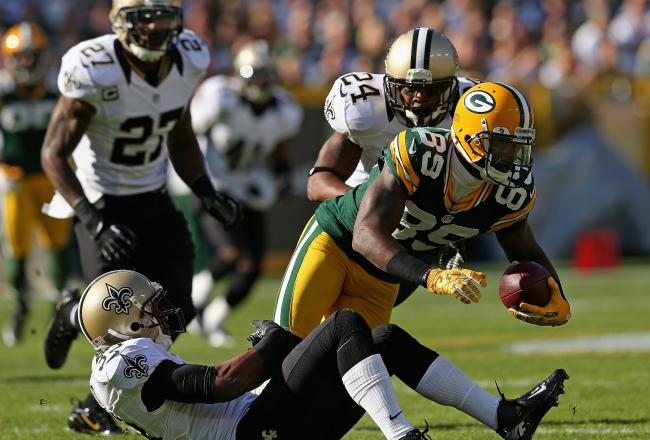 Jonathan Daniel/Getty Images
New Orleans, we have a problem. It's called the Saints defense.
The unit ranks last in nearly every statistical category known to man.
And despite Steve Spagnuolo's assertion that "Stats don't measure heart," a fact is a fact: The Saints' defense stinks, both statistically and with the good ol' eye test.
Statistically there are a few interesting pieces of information that are available to help make this point more clear.
According to Football Outsiders, the Saints are last in the league in passing efficiency to the opposing team's No. 1 wide receiver. Interestingly enough, the team improves dramatically with the opposing No. 2 receiver coming in 22nd and 21st in other wide receiver (No. 3 or below).
Let's take a look at the pass efficiency numbers from this past week's game against Denver.
| | | | | | | |
| --- | --- | --- | --- | --- | --- | --- |
| Player | Comp Vs | Attempts | Percentage | Yards | Yd/Att | TDs |
| Greer | 2 | 4 | 50 | 38 | 12.5 | 1 |
| Robinson | 5 | 7 | 71.4 | 79 | 11.3 | 1 |
| White | 2 | 2 | 100 | 21 | 10.5 | 0 |
| Harper | 3 | 4 | 75 | 54 | 13.5 | 0 |
| Jenkins | 4 | 5 | 80 | 45 | 16.0 | 0 |
| Abdul-Quddas | 1 | 1 | 100 | 25 | 25.0 | 0 |
| Lofton | 2 | 3 | 66.7 | 50 | 16.7 | 1 |
| Vilma | 1 | 1 | 100 | 21 | 21.0 | 0 |
| Patrick | 1 | 2 | 50 | 2 | 1.0 | 1 |
This is obviously an extremely small sample size. But to note the attempts against Patrick Robinson is interesting. It's also interesting to note some of the issues.
Some other interesting notes (not in the table):
-Greer was matched up on Denver's top wide-out (Demaryius Thomas) just once in the game. Thomas caught had a 24-yard completion on that play. This helps explain why the team struggles so mightily against opposing No. 1s and does better against opposing 2s and 3s.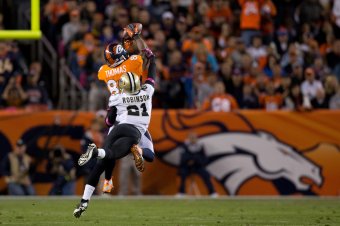 Justin Edmonds/Getty Images
-Four of seven attempts against Robinson took place while he was guarding Thomas. But the touchdown he gave up was against Denver's No. 2 (Eric Decker).
-Curtis Lofton's numbers look bad, but both completions were a zone coverage and/or blitz where he just the closest defender. Both were against a Denver running back, which further illuminates the team's poor pass defense against running backs. Jon Vilma's lone attempt (and completion) was also against a Denver back.
-Malcolm Jenkins was lined up against a Denver tight end on the longest completion and Brandon Stokley on the second longest completion. But two of Jenkins' completions against him were for four yards apiece.
What Does It All Mean?
Schematically-speaking, the Saints are regular in terms of the league norms. Most teams elect to play their finest corner against teams' second and third receivers. Jabari Greer is generally matched up against the 2 and 3 receivers on most plays.
The problem is that it's simply not working. In back-to-back weeks, the Saints have been burned by Vincent Jackson and Demaryius Thomas.
Both the film and metrics show that Malcolm Jenkins and Roman Harper struggle on the back half of the secondary (though this week was worse than normal, at least statistically).
The metrics over the course of the first seven games of the season show similar trends, though again these are somewhat exaggerated due to the nature of the opposing quarterback (Manning is the best QB the team has played all season).
If the Saints want to improve their metrics, Jabari Greer heading to cover the opposing No. 1 receiver might help, but the improvement would likely only be minimal.
The answer to the Saints' coverage issues seems to be both personnel and scheme-related. One would expect the personnel to improve as they become more and more comfortable playing in the new scheme.
But it's also clear that Jabari Greer has lost a step, and neither Patrick Robinson, Corey White or Johnny Patrick appear to be the answer to the Saints' needs at the other corner spots.
Thus, if you asked me to identify the Saints' largest offseason needs I'd likely tell you a secondary player. It's never been so obvious as this past week.
For Saints, Hornets and other sports-related info, rumors, news and opinions follow me on Twitter:
This article is
What is the duplicate article?
Why is this article offensive?
Where is this article plagiarized from?
Why is this article poorly edited?

New Orleans Saints: Like this team?