The Good, Bad and Ugly of 49ers' First 8 Games of the Season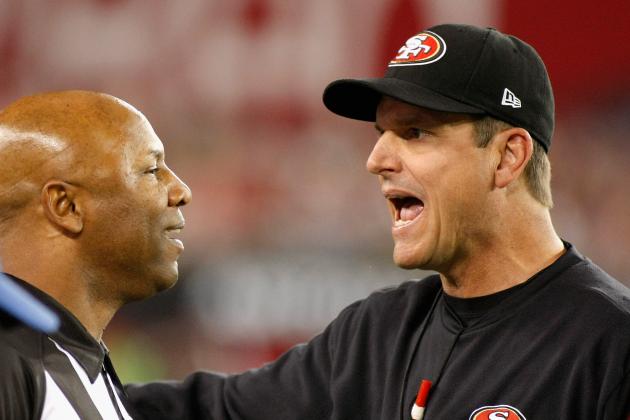 Ralph Freso/Getty Images

With a two-game lead in the NFC West and the conference's best point differential, the San Francisco 49ers have experienced mostly good developments, so far, this season.
But even the best teams in the NFL have their fair share of bad and ugly performances.
The following slides show some of the best and worst performances from the 49ers this year and highlight which units have been stellar and which have room for improvement.
Begin Slideshow

»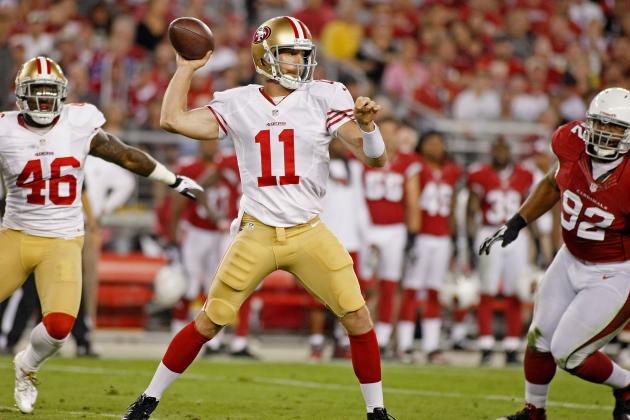 Ralph Freso/Getty Images

He may have taken a couple of sacks that he shouldn't have, but when Alex Smith threw the ball against the Arizona Cardinals on Monday, he was nearly flawless.
Smith completed 18-of-19 for 232 yards and three touchdowns, with the one incompletion coming off the hands of Delanie Walker (in fairness, Walker miraculously caught Smith's only bad throw, a ball that was tipped by an Arizona defender).
According to Ben Stockwell of Pro Football Focus, Smith did not complete one pass more than 20 yards downfield. Yet, he hit his receivers on time and in stride, and they showed just how explosive they can be in space, amassing 107 yards after the catch, according to ESPN.
Smith's passer rating for the game was 157.1 (1.2 away from the highest possible), and bumped up his passer rating for the season to 102.1, fourth best in the NFL.
Overall, Smith has played really well in San Francisco's six wins, tossing 11 touchdowns and one interception.
As for his performance in the two losses...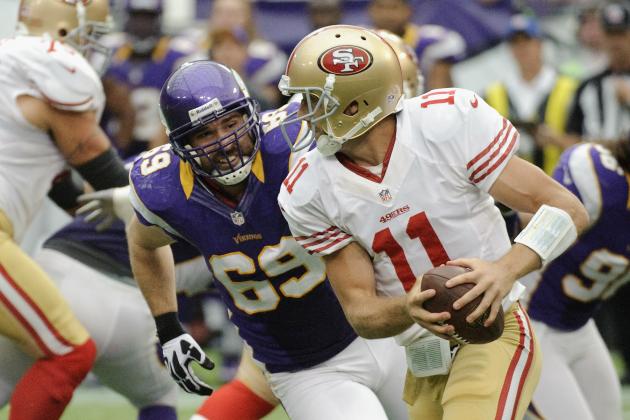 Hannah Foslien/Getty Images

Smith's final stat line (24-of-35, 204 yards, one TD, one INT) was mediocre, but it was his turnovers and lack of red-zone execution that really made this a poor performance.
In his first trip to the red zone, Smith had Randy Moss open in the end zone but simply overthrew him, and the 49ers settled for a field goal. In his second trip, Smith decided to tuck it and run on 3rd-and-3, and he came up short.
With under three minutes to go in the game, Smith had a chance to at least get the 49ers within a score, but he was intercepted by Josh Robinson.
Smith added a fumble in Minnesota territory a minute later, sealing San Francisco's first loss of the season.
To recap, even with two gift turnovers from Minnesota late in the game, Smith could not lead the 49ers into the end zone in five fourth-quarter possessions.
His performance against Minnesota, however, wasn't his worst.
Brian Bahr/Getty Images

Sometimes, a quarterback simply gets unlucky when throwing an interception.
But, there was nothing unlucky about any of Smith's three interceptions against the New York Giants.
On his first interception, Prince Amukamara anticipated that Vernon Davis was going to run a wheel route. Smith had another receiver open in the middle of the field, but instead, he threw a jump ball to Davis. You know the result.
Give Antrel Rolle credit for the other two interceptions. He jumped a couple of intermediate routes as if he knew exactly where Smith was going before the play even started.
Still, Smith needs to recognize that Rolle is taking away the intermediate throw and attack him over the top.
By game's end, the Giants had six sacks (four on Smith) and a 26-3 victory at Candlestick Park.
Was this just a bad game, or were the 49ers exposed? We'll have a better answer for that question after San Francisco takes on the Chicago Bears and New England Patriots later this season.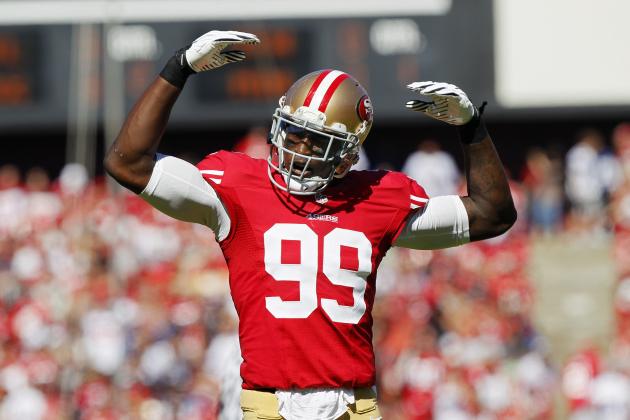 Brian Bahr/Getty Images

Anyway you slice it, San Franciso's defense has been phenomenal this season.
The unit is first in scoring defense, first in yards allowed per game, seventh in rushing defense, and most surprisingly, second in passing defense.
The scary thing is the defense has room for improvement.
San Francisco forced 38 turnovers last year. The defense hasn't been as fortunate this year, only amassing 12 at the season's midway point.
Also, San Francisco is only on pace for 30 sacks this year. Last year, the 49ers finished with 42.
Expect the 49ers defense to be even better in the second half of the season.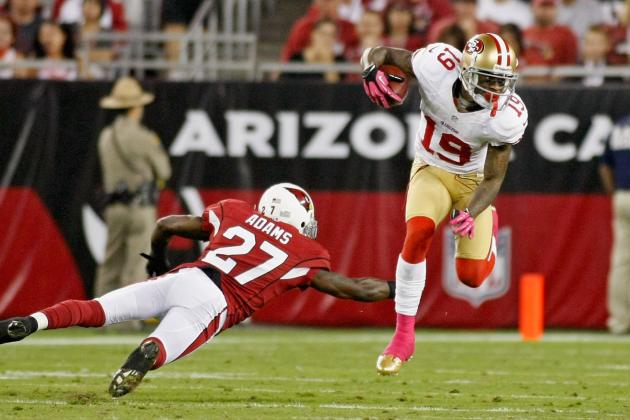 Ralph Freso/Getty Images

Last year, the 49ers special teams was a major strength.
A formula used by Football Outsiders ranked San Francisco's special teams as the second-best unit in the league in 2011.
This year, the 49ers are ranked 18th in the site's special teams ranking.
The main reasons for the mediocre ranking are David Akers' five missed field goals and the punt-return touchdown allowed to Randall Cobb in Week 1.
It appears the 49ers have ironed out some of the special teams issues. Against Arizona, Andy Lee and the punt coverage team neutralized Patrick Peterson, and Ted Ginn Jr. gave the 49ers great field position throughout the game.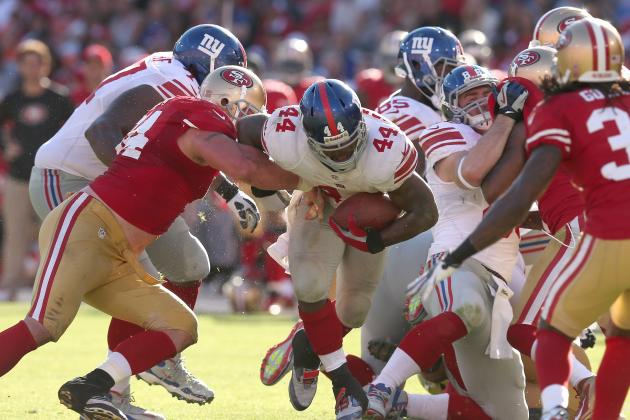 Stephen Dunn/Getty Images

The 49ers defense looked worn out in the second half against the Giants.
New York running back Ahmad Bradshaw finished with 116 rushing yards, with five runs in the second half that went for more than 10 yards.
According to Yahoo! Sports, Bradshaw snapped San Francisco's streak of not allowing a 100-yard rusher in 22 consecutive home games.
Overall, the Giants rushed for 149 yards in the game.
If these teams meet again in the playoffs, the 49ers will have to do a much better job against New York's running game to have a shot at advancing.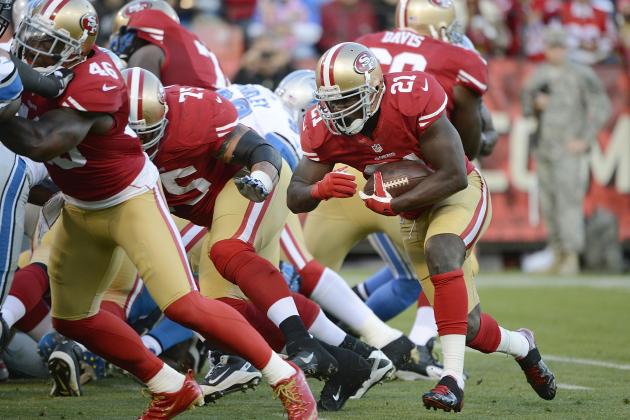 Thearon W. Henderson/Getty Images

Before the season started, there was some concern about whether Alex Boone would be able to shift from tackle to guard and effectively replace Adam Snyder.
Those doubts have been erased.
The 49ers average the most yards per carry and the most yards per game, and the biggest reason why is their mauling offensive line.
According to Football Outsider, through Week 7, San Francisco was the top-ranked team in adjusted line yards, a stat created to grade the dominance of an offensive line.
Frank Gore has, no doubt, appreciated the running lanes, ranking sixth in the NFL in rushing yards and second in yards per attempt.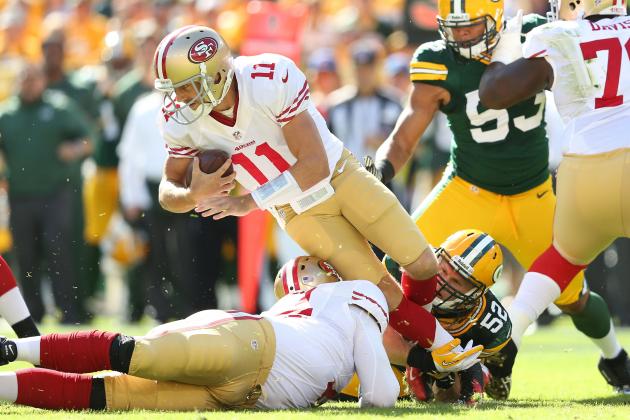 Andy Lyons/Getty Images

San Francisco quarterbacks have been sacked 24 times, which is the fourth-worst mark in the NFL.
Part of this issue is Smith's propensity for holding onto the ball and taking sacks instead of throwing it away.
But don't be fooled, the offensive line's blocking has left much to be desired on passing downs.
Joe Staley has struggled against the best pass-rushers he's faced this year. Green Bay's Clay Matthews had 2.5 sacks and several pressures against the 49ers, mostly because Staley simply couldn't keep up with him.
If San Francisco has a weakness, it's throwing the ball on obvious passing downs. Smith and the 49ers' offensive line will look to improve in this area during the second half of the season.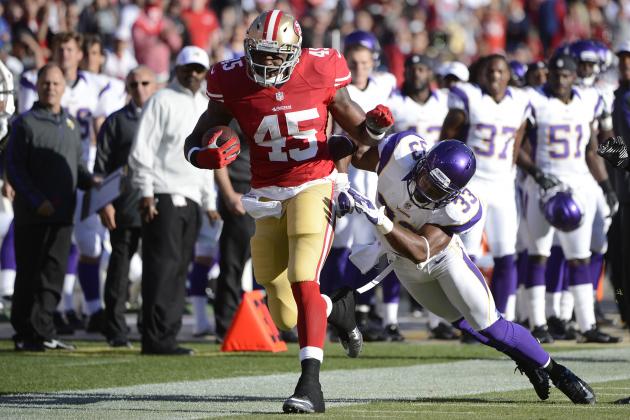 Thearon W. Henderson/Getty Images

Maybe Brandon Jacobs is getting punished for these comments (he changed his tune soon after).
Maybe, he's not needed with Frank Gore and Kendall Hunter leading San Francisco's outstanding rushing attack.
Maybe, he has an undisclosed injury.
Whatever the case, Jacobs is wasting away on the bench.
The 49ers will need a healthy Gore to make a deep playoff run. Jacobs could take some of Gore's touches and help preserve the 49ers' all-time leading rusher.
It would make sense to activate Jacobs, but at this point, who knows what his future is in San Francisco?