Breaking Down Areas Where Rookie Phenom Ryan Tannehill Must Improve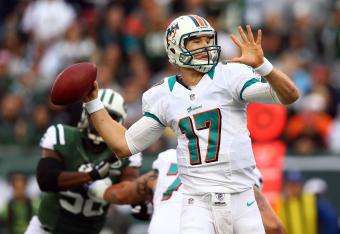 Elsa/Getty Images
Last week I wrote in praise of Ryan Tannehill while breaking down his form.
The rookie has shown so much improvement from one week to the next that as he went down with an injury during Miami's Week 8 romp against the Jets, Dolphins fans everywhere collectively held their breath.
Thankfully there's no structural damage with Tannehill's injured leg, as The Palm Beach Post's Ben Volin reports that Tannehill is optimistic to play in Week 9 against the Indianapolis Colts despite a hyper-extended knee.
But I do have to break down where Tannehill should improve, and his injury is a starting point mainly because it is due to one problem Tannehill seems to have, as this video will show you.
Now the sack itself wasn't Tannehill's fault. Calvin Pace was able to come into the pocket unblocked to put the hit on Tannehill due to what appears to be mis-communication in the blocking assignments between John Jerry and Jonathan Martin. Martin appeared to take the inside pass-rusher (who should've been Jerry's responsibility), which allowed Pace the free shot at Tannehill.
But during the play you will notice that Tannehill didn't go down so easily, which normally would be a good thing if he were just in the grasp and not on his way down. On this play he was on his way down, and he's lucky that he didn't get hurt worse than he did or turn the ball over.
That was similar to Mark Sanchez, who did the same thing against the New England Patriots the week before. Instead of just taking the sack and getting up the next play, he attempted to extend the play, with disastrous results for the Jets.
The trololo music just makes it funnier...
This leads to the other thing Tannehill has to improve on: not turning the ball over. The good news is that in the last two full games he's played, he didn't turn the ball over. In a very related story, The Dolphins won those two games. Miami is 3-0 in games where Ryan Tannehill doesn't turn the ball over, but when he has, it has led to disaster for Miami.
It pains me to use this video...especially since Incognito blew that block.
But that problem seems to be clearing itself up, as Tannehill has done a better job taking care of the ball. His decision making has been great, but there's still one little area where he could improve: putting touch on the ball.
At times when throwing a short pass, Tannehill has zoomed the ball in, thus overthrowing the intended receiver. When he hasn't done that, he's under-thrown the intended receiver, which we saw a couple of times on his last drive in the game against the Jets.
Will Ryan Tannehill continue to improve from week to week?
Figuring out the right amount of touch to put on the football before throwing it is an aspect to the game that still takes time to improve upon, and is really the last part of the game Tannehill needs to get right in before he can make that leap.
Tannehill has looked great in his first six games as a Miami Dolphin, and as noted last week, he has the potential to get better. However, he's going to have to improve on these areas in order to officially set his place in stone as not only the Miami Dolphins quarterback of the future, but also one of the best in the NFL in the next few years.
Based off of the improvements he's made since Week 1, it looks like he will do just that.
This article is
What is the duplicate article?
Why is this article offensive?
Where is this article plagiarized from?
Why is this article poorly edited?

Miami Dolphins: Like this team?