49ers vs. Cardinals: Arizona's Biggest Winners and Losers from NFL Week 8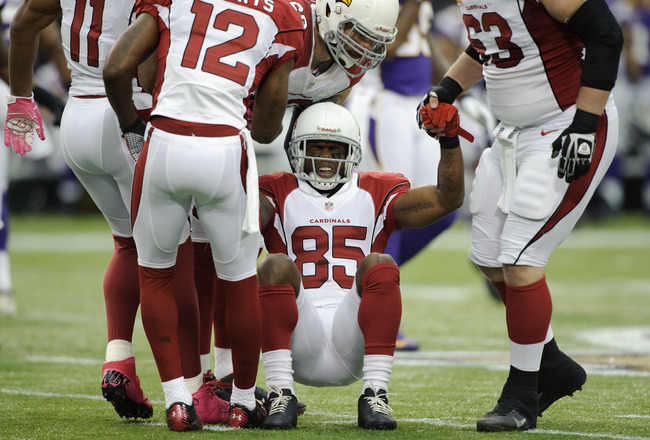 Hannah Foslien/Getty Images
Another week and yet another embarrassing prime-time game for the Arizona Cardinals. This team has been hit with "can't perform on national television syndrome," and it has really hurt them this season.
After a surprising 4-0 start, Arizona has dropped its last four games. They are still tied for second in the NFC West but are just .500 and two games back of the division lead.
This was an ugly game in every aspect. The defense had its worst game of the year, the offense put up a grand total of three points and virtually nothing was done on special teams.
There is a lot of blame to go around, but there are also a couple of players who performed well.
Here are the winners and losers for the Arizona Cardinals in their 24-3 loss to the San Francisco 49ers.
Winner: Jeff King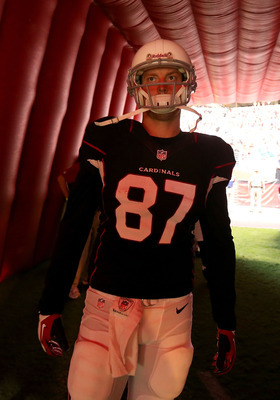 Christian Petersen/Getty Images
One of the Cardinals best free-agent pickups in recent memory has been tight end Jeff King. He is, by no means, a big-name player but does all the little things that make a team successful.
King is a solid blocker and also contributes in the passing game when given the opportunity. He was given that opportunity today, catching three passes for 43 yards.
Arizona has a lot of weapons in its offense. With Larry Fitzgerald receiving most of the attention, they need to utilize King more often.
He does not need a ton of targets, but he should be on the field more in the early parts of the game. I'll take two catches and 25 yards from the guy any day of the week because he can contribute in other aspects of the game.
Loser: The Fans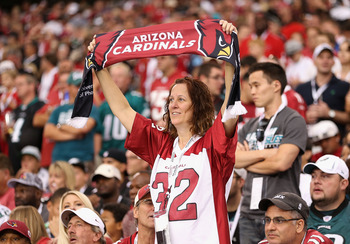 Christian Petersen/Getty Images
Whether you have been a fan for decades or hopped on during the Warner era, it has been a rough go. There is too much blame to go around. The players, coaches and front office have been responsible for some very ugly football.
There was a lot of hype surrounding this team heading into the season, and that hype train was rode right through Week 4.
Arizona started the year 4-0 but has since lost four straight to sit at .500 at the midway point. The Cardinals knocked off two powerhouse teams in New England and Philadelphia, and it was looking like they would get off to a 7-0 start.
As soon as the fans get a glimpse of hope, however, it is taken away by a combination of injuries and bad coaching.
It was good while it lasted...there is always next year.
Winner: Michael Floyd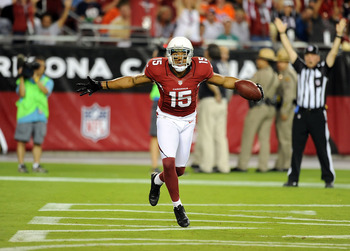 Norm Hall/Getty Images
If there is one positive that we can take from this game, it would be Michael Floyd. The rookie first-round pick has been pretty quiet, thus far, and some even went as far as to call him a bust.
This game proved that he was a quality draft pick and that he could develop into a great receiver.
Floyd was given more snaps than usual in the fourth quarter, and he made the most of it, catching five passes for 35 yards.
Arizona has plenty of weapons on offense, and it is up to the coaches to use that to their advantage.
Loser: The Corners
Ralph Freso/Getty Images
Heading into the season, the one area of concern on the defensive side of the ball was at the cornerback position.
They held their ground for the first seven weeks of the year, but the weakness of this defense was exposed in Week 8.
Patrick Peterson and William Gay were destroyed by Michael Crabtree, and Randy Moss got the best of rookie Jamell Fleming.
Aside from a couple of plays early in the first quarter, these three were tackling at a high school level. Their coverage wasn't exactly great, either.
Richard Marshall, you are missed dearly.
Loser: Early Doucet
Not only is he sliding down the depth chart on an average team, but he is also getting hit. There is no point in having a "defenseless" receiver rule if it is not going to be called.
Keep Reading

Arizona Cardinals: Like this team?