5 Questions Left Unanswered After Miami Heat Training Camp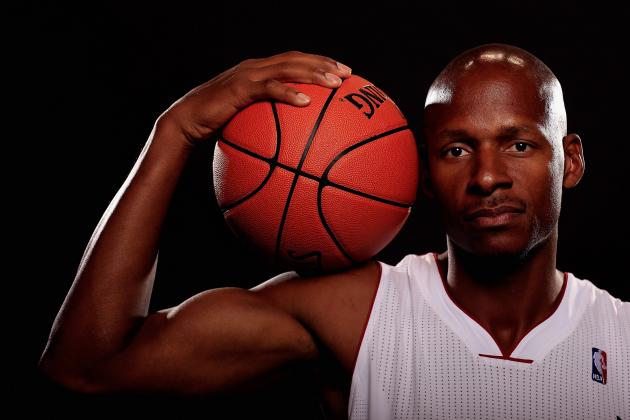 Chris Trotman/Getty Images

The Miami Heat's training camp came and went without a major problem surfacing; however, there are still questions about this team as it begins its quest to repeat as NBA champions.
One of the most important questions revolves around Ray Allen's health. While Allen's measly $3 million dollar contract makes him the ninth highest paid player on the team, he's still an integral part of it, and he has made it clear that his surgically repaired ankle will be an issue all season long.
Let's look further into the question surrounding Allen's health, as well as four other questions the Heat better hope they have a positive answer to.
Begin Slideshow

»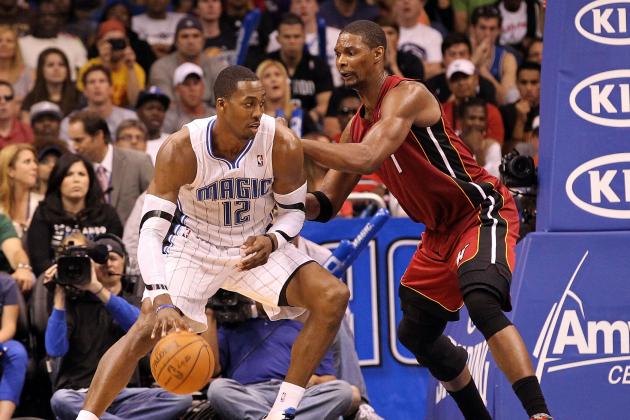 Sam Greenwood/Getty Images

This offseason, the Heat committed to the small-ball approach with Chris Bosh as its starting center, and for good reason.
With Bosh at the 5 and LeBron James at the 4, the Heat presented matchup problems too great for the Boston Celtics and Oklahoma City Thunder to handle during the team's championship run.
And thanks to Bosh, who averaged 9.4 rebounds per game in the finals after averaging 7.9 per game in the regular season and played tremendous help defense, the Heat were still elite on the defensive end as well.
But will Bosh be able to play up to or near that level during an 82 game season? It's fair to wonder, considering his run at the 5 didn't even span two full series during the 2012 postseason.
Now, Bosh will often have to guard and bang down low with centers who are bigger than him and have played the position for their entire careers.
This isn't to say Bosh is a liability and can't grab the nine rebounds per game he did in the Finals, but since the idea of going small-ball full time is new, it's worth monitoring how well he will handle the physical toll of playing at the 5 game after game.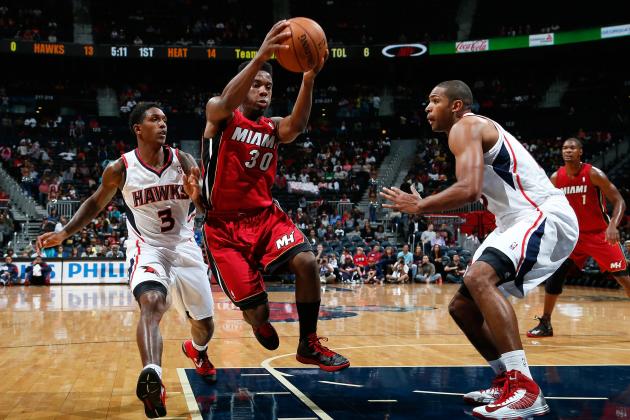 Kevin C. Cox/Getty Images

There are a few signs that point to an improved 2012-13 campaign for Norris Cole after an inconsistent rookie season in 2011-12.
There were the rave reviews he received from Erik Spoelstra early in October about his offseason commitment. Then, in some aspects of his game, Cole validated those comments in the preseason.
Cole spent time working on his three-point shot this offseason after shooting an abysmal 27.6 percent from three-point land in 2011-12. While obviously a small sample size, Cole converted nine of his 11 attempts from beyond the arc in the eight games.
However, Cole still experienced problems turning the ball over this preseason. And after he averaged 1.6 in the 19.6 minutes per game he played last season, there should be concern that this will be a long-term problem.
With the depth the Heat have this season, he is really going to have to earn his minutes.
Cole can get those minutes and be a valuable rotation player if he can continue to play solid defense, prove that his shooting in the preseason wasn't a fluke and cut down, at least somewhat, on his turnovers.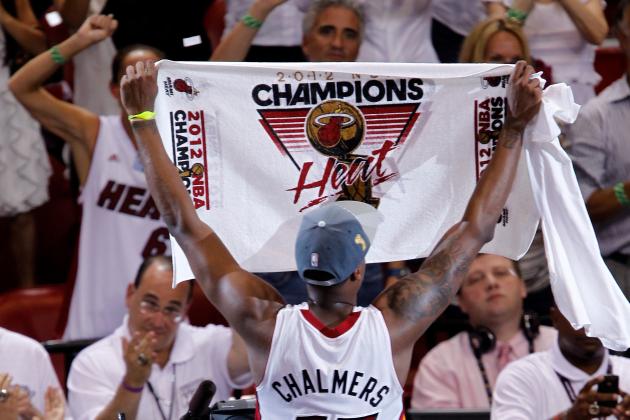 Mike Ehrmann/Getty Images

Mario Chalmers had unquestionably his best season offensively as an NBA player in the 2011-12 season.
He set career bests in field goal percentage (44.8 percent) and three-point field goal percentage (38.8 percent) and averaged 9.8 points per game. On top of that, he put together an incredible 25-point performance that included late game heroics in Game 4 of the NBA Finals.
But is that level of play sustainable for Chalmers or was last season a career year in shooting efficiency?
Well, his performance in the season prior to 2011-12 isn't too encouraging, as he averaged just 6.4 points on only 39.9 percent shooting from the field. On the bright side, with the small-ball approach, Chalmers should see more open looks than ever before.
Still, Chalmers was hovering around the 40 percent mark from the field in 2009-10 as well, so it's far from a lock that he repeats his performance from the 2011-12 season.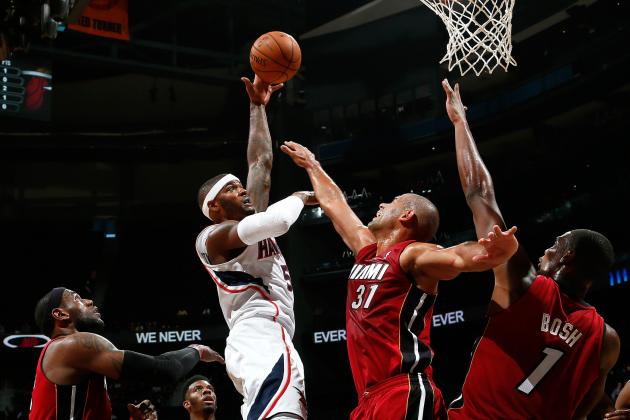 Kevin C. Cox/Getty Images

Shane Battier was excellent during the Heat's series victory over the Thunder in the NBA Finals, playing the type of defense that was expected of him when Miami signed him, while averaging 11.6 points on absurd shooting percentages (61.3 percent from the field and 57.7 percent from beyond the arc).
But he was far from excellent during the regular season.
Battier only averaged 4.8 points on a career-worst 38.7 percent shooting from the field and an almost career-worst 33.9 percent shooting from three-point land.
So, which Battier will the Heat get in 2012-13? 2011-12 regular season Battier or 2012 NBA Finals Battier?
The results from the preseason indicate we should see more of the guy that killed the Thunder in the finals, as he converted half of his 30 three-point attempts in the eight games.
It's looking like Battier will have a bounce-back season, but given just how poorly he played last season and the fact that he's 34 years old, there's reason to be skeptical.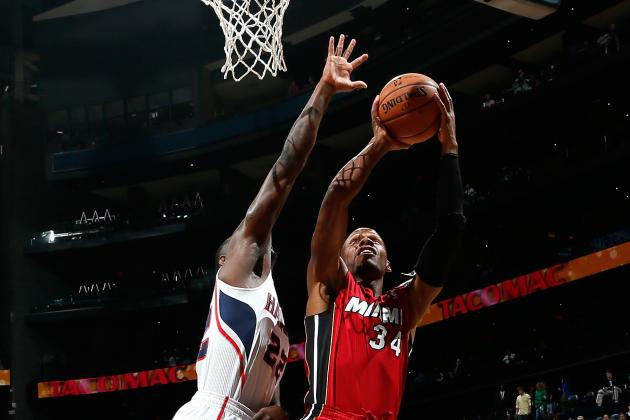 Kevin C. Cox/Getty Images

If you follow the Heat you've heard this over and over again: Ray Allen's surgically repaired ankle still isn't 100 percent healed. While Allen played fine in the preseason despite the pain, it's clear that the ankle will be a problem this year.
"I would like to be in better shape, better condition. So, you know, I still have to make sure I don't do too much pounding, because I'm a runner. On off days, I like to run. Right now, I've switched to the bicycle to stay off the pounding as much," said Allen.
Will Allen be able to survive the day-to-day grind of an NBA season? Will his play become significantly hampered by the injury as the season goes along?
Thanks to the depth on the team, the Heat can afford to be careful with Allen's minutes this season. And as long as Allen, the greatest three-point shooter in NBA history, can continue to knock down a couple from behind the arc per game, the Heat are getting what they wanted out of him.
Still, Allen will be 37 years old entering the season, and although he has done a tremendous job staying in shape throughout his career, there has to be some concern that Allen's body will betray him this season.